Ten simple ideas for beautiful homemade fall wreath projects, using a variety of gorgeous art techniques, suitable for kids of all ages.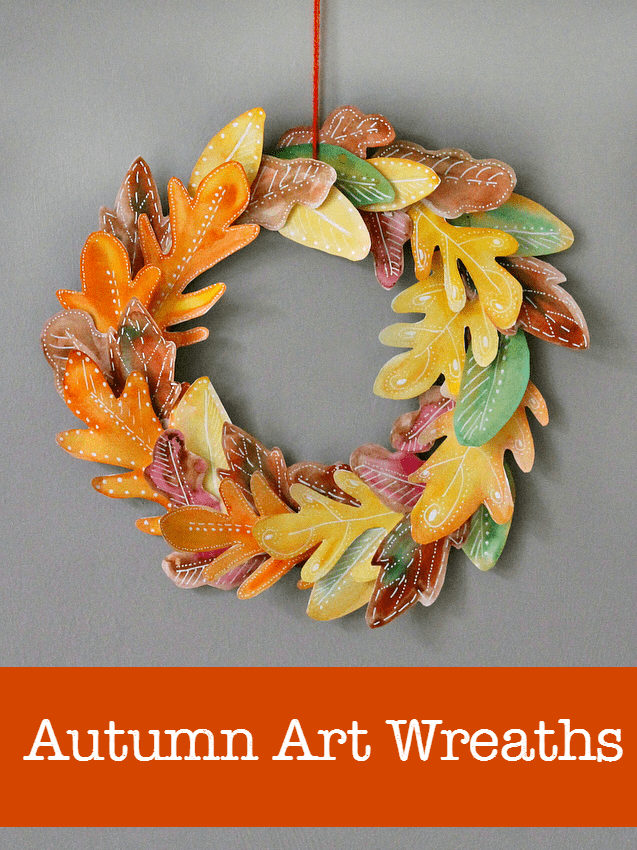 10 beautiful homemade fall wreath art projects
It's the autumn equinox this week marking the official start of the autumn season. What better excuse to make some gorgeous art to decorate your home. We make a different wreath for our front door each season, and for this turn of the year we've made one from a favourite art technique: using watercolour paints and white pen.
Here's how we made ours, with some extra ideas at the end for different wreath crafts you can make with your kids, using a variety of techniques, to suit all ages.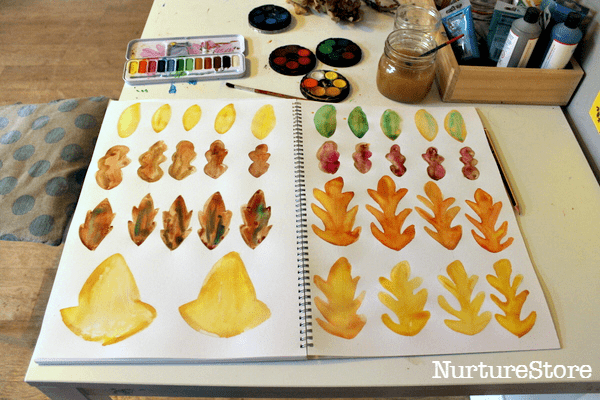 Watercolours are my most often go-to material as I just love how the paints blend together. (You might have seen the leaf alphabet we made with them.) We used them today to paint out a variety of leaf shapes, in autumn colours. Applying a second watercolour onto a still wet area of paint will allow the two colours to seep and blend together, creating the effect I like so much.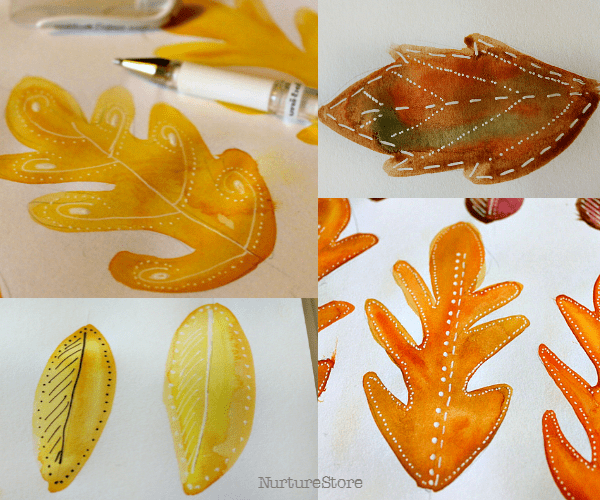 Once dry, you can add extra detail on top of the leaves using a black or white pen – whichever you like the look of best. We use Uni-ball Signo pens. You can add spots, stripes, swirls, anything goes. I really like how it makes the leaves look as if they have been stitched.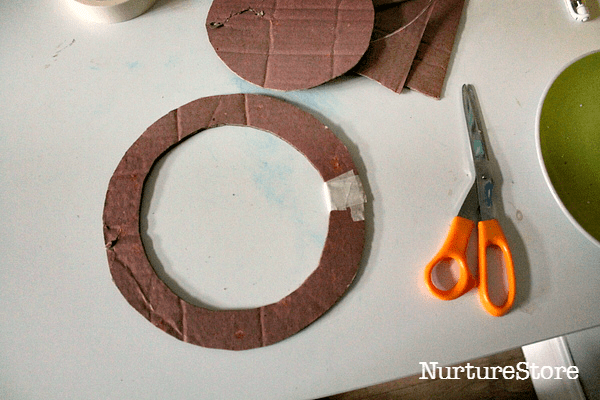 Then you'll need a circular frame for your wreath. A paper plate is perfect, but if you plan to hang your wreath outside on your front door you might prefer to use some thicker card, such as the recycled packaging board we used.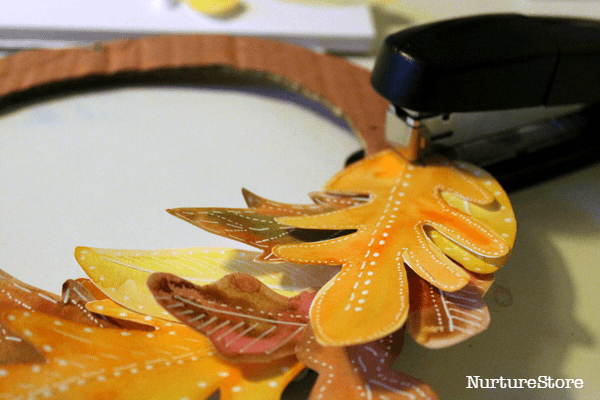 Cut out your leaves, decide how you want to arrange them around your wreath, and staple them in place. You can overlap the leaves so that the staples are hidden underneath and can't be seen.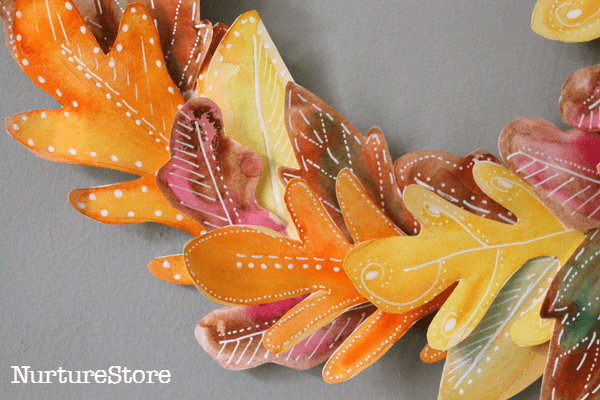 I'm so pleased with our wreath – it's so pretty! We are most often all about the process of making art, but it is nice to make something that makes you smile every time you see it. I like how it looks lovely from the street, but then the extra detail of the white patterning is visible only when someone comes up to the front door.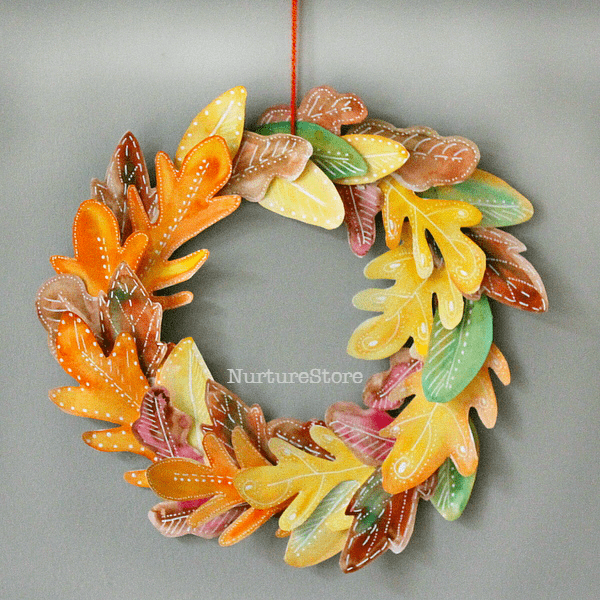 Fall wreath crafts for kids
My friends around the web have some more gorgeous wreath ideas for kids to try.
Happy Hooligans has a lovely tissue paper wreath.
Toddler Approved has a great pick-and-mix wreath making station.
Buggy and Buddy uses tear art to make their fall wreath.
Mama Pea Pod has an autumn wreath with real leaves.
Mess for Less had a gorgeous handprint wreath.
I love how Meaningful Mama has included the whole family in her wreath with paper leaves.
This wreath I made for Kids Activities Blog uses beautiful leaf prints.
Fun At Home With Kids made a wreath with natural materials.
And this apple print wreath at No Time For Flash Cards is so pretty.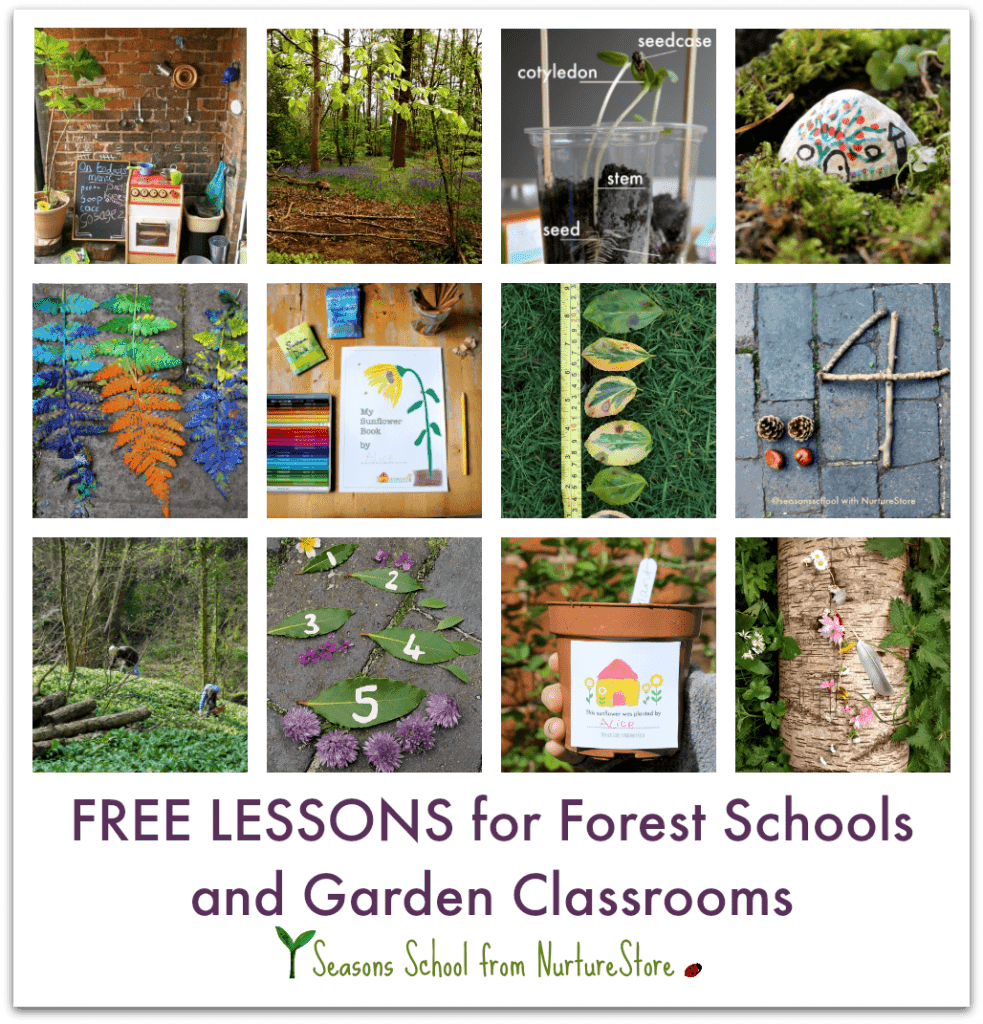 Free Forest School and Garden Classroom resources!
Join my weekly email service and I'll send you FREE printables, lesson plans, and activity ideas that you can use with your children in your forest school and garden classroom.
Seasons School is NurtureStore's year-round program of living and learning with nature. Our activities and resources focus on hands-on, nature-based learning that connects children with the natural environment.
If you're looking for nature study lessons, arts and craft projects, campfire recipes, foraging ideas, outdoor math and literacy activities, outdoor games, and ways to explore forests, gardens, and outdoor spaces - think of NurtureStore as your forest fairy godmother!
Whether you're in a forest school or outdoor classroom, running a school gardening club, bringing nature lessons into your class, home educating with nature, or wanting to connect with the great outdoors at the weekend, you will love the Seasons School ideas.
Pop your email address into the box below and I'll send you your free resources.
---
By subscribing, you consent to our use of your personal data as per our Privacy Policy, which includes agreeing to receiving interest-based email from us.
---