Want to put the play back into learning?
Finding ideas for sensory play while also needing to teach math and literacy can feel complicated. 
Sensory rich lessons.
Fun and engaging activities.
Easy and simple.
One complete package.
Do you feel like there's too much pressure for early academics? Do you want to give your kids a childhood where they learn through play but you're not sure how?
Do you feel like your child is measured too early against unrealistic standards and you know they need more sensory input, more fun, and hands-on activities?
Maybe you're a parent who wants to get your child away from a screen and into active play. Or you have a special sensory child who needs their own sensory diet.
Maybe you're a childminder or a nanny who needs to balance activities for a range of ages, with a tiny budget for materials.
Perhaps you're a teacher who truly wants to have a play-based classroom, but you're already stressed by the demands of observations and administration.
Or perhaps you're a therapist or specialist who needs ideas that colleagues and parents can use.
I totally understand, because I've been there.
Nobody wants to feel they're not offering their child the best start in life, and you're not – you just need the right tools….
---
That's why I've gathered together 52 super sensory invitations to play to help you transform your home and classroom into the funnest place to learn – all while helping your child develop strong math, literacy, and social skills as they learn through play.
I've been supporting children in their learning for over 15 years and all the ideas in this Tool Kit have been tried, tested, and approved by real kids – so they really are the best ones!
Let the Super Sensory Tool Kit give you resources and activities so you can:
:: give your child the sensory-rich diet they need and deserve
:: create lessons so engaging that children can't wait to get started
:: engage all children so everyone is learning together and your planning is so much easier
:: make your teaching more effective so your children develop skills easily, confidently, and successfully
:: develop your children's confidence and social skills as they play together and share experiences
:: build fine motor skill strategies that are effective and that your child will enjoy
:: increase focus, attention, and motivation, even in the wriggliest, touchiest kids
:: have the funnest home and classroom around!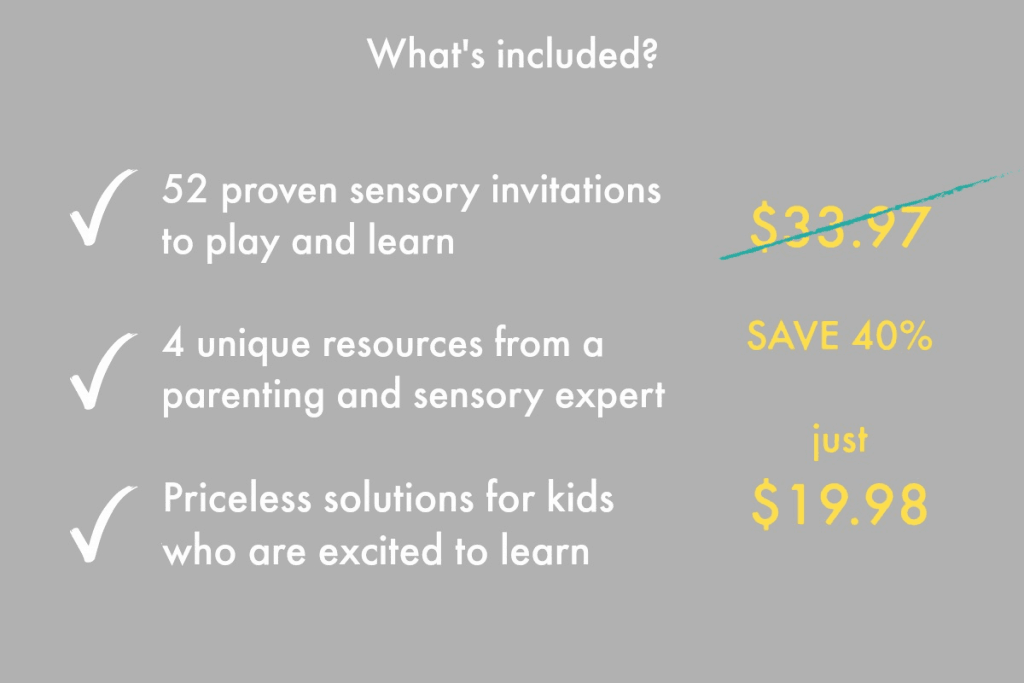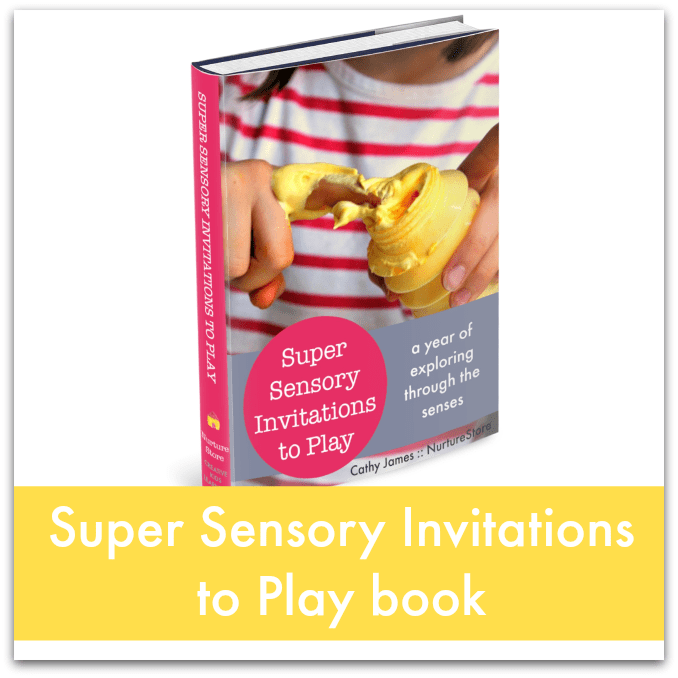 Super Sensory Invitations to Play
Transform your learning into a sensory-rich adventure with 52 invitations to play.
A year of themed sensory activities that sit perfectly alongside your lesson program.
Hands-on activities that support and develop math, literacy, science, and social skills.
A rich variety of sensory experiences to satisfy your sensory seeker and build the confidence of your sensory avoider.
Engaging sensory centers that will have your children so excited to come and learn.
invitations to explore the senses: discovery using eyes, hands, nose, ears, and taste buds
ideas for a wide range of sensory play materials including water, ice, play dough, cloud dough, puffy paint, sand, salt, rice, chalk paint, bath paint, fizzing baking soda, goop, shaving foam, sensory soup, finger paints, clay, bread, and other cooking recipes
hands-on learning with ideas for math, literacy and language, science, art, music, and cultural awareness
boosts social skills, team work, and critical thinking
play linked to New Year, winter, Valentine's Day, Chinese New Year, St.Patrick's Day, spring, Easter, summer, solstice, autumn, Halloween, Diwali, Christmas
perfect for babies and toddlers, through to elementary-aged children and those with extra special needs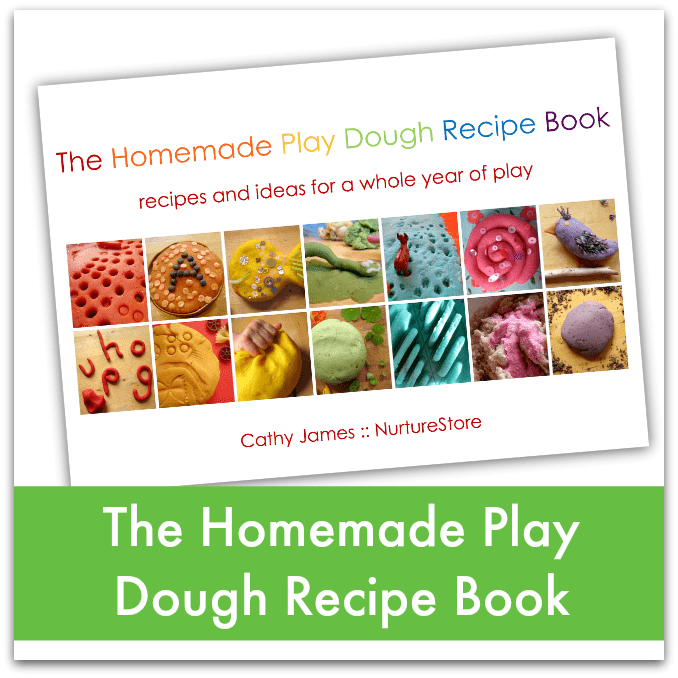 The Homemade Play Dough Recipe Book
Recipes and ideas for a whole year of play.
Transform this childhood classic play material into a wonderful variety of rich play times.
Easy activities that make learning fun – boosting fine motor skills to help your child get themselves dressed, fasten buttons, tie laces, and use a pencil with ease.
Affordable ideas that save you time and energy – matching quick and simple recipes with clever ideas so you don't have to spend time gathering resources and creating all your own activities.
the all-time favorite no-cook play dough recipe :: a cooked play dough version :: a gluten-free recipe :: a salt dough recipe :: a modeling dough recipe :: a real bread dough recipe
a whole year of play dough activities, arranged seasonally so there's an idea for every week of the year
activities that include storytelling, role play, small world play, math games and puzzles, reading and writing
plus a special wake-up dough, a chill-out dough, and a favorite Christmas-Day play dough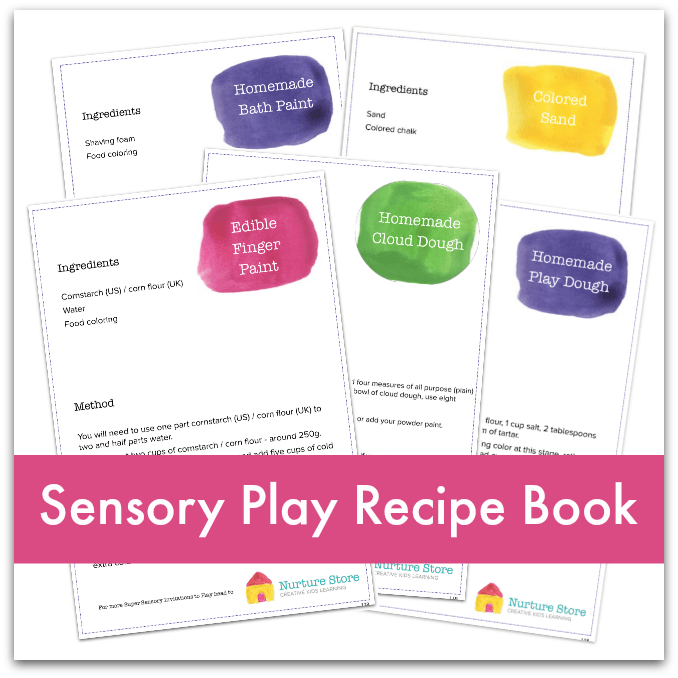 Super Useful Sensory Play Recipe Cards
Save time by having all the classic tried-and-true recipes on hand so you can set up play in minutes
Successfully get your children off screens and into play
simple, quick recipes including play dough, finger paint, bath paint, cloud dough, coloured sand, goop/oobleck, homemade clay, dyed rice, dyed salt, chalk paint, and puffy paint
print as many copies as you need for the kitchen, playroom, classroom or to handout
easy to laminate to use time and time again
easy-to-read, clear instructions so children can make the recipes themselves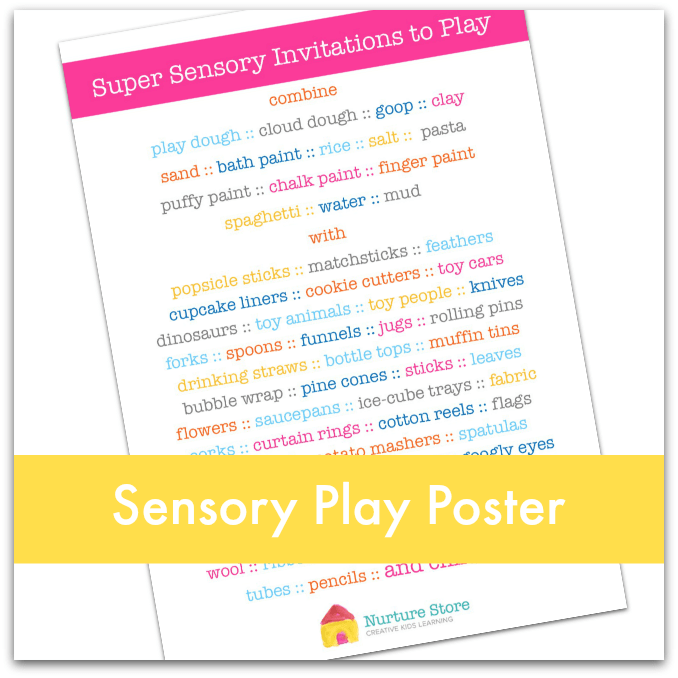 Sensory Play Poster
Print and display your sensory play poster for unlimited inspiration
no more "I'm bored!'s with this quick reference for unlimited variations of sensory play, using whatever you have to hand
ideas for loose parts play so children can direct their own learning
perfect to share with friends, parents, and colleagues to get everyone supporting sensory play
Meet the parent and educator behind it all: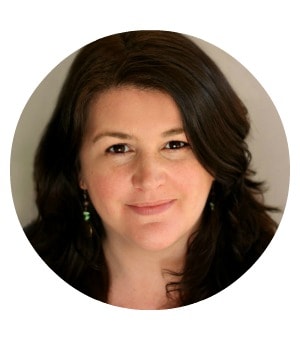 CATHY JAMES, B.A.
SENSORY AND NATURE ADVOCATE, OFSTED 'OUTSTANDING' EDUCATOR, ENGLISH LANGUAGE TEACHER, HOMESCHOOLING PARENT AND AUTHOR OF SUPER SENSORY INVITATIONS TO PLAY AND THE GARDEN CLASSROOM. CREATOR OF NURTURESTORE.
Can you afford to let your kids miss out on play?
You can give them the gift of delightful learning.
It's easy when you know how.
Sometimes we just need a little help from someone who's already been where we are and has figured out a solution to the challenges we're facing. Grab the opportunity!
You don't have to compromise your kiddo's childhood. You can combine play and learning.
You don't need to keep spending hours planning activities that fall flat.
You don't need to feel guilty about too much screen time.
Ready to give your child the gift of learning through sensory play with the amazing Super Sensory Tool Kit?


Here's what others are saying about sensory play: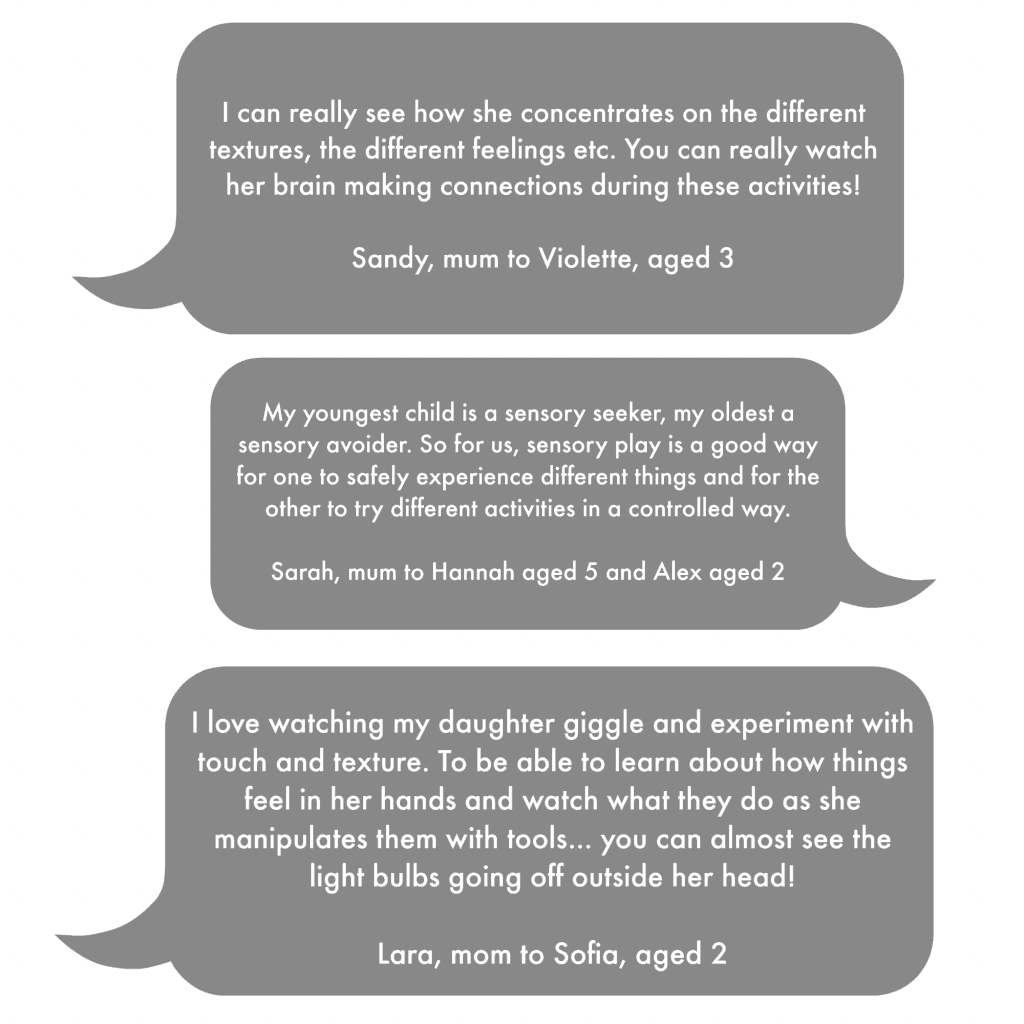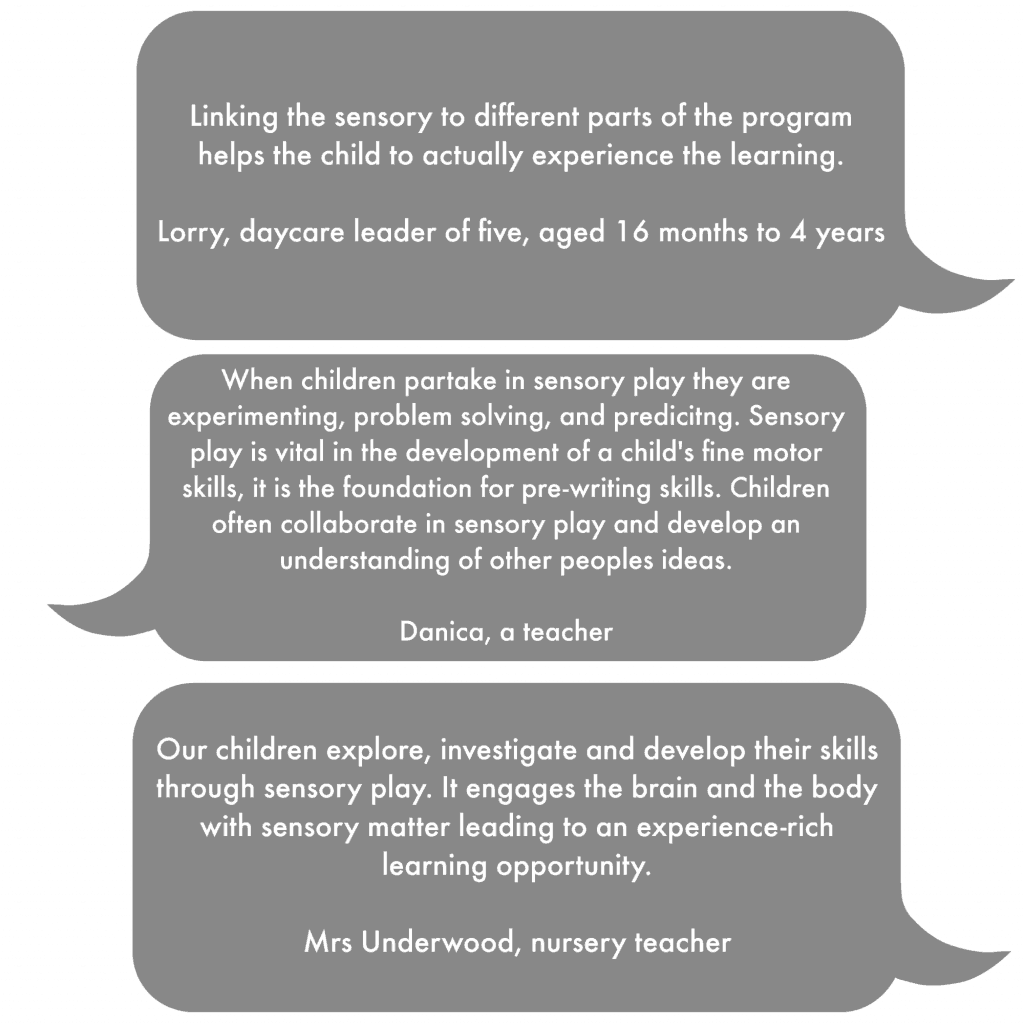 Frequently Asked Questions
What exactly do I get in the Super Sensory Tool Kit?
You'll receive four excellent resources that you can start using with your children straightaway:
Super Sensory Invitations to Play ebook – value $14.99
The Homemade Play Dough Recipe Book ebook – value $9.99
The Super Sensory Recipe cards printable – value $8.99
Plus a bonus Sensory Play Poster.
Total value: $33.97
Is the Tool Kit suitable for an experienced teacher?
Definitely! We all need fresh ideas, as well as classic activities that can be used again and again. The Tool Kit will save you so much planning time, so you're free to focus your expertise where you really want: engaging with your children.  Even better, the Tool Kit has many ideas you can share with colleagues and parents so they can continue your good work.
Who is Tool Kit meant for? Which ages?
The Tool Kit is perfect for anyone raising or working with young children. The beauty of sensory play is that it engages children exactly where they are in their needs and development, including babies, toddlers, preschoolers, elementary kids, and those with extra special needs. Whether you're a parent looking for fun after-school and weekend activities, a special-needs mom or dad looking for a rich sensory-diet for your child, or a childminder, nanny, teacher or therapist who needs a variety of activities to reach children across ages and requirements, the Tool Kit has ideas you can put into practice today.
How much is the postage? Can I buy it in my country?
Great news! The Super Sensory Tool Kit is a digital product, which means you can get an instant download of the ebooks and resources. You can then decide if you want to read on your computer or mobile device, or print all of it or some of it. It gives you a flexible kit that you can take with you wherever you're playing, teaching, and working.
Please note that with the exception of the United Kingdom, this product is not available for purchase in the EU.
I've got another question.
Email us at support@nurturestore.co.uk and we'll be happy to help.
Your Special SUPER SENSORY TOOL KIT Price:
Total Value $33.97 – discounted to $19.98 (you save $13.99)