What are the best toys for babies? Do babies need toys?  Here's how to make treasure baskets for babies filled with interesting items from around the home to provide your baby with lots of shapes, textures and sizes to explore.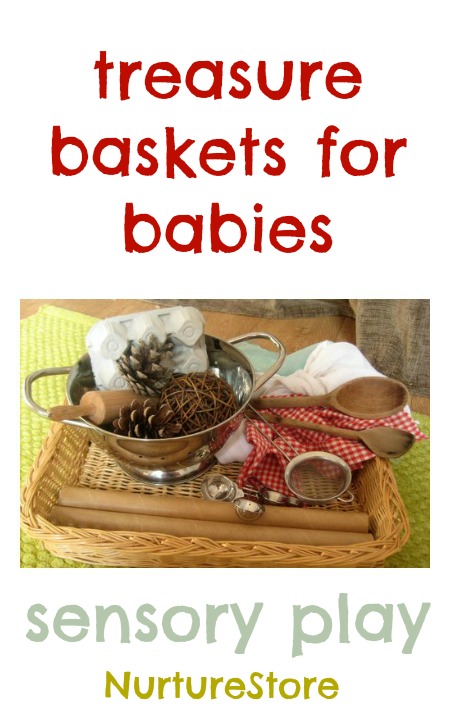 Treasure baskets for babies
Sometimes referred to as heuristic toys or un-toys, everyday items are free, readily available and provide your baby with an ever changing assortment of  'toys' to enjoy. Their environmental impact is little, as they're things you already have at home, and they provide a rich sensory experience for your baby to discover.
To make you own treasure basket, take a box or basket which is large enough to hold a few items but shallow enough for your baby to be able to reach inside and chose which objects they'd like to look at.
Gather some items from around the home to fill the basket. As with any kind of play, safety comes first so make sure you're happy for your baby to handle all the items you choose. You should always sit alongside your baby as they play so you'll be able to supervise all their exploring, so find a balance between things which are safe and also interesting. You know your baby best so use your discretion in picking items which you know they will enjoy.
Try to include lots of different textures in the items you put in the treasure basket. Some things you might like to include:
Metal: measuring spoons, colander, whisk, large keys, jar lids, tea strainer, sauce pan, bells tied on a string
Natural materials: wooden spoons, bowls and blocks, sponges, large shells, fir cones, twig spheres, woolen pompoms, large pebbles, whole fruits and vegetables
Fabric: scarves and pieces of material including knitted items, cotton, silk, velvet, leather, chiffon, terry, fur
Sit alongside your baby and let them explore. Observe as they pass items from one hand to another, turn them over, put one inside another. You can chat as you look at the items but the key idea here is to let your baby explore the items their way, rather than you having to 'teach' them about the objects.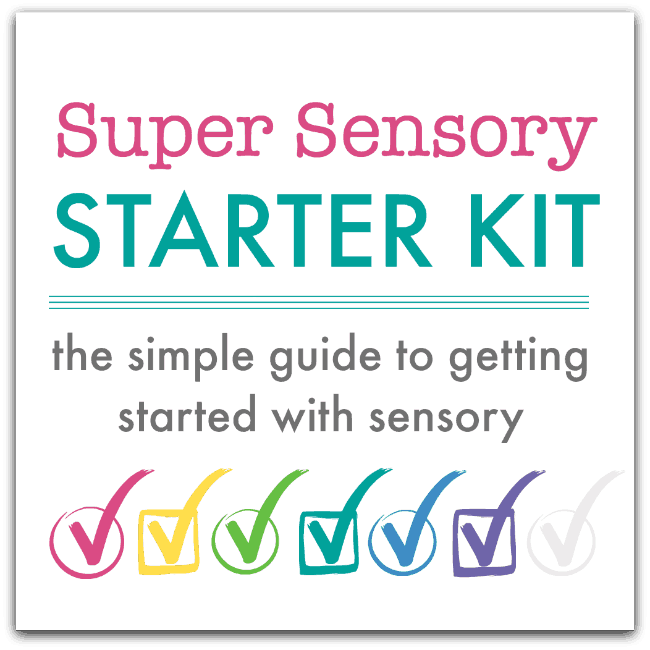 Get my Super Sensory Starter Kit for free
Every child deserves to be have their needs met so they can thrive. That's why I've made you my free Super Sensory Starter Kit.
Do you feel like your child is measured too early against unrealistic standards and you know they need more sensory input, more fun, and more hands-on activities?
Maybe you're a parent who wants to get your child away from a screen and into active play. Or you have a special sensory child who needs their own sensory diet.
Maybe you're a childminder or a nanny who needs to balance activities for a range of ages, with a tiny budget for materials.
Perhaps you're a teacher who truly wants to have a play-based classroom, but you're already stressed by the demands of observations and administration. Or perhaps you're a therapist or specialist who needs ideas that colleagues and parents can use.
My free Super Sensory Starter Kit will give you the tools you need to successfully tune-in to your child and help them be happier, calmer, and more successful at learning and life.
So I can send you the best resources, please tell me which of the following categories best describes you:
---
* By subscribing, you consent to our use of your personal data as per our Privacy Policy, which includes agreeing to receiving interest-based email from us.
---