These sensory bags made using gel are wonderful for using our senses of touch and sight, and combine especially well with the sunshine. Here's how to make sensory bags and ideas for using them for sensory play activities.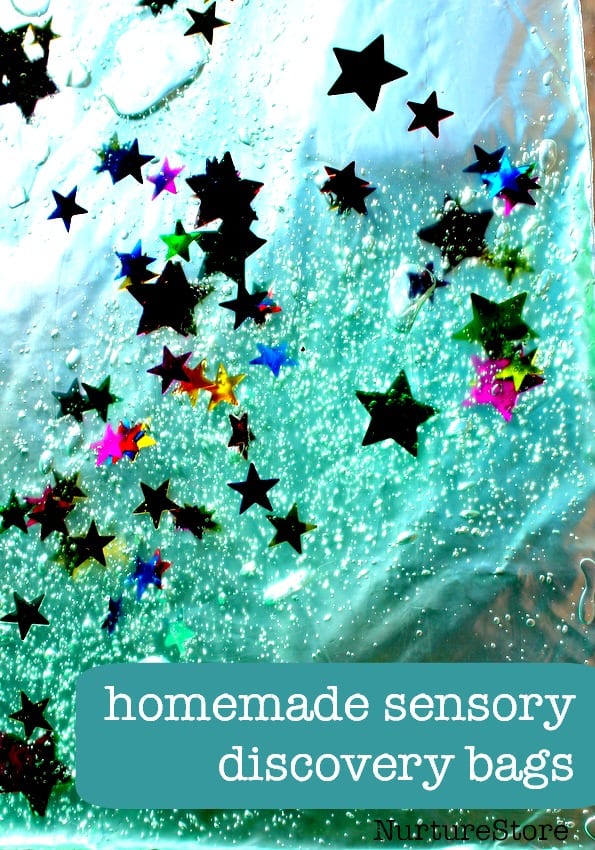 Sensory bags for babies, toddlers and beyond 
These sensory bags are great for:
:: sensory play activities, inviting your child to explore the feel of the gel bag, and to look for all the extra 'ingredients' inside
:: children who don't like to get their hands dirty, as they are able to enjoy the sensory experience without getting any of the materials on their hands
:: parents and teachers who don't like mess, as all the ingredients are held within the plastic bag
While all the ingredients are contained inside the sensory bag, do make sure all fastenings are secure so nothing can escape and end up in your baby's or toddler's reach, and always supervise all the time they are playing.
How to make a sensory bag
You need just two basic ingredients for your sensory bags: a strong, clear, plastic food bag, and some hair gel.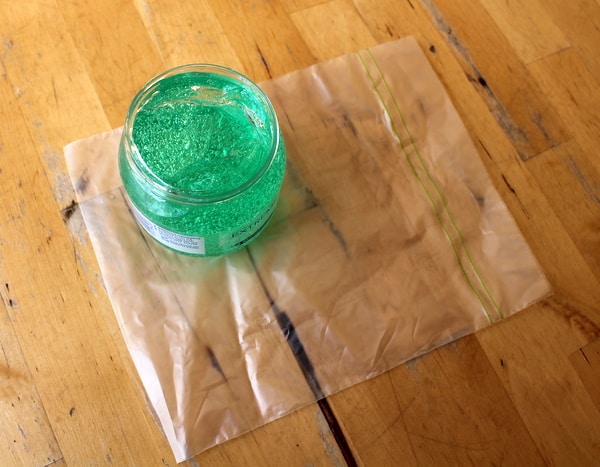 Your bag need to be strong enough to withstand handling by your child, so make sure you use something substantial. You can double up, with one bag inside another, and you can add extra tape around all four sides to secure it.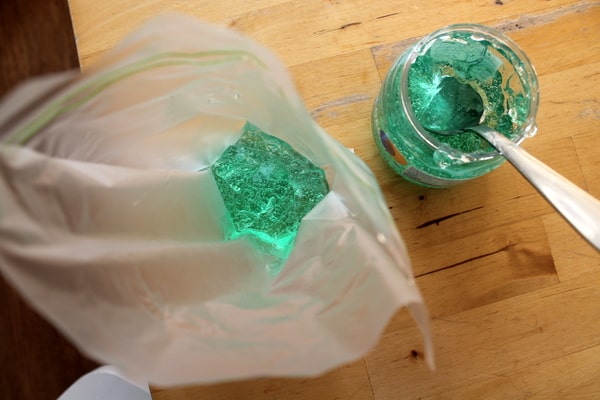 Fill the bag with some of the hair gel. You don't need very much gel, just enough so it can spread it out in a thin layer and fill the bag.
The gel-filled bag alone is great for sensory play, as it has an interesting texture for your child to explore, but there are many other ingredients you can include to offer different sensory experiences.
You could add in some glitter :: foil shapes such, as hearts or stars :: small toys :: pasta shapes :: rice :: drinking straws, cut into small pieces :: googly eyes :: foam sheets cut into shapes, letters or numbers :: pom poms :: lentils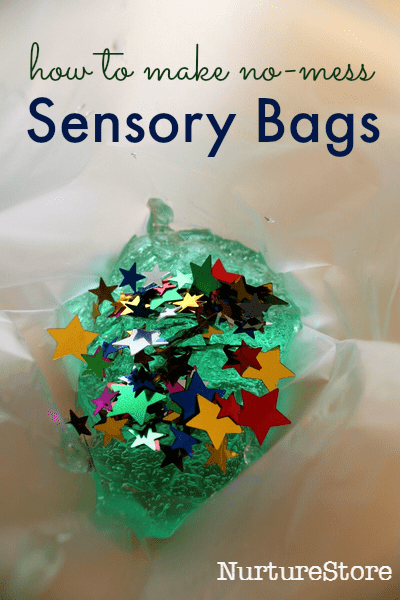 How to play with a sensory bag
:: you can tape the bags down onto a table, or the tray of a highchair, and invite your baby or toddler to explore
:: you could make a whole row of bags along a shelf or table, with different items inside each one – a sensory treasure hunt!
:: tape the bags to a window and watch how the sun shines through
:: use them to play hide-and-seek, to build language skills. Place a selection of items inside and see if your child can name them all
:: count how many things you can see inside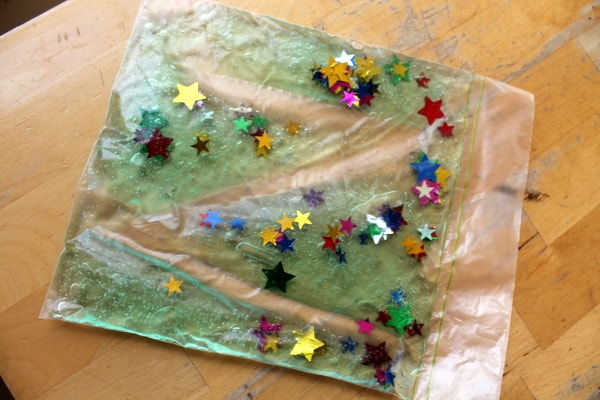 :: practise hand-eye co-ordination. Draw a maze on a piece of paper and place it under the sensory bag. Then see if you can use your finger to move one of the items inside the gel around the bag and through the maze.
:: use them to learn spelling. Use your finger as a pencil to write letter shapes into the gel – a super, sensory way to learn to spell!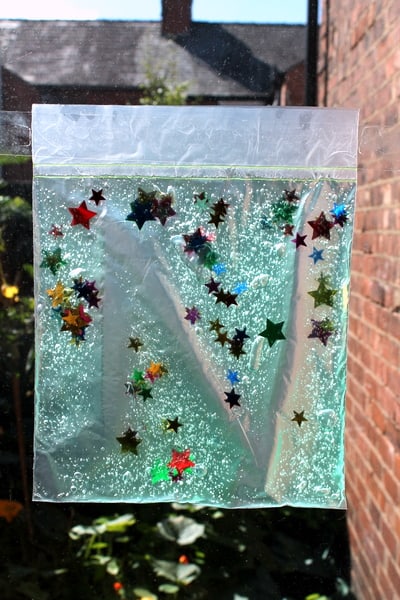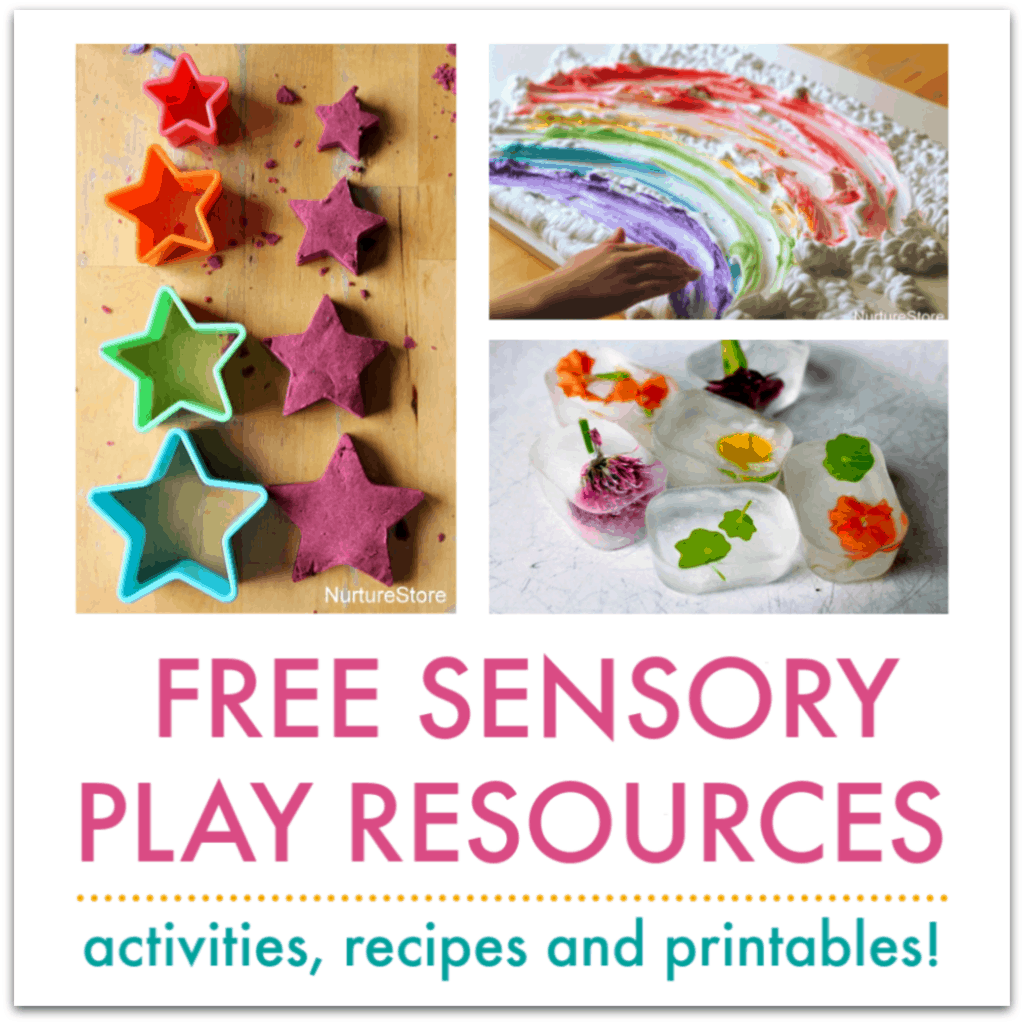 GET FREE SENSORY PLAY RESOURCES
Sign up for my weekly Super Sensory email and your teaching fairy godmother - that's me! - will send you free sensory play activities.
You'll get:
sensory play activity ideas to match all the festivals and themes of the year
fun recipes so you can make your own sensory play materials
free printables to add math, literacy and lots of creativity to your sensory play activities
To get all the free sensory resources, sign up in the box below.
---
By subscribing, you consent to our use of your personal data as per our Privacy Policy, which includes agreeing to receiving interest-based email from us.
---