Play dough fans rejoice! Kate from Picklebums is joining us today with a fantastic set of printable sea creatures that are perfect for enjoying with some ocean play dough.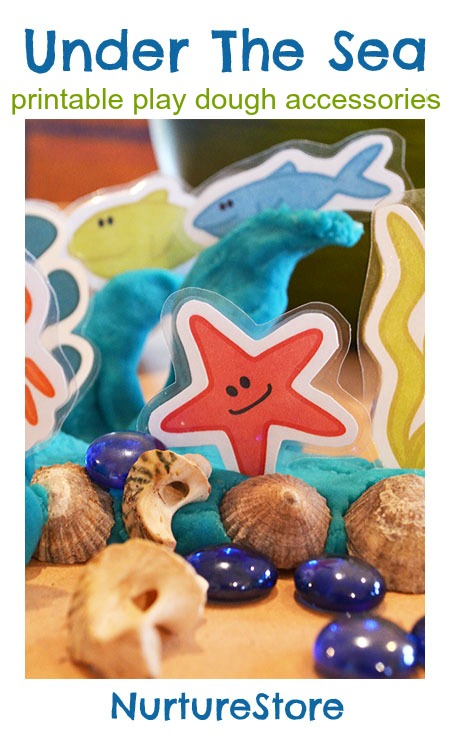 Printable sea creatures for ocean play dough
>>> Click here to see our favourite children's books about the sea, with activities to match!
We have four kids – twin girls aged nine, a five year old boy and a two year old boy – and I am always amazed at how much they all love playdough. Playdough is one of those rare activities where all our kids happily play together.
It is such an open-ended activity that it lends itself to intricate creations made by the nine year olds, as well as basic manipulation from the toddler, and everything in between. It allows for lots of cooperative play, negotiation and social skill development, but it is also just as easy to give each child their own lump if they are not ready to play together right now.
We have commercially made playdough accessories coming out our ears which have all been well loved, but the best playdough accessories are always the ones that we make ourselves, the ones that really spark my kids' imaginations or follow their interests. Cathy first inspired me to make printable playdough accessories when she had the wonderful idea to use our bunny cup cake toppers with playdough. Genius! Since then we have made some printable playdough garden accessories, and after a recent trip to the beach collecting rocks and shells I knew that sea creatures would be my next playdough set.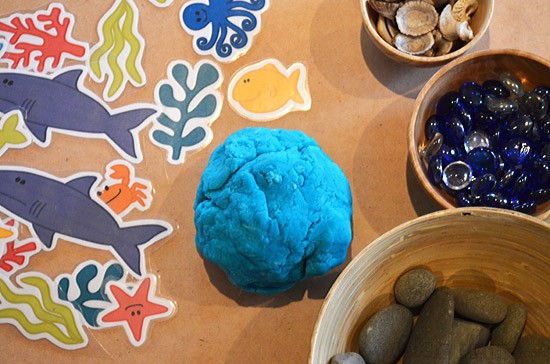 My kids waited, not very patiently, for me to finish creating the images and then the girls helped cut them out, laminate them and then cut them out again. Meanwhile the boys and I set about making our favourite microwave playdough – blue of course! Then we all collected some extra bits and pieces – glass pebbles, stones and shells. The rest was up to the kids…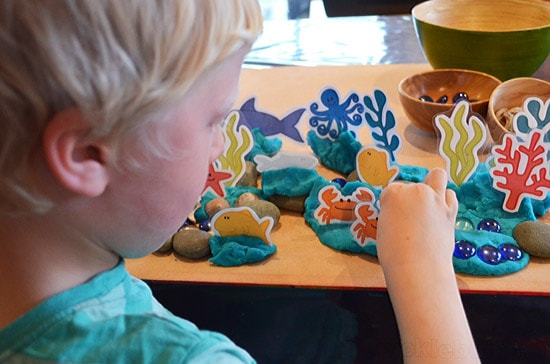 All four kids loved creating under the sea scenes. Elaborate stories were played out, sharks ate fish and a star fish got tangled in an octopus. The playdough became waves, and lagoons, and even a deep sea diver!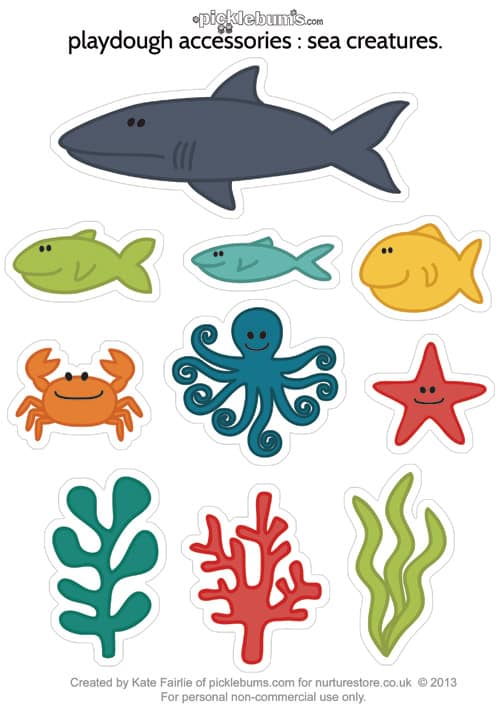 Download the sea creatures printable
You can print your own under the sea playdough accessories by downloading the sea creatures printable pdf file below. Then just print, cut, laminate (or cover with self adhesive paper), cut again, and play!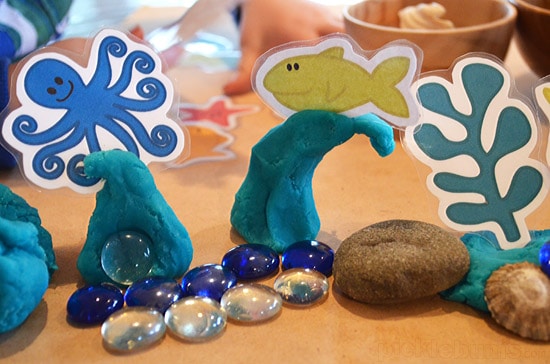 How to download the printable
Hey, are you doing a project on fish, the seaside or the ocean? If you're looking at this article then I guess you might be. I have some great free printables on a fish theme that I think you'll love.
NurtureStore has an extensive library of free printables, including a free Number Fish printable, which is great for adding numbers to your play and working on math skills in a hands-on way. I also have a lovely free Ocean Creatures Play Set which you can print and combine with playdough or a water tub for imaginary play.
Get access to ALL my free printables by subscribing to my email list.
To download my free printables, you'll need to visit the NurtureStore Printables Library, which is available to all subscribers to my email list, and of course to Play Academy members.
Pop your email address in the form below and you'll get access to all my free printables, lesson plans, activity ideas, weekly newsletter, and a whole lot more!
After subscribing, be sure to check for the confirmation email. After you confirm your email subscription, we'll send you a welcome email which includes instructions for downloading our free printables.
If you're already subscribed to our email newsletter: check your email for the latest edition of the newsletter where you'll find a link to access our free printables library - the link is usually at the bottom of the email.
For help accessing our printables, click here.
---
By subscribing, you consent to our use of your personal data as per our Privacy Policy, which includes agreeing to receiving interest-based email from us.
---
| | |
| --- | --- |
| | An early childhood educator and Mum of four, Kate lives on a small property called 'The Pickle Farm' in rural Australia. Kate's blog, picklebums, has articles about gentle parenting, gardening, family food, activities for kids, free printables and anything else that pops up in her crazy life. You can also find Kate on facebook, twitter, and pinterest. |