This Valentine craft uses a recipe for colored salt dough to make some pretty heart-shaped candle holders. It combines reading, math, fine motor skills and sensory exploring to make a lovely gift.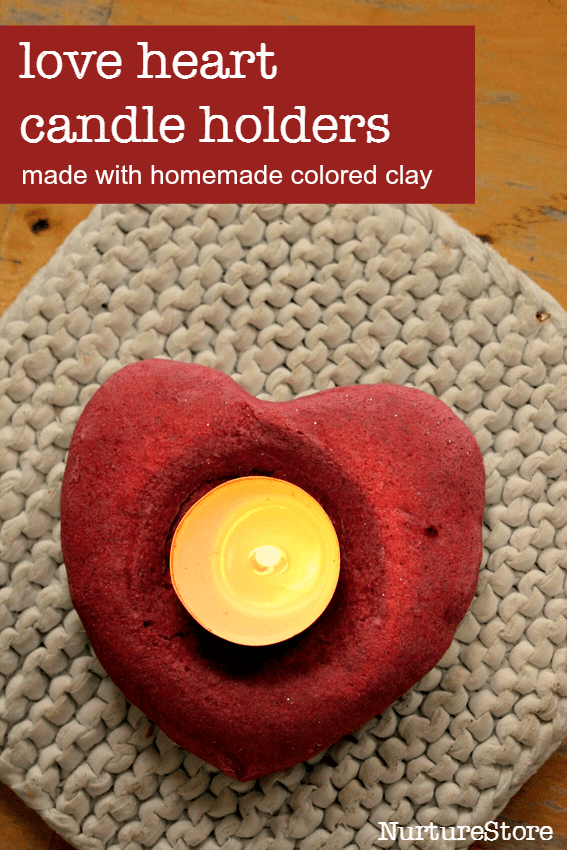 Homemade colored salt dough Valentine candle holders
Whenever we're 'baking', I always like to write out a simplified version of the recipe for my children, and then I encourage them to take charge and read out all the instructions for us.
With a recipe, children get to read a sequence of steps, and encounter mathematical measures. We had a chat about ratios and how the recipe could be doubled or tripled to make more candle holders.
This recipe should make approximately 6 – 8 candle holders of the size shown.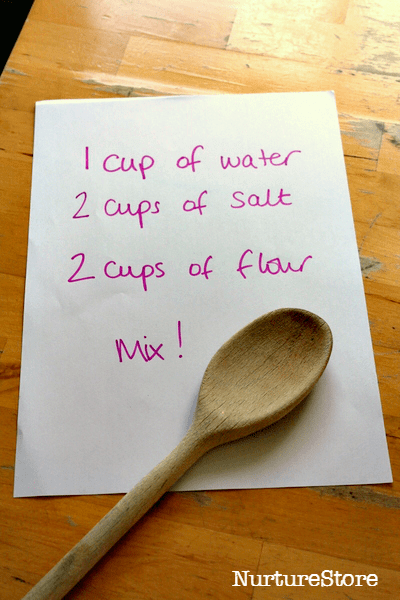 In a large bowl we measured out two cups of plain / all purpose flour and two cups of salt.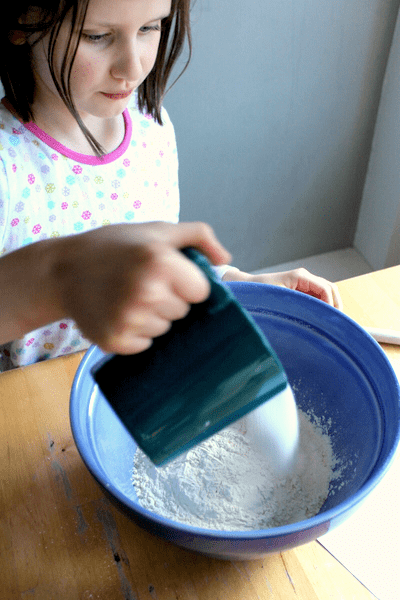 How to color salt dough
There are three different ways you can add the color to your salt dough.
If you have some colored salt, you can use that in place of the ordinary salt – see here for how to dye salt.
You can also add food coloring to the water in the recipe.
And if you want to make plain salt dough and paint it at then end, you can – you can see how the children at The Mad House used that method to make their pretty Valentine candle holders.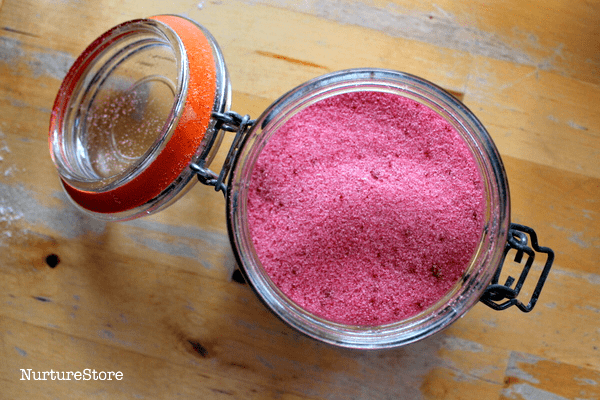 We had some colored salt left over from our salt writing tray, so we used that, and also added some food coloring gel to our water.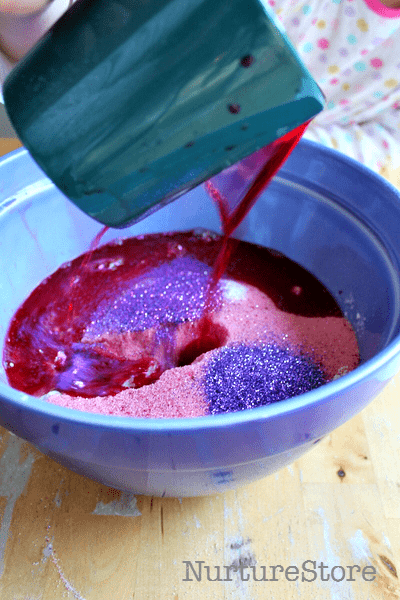 You'll need one cup of water to complete the recipe. Pour it in to your bowl, and add some glitter for extra sparkle. Give the salt dough a good stir.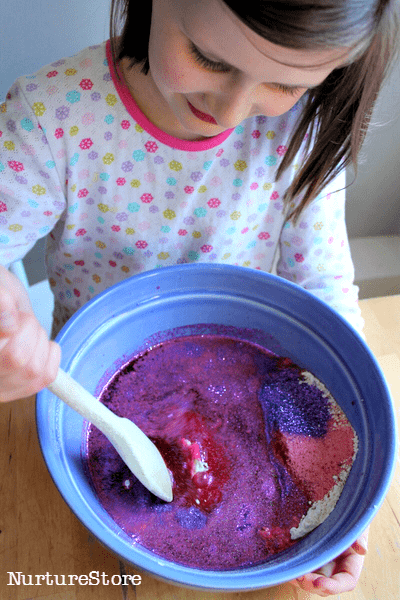 Once all your ingredients have combined together, tip the salt dough out and knead it for a couple of minutes. This is a great workout for hands and fingers.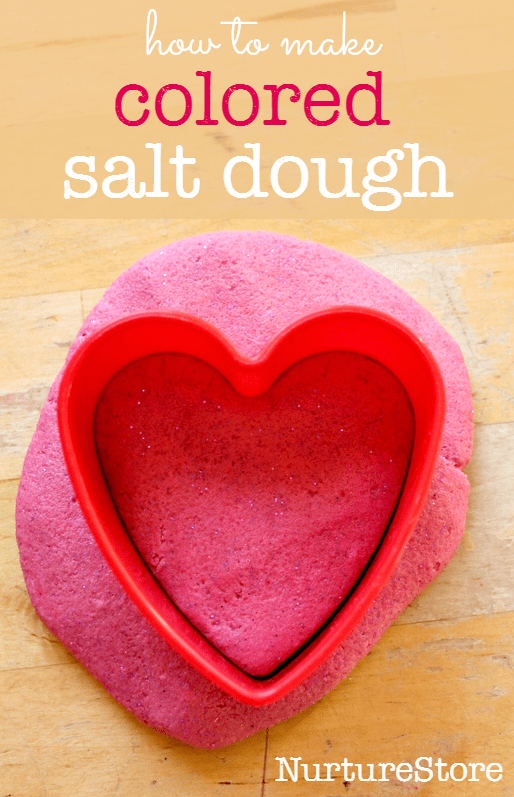 Then you can roll out your colored salt dough and use cookie cutters or your hands to make heart shapes.
We found a piece of baking parchment under the dough was a good idea, and stopped the dough from sticking to the table. The children also found it easier to mold the dough with their hands, rather than the cookie cutter.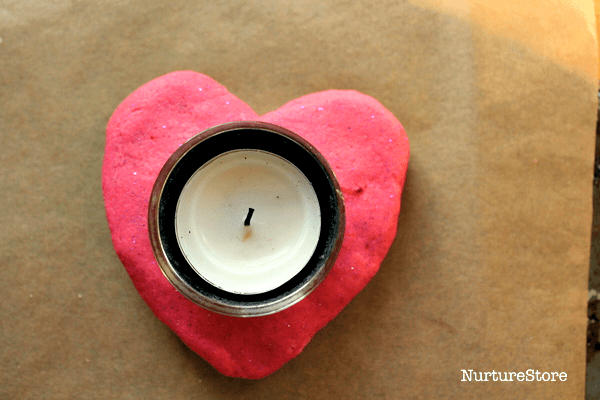 Use one of your tealights to press a circle into your salt dough, to make a space for your candle to sit – but remember to remove the tealight before your candle holder goes in the oven.
Place the salt dough candle holder on a baking sheet lined with baking parchment, and bake in a very cool over (Gas 1/2, 120C, 250F) for two to three hours. (A spatula / fish slice is useful for transferring the candle holder to the baking sheet.)
The time it takes to bake will depend on the size and thickness of your candle holders. It's a good idea to carefully turn them over half way through baking so they dry out on the under-side too.
Once baked the candle holders will be dried and hard. Carefully remove them from the oven and place on a wire cooling rack until completely cold.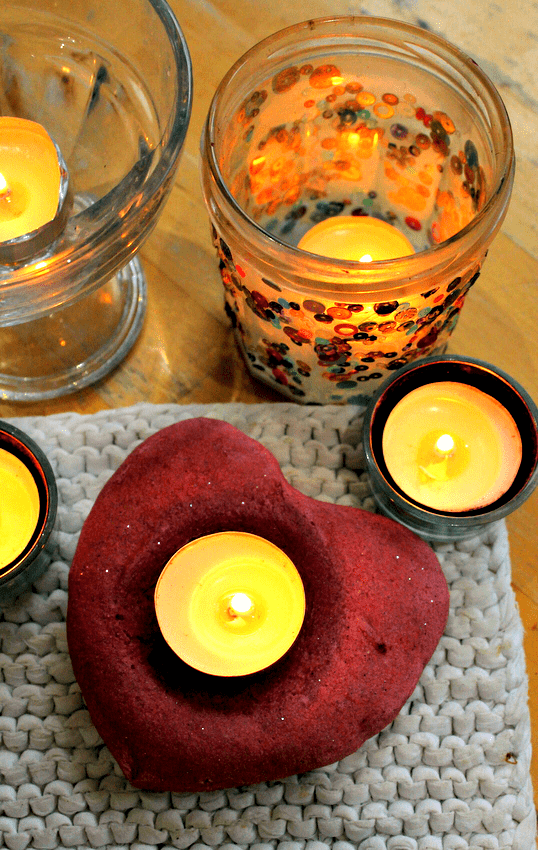 Then you can add the tea light back into the centre and light your pretty Valentine candle holder.
More lovely Valentine's Day activities for your children
Did you see all my other Valentine's Day activities for children? I've got more free printables, art, math, science, literacy and play ideas, all with a Valentine theme. You can find them all here.