Here are some favourite fall play dough recipes, featuring autumn colours and lovely warming spices. They're so wonderful to play with, giving your children a sensory boost on colder autumn days.


Fall play dough recipes

One of the best things about using homemade play dough is being able to add in extra sensory elements, such as colours and scent. These play dough recipes feature autumn shades and lovely spices, that fit the season perfectly.
If you've never made your own play dough before, give it a try. It's quick and easy and you can make a generous amount, giving your children abundant materials to play and create with. And if you wrap it up well in a plastic bag after you've finished playing, it can last you right through until you're ready to make some homemade Christmas play dough instead!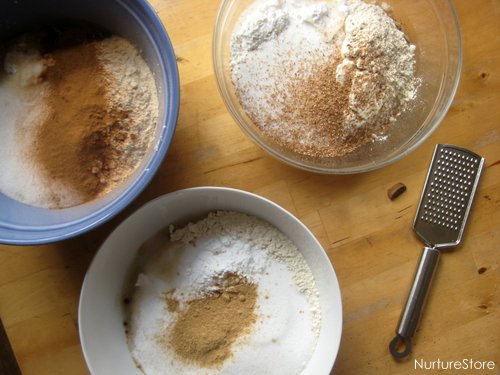 To make my favourite homemade play dough recipe you'll need to mix, in a large bowl:
2 cups of plain (all purpose) flour
1 cup of salt
2 tablespoons of cream of tartar
2 tablespoons of vegetable oil
Then give your play dough an autumnal twist by adding in some spices. I made four bowls of the play dough mix and added a different spice to each: grated cloves, ground ginger, ground cinnamon and grated nutmeg.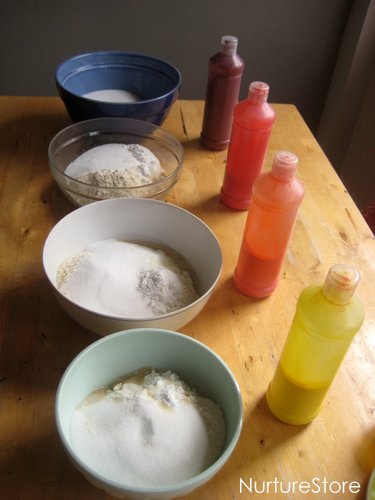 Then you need to add in some liquid to bring your dough together. For a basic play dough recipe you'd add 1 and half cups of just-boiled water. To add some seasonal colour, I replaced some of this water with a good squirt of paint.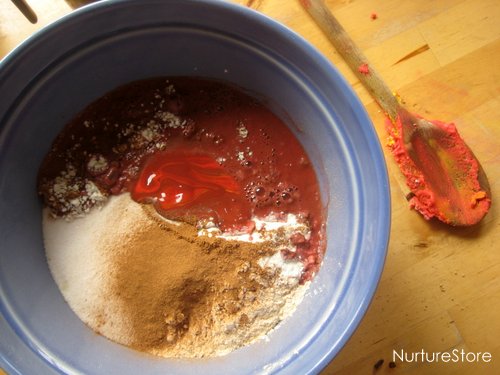 I most often use food colouring when I make playdough, but the paint gives a great colour boost to your dough. I used a washable-, ready-made poster paint (tempera) and it gave a really even colour throughout the dough and didn't come off on our hands when we played with it.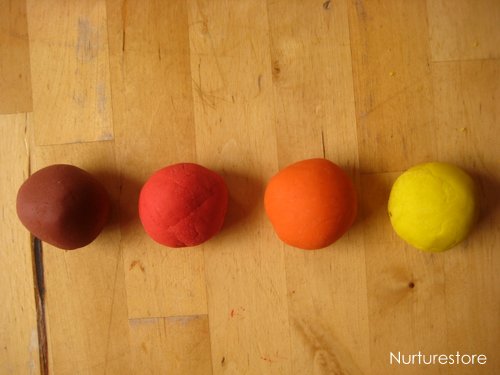 Stir your ingredients together in the bowl to form a dough, then tip it out and give it a good knead for a few minutes – and then you're ready to play!