Remember the kids art idea we tried last week, exploring texture? Here's what happened when we added painting on top – lovely sensory, textured experiments!

Kids art :: painting on texture

The surface of our boards was made up of a collage of recycled materials, in all sorts of textured finishes. (See how we made them
here
)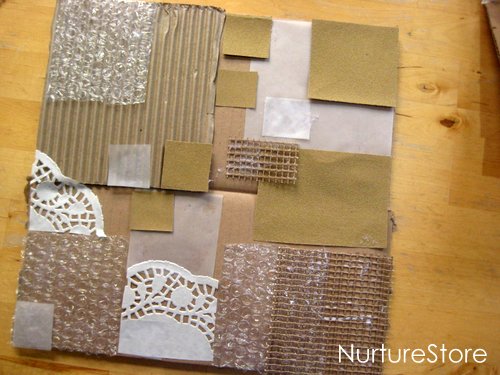 Once the glue had dried, we decided to come back and use our collages for more art, this time by adding paint on top.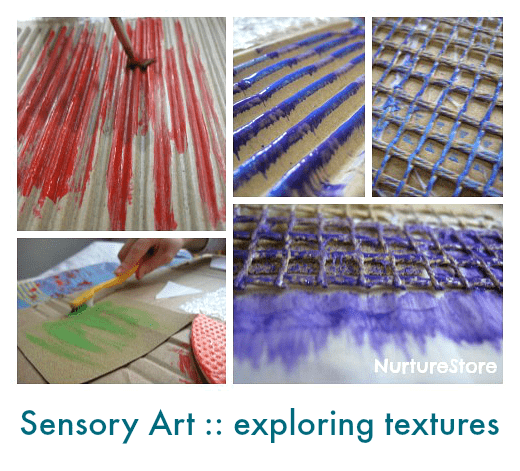 Everyone discovered that adding the paint on top of the textured surface was fun! There was lots to explore as the lines, bumps and feel of the different materials took the paint differently. We could:
:: paint along the top or right inside the grooves
:: use a paint brush lightly over the surface to only paint the material on top
:: use a tooth brush on the sandpaper, to really feel the grainy texture
:: poke the end of a paint brush into the polystyrene, and then use the brush end to fill in with colour
:: paint each surface a different colour, or use one colour over them all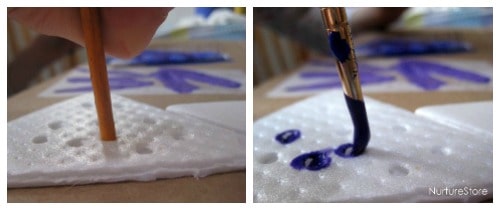 Lovely relaxing and interesting experiments – really great for wind-down times, or for transitions. (Rather than saying no to a messy activity like painting right before bedtime, I find it's a perfect way for the children to say goodbye to a busy day and turn into night-time mode.)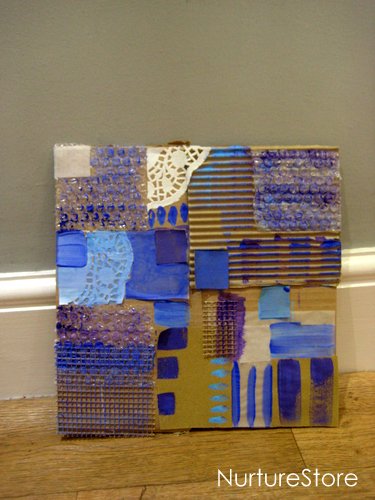 And here are some finished pieces. Same concept, similar process, totally different products at the end.