I'm starting a new series here on NurtureStore, sharing some of my favourite recipes for play. Let's start with something messy: a how to make goop recipe!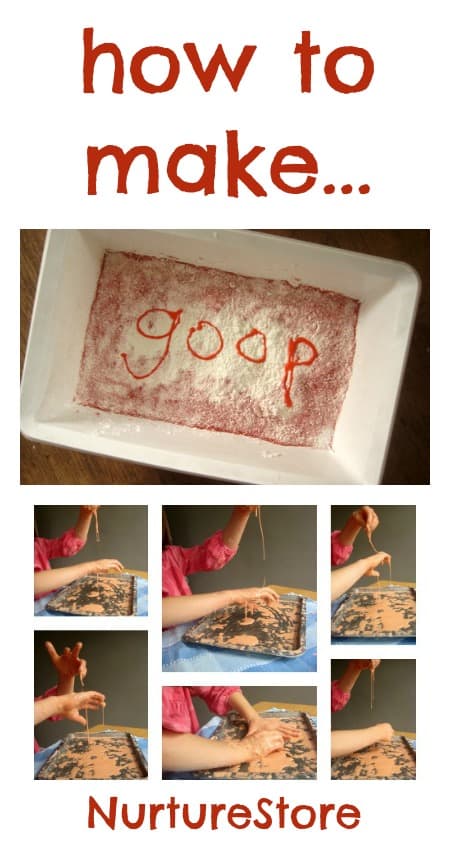 How to make goop recipe
Goop is sometimes know as oobleck, and there are only two ingredients needed to make it.
Corn flour (as it's know in the UK) / corn starch (as it's known in the US) and water.
***This is important to note, as the different names in the UK/US can cause confusion, and if you get the wrong one, your recipe will not work.***
You can also add in lots of extras to give an extra sensory boost. Try adding ::  paint :: food colouring :: essential oils :: spices :: glitter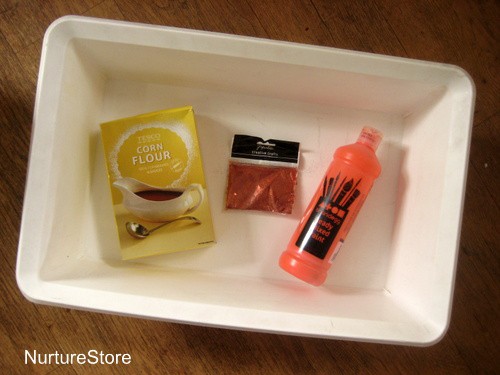 All you need to do is take a container and fill it with some corn flour (UK) / cornstarch (US). Mix in any extras you are using…this time we're adding orange paint, glitter and ground cinnamon for some autumn-ish goop…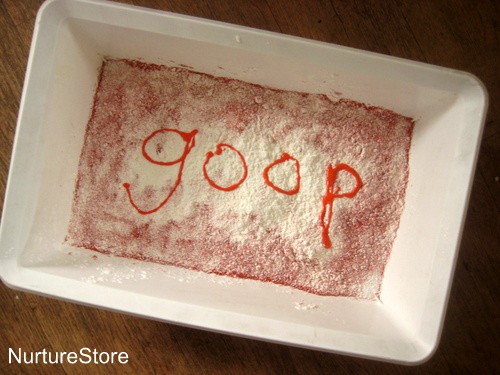 then pour in your water. How much water you add will determine the thickness of your goop/oobleck. Start with a little water, stirring as you pour it in. It's easier to add more water, if needed, than to keep having to mix in more cornflour/cornstarch.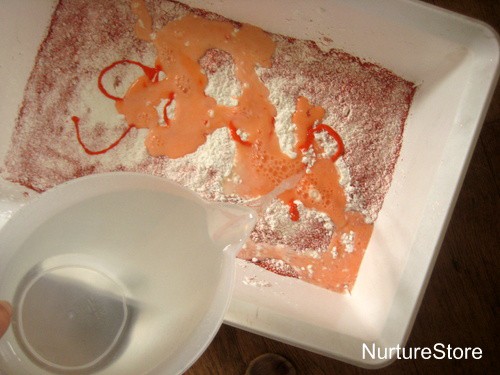 Then you are ready to play. Goop / oobleck has such an amazing consistency. At times it's a liquid, and you can have lots of fun pouring it and letting it trickle through your fingers,  but…. try grabbing some, or punching the mixture, and you'll notice how solid it feels. It's such an interesting material for children to explore, and great for sensory play.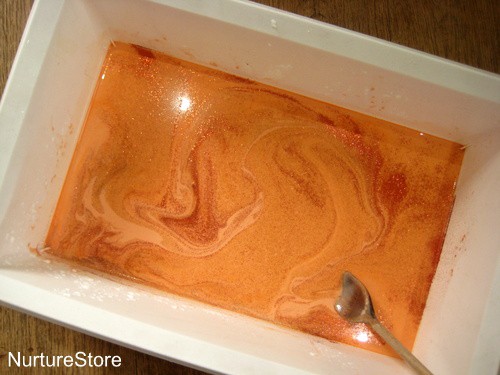 You could partner it with lots of different containers, jugs and funnels. Or hide things in the tub for your children to fish out.
If you make it with more cornflour / cornstarch and less water, you will get a thicker texture. This is great for mark making….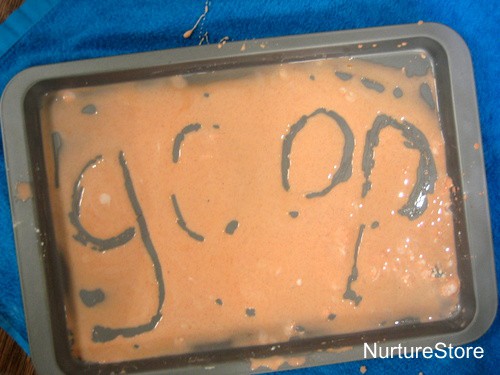 and you can also use it for some multi-sensory learning – a fun way to learn spellings!

Be warned…. it's messy play!
Of course, the main reason my children love goop is because it's a touchy, feely messy play delight! Make sure any surfaces – be they table, floor or child – are covered and then you can enjoy some glorious goopy fun.
When you've finished playing, be sure not to pour it down the sink to dispose of it. You might find it will keep in a plastic bottle if you want to play with it again in the next day or so, but otherwise (depending on any extras you added into the mix) it could go on the compost heap or in the rubbish bin.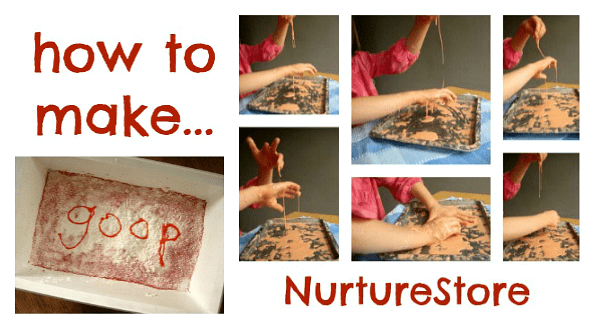 Super Sensory Invitations to Play

Ready for a whole year of exploring through the senses? Super Sensory Invitations to Play is a delightful resource that encourages your children to explore the five senses through the year, using a wide variety of sensory materials. It includes 52 invitations to play, linked to the festivals and seasons of the year, and including water, ice, dough, rice, paints, sand, sensory tubs, and more.
They are easy, simple, and fun ideas that you can use right now to give a multi-sensory boost to your play and learning. It comes with a printable recipe book featuring all our favourite recipes for play. Come and see more here.