Here's a super fun outdoor art idea from the Just So Festival: using water pistols for spray painting!
Outdoor art: spray painting
Even if you shy away from messy play indoors, by heading outside you can give your children the opportunity to try some big, fun, explosive spray painting.
These photos are all from the Just So Festival, which we visited recently. The festival is always packed with inspiring ideas, encouraging families to engage with fun, creative activities, and this spray painting workshop was enjoyed by children and adults of all ages. Kapow-ing and splat-ing is fun whether you're 3 or 63!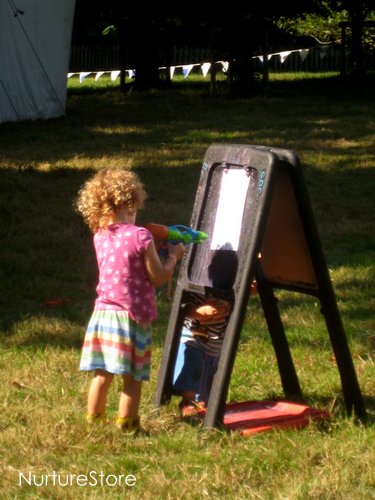 To try this at home, you could use easels like at the Festival, or peg up a big sheet of paper or fabric on a washing line or against a fence.
Set out buckets of coloured water (made by diluting paint, or adding food colouring to water) and provide water pistols or spray bottles, which the children can fill and re-fill with different colours of paint.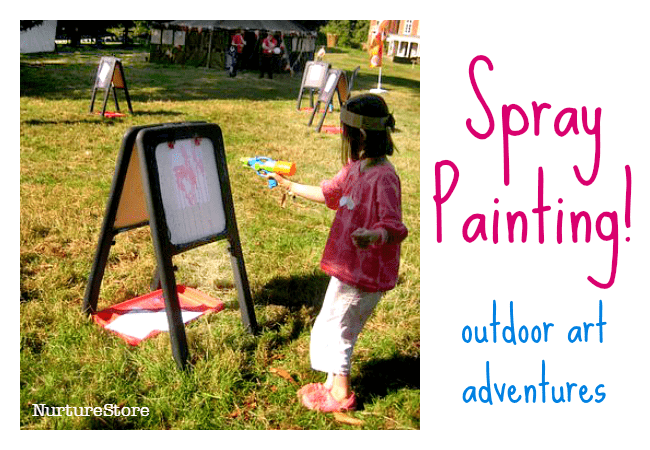 Everyone needs to be well covered or wearing clothes that you don't mind getting colourful.
Then the real fun begins. Spray, splat and kapow your colours on to your picture. How far away can you stand and still hit your target? What happens when you shoot blue paint on top of red?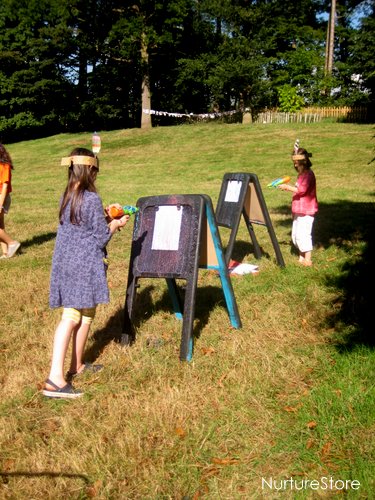 What does your art look like as the water paint dribbles down your paper? What images can you see?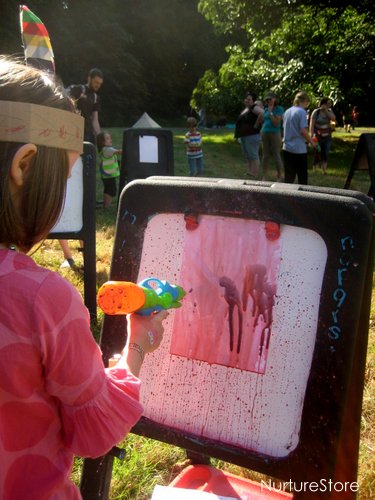 You might like to hang  your spray paintings up to dry on a washing line, and then see what shapes you're left with. Take some markers pencils and googly eyes and see if you can turn the splats into creatures.