A DIY baby sensory book is such a delight, both to make and share. This version is so easy to make and gives you a lovely book to read with your little one, or give as a gift.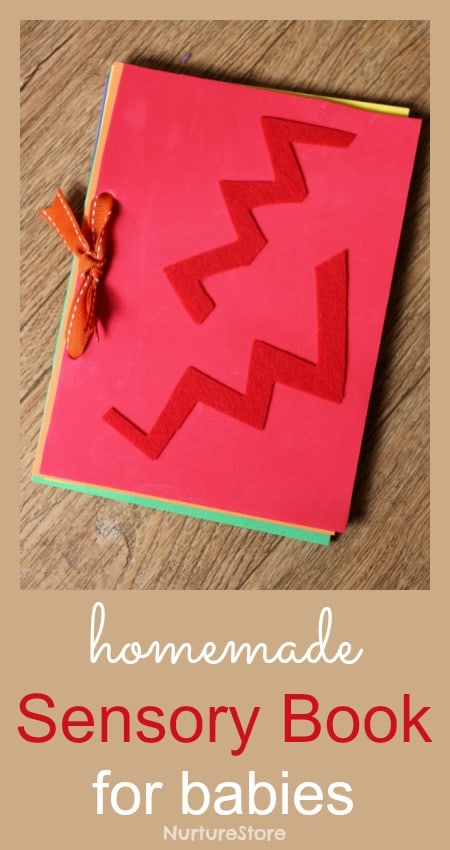 DIY baby sensory book
You'll need something to use as the pages of your book.
You'll want something that's nice for your baby to hold and robust enough to take a bit of tugging and turning.
I'm using sheets of craft foam, but you might also use felt, fabric or thick card. A rainbow of colours looks gorgeous.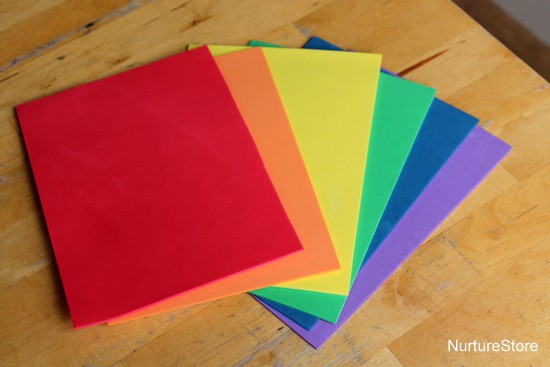 Next you need to punch a couple of holes in each page, so you'll be able to fasten them together.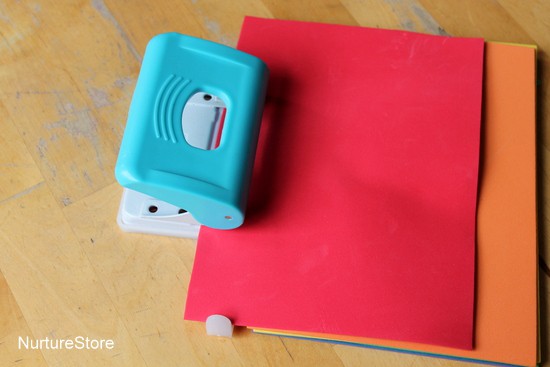 And then you need to add some interesting sensory materials to each page.
You can use all sorts of materials in the book, fitting any colour theme you want to work to. Include a range of textures so there are plenty of contrasts for your baby to feel.
You can cut your materials into random or geometric shapes, numbers, or the letters of your child's name.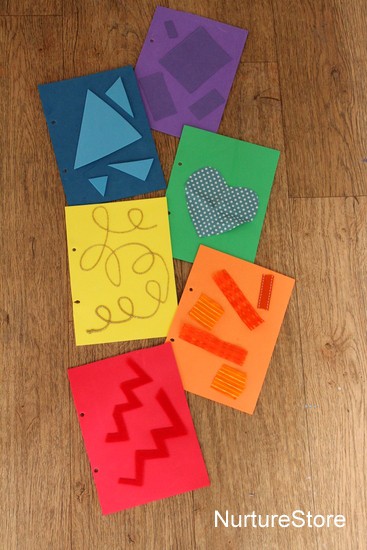 You're going to be enjoying the book with your child of course, and supervising them all the time they're reading, but still take care with your choice of materials. Pick things that offer a lot of variety but which you are happy for your baby to handle.
Whatever you pick, superglue them on to the pages of the book so they are secure.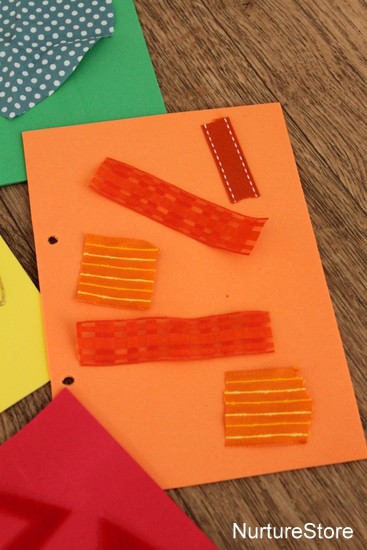 What to include in your baby sensory book
Here's what I went with:
:: red felt zigzags
:: orange ribbons
:: yellow glitter glue, applied thickly to dry into a set of raised loops
:: green spotty fabric heart
:: blue foam triangles
:: purple smooth and shiny card rectangles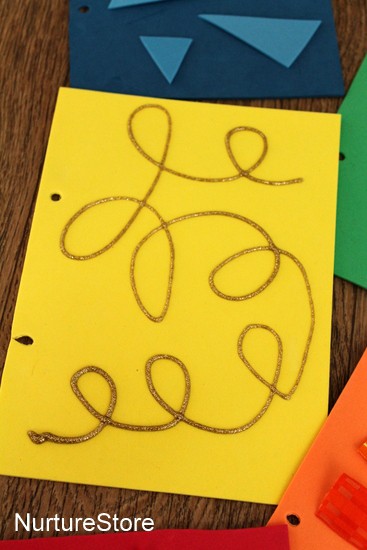 Once all the glue is dry, you can use a piece of pretty ribbon to tie all the pages together.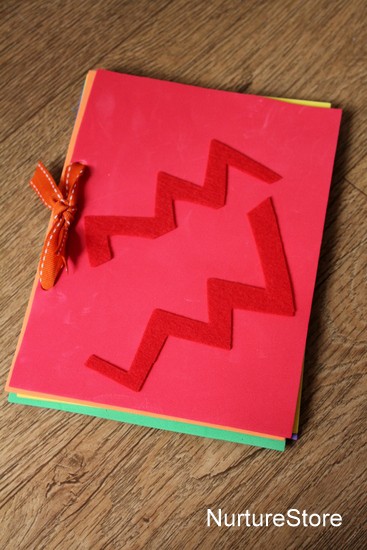 How to read with your baby
This is such a lovely book to share with your child.
Babies are never to young to read with, but take cues from them to know how long to read for – little and often is great.
Snuggle together and explore the pages of the book.
We can introduce the idea of looking at pages in turn, and holding the book the right way round, but relax and let your baby enjoy flipping the book if that's what they like.
The main idea is to enjoy time together and introduce the idea that these book things are fun!
Chat together about the things you can see in the book.
What colours, shapes, and patterns are there?
How does each page feel?
Remember to not do all the talking yourself, but also pause and listen to what your baby has to say.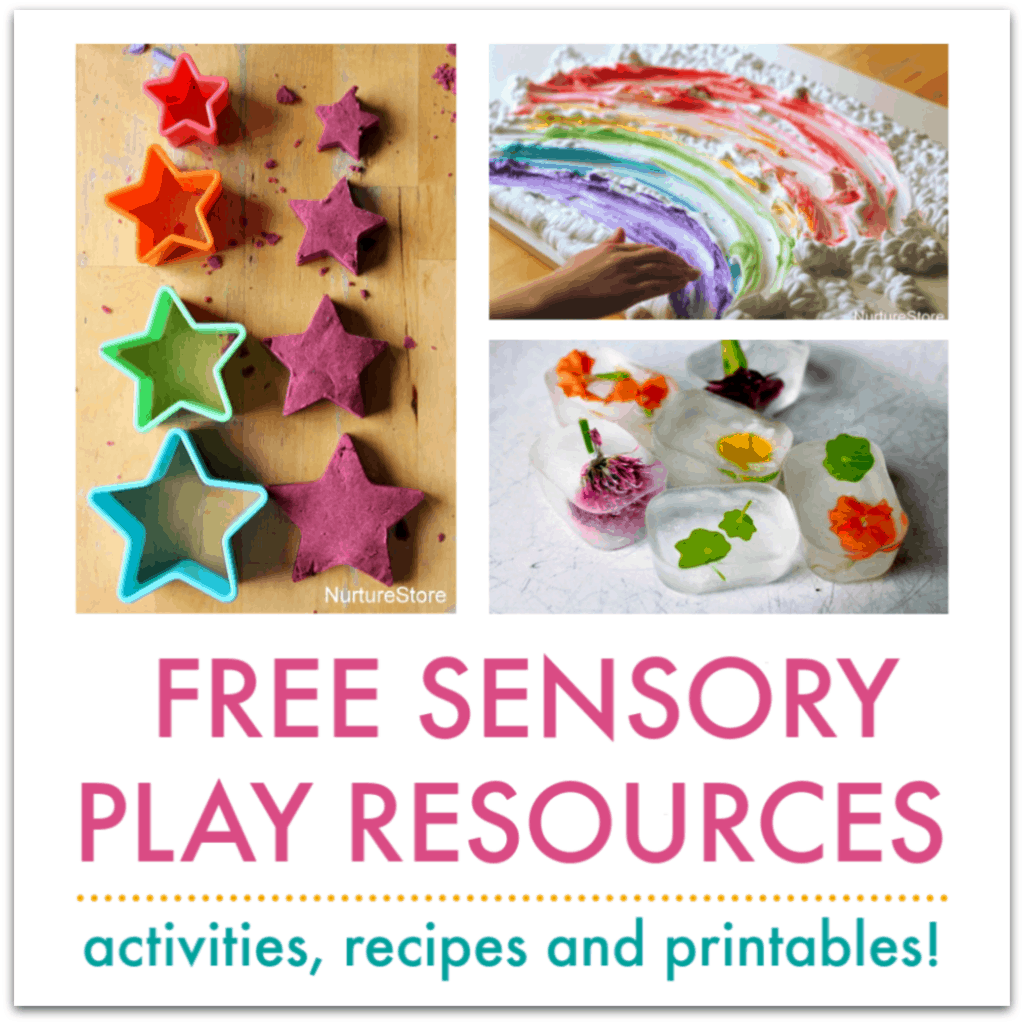 GET FREE SENSORY PLAY RESOURCES
Sign up for my weekly Super Sensory email and your teaching fairy godmother - that's me! - will send you free sensory play activities.
You'll get:
sensory play activity ideas to match all the festivals and themes of the year
fun recipes so you can make your own sensory play materials
free printables to add math, literacy and lots of creativity to your sensory play activities
To get all the free sensory resources, sign up in the box below.
---
By subscribing, you consent to our use of your personal data as per our Privacy Policy, which includes agreeing to receiving interest-based email from us.
---