We've had pig weighing, egg cracking and copy cats. Today's brain boosting idea is all about smelling and finding out how clever your nose is.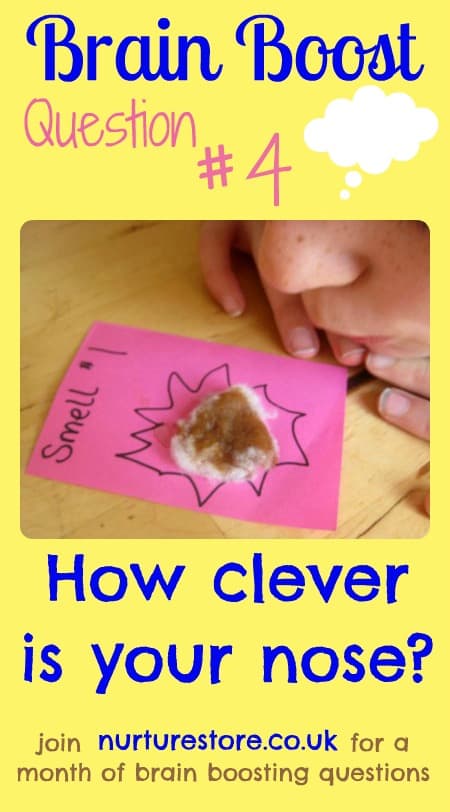 Smelling games
The objective of the smelling game is to discoverhow clever your nose is at identifying smells – and to start kids thinking about how noses work.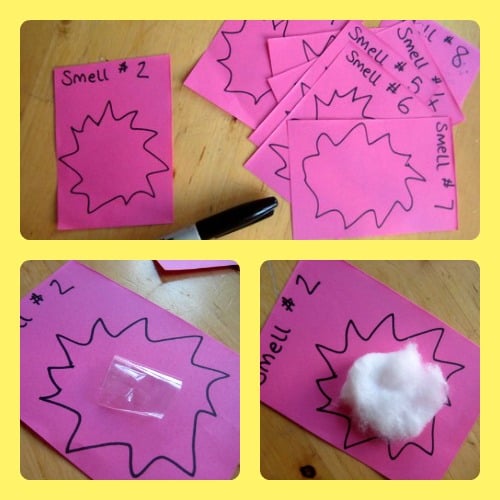 Prepare a set of smelling cards for the children, without them seeing what you've used for fragrance.
Number each card and stick a little cotton wool in the centre of each using sticky tape.
Collect some things that have a strong smell and add some drops of liquid or juice from them on to the cotton wool, or rub the items on the wool to transfer the aroma on to your smelling cards.
You can try anything you like, but of course only use things that are safe for the children to handle and inhale. We used:
::coffee
:: juice from a lemon
:: juice from an orange
:: vinegar
:: perfume
:: mint leaves
:: soy sauce
:: lavender essential oil
Set up the challenge by laying out the cards and inviting the children to start smelling.
Provide them with a clipboard, paper and pencil and see if they can work out what each smell is and write down their answers.
It's not as easy as they might think! But lots of fun – especially when your mum's trying to take photos of your sniffing!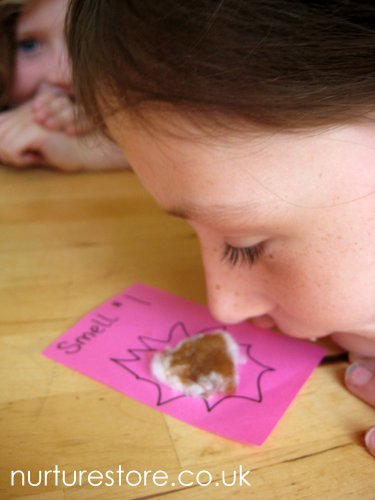 You can make this easier by providing a set of cards with the answers written on to see if the children can match them up with the smelly cards.
They could work individually but putting them in pairs encourages lots of chat and questions.
Why do things smell?
How do things make a smell?
How does your nose work?
Why can't you smell so well when you have a cold?
What's your favourite smell?
What's the worst thing you've ever smelt?
Have fun with your brain boosting smelling!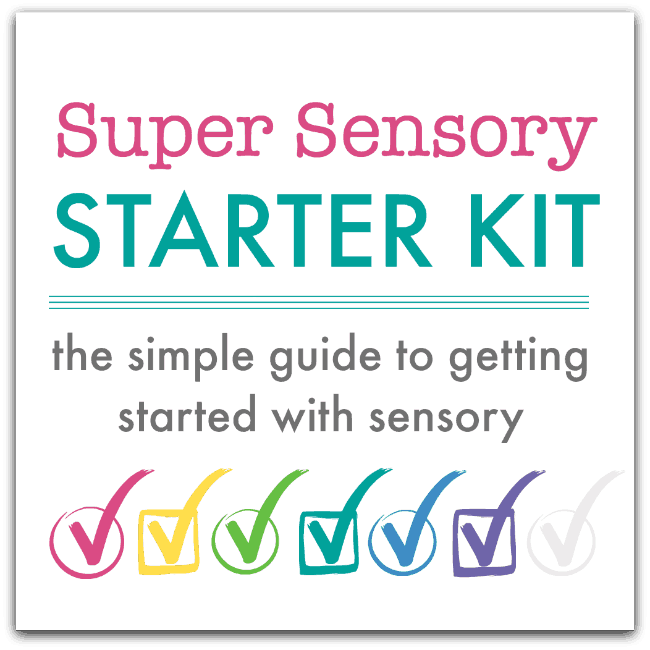 Get my Super Sensory Starter Kit for free
Every child deserves to be have their needs met so they can thrive. That's why I've made you my free Super Sensory Starter Kit.
Do you feel like your child is measured too early against unrealistic standards and you know they need more sensory input, more fun, and more hands-on activities?
Maybe you're a parent who wants to get your child away from a screen and into active play. Or you have a special sensory child who needs their own sensory diet.
Maybe you're a childminder or a nanny who needs to balance activities for a range of ages, with a tiny budget for materials.
Perhaps you're a teacher who truly wants to have a play-based classroom, but you're already stressed by the demands of observations and administration. Or perhaps you're a therapist or specialist who needs ideas that colleagues and parents can use.
My free Super Sensory Starter Kit will give you the tools you need to successfully tune-in to your child and help them be happier, calmer, and more successful at learning and life.
So I can send you the best resources, please tell me which of the following categories best describes you:
---
* By subscribing, you consent to our use of your personal data as per our Privacy Policy, which includes agreeing to receiving interest-based email from us.
---