Looking for some Easter craft activities for children? Here's an idea that takes a childhood classic and gives it a spring-time twist – we're potato printing chicks, lambs and rabbits!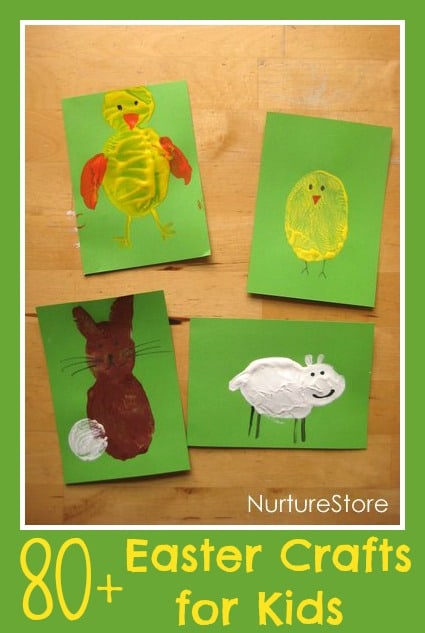 Easter craft activities for children :: potato printing
We are getting our seed potatoes ready for planting out this month, so we thought we'd try out some art using a few of the spare spuds.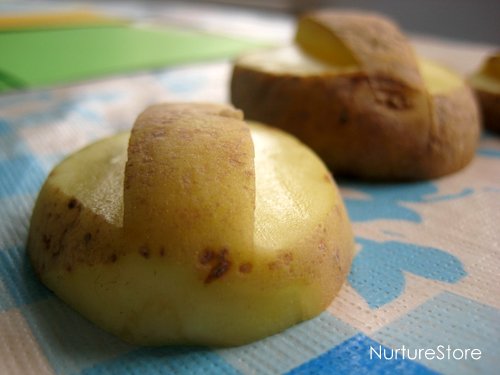 Slicing the potatoes in half gives you a good surface to use for printing, and slicing out a handle on the top makes them much easier for young children to hold.
An assortment of potatoes, and a few carrots, gives you a good selection of sizes to work with. We used yellow, brown and white paint to create our Easter animals.

A big potato for the body and a small one for the head and you have a lovely spring lamb. My daughter then used use the wooden tip of a paint brush handle to make legs, a smile and to dot in some eyes.

Make a yellow version and you've got a chick. The children discovered the bits of the potato we'd chopped off to make our handles actually made great wings.

A brown version gives you a rabbit. The kids thought it was clever that the same big and small circles created different animals, just by changing the paint colour.
You can paint in the faces, but you might also like to wait until your prints have dried and then draw in details with a pencil. It's fun to try out a couple of different techniques.

A here's my favourite – just one simple print to make a chick.

The finished potato prints make lovey decorations or Easter cards, or you could use them for some storytelling prompts.