Download this set of free carrot number cards and try these ideas for some hands-on spring math activities.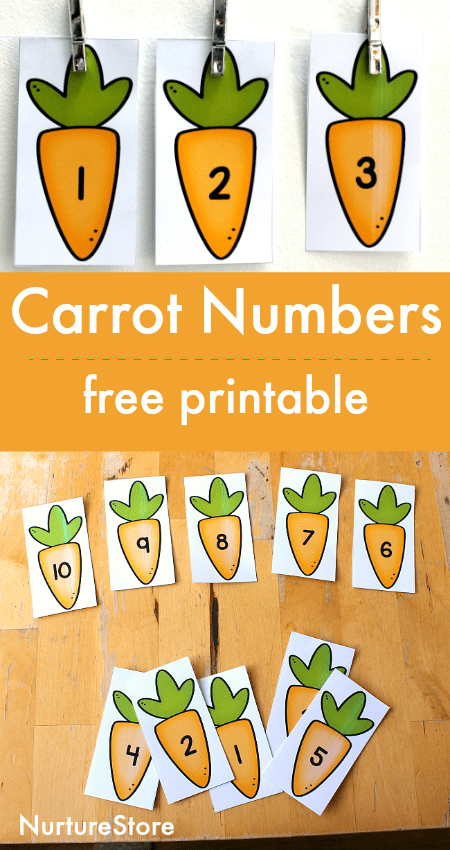 Free carrot number printable :: spring math resources
This activity is part of my Spring Activities resources, which include an introduction to the season and complete units on Daffodils, Eggs, Seeds and Shoots, and running a Nature Study project. See our full resources and free printables here.
Free carrot number cards printable
Using math manipulatives like this is a great way to get to know numbers. They provide a useful visual reference for children, and are cute and fun to play with.
Swapping your resources to match the themes of the year keeps things fresh and interesting for children – calling their attention back to the materials with renewed interest.
The little carrots, along with the activity ideas I'll share with you, keep math learning hands-on, multi-sensory, and encourage children to use all their senses as they play and learn.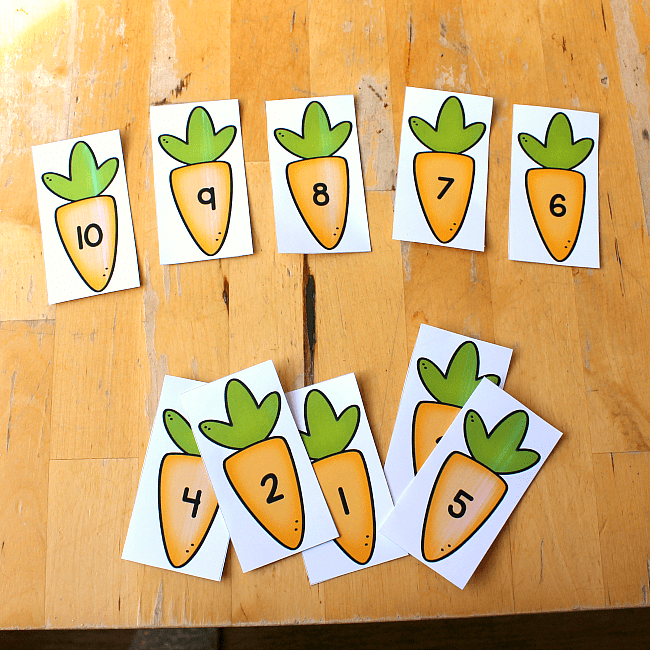 How to Use Your Carrot Numbers
Print your carrot numbers onto card, cut them out, and play. You can laminate them for extra durability if you like.
:: Use them to make carrot bunting or a number line. Head here to see how to use a number line for math learning.
:: Use the carrots to play matching games. Print two sets and see if you can match up the pairs of numbers.
:: Place two sets of the carrots face down and use them to play Memory.
:: Hide the number carrots around the house or garden and see if your children can treasure hunt them all and place them in numerical order, from small to big, and from big to small.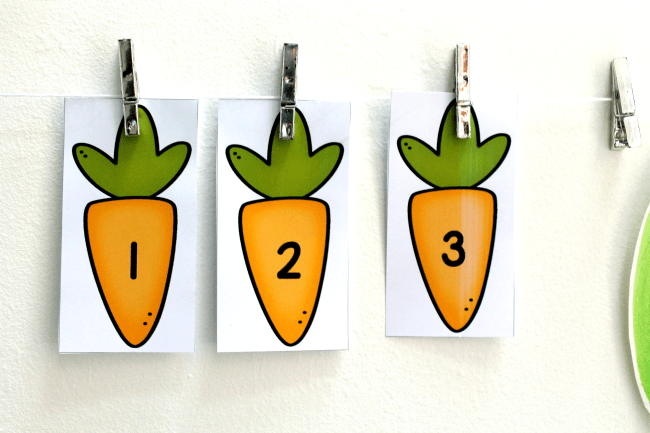 Spring Math Activities
You can find the full resource of Spring Math Activities here.
How to download the carrot numbers printable
Get ALL my free printables by joining the NurtureStore community and gaining instant access to my free resource library, including this printable.
Pop your email address in the box below, select both options, and you'll get instant access to all my free printables, lesson plans, activity ideas and a whole lot more!
Be sure to check your email for the confirmation email, and you will receive instant access to the whole Creative Kids Learning Library.
If you are already a NurtureStore subscriber: pop your email address in the box below to 'sign in' and you will be re-directed to the Creative Kids Library where you will find all our free printables.