Combine loose parts and play dough for a wonderful easter-themed invitation to play and create making loose-parts Easter eggs.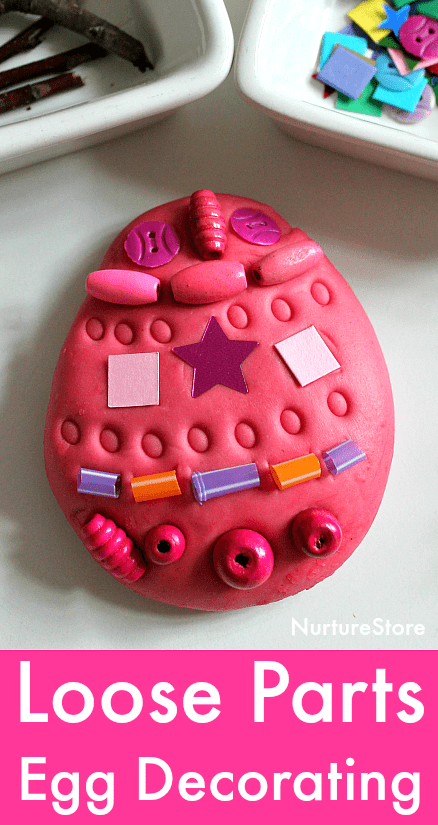 Loose parts Easter egg decorating station

Loose Parts Egg Decorating
For some sensory play linked to our Egg Unit activities, how about creating and decorating some play dough eggs with loose parts.
Loose parts simply means moveable materials that children can use in their play. They might be bought materials, upcycled from the recycling bin or found natural objects. Stocking your play space with loose parts offers children daily inspiration, endless possibilities, a chance to think, and encouragement to be creative.
You can put together a few loose parts items to create an invitation to play, sometimes called a provocation, which is simply a suggestion, a spark of an idea, which your children can pick up and run with, using the loose parts as a starting point for their own imaginative play and creating.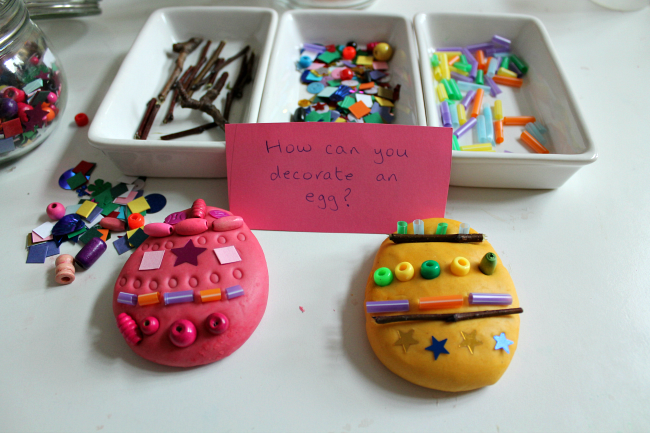 You will need:
play dough – you can use this recipe and add some spring-themed food colouring
egg shaped cookie cutter – optional, because you can just use your hands too. A slightly squished circle cutter makes a fine egg shape!
loose parts – your choice of decorations, perhaps twigs, sequins, card mosaic shapes, cut-up drinking straws, buttons, beads, play dough in different colours to your egg
Set out your materials with a prompt: How can you decorate an egg?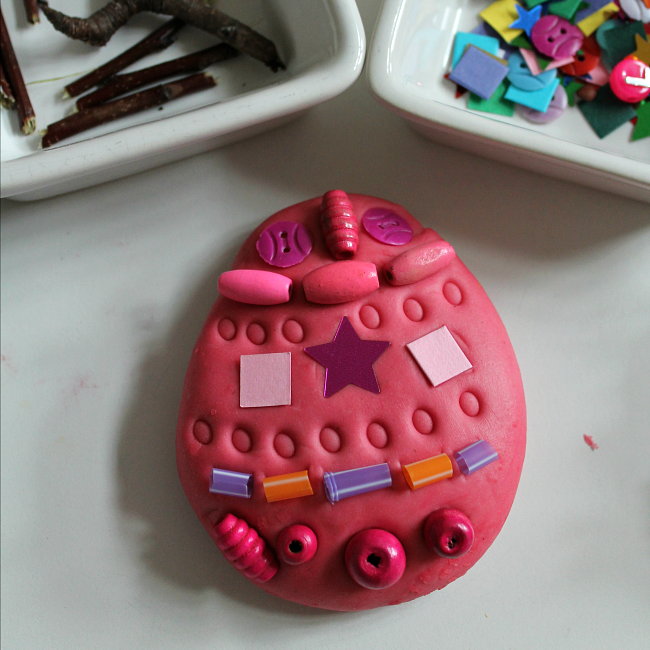 Then it's over to your children, to use the materials and the idea in their own way.
You can offer suggestions, if your children like that and are encouraged by the support: perhaps a challenge to use symmetry, or repeating patterns if that links in with their interests.
You can sit along side and make some eggs of your own – or make one overnight to surprise them the next morning, so that you can all be inspired by each other.
Learning Through Sensory Play
While your children are playing they are also learning about artistic expression; selecting their own materials; creating designs using colour, shape and pattern; developing fine motor skills; building strength in their hands and wrists; and collaborating and sharing ideas.
You can find many more ideas for learning though sensory play in Super Sensory Invitations to Play.