How do you help a child learn to use scissors? Use this free Easter egg scissor skills printable and these scissor skills tips to support them as they learn this new skill.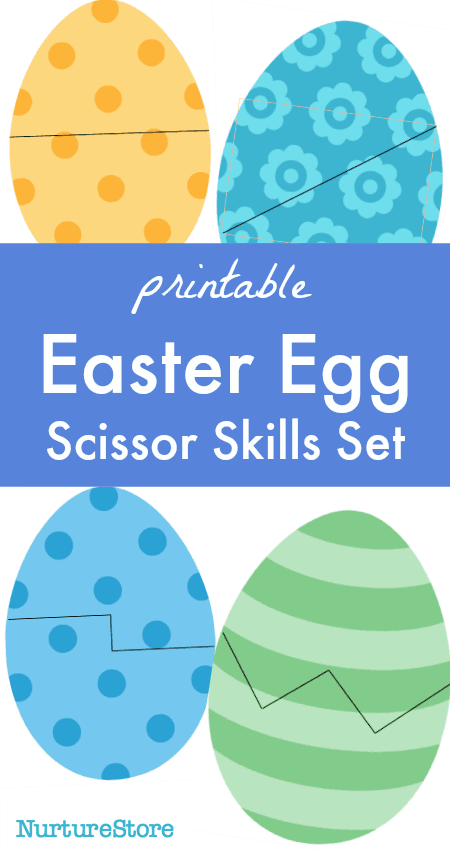 Easter egg scissor skills printable
There are several skills that we put into action when we start to use scissors:
:: a child needs finger and hand strength and co-ordination
:: a child needs hand and eye co-ordination
:: a child needs to know how to carry, handle and use the scissors safely
Pre-scissors skills activities
Using play dough is a fantastic pre-scissor skills activity, as it develops fingers, hands and wrists so well, as children knead, mould and shape their dough.
Play dough is also a great first material to use with scissors: rather than starting out cutting paper, begin by cutting pieces of play dough!
Then you can develop on to thick pieces of card, using smaller pieces that are easier for children to hold.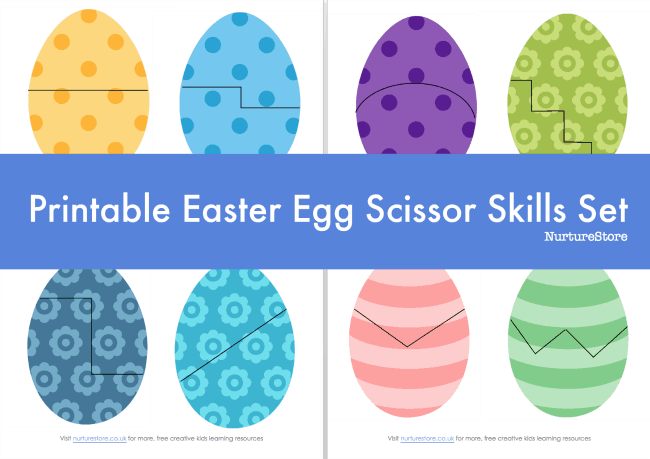 Set up a Snipping Station
---
This page contains affiliate links. NurtureStore gets commission for purchases via these links.
---
A Snipping Station is a great idea for children who are interested in using scissors. You can easily set one up by providing some child-friendly scissors and some interesting things to cut.
Not sure which scissors to get? Try these child-friendly scissors with rounded tips: US and UK options
These spring scissors: US and UK options
These left-handed scissors: US and UK options
And these fun scissors with a variety of blades: US and UK options
And what to snip? Use my Easter egg scissor skills printable.
:: You can print the eggs out on thick card and invite your children to crack open the eggs with their scissors. The printable includes both simple lines to cut along and more challenging scissor-skill shapes.
:: Once they've been cut, you can use the eggs as a matching puzzle.
:: Or keep on snipping, to make lots of 'egg shell' mosaic pieces you can use for an art project.
More scissor skills tips
Try these scissors skills activities, and use this clever tip to help you child hold their scissors the correct way up.
How to download the printable
Get ALL my free printables by joining the NurtureStore community and gaining instant access to my free resource library, including this printable.
Pop your email address in the box below, select both options, and you'll get instant access to all my free printables, lesson plans, activity ideas and a whole lot more!
If you only want this one printable you can click here to download it. If you want all the 1000+ free resource ideas and printables – including this one – pop your email address in here.