Here's a fun collection of Easter crafts and activities for children featuring eggs, chicks, lambs and bunnies.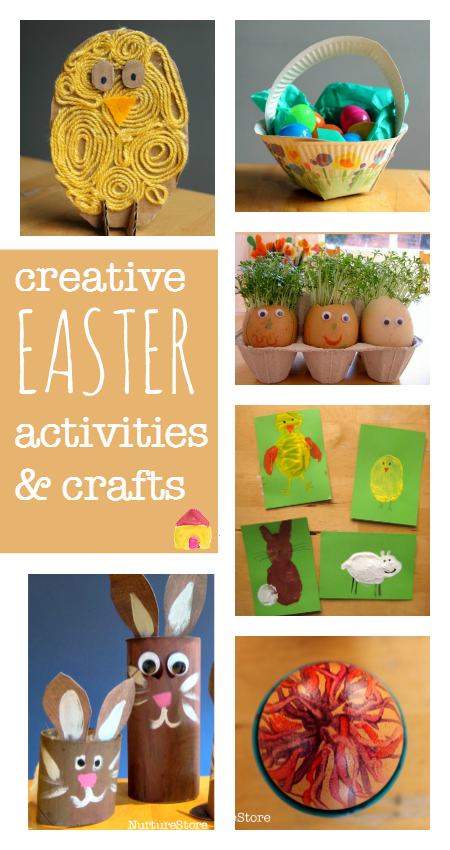 Easy Easter crafts and activities for children
This article is part of our world festivals lesson plans.
In this article, you will find:
:: easy Easter crafts that use simple materials
:: easy egg decorating ideas for all ages
:: egg-theme science experiments
:: Easter math and literacy centres with free printables
:: Easter sensory play activities including sensory tubs and play dough
:: easy Easter snack recipes children can make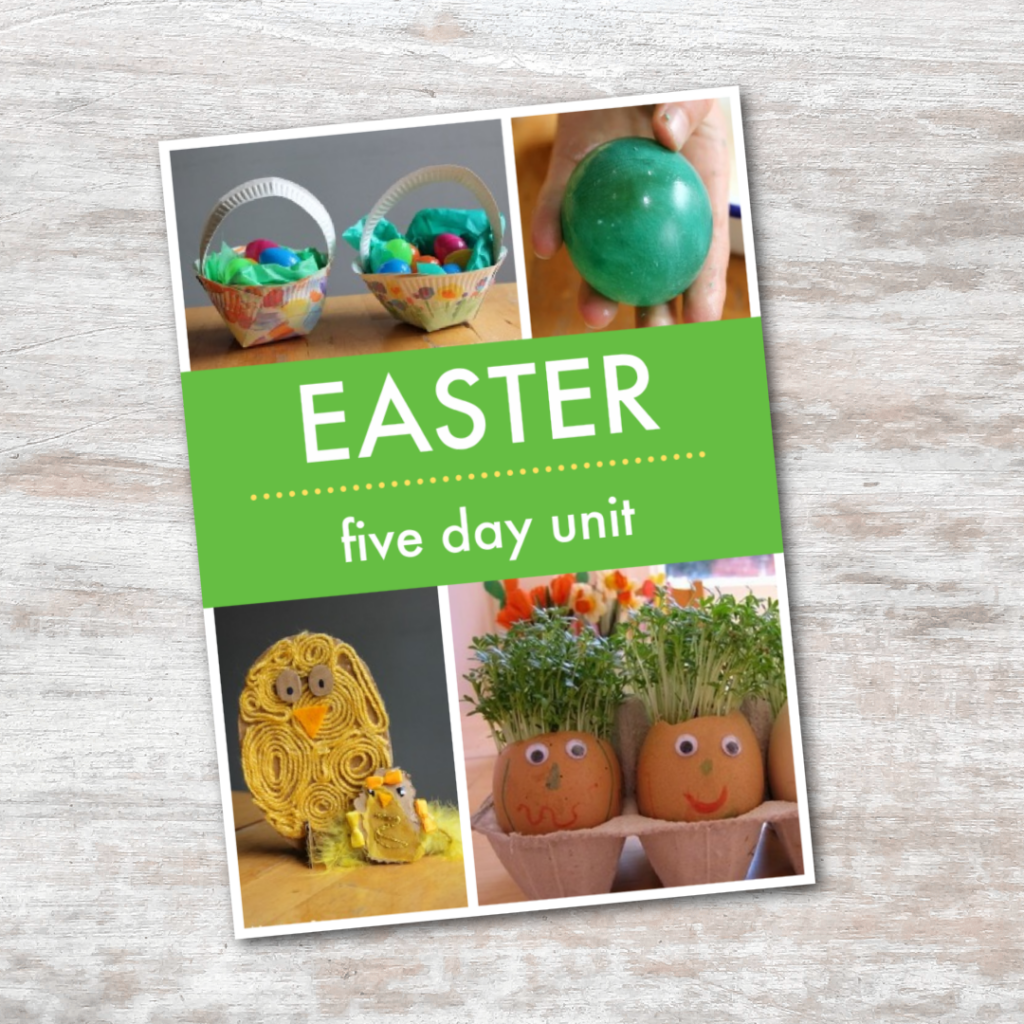 Ready-made Easter Unit
The easiest way to teach is with our ready-made Easter Unit which you can download from our ad-free membership area, the Play Academy. Join us in the Play Academy and you'll have instant access to over 50 ready-made teaching units covering math, science, literacy, nature, arts & crafts, world culture and well-being. See more details and choose your first unit here.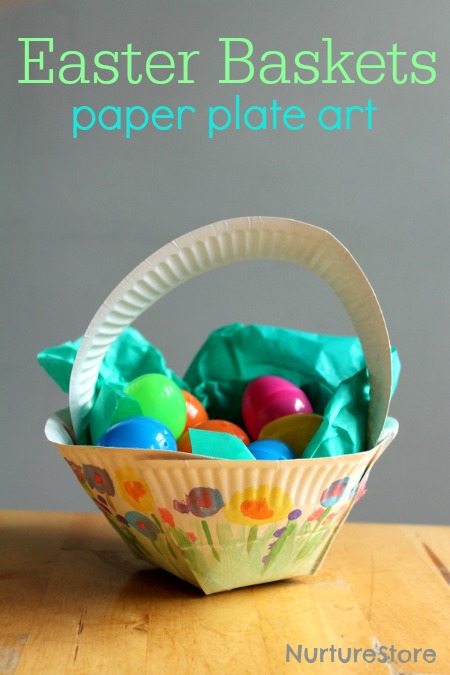 More easy Easter activities and crafts children can make
If you would like to DIY your teaching, help yourself to NurtureStore's free resources:
Easter crafts and art lessons
Easy ways to dye Easter eggs
Three gorgeously easy ways to dye Easter eggs, using shaving foam, oil and crayons. Includes a no-dye, mess free option!
What are pysanky eggs?
In this lesson you'll learn about pysanky eggs, the history of the pysanka egg, and traditional designs. Then you can use the egg decorating ideas to design your own colourful easter eggs.
Easy botanical eggs
Use this tutorial to make petal and leaf prints on eggs, creating botanical eggs for lovely nature-themed decorations for spring and Easter.
Paper plate Easter basket
This paper plate Easter basket craft is really simple to make, but ever so pretty! And each child can add their own art to the design.
Easter bunny craft
Here's a super cute Easter bunny craft idea that's easy to make and works great filled with little Easter treats or as puppets for some imaginary play.
Easter chicks and lambs collage
For this easy Easter craft we're using collage materials to create chicks, eggs and lambs.
Simple Easter cards for toddlers
As easy Easter card design young children can make.
Potato printing chicks and lambs
Here's an idea that takes a childhood classic and gives it a spring-time twist – we're potato printing chicks, lambs and rabbits!
Easter egg bunting
How to set up an Easter Creation Station, which invites the children to glue, stick, paint, tear and create to their hearts content.
Printing with carrots
An Easter craft with a dash of fun – have you tried writing, painting and printing with carrots?
Easter egg printable scissor skills
How do you help a child learn to use scissors? Use this free Easter egg scissor skills printable and these scissor skills tips to support them as they learn this new skill.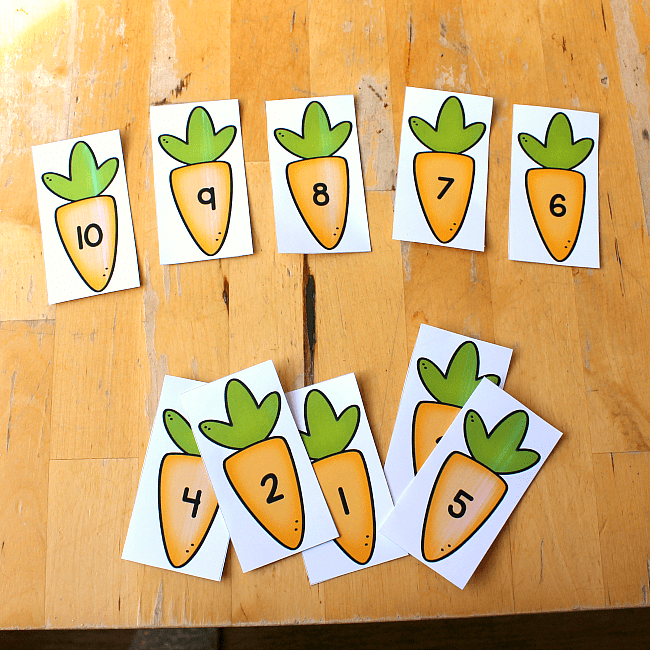 For Easter math activities
Egg games
Here are some ideas for fun Easter egg games that are quick and easy to set up – great for an Easter egg hunt.
Sorting games
Here's an easy-to-set-up activity, along with lots of ideas, for spring sorting games for numbers, letters and words.
Carrot number printable
Download this set of free carrot number cards and try these ideas for some hands-on spring math activities.
For Easter literacy activities
Egg alphabet printable
Download this free egg alphabet printable and try these hands-on spring literacy ideas to add extra fun to your spring literacy centers.
Mark making and writing with carrots
Here's a fun literacy station, writing with carrot pens!
Egg hunt clues
Need a fun Easter activity for all the family? Use these free printable Easter egg hunt clues!
Sorting games
Here's an easy-to-set-up activity, along with lots of ideas, for spring sorting games for numbers, letters and words.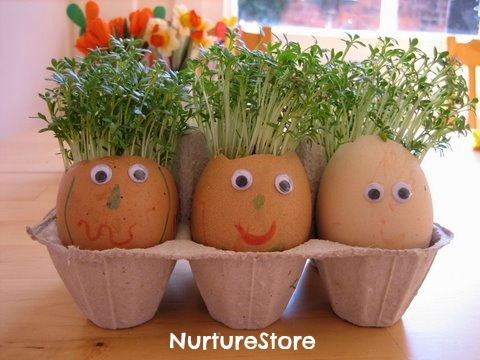 For Easter science experiments
Learning about Eggs complete unit
What are eggs? lesson plan
In this egg lesson plan we'll learn: what are eggs? what are eggs made of? and which animals hatch form eggs? You can watch a chick develop inside an egg and hatch, plus there's a printable book about eggs that your children can complete.
Amazing bouncing egg experiment
Here's a super fun kids' science experiment from the Tinkerlab book :: we're making eggs that bounce!
Grow egg heads
We make these Eggheads with cress hair every year because the kids think they're so funny. If you get them ready four or five days beforehand they will have grown a full head of hair ready for the Easter weekend – which you can then snip off to enjoy with an egg sandwich.
Easter sensory play ideas
Easter sensory tub
This spring sensory play tub with carrots is great for a range of ages.
Easter egg water play
Add plastic eggs to your water tub this spring for some fun Easter-themed sensory play.
Spring lamb play dough
Here's a fun play dough recipe that's great for some imaginary play – we're making little spring lambs.
Play dough egg decorating
Combine loose parts and play dough for a wonderful easter-themed invitation to play and create making loose-parts Easter eggs.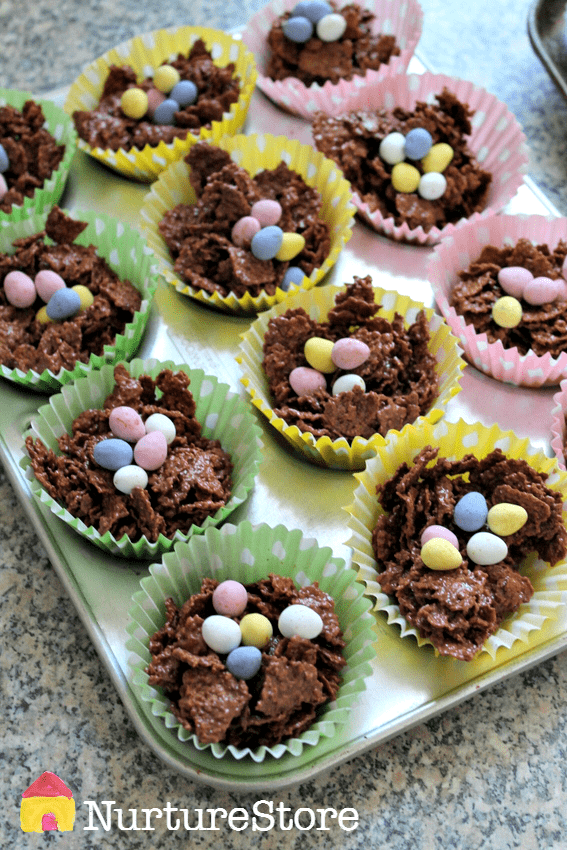 For Easter recipes
Easter nest cakes
These crispy nest cakes are a classic, no-cook cake. They're perfect for Easter and perfect for little children to make.
Easter bunny treats
What's Easter without bunnies and chocolate? This Easter bunny lollipop recipe combines both and is great kids Easter recipe.
Egg frittata
This easy frittata recipe is a great egg recipe kids can make. It's quick, healthy and tasty – a perfect spring recipe.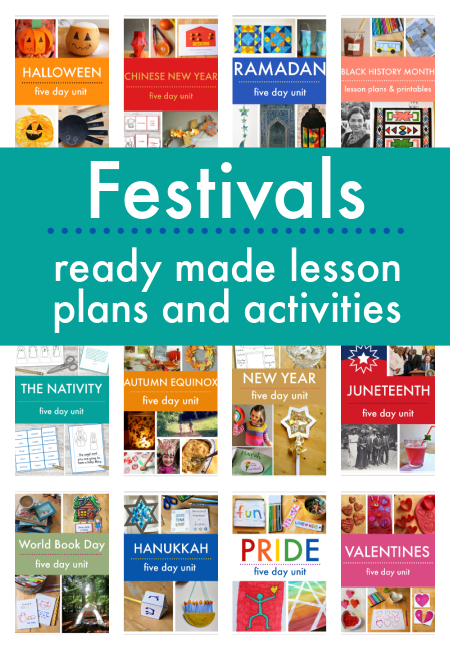 Free festival lesson plans for children
Festivals are fun! They are about celebration and community, and include pretty decorations, delicious food, and fun parties. Taking part in festivals is good for our wellbeing and brings communities together.
Help your children become global citizens – knowledgable and welcoming of other cultures, religions, and countries – and create an inclusive feeling in your community, where all your children know they and everyone else belong and are valued.
Our festival lesson plans include Chinese New Year, Hanukkah, Diwali, Ramadan, Nativity, Winter Solstice, Juneteenth, World Book Day, Halloween and many more. See our festival lesson plans here.