Enjoy some creative kids learning with this pick of seasonal activities for spring – full of kids activities ideas for things to do in March.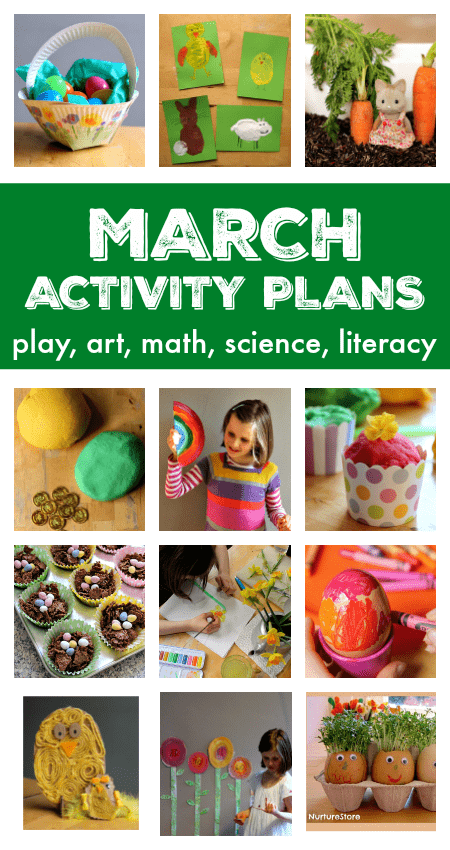 Seasonal activities for March
You can use the image buttons or the text links below to browse through my archive of March-themed activities and find some ideas that suit your children. You'll find:
:: spring arts and craft ideas, plus ideas for celebrating St. David's Day and St. Patrick's Day
:: spring-themed sensory play
:: garden activities for children
:: spring math, science and literacy ideas, including free printables
:: and thinking ahead, some ideas for Easter crafts and play ideas
Whether you need a quick idea for a spring afternoon or you want to plan your whole month's activities, please help yourself to all these free resources.
If you're in the southern hemisphere, you can find all our autumn activities here. My January activity plan is here and you can find the February plan here.
31 ideas for things to do in March activities for kids
1 Try this easy Welsh cakes recipe for St. David's Day – just like the one's my Nain made
4 Play with leprechaun's play dough
6 Grow Egg Heads – a cute and easy garden activity
7 Make an Easter basket from a paper plate
8 Make-and-play Easter bunny crafts
9 Make an Easter chick or lamb
11 Write with carrots – a fun mark making activity
12 Make rainbow noise makers and have your own percussion band
13 Set up you own Garden Classroom
14 Celebrate Pi Day – with pie of course!
15 Decorate Easter eggs – lots of different ways to try
16 Potato print Easter pictures
17 Try this naked egg experiment
18 Make some simple Easter cards
19 Explore a spring sensory tub
20 Play egg games
21 Decorate with this Easter egg bunting
22 Print this free garden journal for writing prompts, drawing and nature study
23 Make plans for what to grow with your kids this year
24 Make a spring paper plate wreath
25 Investigate colour science with flowers
26 Try this growing seeds experiment
27 Make nest cakes with this crispy cake recipe
28 Find out how to grow sunflowers with these sunflower lesson plan ideas
29 Play a flower number game
30 Create spring blossom art
31 Play with flower petal play dough
EXTRA :: see the most popular spring books for children here – great ideas to ass to your spring book box.