Welcome to our gardening club! We hosted our first session with some planting and journalling. Here are some tips on how to grow sunflowers with children, to get the most fun and learning from gardening.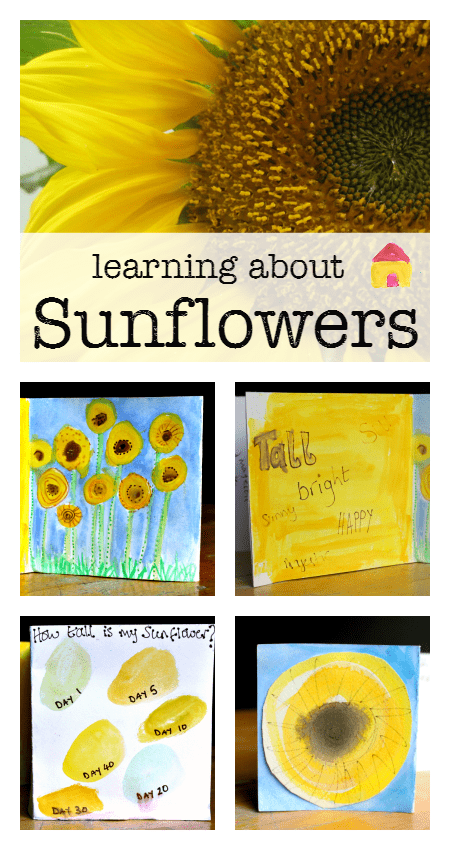 How to grow sunflowers with children
We have a mixed age group of children at our gardening club, with kids aged four to twelve. For our first session of the year we planted sunflower seeds. Sunflowers are one of my favourite plants to grow with children. They're beautiful, easy to grow, and their height and quick growth is fun for children to watch. Sunflowers are also a favourite of bees, and so make an important addition to an eco-garden.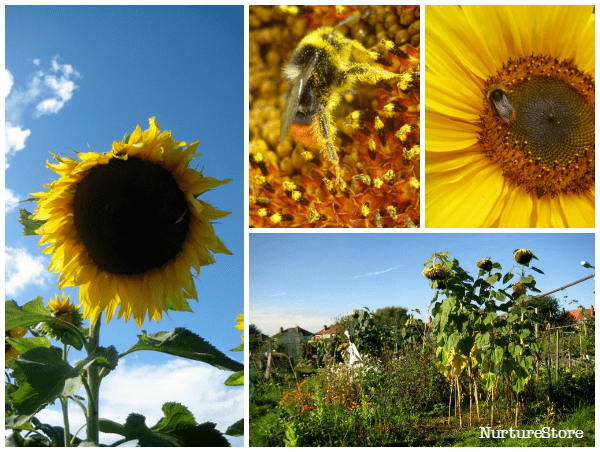 We started our session by looking at some of my photographs of sunflowers, and eating some sunflower seeds. A little sunflower seed that you're about to plant doesn't look all that impressive, so it's good to let children see some pictures of what it will grow into and, if you're growing something edible, bring along a example of the finished product for them to taste. For our sunflowers I wanted the children to see just how tall the ones in our allotment grew last year, and how much bees love them.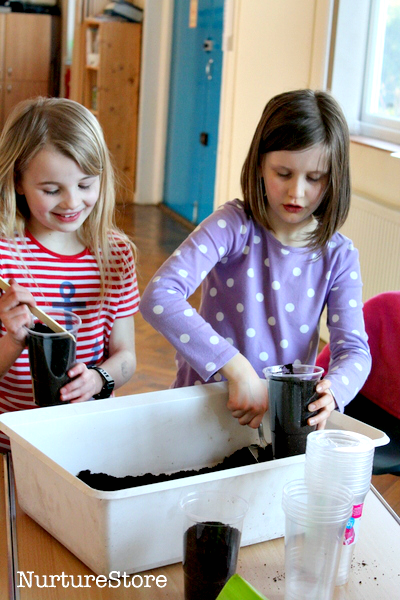 We use clear plastic cups to plant our sunflower seeds. Make a few holes in bottom of the cup for drainage, and then fill them with seed compost. We planted two seeds per cup, placing them at the sides. The clear plastic lets you take an underground view and actually see the seeds start to grow.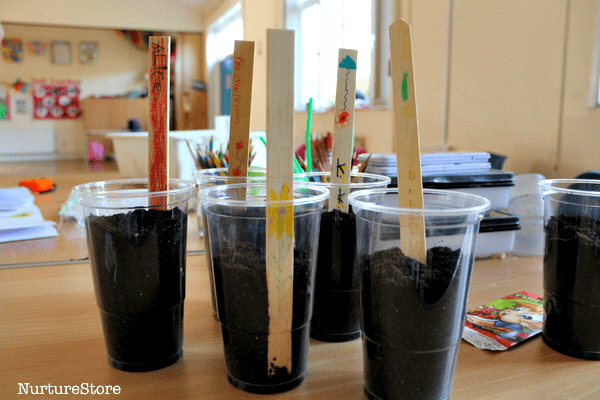 Everyone made their own plant label, using permanent markers on the wooden labels, so they could keep track of their own special pot. You can get very attached to the seeds you have personally planted!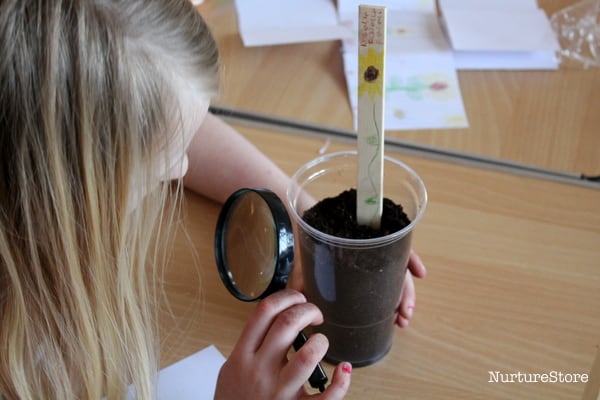 I brought along a magnifying glass too, so we could get a good look at the seeds and soil.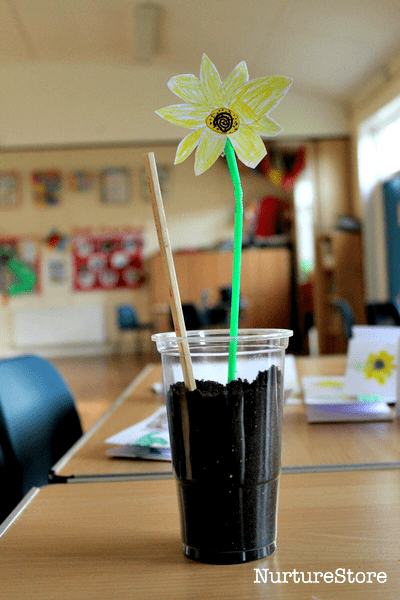 Talk about what seeds need to grow, reminding the children to give their seeds some water and to plant them out in a sunny spot. I like to wait until the sunflower plants are about 20cm tall and with a good, strong stalk before taking them out of pots and planting them in the garden – otherwise I find snail and slugs chomp right through the baby stalks. Sunflowers don't usually need stakes or canes to support them. You can see from the photo how tall and strong they grew for us. A little buffeting from the wind helps them build their strength.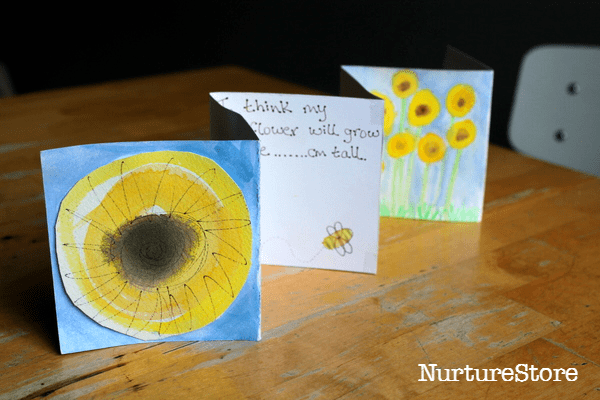 How to make sunflower journal
I also put together a little zigzag sunflower journal with some ideas for how we could follow the progress of our seed experiment though words and pictures. The little book is made from a piece of white card (I used A4 size), cut in half to make two long thin strips of card. Then all you need to do is fold each strip into three to create some zig zags, and tape two ends together to make your full-length book.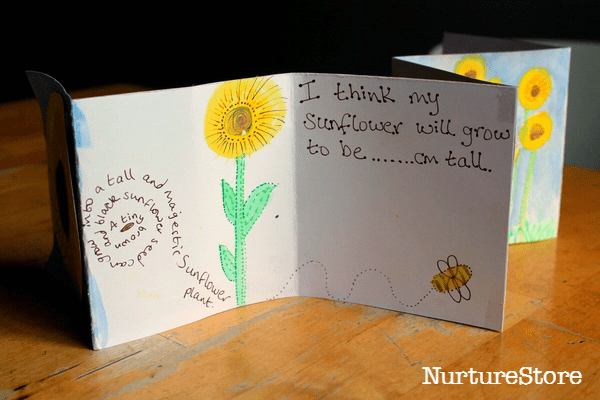 I told the children they could fill their journals with anything they liked, but some ideas to spark some ideas are:
:: a sunflower on the front cover
:: a drawing of the seeds you plant
:: a prediction of how tall your sunflowers might grow. (We planted Russian Giant sunflowers which can grow up to 3m tall. Take along a tape measure and show the children how tall that is – my gang were impressed! You can get the Russian Giant seeds from Amazon.com or Amazon.co.uk (affiliate links – NurtureStore gets commission for purchases via these links).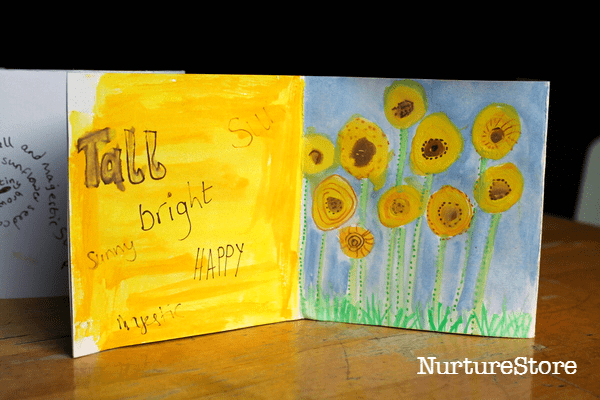 :: paint some of your pages sunflower yellow
:: fill a page with all the words sunflowers make you think of
:: paint a picture of your sunflower garden
:: make a chart to track the height of your growing sunflowers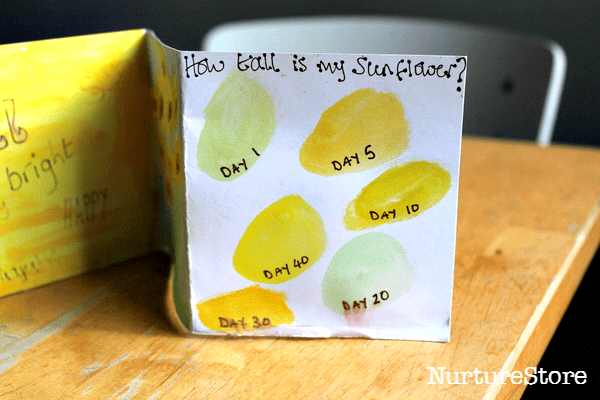 It's good to offer a variety of art materials, so the children can choose the ones they like best. Watercolour paints are always popular, and the little paint palette tins make them easy to take along, both to your gardening club and also out and about in your garden. (They are available through these affiliate links at Amazon.com and Amazon.co.uk  – NurtureStore gets commission for purchases via these links.)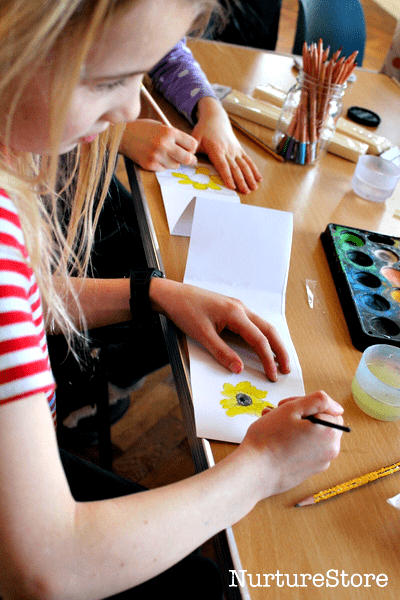 Watercolour pencils are particularly good too, as you can draw with them easily, and then add some water on top to give a paint effect. The children really liked how the pencil turned into paint.  (You can find them on these affiliate links at Amazon.com and Amazon.co.uk – NurtureStore gets commission for purchases via these links.)
It's so nice to come together as a community to plant sunflowers. Everyone sat around together painting and drawing – and look at the glorious art the children produced. And then everyone got to take their sunflower seeds home to plant in their own gardens. Such a nice way to share the joy of a garden.