Are you planning some St. David's Day activities with your kids? St David's Day, the saints day for Wales, is marked on 1st March, and even if you have no Welsh connections this Welsh cakes recipe is so delicious you can use the day as a great excuse to give them a try. You could also try some St David's day crafts – my bunting and pinwheel ideas feature daffodils, the flower emblem of Wales.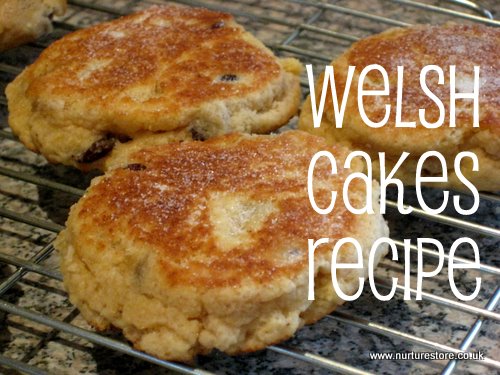 St David's day activities
My Welsh grandmother, my Nain, used to make wonderful Welsh cakes when I used to go and stay with her as a child. This recipe is how I remember hers, with a lovely warming mix of spice in them. They are an easy recipe for the children to try and they freeze well (if you happen to manage not to eat them all in one go) so you can wrap them individually and have them ready to pop in school lunchbags too.
Welsh Cake recipe
In a large bowl rub 4oz butter into 8oz of self raising flour.
Add 2oz caster sugar, 2oz currants or raisins, 1/2 teaspoon of cinnamon and a good grating of fresh nutmeg.
Mix in 1 egg and 2 tablespoons of milk and stir to form a dough.
Roll out the dough and use a cookie cutter to cut out circles. (or you can just take a fist-full of the dough and form into a flat circle). You want the cakes to be no more than about 1cm thick, as you want them to cook through in the middle before the outside burns.
Place a little oil and butter in a frying pan and add a few cakes at a time.
Cook slowly, flipping them over to brown both sides.
An extra sprinkling of sugar on the top finishes them off with a flourish.

St David's Day crafts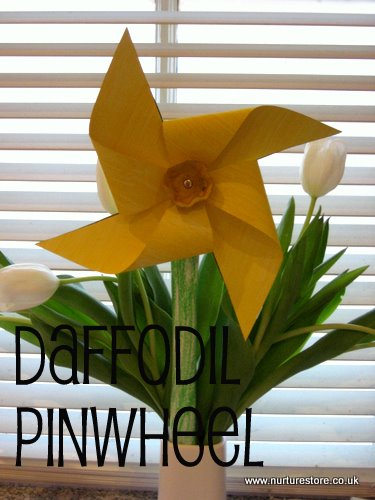 These daffodil windmills / pinwheels are fun to create and make a pretty display as they whirl around.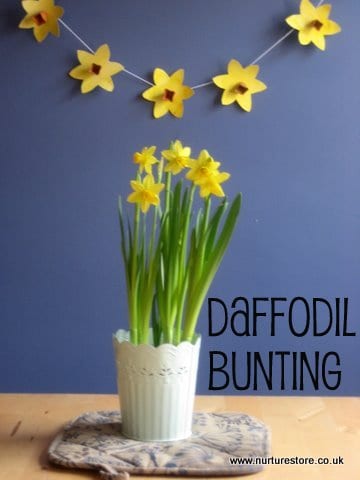 Or how about decking the house with strings of daffodil bunting?