The world isn't divided into strict curriculum subjects, and taking something as simple as a flower can be a wonderful spring board into science, art and poetry. This week we've been learning about daffodils: investigating the parts of a daffodil, using them as inspiration for some spring art, and reciting daffodil poems.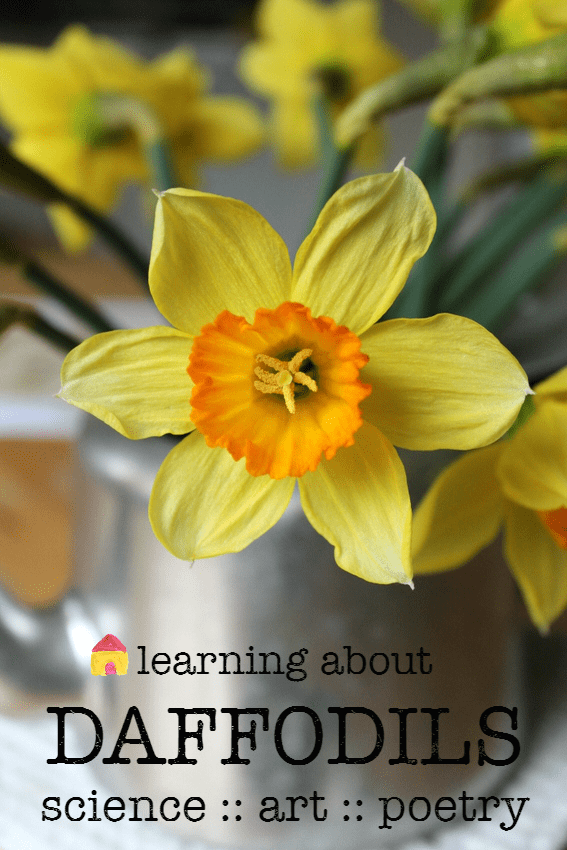 Learning about daffodils
---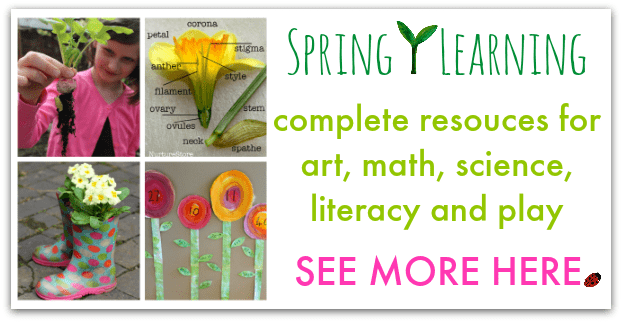 Join my Seasons School Spring Workshop for a complete programme of spring learning: all organised for you, guided by me, for hands-on, real-world experiences – the best way to learn!
>>>>> Get the complete Spring Resources here.
---
Crossing over from poetry to science to art lets us engage our analytical thinking and our creative talents. We're engaging our whole brain, appealing to all different learning styles, and perhaps discovering new talents and interests.  Here are some ideas you can use at home or at school, along with a free printable pdf of the world's most famous daffodil poem.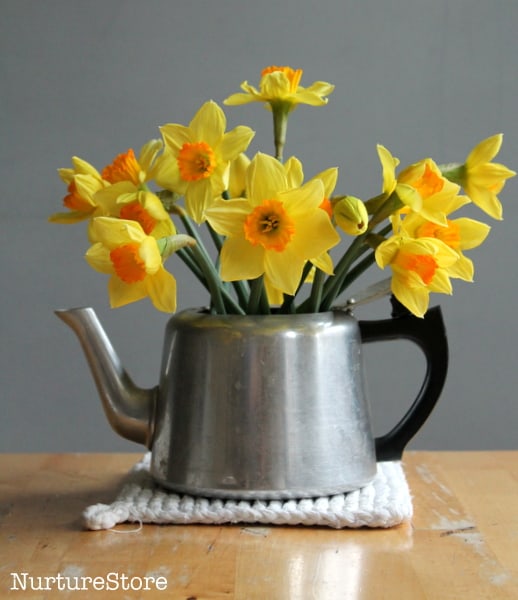 I Wandered Lonely as a Cloud
I Wandered Lonely as a Cloud by William Wordsworth is one of the world's most famous poems. Sometimes know as 'Daffodils', it's where we started our learning about daffodils. Here's a printable version of I Wandered Lonely as a Cloud by William Wordsworth you can download to read with your children.
I started by reading the poem aloud and asking the children what they thought the poem was about. They'd imagined the scene of dancing daffodils as I read, but weren't all sure about the meaning of the final verse. We read it through again and then chatted about how words can make a picture. We noticed the rhymes, and talked about how both using our imagination and being in nature can be powerful ways to relax and feel at peace. We talked about the occasions when we might use the technique of remembering somewhere beautiful to help us.
The parts of a daffodil
Then we looked at our vase of daffodils. I asked the children to imagine I'd never seen a daffodil and to describe one to me. They noticed some things they'd never thought about before: the petals sparkle, the stem has ridges, the flower is symmetrical, there are six tiny 'stalks' inside the trumpet….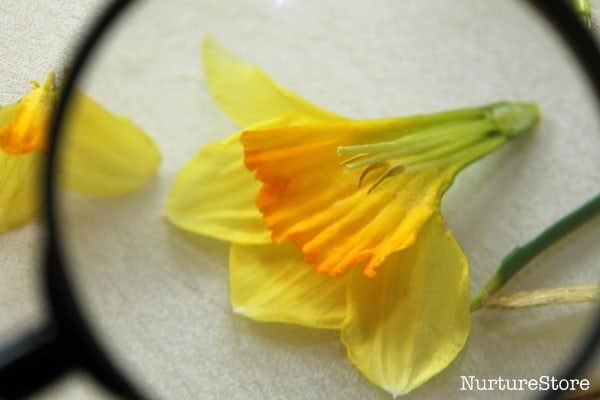 Time for an even closer look. We placed a daffodil on a chopping board and used a craft knife to slice right through the middle of the whole flower and stem. New things were revealed! And a magnifying glass let us get an even better look.
One thing to note is that some daffodil varieties can have a sap which can irritate the skin. And of course, no part of the daffodil should be eaten. Make your own judgement, based on your own children, about how you might investigate the daffodil. Perhaps wear protective gloves, wash your hands after touching, maybe only you will handle the flower, or maybe simple take a good look at the flowers in the vase without cutting them open.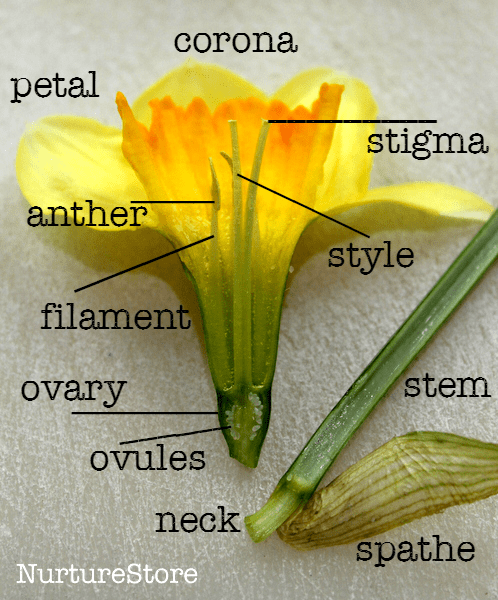 My children really enjoyed investigating the daffodils, and were amazed at how much is going on inside. They peeled away the petals and corona, and made neat piles of filaments, spathes and stalks. We used lots of new vocabulary – you can see the different parts of the daffodil that we discovered, in the photograph above.
You might talk about pollination, how the flower attracts bees, and what service the bees provide. You might talk about how the daffodil gets water from the soil all the way up to the flowers.
This was about using the scientific approach of investigation and discovery. It worked very well for us to have the children lead the way, slicing, peeling, investigating, asking questions, wondering about things, suggesting answers for one another – with me and the iPad available for answers when needed.
Daffodil painting
Your children might be inspired by Wordsworth to write their own daffodil poem, but my children prefer to draw rather than write, so we brought out the watercolour paints.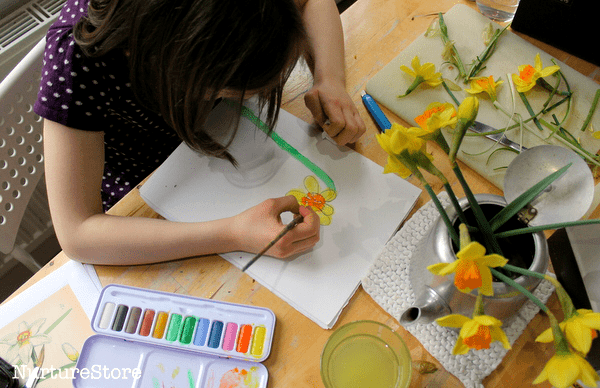 We looked at some botanical drawings of daffodils and talked about how some paintings can showcase the artist's imagination, but some paintings are designed to be as true to life as possible. We also talked about the days before cameras, and how scientists would share paintings to show the plants they had discovered, and to help others with plant identification.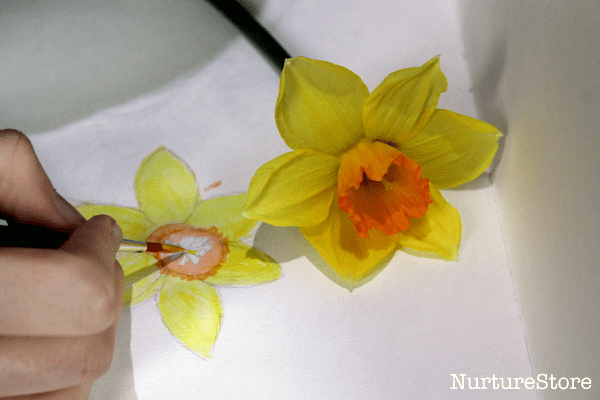 Then we made our own sketches. Watercolour paints and a fine brush are great for this, perhaps with a pencil to create the outline shapes to begin with.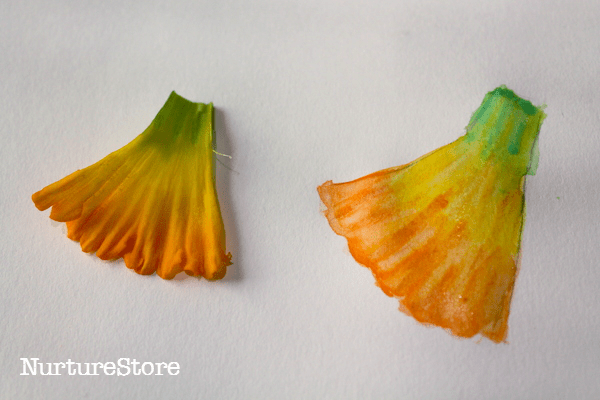 You might like to focus in on one part of the plant, try to capture the exact colours, or paint the whole flower, or a piece of art inspired by the daffodils.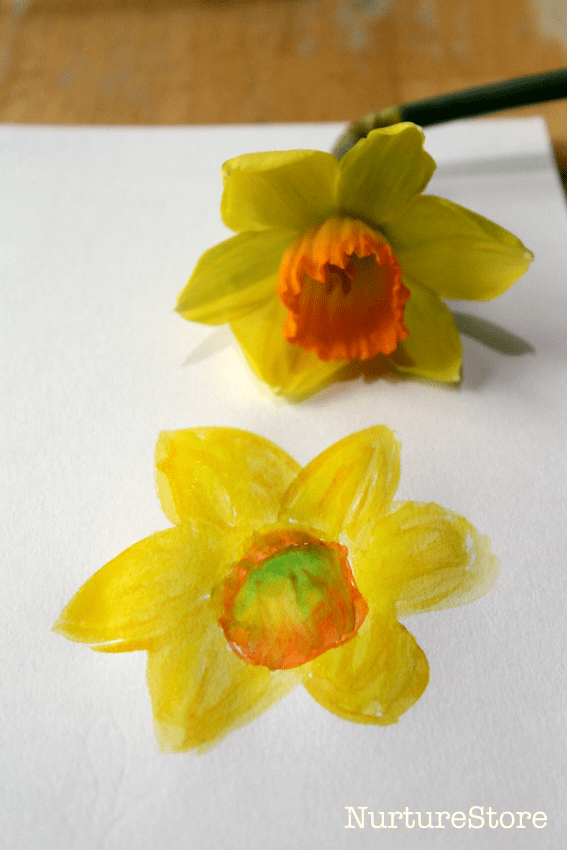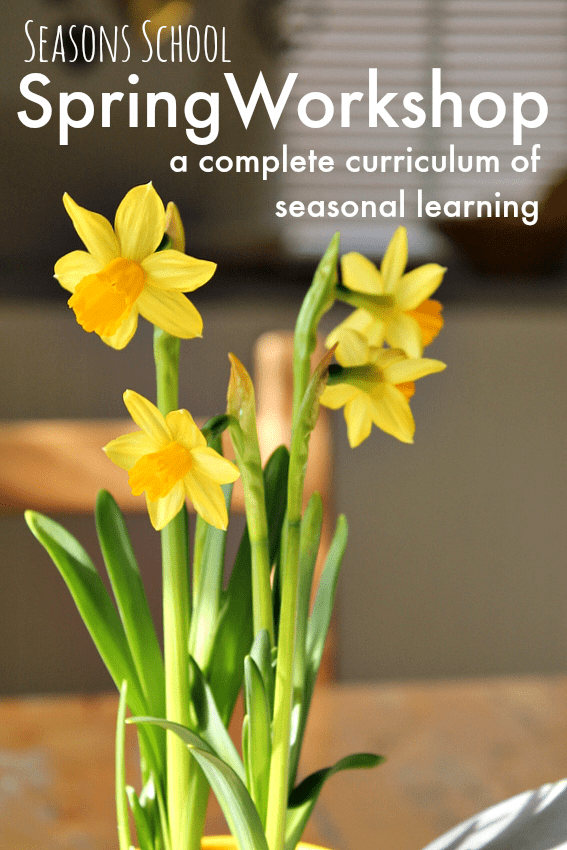 For your complete guide to spring learning – click here!