This collection of non-religious children's activities for the holidays is great for those wanting ideas for a secular winter celebration.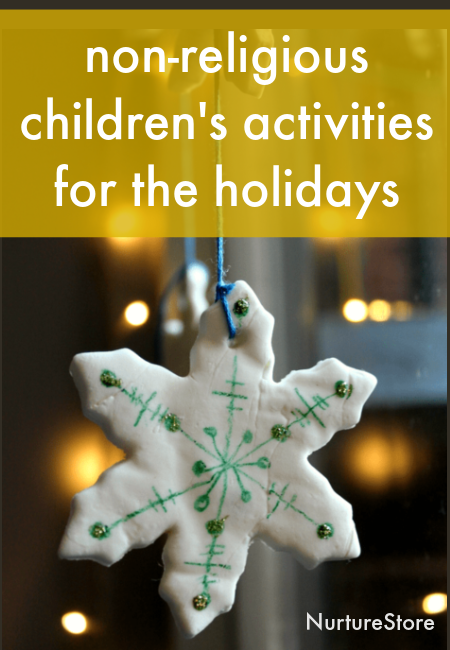 Secular children's activities for the holidays
The holidays celebrated in winter can include Pancha Ganapati, Yule, Winter Solstice, Advent, Christmas, Hanukkah, Bodhi Day, and Kwanzaa.
There are many reasons why people choose a non-religious / secular celebration for the winter holidays.
You night be a secular family still wanting to have a fun occasion in the dark months, to connect as a family and make traditions with your children.
You could be teaching a class of children or part of a blended family with connections to several religions and cultures and you want a celebration that feels inclusive to all.
You could be part of a non-religious school that needs a secular curriculum or you could want to share community, seasonal greetings, and gifts with families or neighbours who are of no or other religions to yours.
Whatever your reason, NurtureStore has great ideas for you!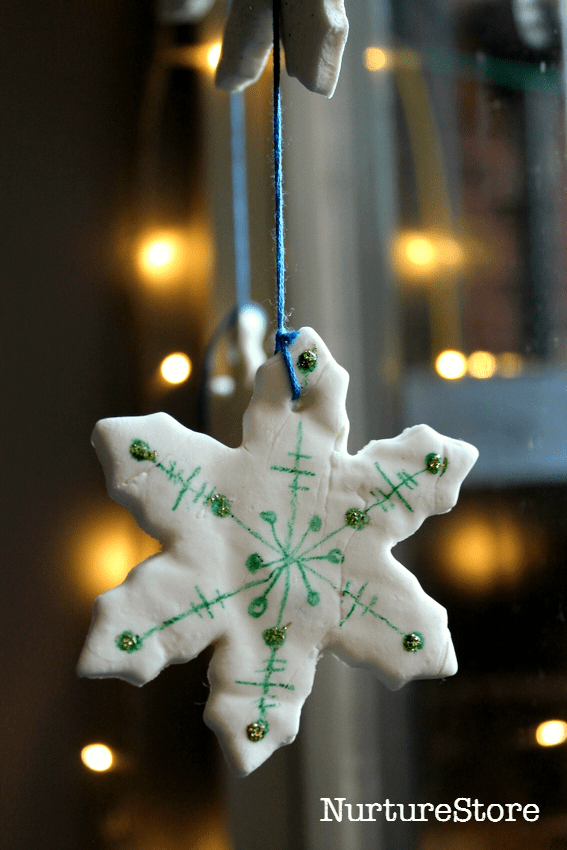 Non-religious children's activities for the holidays
As we head into the dark winter months, we tend to spend more time at home and we might be feeling the dark afternoons and cold winds are dampening our days a little. While you might not have a religious festival to raise your spirits, you could use these ideas for how to make a hygge home to get those feelings of cosiness and comfort, which gives everyone a sense of wellbeing.
If you would still like a countdown or a range of activities for this time of year, you might like our free printable Kindness Calendar. It's not dated or focussed on any particular festival and so makes a great secular, alternative Advent calendar, encouraging children to put others first and practice random acts of kindness all season long, at home, in school and in their community.
And as an alternative to a religious festival you might choose instead to turn your attention to the natural world with this guide to celebrating the Winter Solstice with your children.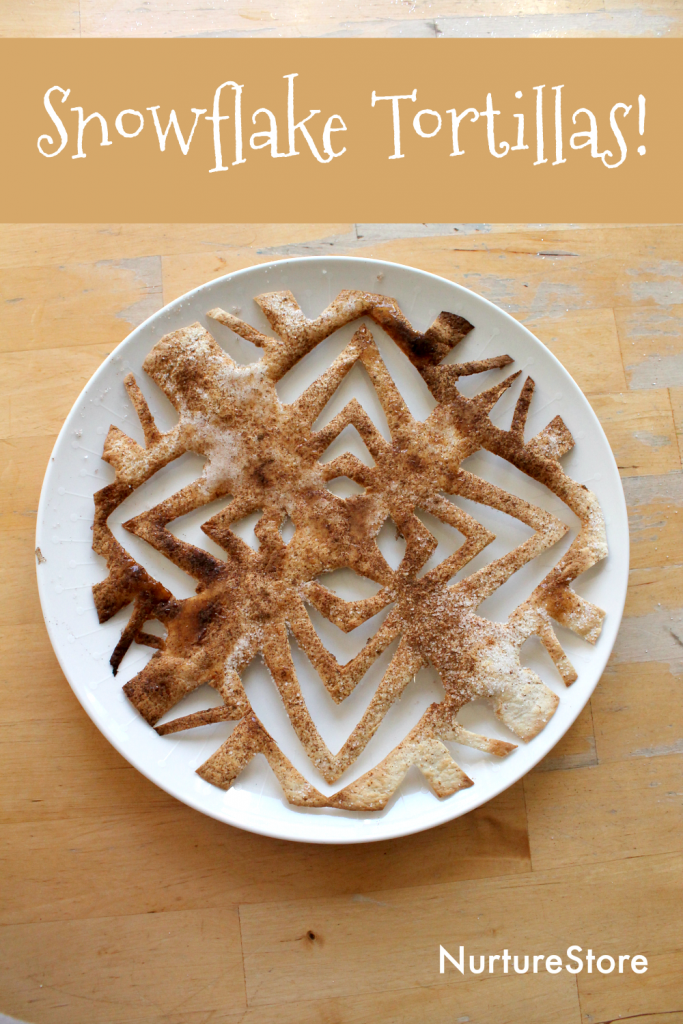 You could enjoy festive treats including spice cookies, candy cane fudge and tortilla snowflakes.
For a ready-made school or homeschool curriculum you can use our Candy Cane Unit, our Gingerbread Unit, or our Seasons School Winter Retreat which has a winter activity for each day to give you a complete programme of nature, science, literacy, arts and crafts, sensory, and play.
Sensory play activities for the holidays can include gingerbread play dough and candy cane play dough. Enjoy our Christmas tree play dough mat or our snow globe play dough mat printables.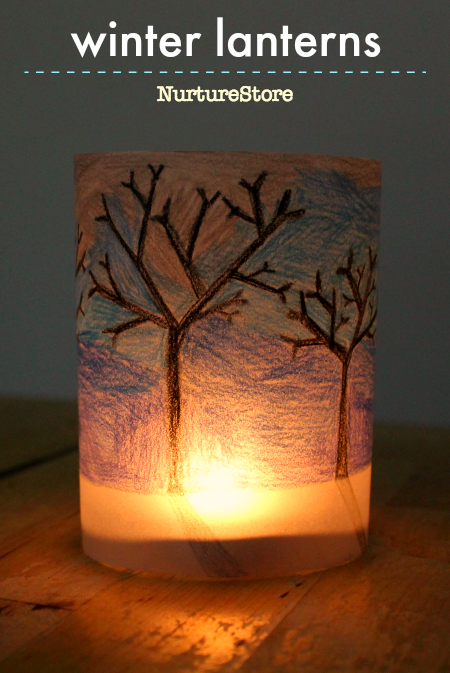 Non-religious arts and crafts for the holidays
You can decorate for the holidays using non-religious symbols such as baubles. Join us for ten days of art lessons making art baubles, with ten different designs inspired by famous art and interesting process art techniques. Our bauble art lessons include Piet Mondrian, Wassily Kandinsky, Yayoi Kusama, Georges Seurat and Alma Woodsey Thomas, plus marbling, wax resist, squeegee art, printing and collage techniques.
The decoration of evergreen trees has links to ancient Egyptian, Chinese, Pagan and Hebrew traditions but modern Christmas trees are mainly secular, so you might like to use this motif in your decorations. You can use our stained glass Christmas tree colouring page to explore warm and cool colours or try our lesson using Christmas tree surface pattern designs.
You might choose a focus on snowmen and snowflakes for your arts and crafts. Try our snow puffy paint or our salt, glue and watercolour snowflakes.
If you want to decorate with a wreath for your door you can make a bright, bold version in your choice of colours using handprints or by printing with circles.
And add lanterns to brighten up the winter nights with our paper house lanterns or night sky lanterns.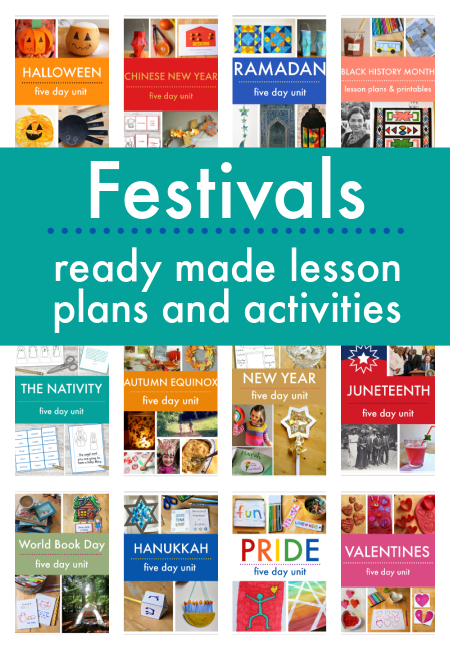 More holiday activities and crafts
See our full index of World Festivals lesson plans for more activities and crafts for secular and diverse festivals of world culture.