Welcome to NurtureStore's index of Winter Solstice activities for children, part of our World Festivals Lesson Plans and Activities. Here you will find ideas for explaining Winter Solstice to children, Winter Solstice crafts children can make, and winter art projects.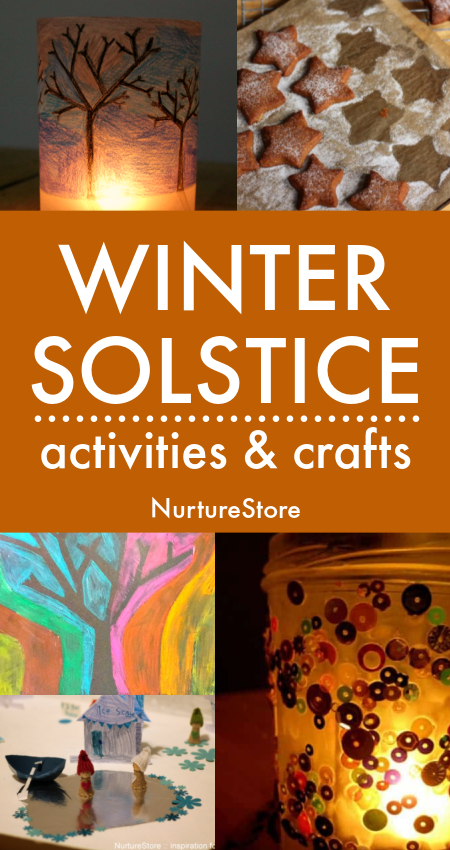 Winter Solstice activities and crafts for children
You can use the links below to see all NurtureStore's Winter Solstice activities and crafts. They include a simple explanation of the solstice for children, winter walk activities, solstice crafts and play ideas including light-up play lands and winter lanterns for at home or solstice parades.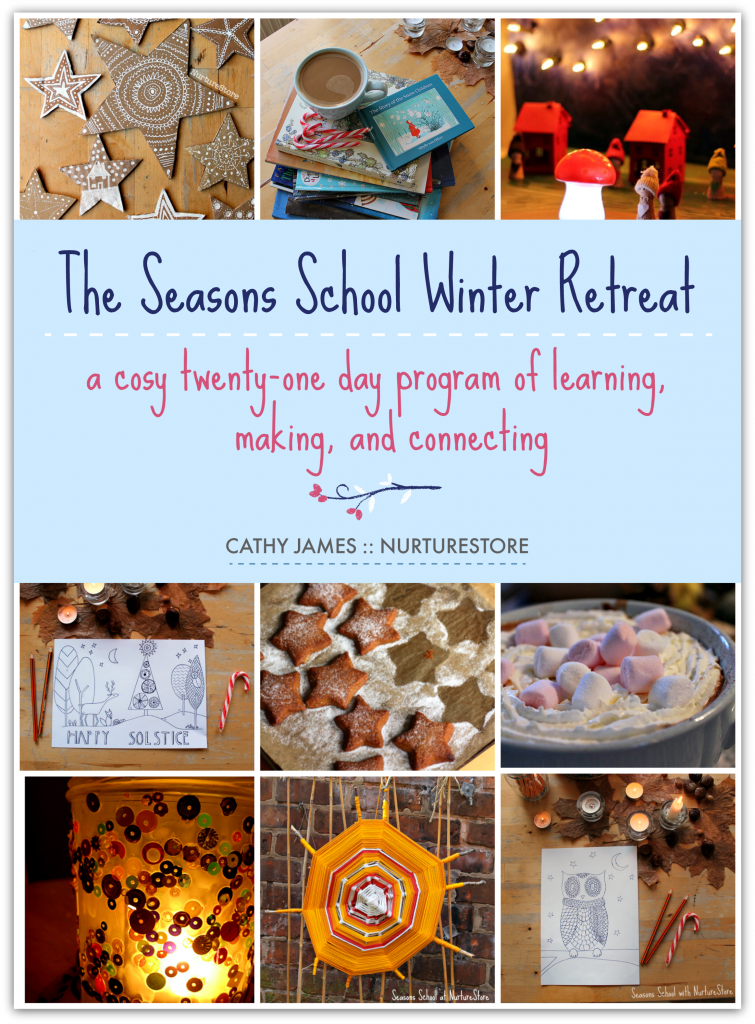 The Seasons School Winter Retreat book
Have a cosy winter of learning, making and connecting with The Seasons School Winter Retreat book.
This 21 Day Winter Activities Countdown is one part educational curriculum, one part seasonal celebration, and one part family memory making. With a winter activity for each day it gives you a complete programme of nature, science, literacy, arts and crafts, sensory, and play that you can use to countdown the days until the Winter Solstice or use throughout the winter season.
See more details about The Seasons School Winter Retreat book here.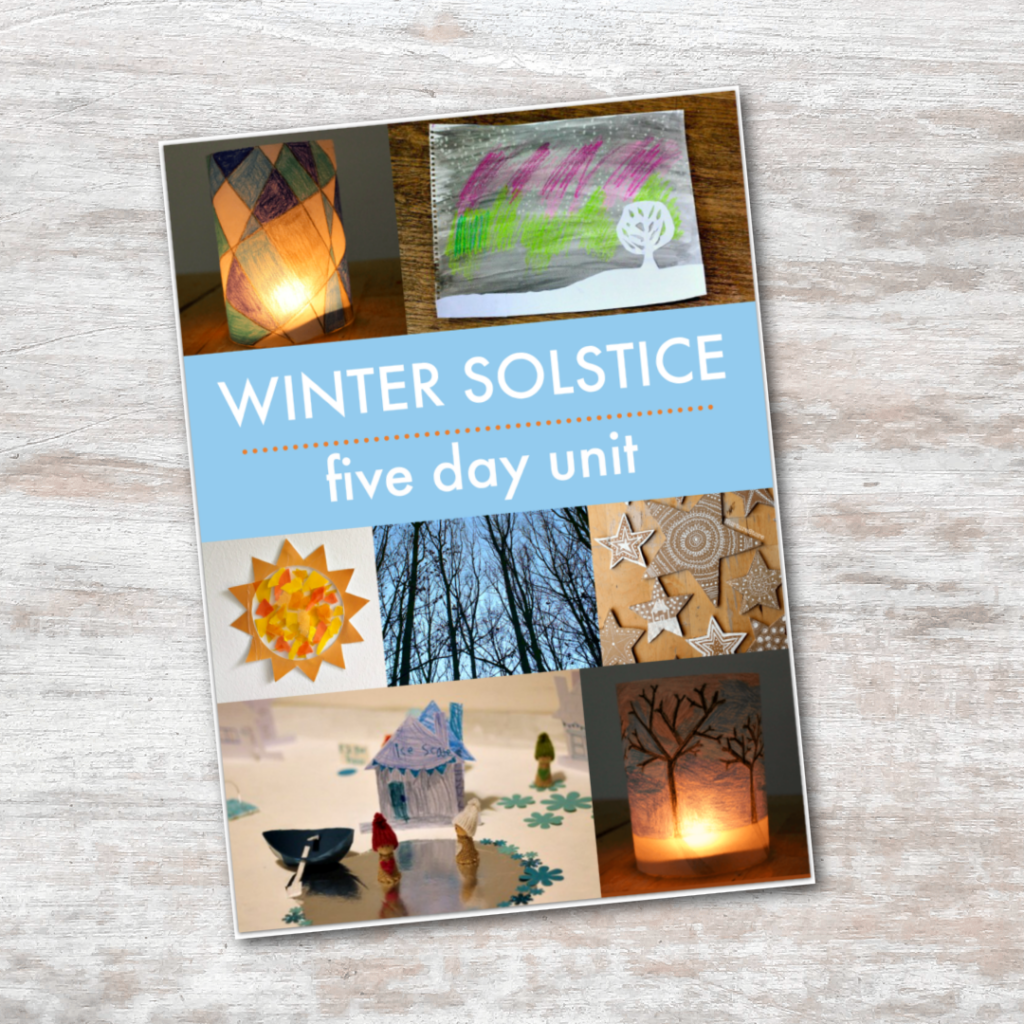 Ready-made Winter Solstice Unit
If you're a member of our Play Academy you can download a ready-made five day Winter Solstice Unit and you'll be ready to lead a week of fun and educational Winter Solstice activities with your children.
This Unit is part of our Festivals specialist curriculum pathway, and is a part of a set of ready-made units you can use to teach your children about the festivals of the world all through the year. Based on the teaching philosophy of hands-on learning, the Play Academy festivals curriculum is engaging, effective and loved by children.
See more details of this Winter Solstice Unit, and all the other specialist curriculum pathways and ready-made units you can choose from, in the Play Academy here.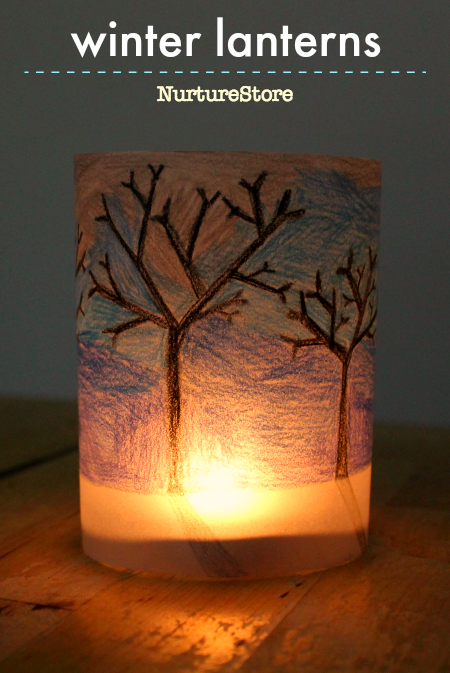 More Winter Solstice activities and crafts
What is the Winter Solstice? for children
Use this simple explanation of the solstice to introduce your children to this annual event.

Super yummy, very easy solstice biscuit recipe
Use this cookie recipe that uses traditional winter spices to make treats for the solstice.
Themed winter nature walks
Step outdoors and enjoying the natural world on the Solstice and beyond with these great ideas for winter-themed nature walks.
Winter paper lantern craft project
Explore light and dark with this winter paper lantern craft, using cool colors to create a winter skyline or geometric design.
How to make large paper lanterns for Solstice parades
How to make a paper lantern, using a simple willow frame.
Sunshine sun catcher
Use this sun template printable to make a gorgeously easy sun craft to celebrate the solstice with younger children.
Winter wonderland imaginary play
Turn a simple cardboard box into a fabulous Winter Wonderland for lots of creative imaginary play and storytelling.
Make a fairy land light table
Embrace the dark nights and welcome the winter by using these ideas to make a fairy land light table – wonderful for imaginative, sensory play.
Warm and cool colour theory art lesson for kids
Explore warm and cool colour theory and create a night and day art project inspired by the Solstice.
Sun weaving
Use yarn and ribbon to weave a sunshine for your home or classroom.
10 winter art lesson plans for children
Get creative this season with these ten winter art lesson plans for children. Using easy techniques and simple art materials your children can explore the colours, sensations, and science of the season through art.
Seasonal nature study calendar
This nature study calendar is a beautiful math and art project that lets you follow the changes of the year, learning about the seasons and observing the natural world.
Sun and moon activities
Learn more about the sun and moon with these lessons and activities.