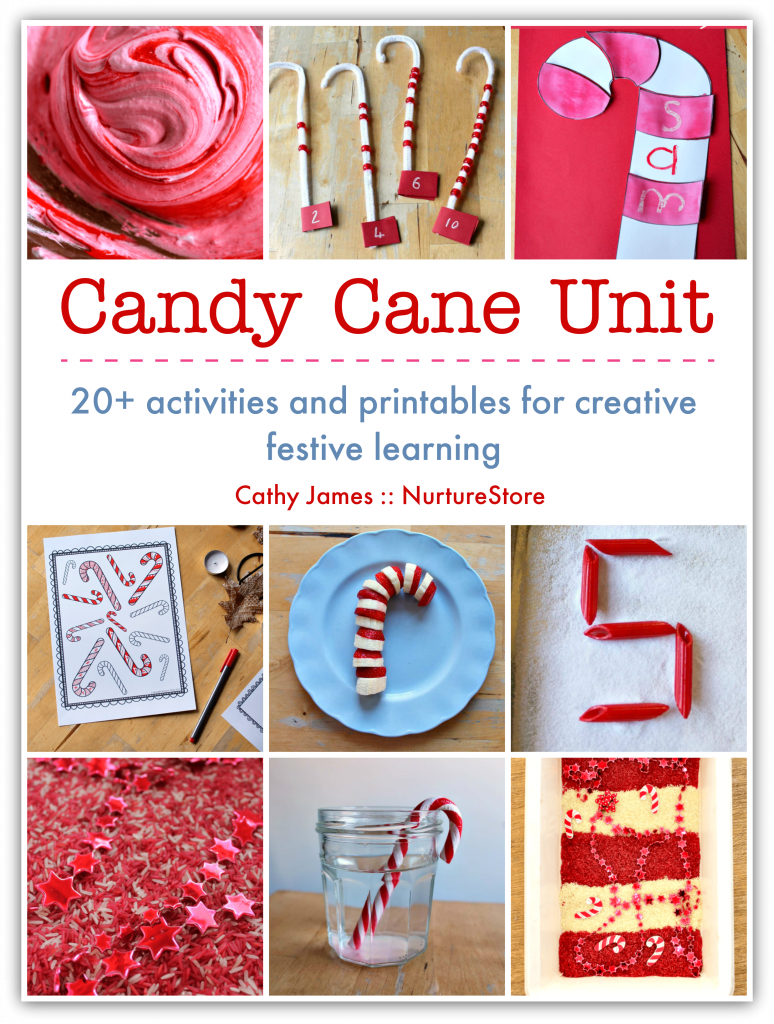 A super fun and festive unit of learning.
This kit gives you everything you need to teach an engaging program of activities all based around candy canes.
With ideas for math, literacy, science, play, sensory, arts and crafts your children will love learning all through the holiday season.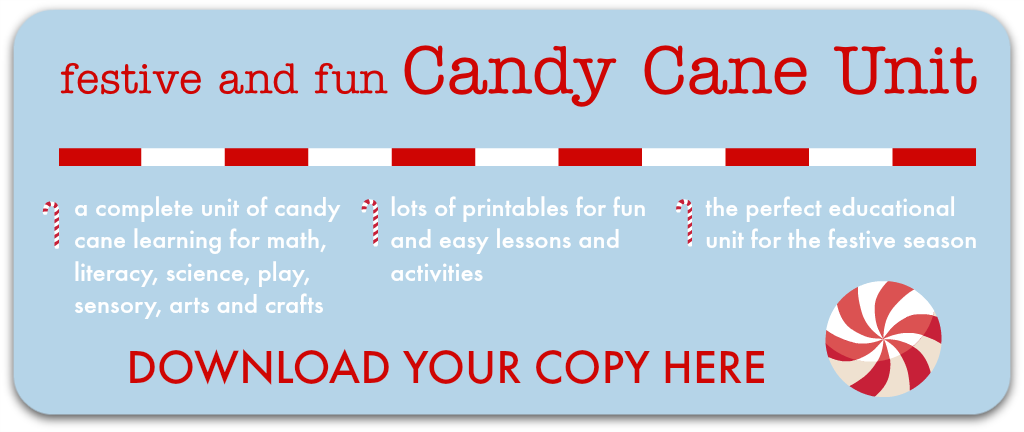 I've created this unit so children can enjoy the holiday season with engaging, multi-sensory learning.
It's so fun to theme units to the holidays of the year, pairing the delights of the season with rich, effective learning.
Everything is organised for you, with lots of extra printables to make your planning and delivery easy and enjoyable.

Everything you need for this festive unit, all in one place.
:: over 60 pages of lessons, activities, and printables
:: a complete unit of candy cane themed math, science, literacy, arts and crafts, sensory, and play
:: materials lists and bonus printables make it so easy!
:: everything planned for you, so you can enjoy it as much as your children do
:: fun and festive, and packed with engaging learning
:: created with children aged 4 to 8 in mind
Super, seasonal learning!

The Candy Cane Unit is perfect for you if:
:: You're a teacher who needs a great set of festive lessons and activities that fit right into your classroom planning. Math, science, literacy, arts and crafts – I've got you covered, with lots of printables so it's super easy to give your kids a fun, educational holiday celebration.
:: You're a home educator, who loves to mix in fun learning through the year. This unit will give you a boost of fun as we head through the festive season, with lots of hands-on learning packed into all the play.
:: You're a childminder, nanny or educator who loves to give your children the fun of a themed week. With super ideas for candy cane themed play and learning you can give your children a delightful and educational time.
:: You're hosting a party or holiday club, at home, in class, or in a community centre. You'll find festive, engaging activities for all your kids, lots of hands-on play ideas. Everything is simple to set up and lots of fun – for you and the kids!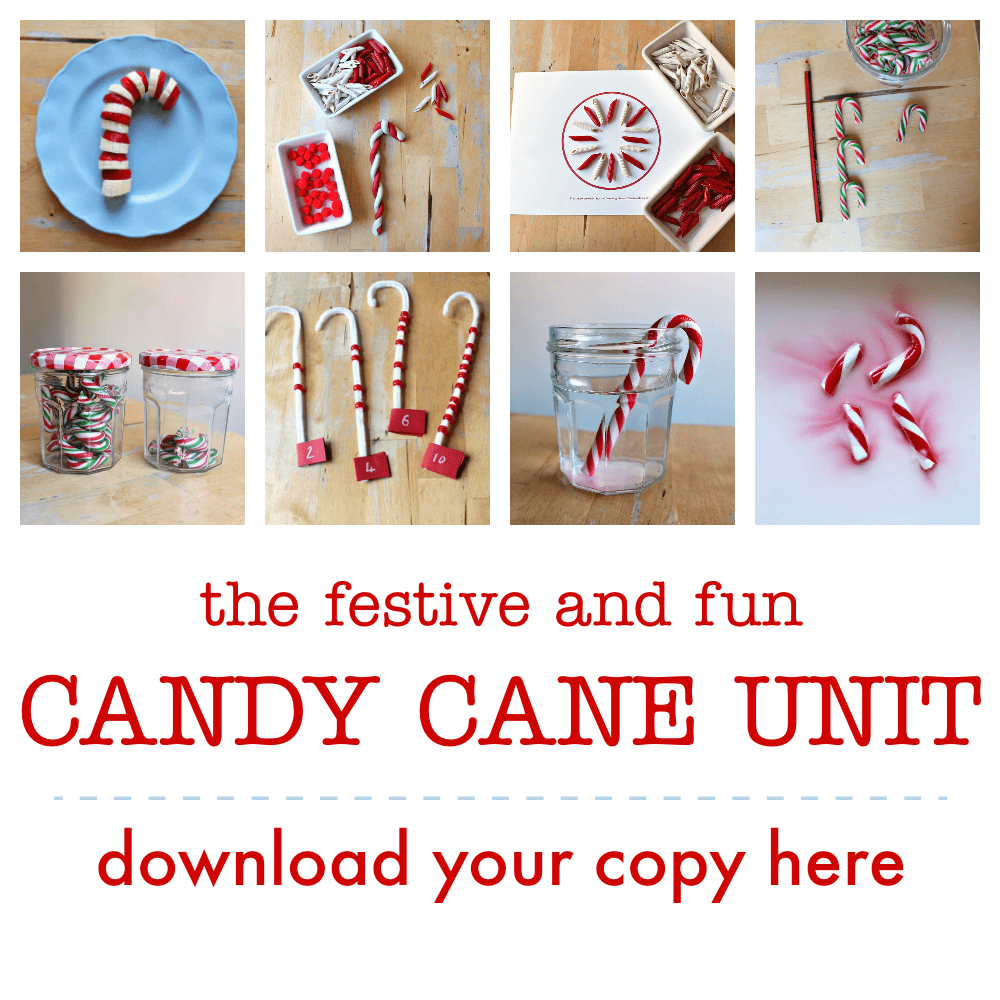 Here's exactly what you'll get in the Candy Cane Unit
60+ pages of lessons, activities and printables
21 individual lessons / activity plans
25 pages of bonus printables
full colour photographs, material lists, and instructions for each activity
Candy cane-themed lessons and activities include:
candy-cane math explorations of estimating, counting, and non-standard measurement
fine motor skill activities including candy cane play dough, lacing cards and candy cane counting sticks
loose parts pattern cards to explore pattern, shape, fractions, and symmetry
science exploration of dissolving, liquids and the stages of a science experiment
candy cane paint-my-name printable
set of alphabet cards to print and use for play, reading, and spelling
set of number cards to print and use for play, matching and arithmetic
reading comprehension and crossword
journal page exploring candy canes using five senses
candy sensory tub
candy cane play dough
candy cane goop / oobleck science and sensory play
candy cane art projects including puffy paint, marbling and colouring pages
easy recipes for candy cane fruit snack, peppermint creams, and candy cane fudge
Bonus printables include:
red and white alphabet cards
red and white number cards
reading comprehension
crossword puzzle
candy cane template for art projects
colouring pages
candy cane name printable
repeating pattern matching cards
science observation, prediction and recording sheet
loose parts line, pattern, and shape cards
five senses journal page
recipe cards

About Cathy James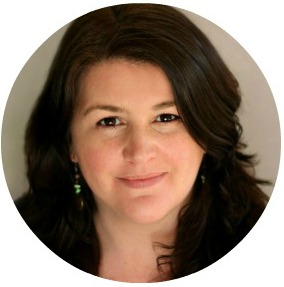 I'm passionate about children having the opportunity to learn through hands-on, creative activities. I want kids to delight in what they're learning and enjoy their childhood.
I'm the author The Garden Classroom (published by Roost Books), Super Sensory Invitations to Play, and Art Spark. I've also worked in preschool, high school, and as a childminder, where my provision was rated as 'outstanding' by OFSTED.
With over twenty years experience in education I want to share what I've learned with you, so you can feel inspired, confident, and supported to give your children the best start in life. Let's work together to deliver lessons that are engaging, impactful, and fun!

The Festive and Fun Candy Cane Unit
60+ pages of lesson plans, activities and printables
Everything you need for a fun and educational festive season
$14.99
Click here to download your pack now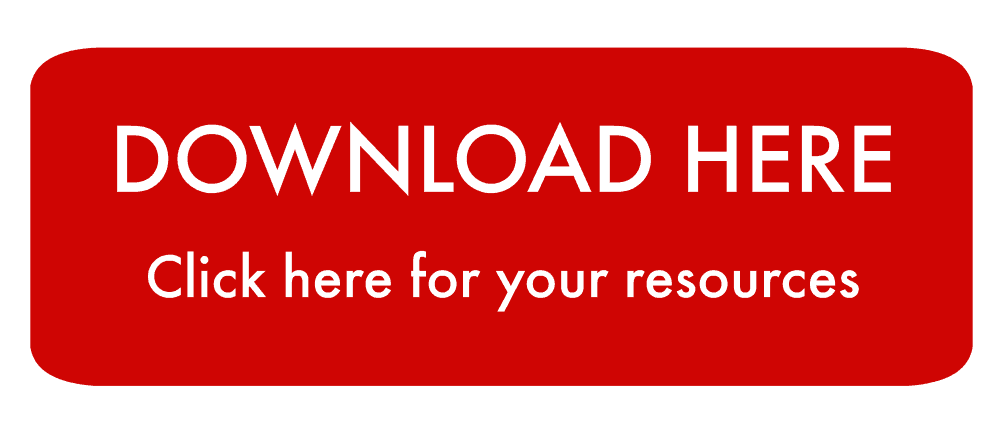 ---
Available for instant download
This product is an ebook (electronic book), which means you will be sent a link by email which allows you to download the ebook and all the resources. You should save it to your computer or iPad and then either read it on screen or print some/all of the pages, as you prefer.
Questions?
If you have any questions, then please refer to our FAQ.
Important Information
By purchasing items from our website you consent to our Privacy Policy.
All ebooks and other digital products listed on this page protected under copyright ©. All rights reserved. They may not be shared or distributed in any way or form.
All products listed on this page are priced in US dollars. If you are outside the USA, the amount appearing on your bank/credit card statement will be in your local currency based on the exchange rate applicable at the time of the payment.