Imagine a feeling of warmth, friendliness, comfort and wellbeing surrounding your children as they learn. Many families choose to home educate precisely because they want to foster an encouraging and nurturing atmosphere around their children.
As a home educator, you'll be aware already how much the surrounding environment can effect your children: their mood, their attention span, their success in learning. In the Reggio Emilia way of learning, the environment is considered to be the third teacher, and setting the tone of your learning space is so important.
As we head into the winter months, we tend to spend even more time at home, and perhaps we're running out of a little bit of steam from our back-to-school enthusiasm. We might be feeling the dark afternoons and cold winds are dampening our days a little. Thoughts of months indoors loom, and we fear everyone may be getting a little stir crazy.
Rather than simply survive the winter – let's thrive! We need a good dose of hygge!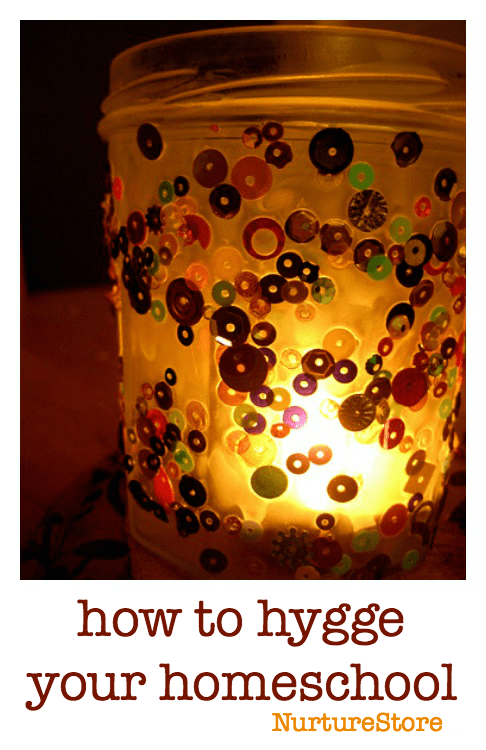 How to hygge your home school
Hygge is a Danish concept that can't be exactly translated into English but it can definitely be introduced into our homes. It's feeling of cosiness and comfort, which gives everyone a sense of wellbeing.
Setting a hyggeligt tone brings so much benefit to our home schooling. We feel happy, our children feel nurtured, and learning can happen successfully when everyone feels welcome, supported, and looked after.
Here are ten ideas that you can easily add to your day, along with an invitation to join my Winter Workshop for a whole lot of hygge!
Ten ideas for a hyggeligt homeschool
Add fairy lights :: string them around the kitchen window, across the book case, around the craft shelves, and let their warm light add a twinkle to the room.
Have pancakes for breakfast :: my girls' favourite! With no school run to rush in the morning we can linger a while over breakfast with delicious treat.
Read stories by candlelight :: at your morning circle, afternoon quiet time, or before bed, gather your children, wrap them in a cosy blanket, and read by candlelight. Science textbooks, historical sagas, or literary fiction are all made cosier with the soft lighting.
Declare a PJ day :: another perk of home education is the possibility of making PJs your school uniform!
Winter-ify your book box :: connect with the season by changing up your book box and enjoying tales of snow, ice and the dark from the comfort of your warm home. Try these winter books for children for some great ideas.
Use scent :: use an essential oil diffuser, or simmer a pan of water on your stove, and add some winter scents to bring an extra sensory element to your home, using spices or essential oils. We like a blend of cinnamon, nutmeg and clove; or peppermint, vanilla, or clementine.
Observe rituals :: I think simple rituals are so important in our daily lives. They bring us together and bind us as a family unit. There is so much reassurance in the steady pattern of familiar routines. Adding a little, special touch to everyday routines lifts them from the mundane to the hyggeligt.
Add hot chocolate :: math lessons are much cosier with a mug of cocoa!
Go to forest school :: rather than hide away indoors all season, make a feature of the colder weather. Wrap up warm, take soup or hot drinks, and head out to explore all the signs of winter on a nature walk. Use your five senses and notice all that you see, hear, feel, smell and perhaps even taste in the forest.
Bring your lessons fire side :: Pretty much anything you're intending to teach this season can be done round the fire. At your fireside, or around an outdoor fire pit, enlist the magic of crackling wood and flickering flames to add an elemental feeling of hygge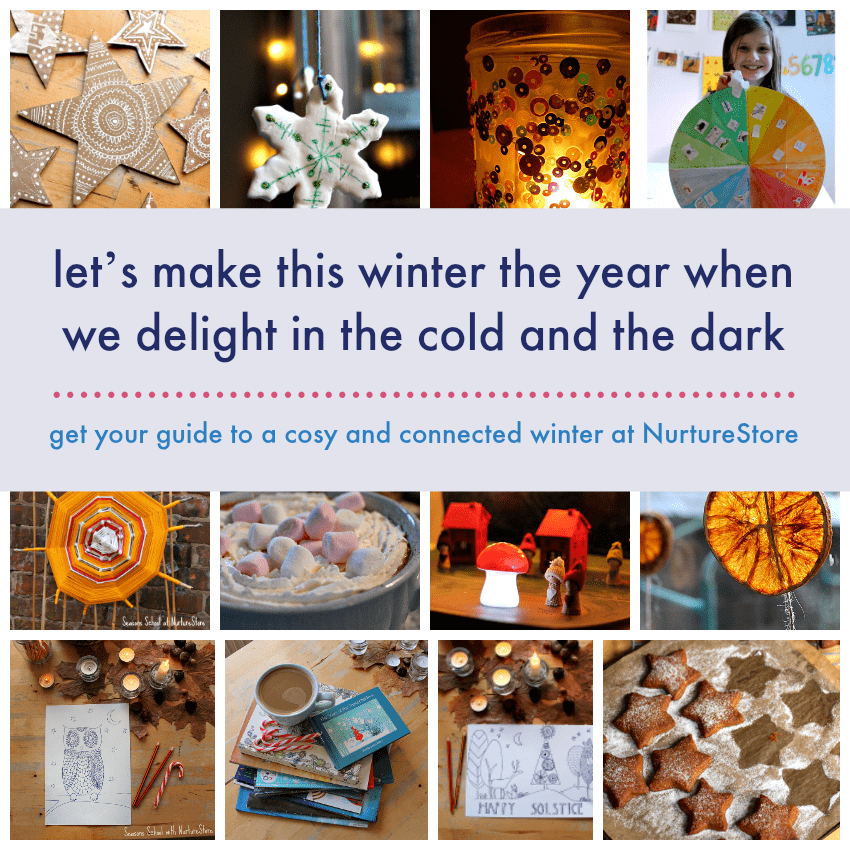 Get your full guide to the Seasons School hygge curriculum!
Let's make this winter the year when we delight in the cold and the dark. Gather your children, get cosy, and make memories together with the Seasons School Winter Workshop. A complete hyggeligt programme of learning, making, and connecting; the Winter Workshop integrates math, science, literacy, art, and play through a nature-inspired adventure. This guided workshop gives you everything you need to enjoy a cosy and connected winter with your children.
Get all the resources for your hygge homeschool here.