This gorgeous Christmas tree craft invites children to use their eyes to make a festive art display – or a Christmas tree matching game.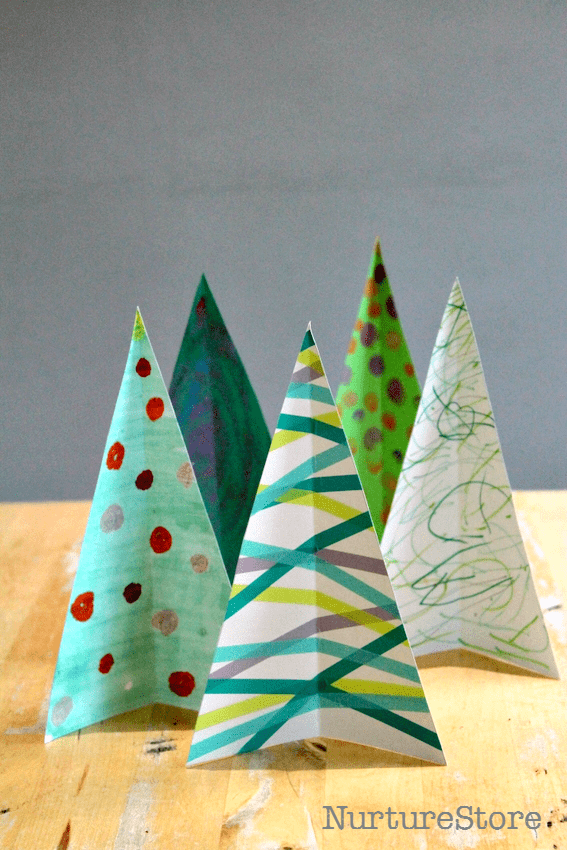 Christmas sensory play :: Christmas tree craft and matching game
QUICK RESOURCE >> Download your ready-made Nativity Unit here
For our sense of sight activity we decided to make some Christmas trees, using our art materials to see if we could give every tree a design that looked completely different.
This activity works well at home or school. In a group, each child can contribute their unique tree design to a collective display. And at home, there is the opportunity to challenge yourself to think of as many different looks as you can.
For our trees my daughter picked out:
:: glitter glue
:: permanent markers
:: washi tape
:: watercolour paints
:: oil pastels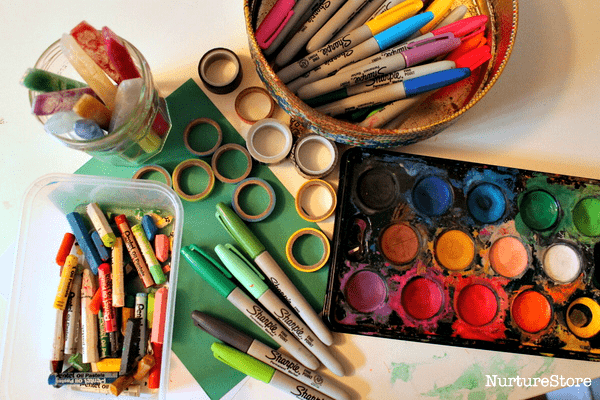 For each tree we started out with a simple triangle drawn on a piece of card.
Then we used a different art technique on each tree to give them all a different look.
Anything goes here: invite your children to use their eyes to pick the colours, patterns, shapes and designs that they like. My daughter picked: a Christmas tree with lots of busy squiggles…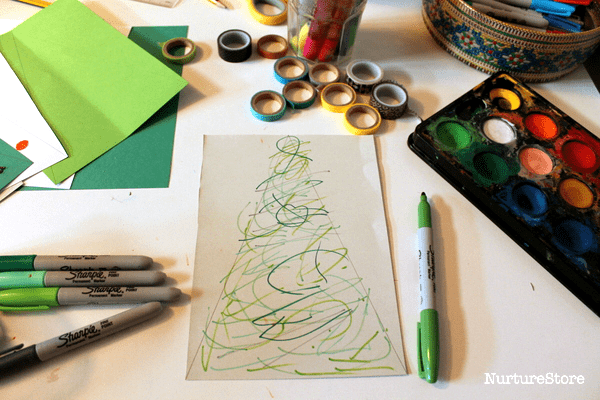 a Christmas tree covered in sparkly glitter glue…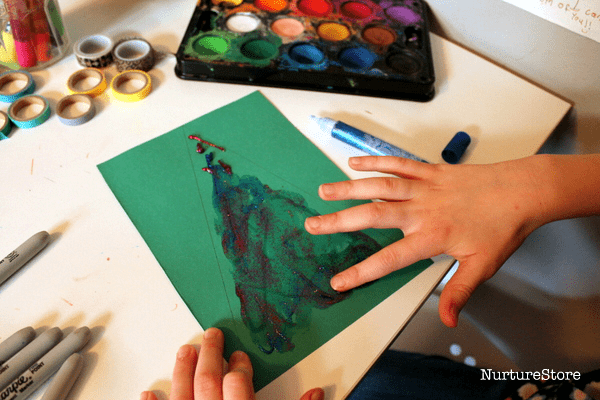 a stripy Christmas tree made with washi tape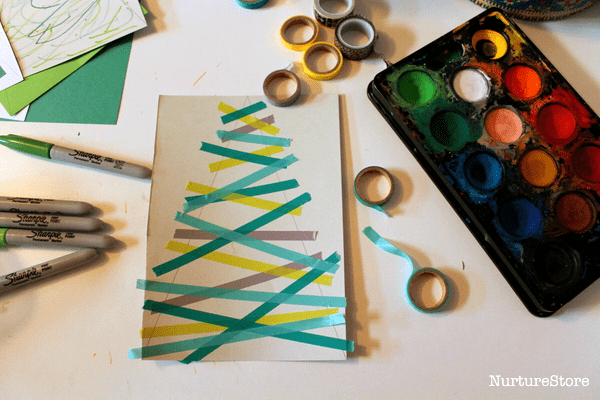 a Christmas tree with oil pastel baubles, painted right over with watercolour paints…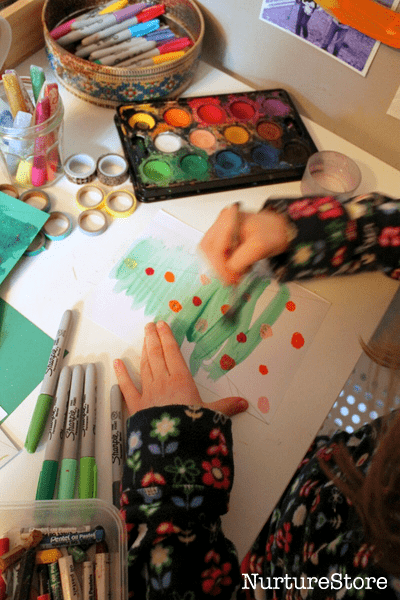 and a Christmas tree with little finger print decorations.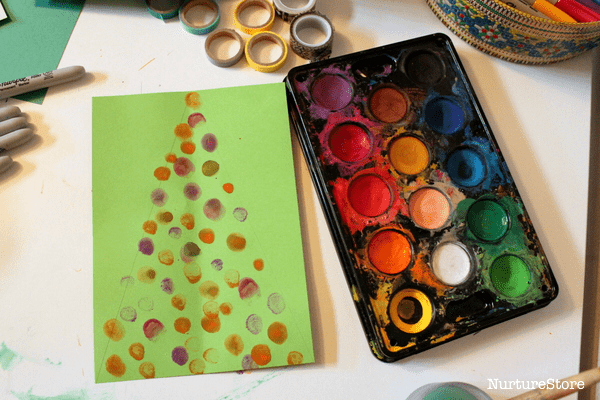 To create a gorgeous Christmas tree display you can simple fold each tree in half, so that it stands up by itself. I love how they look collected together, showing all the contrasts in design.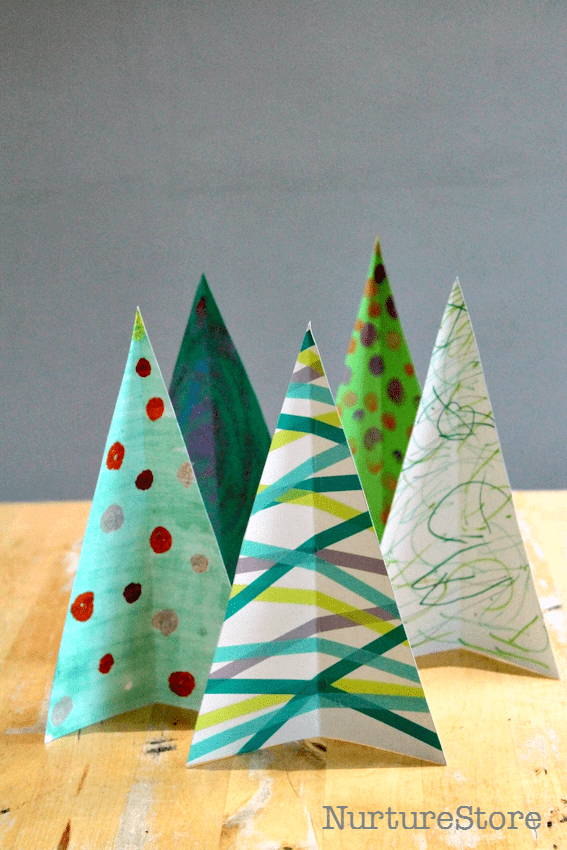 Christmas tree matching game
But, you can also use your art to make a Christmas tree matching game. Just cut each tree in half and lay all the pieces out, in a jumbled arrangement.
Then see if you can find all the matching pairs.
Matching games encourage children to look carefully and spot similarities and differences, skills they need for both math and reading and writing. Simple matching activities like this are great for toddlers and preschoolers.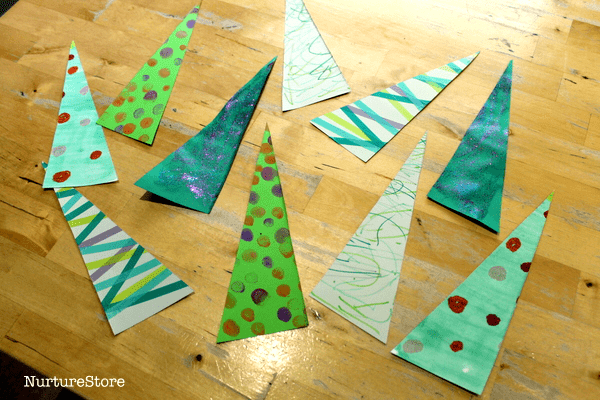 You could add magnets on to the back so you can make a matching forest of trees on your fridge door, or use them as a quiet time busy bag.
This would make a lovely matching game Christmas gift a child could make for a younger sibling.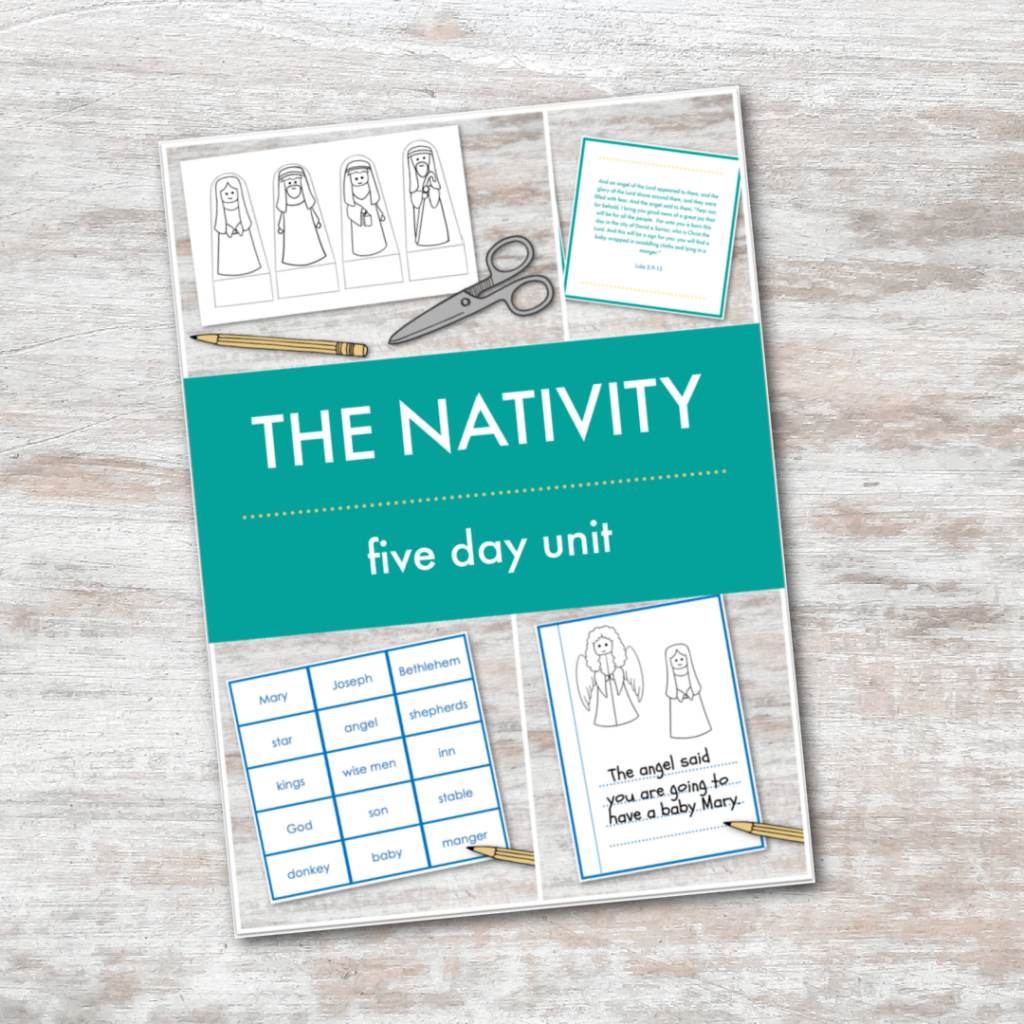 Download your ready-made Nativity Unit
Download the Play Academy's ready-made Nativity Unit and you'll have everything you need to lead a set of activities to introduce your children to the Nativity story.
This Unit includes artist-drawn puppets/colour-in nativity scene characters and printable Bible verse cards, that your children can use year after year.
In this Nativity teaching unit your children can:
:: learn about the Nativity and create their own Nativity book or small world scene using colour-in puppet / nativity scene characters
:: learn about Mary and Joseph's journey, and explore junk modelling
:: learn about the shepherds role, and explore loose parts
:: learn about Jesus' birth
:: learn about the three wise men, and complete their book / re-tell the story in their small world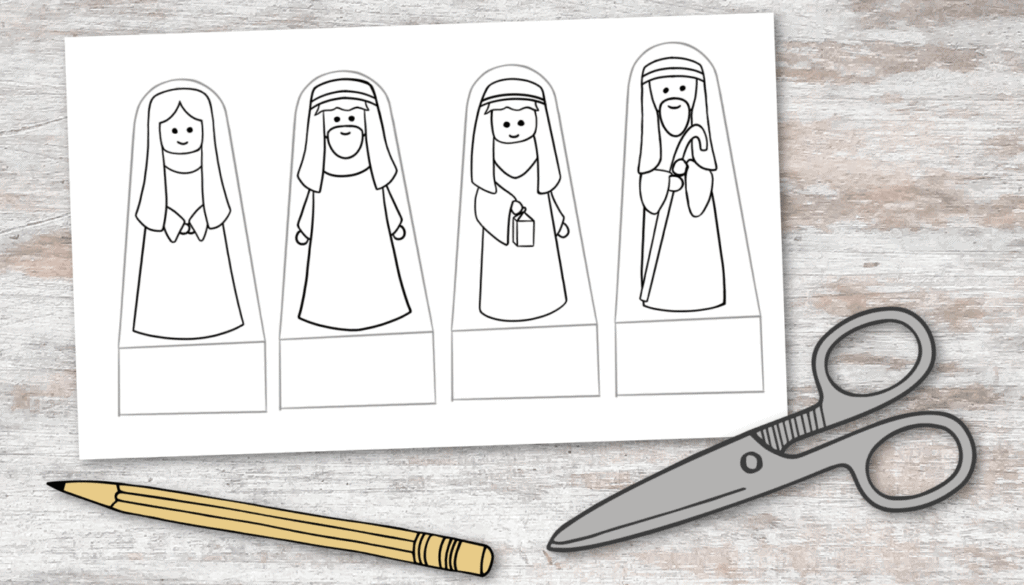 Bonus Nativity thematic unit printables
The Play Academy's thematic units come with practical printables that make the lessons more engaging for your children and easier for you to teach.
No need to go searching for printables to accompany your lessons, they're all included when you download your chosen unit.
In this Nativity Unit you'll receive these bonus printables:
:: My Nativity Story book to write, colour and complete to tell the Nativity story
:: a set of artist-drawn My Nativity Puppets to colour, cut out and use to re-cap and act out the Nativity story
:: Nativity Vocabulary Cards to recap and consolidate learning
:: Nativity Bible Verse Cards to read, narrate your own acting out of the story, and perhaps to memorise
How to download this Nativity thematic unit
You can download this unit along with over 50 more from NurtureStore's Play Academy.
If you are already of the Play Academy, you can download this unit straight away from our Library here.
If you are not yet a member, find out more and choose your first unit here. Your teaching is about to get a whole lot easier!