Wondering how to start a nature journal with your children? This ultimate guide to nature journals for children is full of ideas you can use to make your own nature journal, start a nature study, and explore the natural world.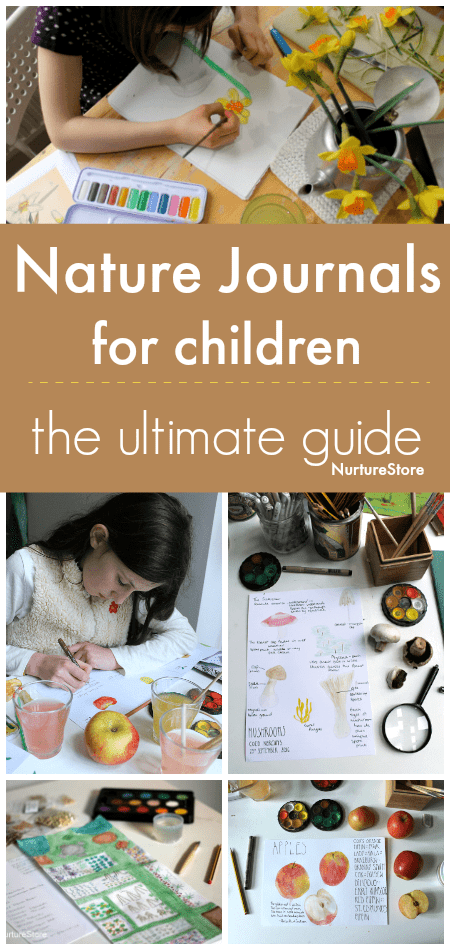 The ultimate guide to nature journals for children
Use these links to dive into NurtureStore's archive of nature journal ideas and nature study resources.

Nature journals – the basics
How to use a nature journal with children
How to make a circular year-round nature journal
Nature journal prompts for children
Free nature journal printables
Nature Study lesson guides
Learning about eggs and birds unit
Apples and Pumpkins lesson plans
Nature arts and crafts printables
Guide to nature walks with children
Make a seasonal nature study calendar
Pick your classroom!

Free Forest School and Garden Classroom resources!
Join my weekly email service and I'll send you FREE printables, lesson plans, and activity ideas that you can use with your children in your forest school and garden classroom.
Seasons School is NurtureStore's year-round program of living and learning with nature. Our activities and resources focus on hands-on, nature-based learning that connects children with the natural environment.
If you're looking for nature study lessons, arts and craft projects, campfire recipes, foraging ideas, outdoor math and literacy activities, outdoor games, and ways to explore forests, gardens, and outdoor spaces - think of NurtureStore as your forest fairy godmother!
Whether you're in a forest school or outdoor classroom, running a school gardening club, bringing nature lessons into your class, home educating with nature, or wanting to connect with the great outdoors at the weekend, you will love the Seasons School ideas.
Pop your email address into the box below and I'll send you your free resources.
---
* By subscribing, you consent to our use of your personal data as per our Privacy Policy, which includes agreeing to receiving interest-based email from us.
---