Prep your art journals for sketching, doodling, writing and memory keeping – great summer scrapbook ideas.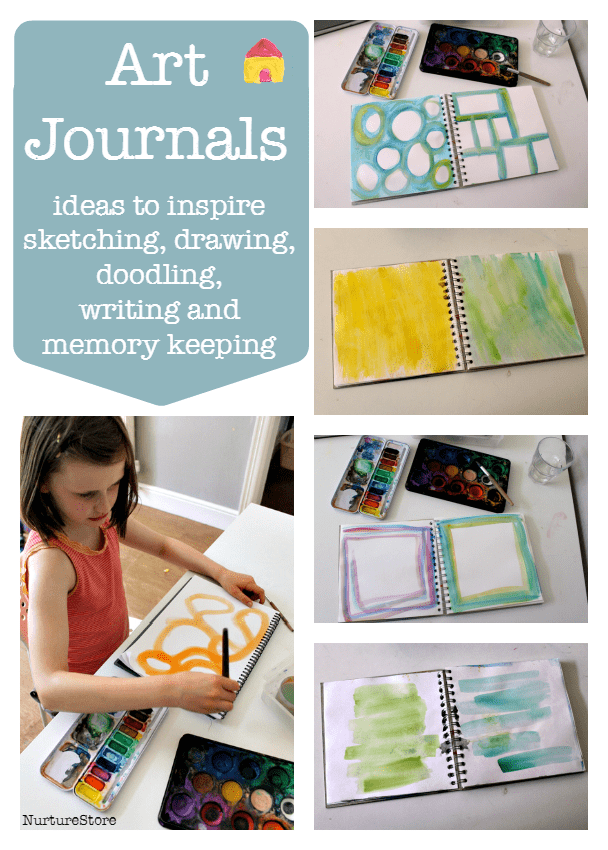 Art journal ideas for kids to scrap book their summer
The first of July was the start of our two month summer schedule, where we plan to spend more time out and about, enjoying the freedom of warmer weather, light nights and a flexible timetable. We're setting aside some of our structured learning curriculum, and most of our clubs and classes pause for a summer break, and we're looking forward to more time at the beach, the river and in the forest.
We'll still be learning of course. Surrounded by nature it's hard not to notice the art, science and conversation-starters all around. Our main focus for recording and exploring what we're seeing and thinking about is by using these art journals.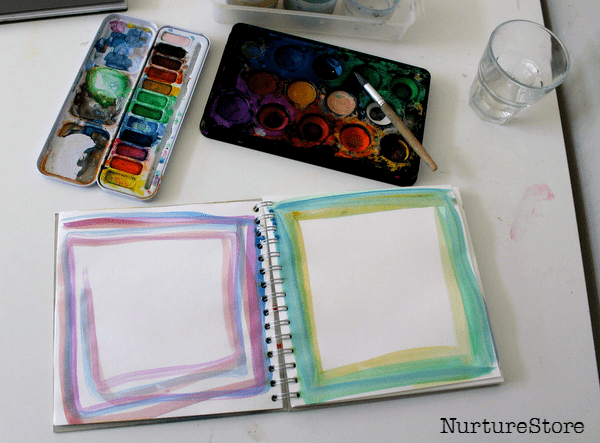 How to use an art journal with children
Each of us has a journal which we use at home and take with us when we're heading out somewhere. We use them in lots of ways:
:: to sketch our surroundings, or interesting things we see
:: to draw a favourite memory from the day
:: to write down lists: 10 things we saw at the beach…
:: to scribble down idea words: how does the forest make us feel?
:: to stick in photographs of things we've done and places we've been
:: to scrapbook in tickets and maps from our days out
:: to include leaves, pressed flowers and other treasures we collect
:: to use any way we like for lots of drawing and writing
We use them when we need a pause under a shady tree on a very hot day, in the car on the way back from a day out, and at home when we're having a quiet day.
The books are perfect for everyone, from pre-readers who can fill their pages with drawings, to us mamas, who also want to join in with the creative fun.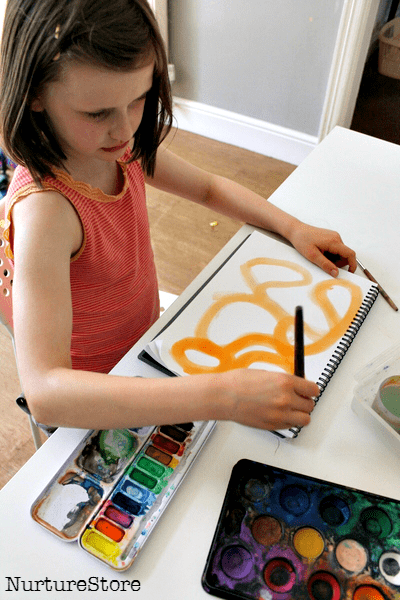 Our favourite kit for art journalling
Here are some of our favourite products we love for art-on-the-go. It's lovely to start the summer with some nice new kit!

---
This page contains affiliate links from which we earn commission.
As an Amazon Associate I earn from qualifying purchases.
---
This sketch book
 is big enough for lots of drawing, but still a handy size to take out and about with you.
These water colour paints in a tin are great for taking along on days out. We used seawater at the beach to mix up the colours!
These Stabilo pens come in their own pen case and are great for adding details on top of the water colour paints.
And these these water colour pencils are really good for children to use as you can get the detail you want and the watercolour effect.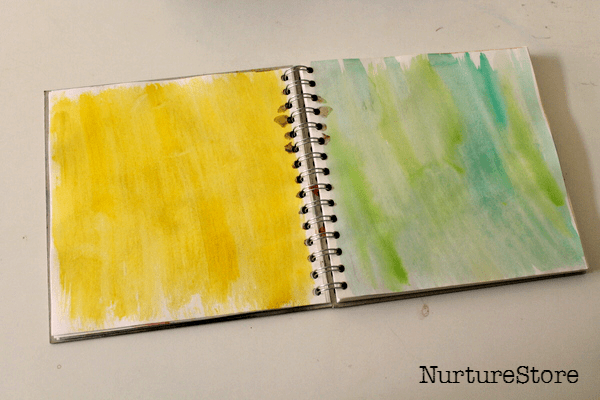 How to zing up your art journal
Blank, white pages can be scary and empty and demanding! We like to zing up the pages of our journals at the start of the summer to make them colourful and friendly and inspiring.
At the start of the summer we set to and customise some of the pages with paints, pens and washi tape.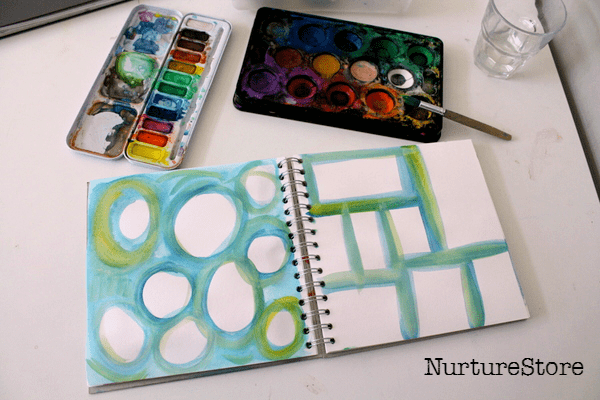 We turn some of the pages into small friendly spaces – where reluctant writers can relax and know they're not going to be expected to write too much.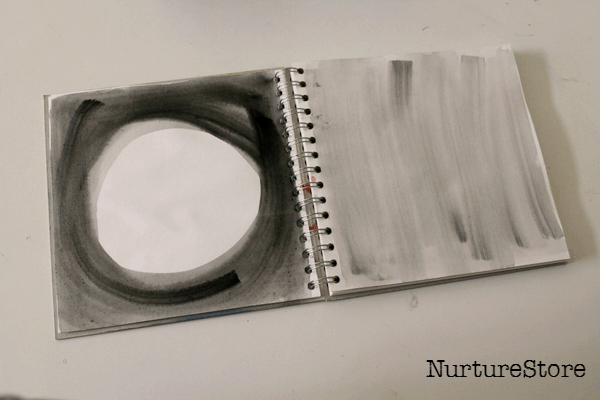 We make frames in interesting shapes to use at a later date.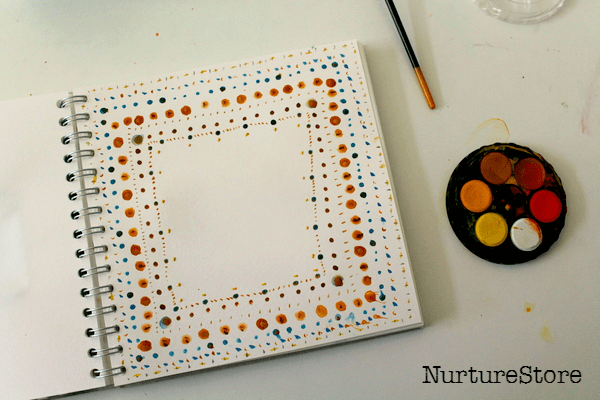 Some of the frames themselves can be your art work.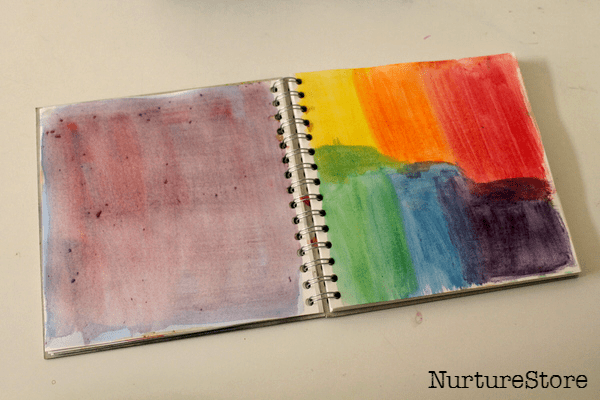 We add lots of colour, so the pages are inviting. Some pages will spark ideas through the summer, and we will match some of the pages to the places we find ourselves. That yellow page could be the perfect place to write about the beach. The green page might become a sketch of the forest.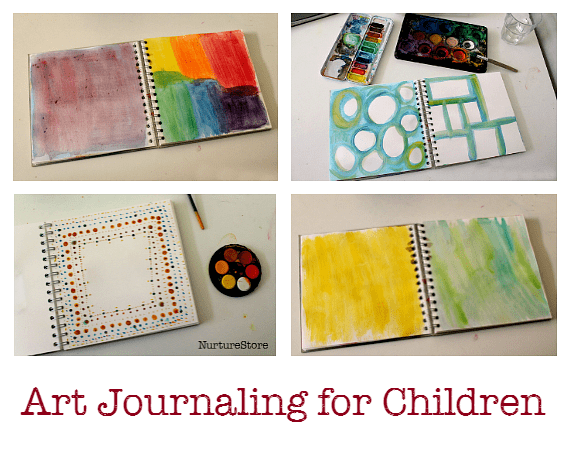 There are no rules about how the children fill in their art journal scrapbooks, but I do remind them to bring them along, or plan a few days here and there where I will set them out in the morning and make space in our day to keep working on them. Sometimes we run through a list of what we might include in them, to get the ideas buzzing again. Printing off some of the photos I've taken on Instagram is a good spark to scrapbook the memories from them. We might borrow ideas from each other and all do the same thing one day, or everyone might do something completely different. Everyone owns their own book and can use it how they please.