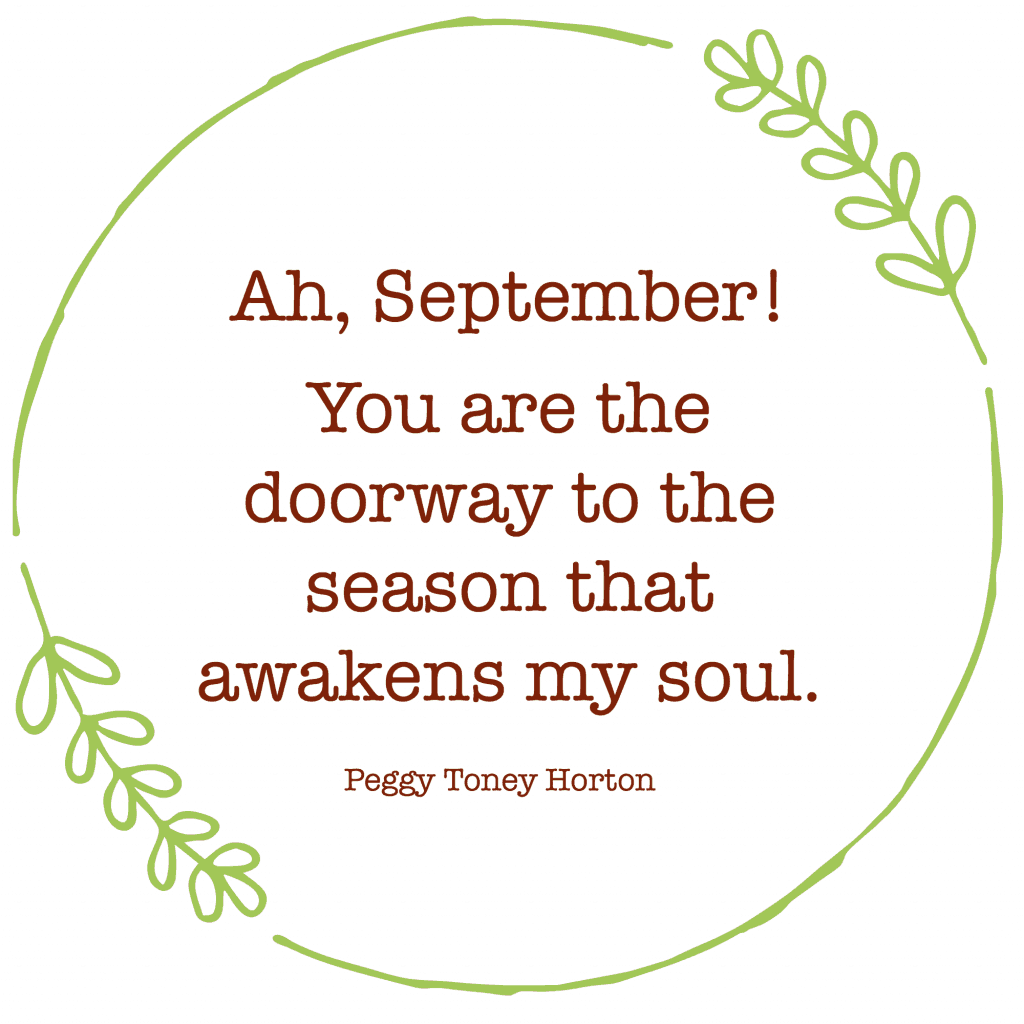 Getting things right at the start of the school year is vital.
It sets the tone for the whole year.
If we engage the hearts and minds of our children now we can guide them through a happy and successful year.
Let's head into autumn with an inspiring curriculum that will settle our children back to school through activities that are hands-on, creative, and successful.


Wouldn't it be wonderful to head back to the school year feeling calm, organised, and enthusiastic.
You'd be confident you had tried-and-tested lessons that would really engage your children so they'd be excited to learn.
You could focus your time where it's most effective: connecting with your kids and supporting their next steps, instead of hours spent on admin.
Everywhere you look there's information overload, so many options and ideas.
But how do you know what activities your children will really enjoy?
And how can you balance your curriculum to make their learning most effective, hands-on, and fun, while keeping costs low, prep easy, and giving you time for yourself?
Are your lessons really how your children should be spending their days?

I've made the Seasons School Autumn Curriculum for you because I want your children to LOVE learning. I want them to feel connected to nature and our planet, and I want their lessons to be full of making, doing, thinking, and creating.
I want them excited to come and learn each day.
I want their learning to feel joyful.
And I want you, as their parent or as their teacher, to feel joy in your role too. I want you to feel calm, confident, and ready to teach. I want you to enjoy this time with your children.
I'm going to give you the tools, lessons plans, and printables that you need so YOU can have the best school year too.
This is why I've turned my 20+ years of education experience into creating this library of resources for you. They are based on my knowledge of working with children and understanding how to engage them, helping them gain vital skills through delightful learning.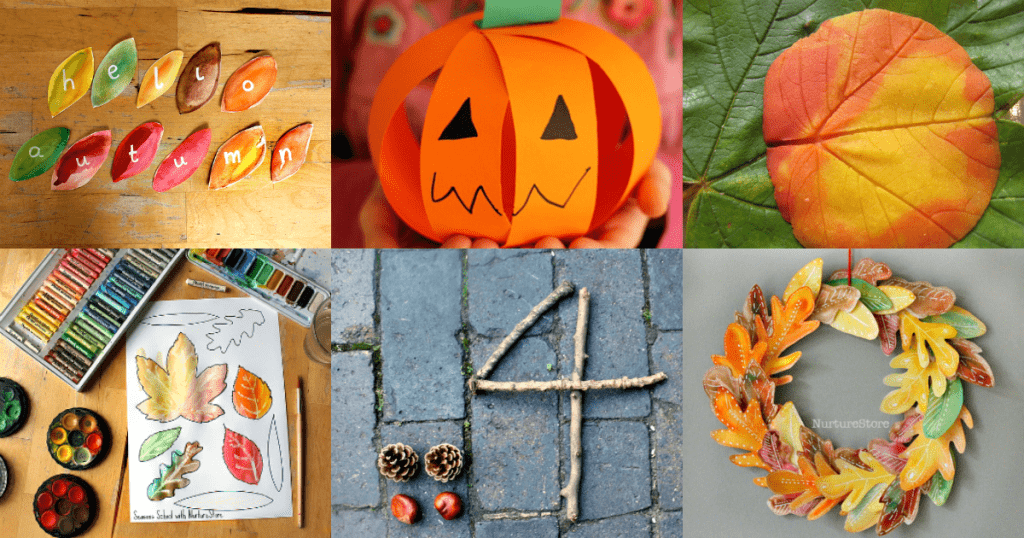 Everything you need for autumn learning, all in one place
For the BEST VALUE, you can get this unit as part of our Seasons School Year Complete Program. Save over $90 and get our Spring, Summer, Autumn, and Winter Units all for better than half price. Click here for more details.
:: over 75 engaging activities and lesson plans that your children will love
:: 50 pages of printables that make teaching so easy
:: a balanced programme of math, science, literacy, arts and crafts, nature study, sensory and imaginative play
:: a practical guide to nature walks and nature journalling; easy Autumn Activity Cards; and complete units for apples and pumpkins, and leaves and twigs
:: weeks worth of learning all planned for you, to take you right through the season
You're going to love what I've got for you!

The Seasons School Autumn Bundle is perfect for you if:
:: you're a teacher who needs lessons that are no-prep and all planned for you, that your children will love. You'll find the printables and activity cards that are quick and easy to set up so practical, filling your classroom with fun activities that your children will quickly engage with so your teaching feels easy.
:: you're a homeschooler or home-educator who wants to take advantage of the flexibility of your own timetable and the opportunity you have to give your children a hands-on, creative way of learning. You'll love the arts and crafts, and how the math and science are easily built in, letting you feel confident to teach and so happy that your children are learning through a strong connection to nature – just the way childhood should be.
:: you're a childminder, nanny or educator who needs great ideas for mixed age groups. You'll love the ideas for making, playing, and baking, and how the programme of nature walks will get you out and about. Your parents will love how happy their kids are, and they'll appreciate how you're weaving so much learning into their day.
:: you're a parent who wants to connect with your children and connect your childen with nature. You'll love how the resources give you after-school enrichment and weekends of delightful activities so you can enjoy a screen-free autumn, having fun as a family.
:: you're a forest school leader who wants an adaptable set of engaging sessions that include math, science and literacy. We already know that the outdoors is an amazing teacher and these autumn resources will give you printables, activity cards, and learning ideas that will enhance your provision so you are giving a rounded, outdoor curriculum.
:: you run a club, whether that's at church, Brownies, Scouts, a nurture group or a youth group. The fun and engaging ideas are perfect for active sessions your kids will love, with little prep needed, and making use of materials you already have.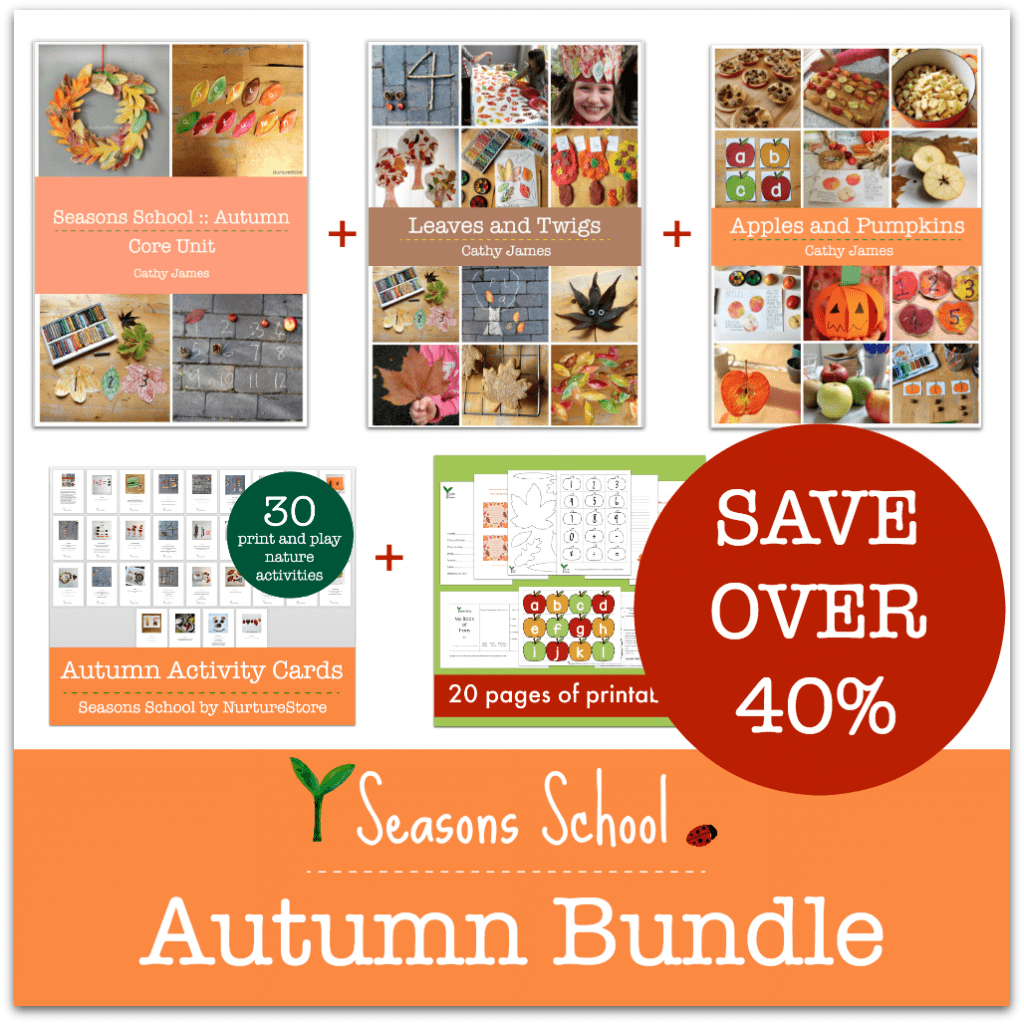 Here's exactly what you'll get in your Seasons School Autumn Bundle
The Seasons School: Autumn Core Unit
Why Do We Have Seasons? lesson: a seasonal story of a celestial dance
What's Special About Autumn? lesson: including 'My Book of Autumn' printable
Nature Walks Guide: how to adopt a local landscape; your nature walk kit; how to establish a programme of themed nature walks.
Nature Journals Guide: how to make a Seasons School circular nature journal; how to use your nature journal, indoors and outdoors; journalling like a scientist.
Nature Table Guide: why, where, and what to include.
Eating the Season: an autumn food guide and printable poster.
Opening the Autumn Season
Autumn Book List
Value = $9.99
The Apples and Pumpkins Unit
Apple and Pumpkin Investigation lessons: What are apples and pumpkins? How do apples and pumpkins grow? How do we use apples and pumpkins? What's inside an apple and a pumpkin?
Apple Taste Testing: includes printable record sheet
Apple Number Line
Pumpkin Numbers and Math Games: with printable
Apple and Pumpkin Venn Diagrams comparison
Apple Alphabet and Writing Tray: with printable
Apple Poems: with printable
Pumpkin House Storytelling
Pumpkin Art Decorating
Autumn Marbling Art
Pumpkin Spice Paints
Pumpkin Zentangle Designs
Apple Print Prayer Flags/ Bunting
Paper Pumpkins
Pumpkin Spice Cloud Dough
Pumpkin Spice Play Dough
Apple Crumble Recipe
Apple Cookies Recipe
Value = $19.99
The Leaves and Twigs Unit
Learning About Trees lesson: What do you know about trees? Deciduous or evergreen? Why some trees loose their leaves in autumn. Includes 'My Book of Trees' printable.
Leaf Number Line
Play Dough Math Trees: including arithmetic, number bonds to ten, number sentences
Leaf Symmetry lesson: reflection and radial symmetry
Twig Writing Tray
Leaf Books and Autumn Writing Station
Watercolour Leaf Alphabet
Word Trees
Leaf Bookmarks
Leaf Printing Process Art
Leaf Wreath Craft
Leaf Crowns
Autumn Tree Collage Art
Leaf Colouring Printable
Twig Weaving
Stick and Leaf Puppets
Leaf Print Play Dough
Autumn Sensory Tub
Leaf Cookies Recipe
Value = $19.99
The Autumn Activity Cards
30 Print and Play activity cards that invite children to engage with natural materials and explore math, literacy, science, art, and play ideas. Perfect for 'invitations to play' and as adaptable lessons, indoors or outside. Use daily or combine to make a multi-activity adventure trail or 'forest school'-style centers.
The Printable Pack
50 pages of printables to accompany the lesson plans and to use again and again. Including:
'My Book of Autumn' mini book
'My Book of Trees' mini book
Three styles of journal pages for writing and drawing
Eat the Seasons autumn poster
Hand-drawn leaf colouring pages
Autumn Word Wall cards
Apple Poems guides
Apple Taste Test record
Pumpkin Number Cards
Apple Alphabet Cards
Value = 11.99
Plus the Autumn Challenge Cards, value = $5.99

About Cathy James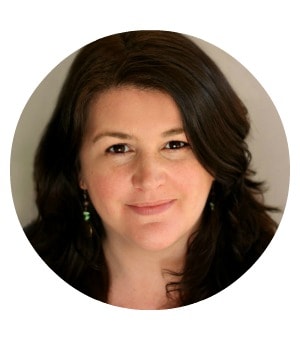 I'm passionate about keeping children connected to nature and a creative childhood of hands-on learning. My own children have grown up in the garden, at the beach, and in the forest. We use nature as a vital part of our home education curriculum and it makes our learning joyful and deeply connected to the rhythmic cycle of the year.
I'm the author The Garden Classroom (published by Roost Books) and used to work in school running the Year Four Gardening Club. I've also worked in preschool, highschool, and as a childminder, where my provision was rated as 'outstanding' by OFSTED.
With over twenty years experience in education I want to share what I've learned with you, so you can feel inspired, confident, and supported to give your children the best start in life. Let's work together to deliver lessons that are engaging, impactful, and fun!



The Seasons School Autumn Bundle is valued at $67.95.
You can download your resources now and SAVE $27.96.
For a limited time your can save over 40% on the complete Seasons School Autumn curriculum.
This includes the Seasons School Autumn Core Unit, Apples and Pumpkins Unit, Leaves and Twigs Unit, Autumn Activity Cards AND the Printables Pack.
Download the complete set of ebooks, activity cards and printables now for only $39.99.
CLICK HERE TO DOWNLOAD YOUR RESOURCES NOW.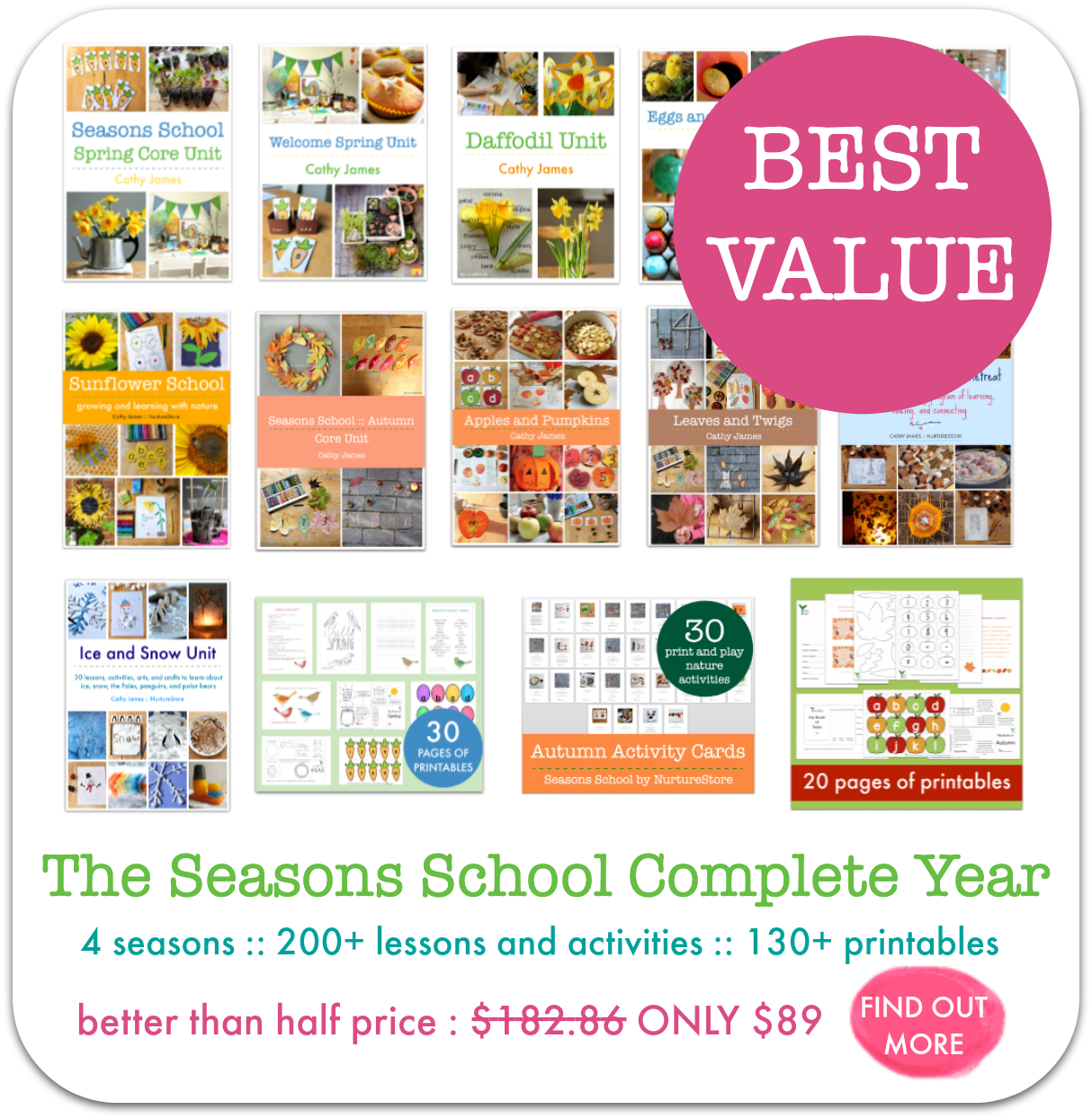 For the best value, you can get this unit as part of our Seasons School Year Complete Program.
Save over $90 and get our Spring, Summer, Autumn, and Winter Units all for better than half price.
You'll save so much time, with everything planned and prepped for you, and your children will delight in this engaging and education nature-based year-round curriculum.
All four seasons, 16 complete units, and over 130 printables to make your lessons so each to teach.
Save time - stop all that planning and prep - enjoy the sunshine instead!
---
Available for instant download
This product is an ebook (electronic book), which means you will be sent a link by email which allows you to download the ebook and all the resources. You should save it to your computer or iPad and then either read it on screen or print some/all of the pages, as you prefer.
Questions?
If you have any questions, then please refer to our FAQ.
Important Information
By purchasing items from our website you consent to our Privacy Policy.
All ebooks and other digital products listed on this page protected under copyright ©. All rights reserved. They may not be shared or distributed in any way or form.
All products listed on this page are priced in US dollars. If you are outside the USA, the amount appearing on your bank/credit card statement will be in your local currency based on the exchange rate applicable at the time of the payment.