Story stones are a great art project and make pretty 'loose parts' toys to use for storytelling and pretend play. Here's a guide on how to make story stones and ideas for how to use them in class and in forest school.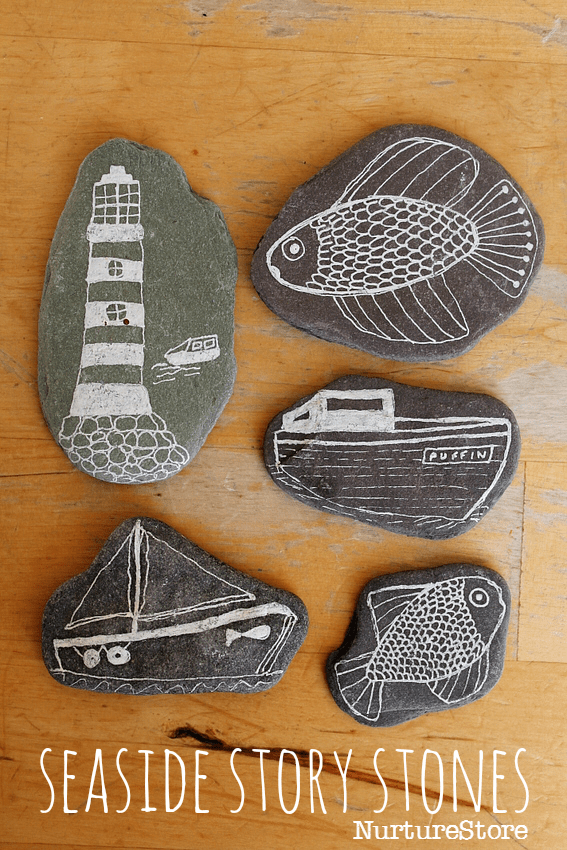 Story stones activities
Story stones are a great addition to your literacy activities, whether you're learning in class, at the beach, or in the forest.
We made our set of story stones on holiday at the beach, but you can use this same technique – perhaps with the free printables listed below – to make a forest school set.
Story stones are a set of pebbles with pictures on that you can use as a visual prompt when telling a story.
You can make a set of stones with whatever pictures you like.
For a traditional tale you might have pebbles with pictures of a king and queen, a castle and a dragon.
For a seaside story you might have boats, fish, a lighthouse and a mermaid.
For a forest school set you might have a squirrel, an acorn, a fox and a tree.
Anything goes and it can be lots of fun to combine sets or add an unexpected picture (a dinosaur!) to give your stories lots of twists and turns.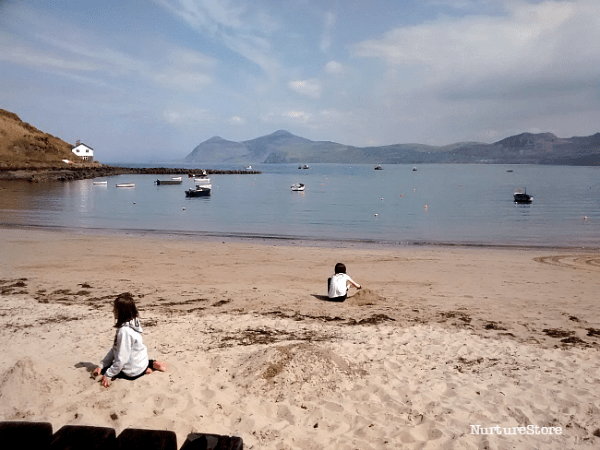 How to make story stones
---
This page contains affiliate links from which we earn commission.
As an Amazon Associate I earn from qualifying purchases.
---
Materials needed:
:: smooth pebbles
:: permanent marker pens, chalk, paints or collage pictures
:: varnish (optional)
To make story stones, draw or stick pictures onto smooth pebbles.
You can use pens, paint or cut out images to stick on.
Using chalk let's children change images and add extra elements
I'm rather addicted to the Uni-ball signo white pens so I usually have one in my bag, and they're perfect for drawing on pebbles. You can find the pens through on Amazon.
Flat beach pebbles, or pieces of slate, are great for this kind of white pen. Try and find a fine textured, smooth stone for the best results.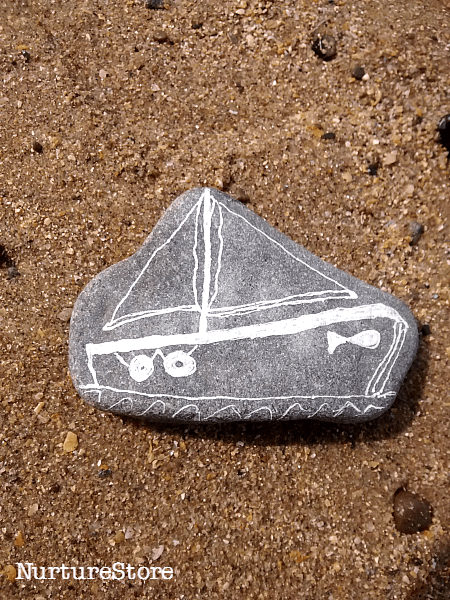 We like to gather a few pebbles and see if their shapes suggest a picture. You'll see we found some great boat-shapes ones, and we used the sailing boats that were bobbing about in the harbour as inspiration for some designs.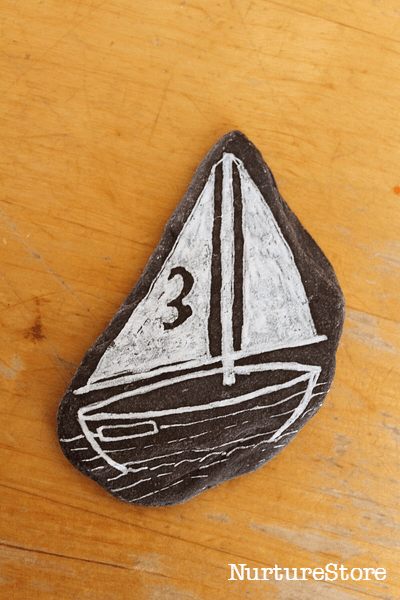 You can also draw with pencils, or paint pictures.
Alternatively you can cut our small pictures and stick them on to the pebbles with glue. You might like to use the images from our food chain printable to make a forest school set.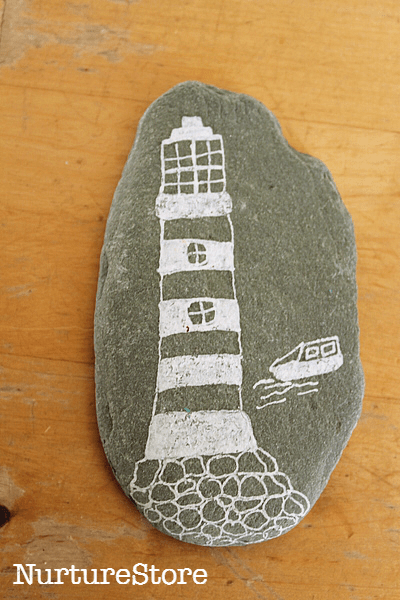 A layer of varnish, Mod Podge or clear nail polish adds protection to make a longer-lasting set of story stones.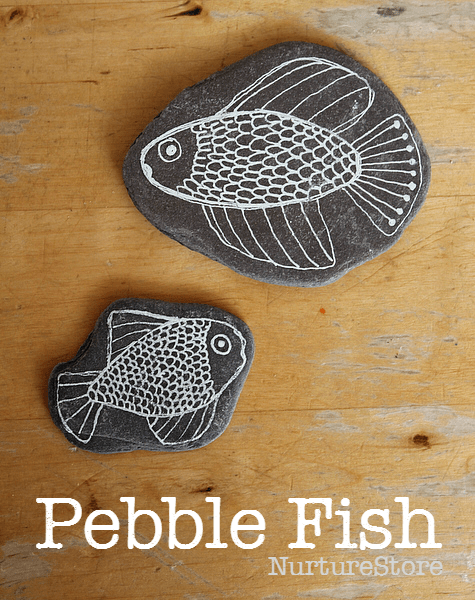 How to use your story stones
You can enjoy the stones as a work of art, but they are also great for play and storytelling.
:: use them as loose parts for play. A fish would be a fun addition to a water table. Depending on the pictures you draw you can offer the stones alongside the sand pit, with wooden blocks for building, or with play dough.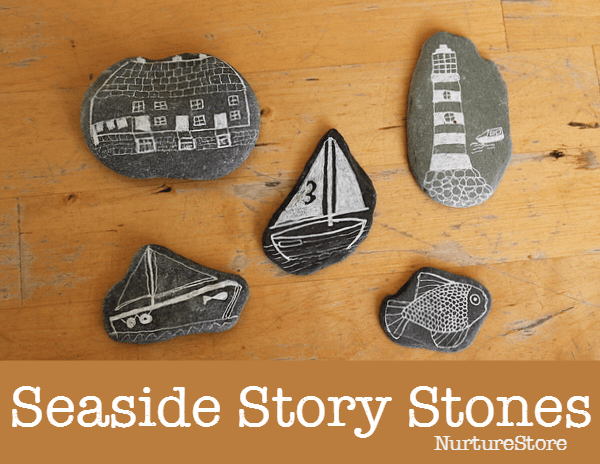 :: use the stones on their own to tell story. The warmth and texture of the flat pebbles is a pleasure in your hand. You can lay them out in a sequence, or move them around to tell your tale.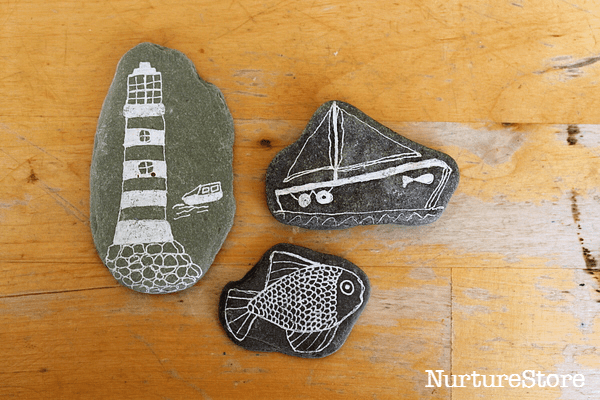 :: you can also use your story stones for a more structured activity, perhaps at circle time or for a group storytelling session. Pick a few stones and chat about them. If you have two characters your pebbles can chat to each other. You can also invite each child to pick a stone out of a bucket and then move around your group with each person adding a sentence or two to tell a tale – weaving the character or object they picked into the story.
:: you can also use the stones in forest school to talk about your outdoor classroom. Have a bucket of story stones to use around the campfire. Invite each child to pick out a stone from the bucket and share with the group what they know about that thing.

Don't forget to get the free Number Fish and Ocean Creatures Play Set printables while you're here!
Hey, are you doing a project on fish, the seaside or the ocean? If you're looking at this article then I guess you might be. I have some great free printables on a fish theme that I think you'll love.
NurtureStore has an extensive library of free printables, including a free Number Fish printable, which is great for adding numbers to your play and working on math skills in a hands-on way. I also have a lovely free Ocean Creatures Play Set which you can print and combine with playdough or a water tub for imaginary play.

Get access to ALL my free printables by subscribing to my email list.
To download my free printables, you'll need to visit the NurtureStore Printables Library, which is available to all subscribers to my email list, and of course to Play Academy members.
Pop your email address in the form below and you'll get access to all my free printables, lesson plans, activity ideas, weekly newsletter, and a whole lot more!
After subscribing, be sure to check for the confirmation email. After you confirm your email subscription, we'll send you a welcome email which includes instructions for downloading our free printables.
If you're already subscribed to our email newsletter: check your email for the latest edition of the newsletter where you'll find a link to access our free printables library - the link is usually at the bottom of the email.
For help accessing our printables, click here.
---
By subscribing, you consent to our use of your personal data as per our Privacy Policy, which includes agreeing to receiving interest-based email from us.
---