Seaside story stones are a great beach art project and make pretty 'loose parts' toys to bring home and use for storytelling and pretend play.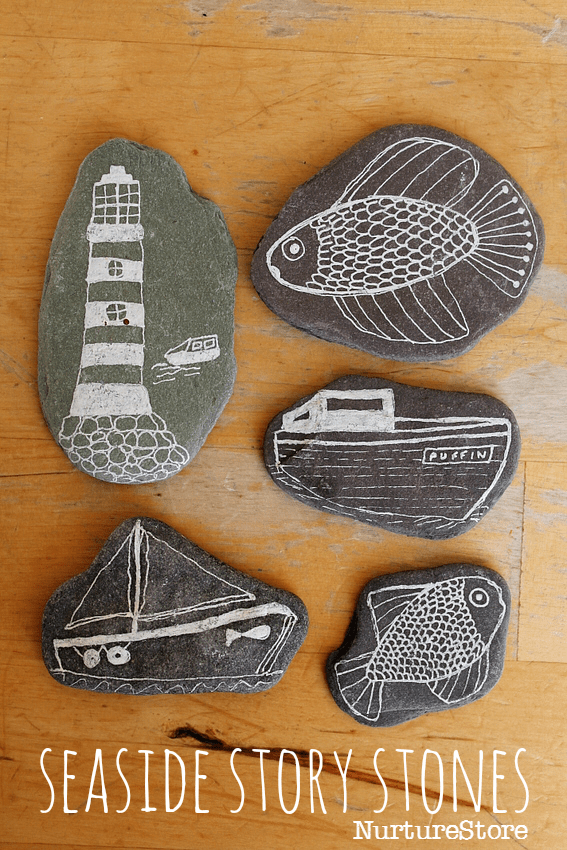 Seaside story stones
>> Click here to see our favourite children's books about the sea, with activities to match!
It's rather splendid when your classroom looks like this! Homeschool brings the benefit of being able to head off to the beach when the weather is looking good, for some hands-on, fresh-air learning in nature's own sensory tub! We had the opportunity to learn about the sand martins nesting in the sand cliffs above the beach at Porthdinllaen, got a history lesson on a visit to the restored Victorian quarry house at Nant Gwrtheyrn, and picked up some pebbles for a beach art session.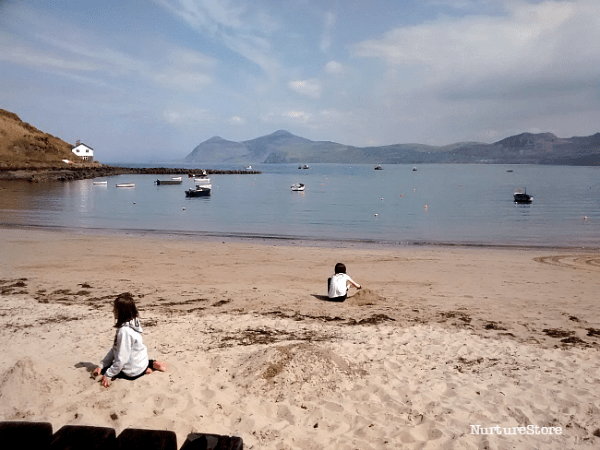 How to make story stones
---
This page contains affiliate links. As an Amazon Associate I earn from qualifying purchases.
---
I'm rather addicted to the Uni-ball signo white pens so I usually have one in my bag, and they're perfect for drawing on pebbles. You can find the pens through on Amazon.
Flat beach pebbles, or pieces of slate, are great for this kind of white pen. Try and find a fine textured, smooth stone for the best results.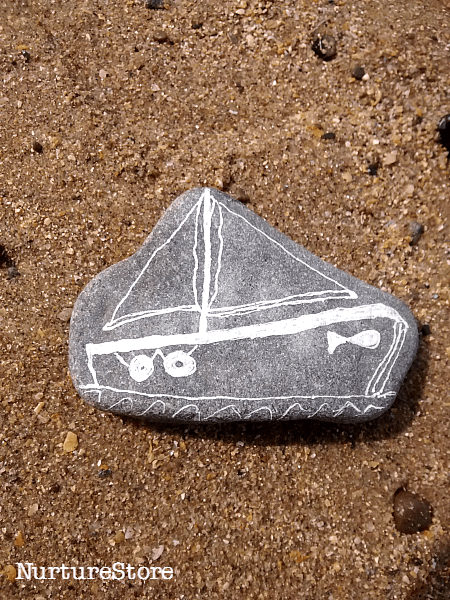 We like to gather a few pebbles and see if their shapes suggest a picture. You'll see we found some great boat-shapes ones, and we used the sailing boats that were bobbing about in the harbour as inspiration for some designs.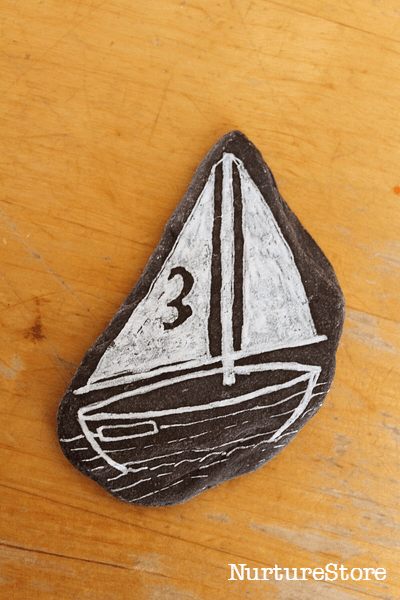 Beach-themed pictures are fitting but of course you can draw anything you like. To make stones that you can use for storytelling you can think of a few different characters and objects that might fit together the create a story. A totally random collection can make for very imaginative tales.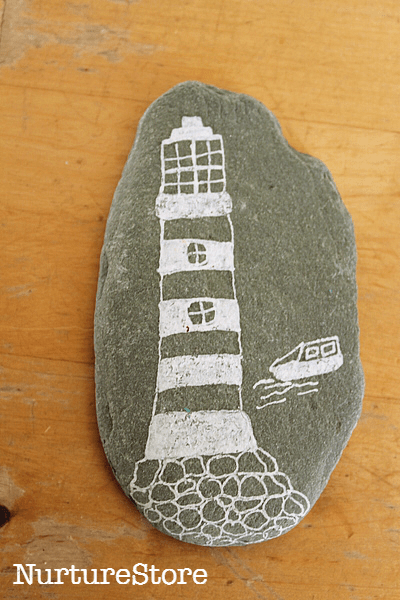 We simply used the white pen directly on the stones, but I think a layer of varnish, Mod Podge or clear nail polish might add some protection if you're going to play with your stone art.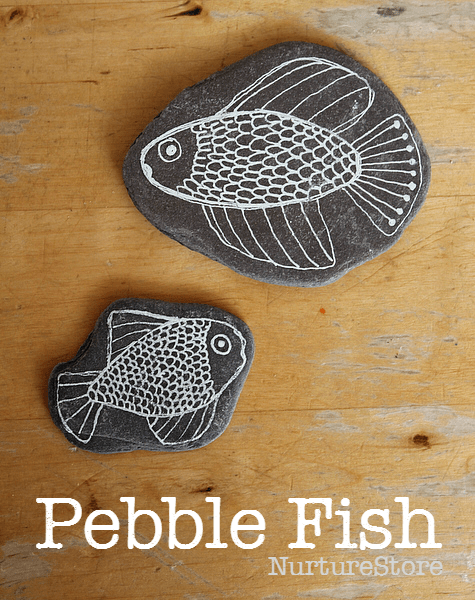 How to use your story stones
You can enjoy the stones as a work of art, but they are also great for play and storytelling.
:: use them as loose parts for play. I think these fish would be a fun addition to a water table. Depending on the pictures you draw you can offer the stones alongside the sand pit, with wooden blocks for building, or with play dough.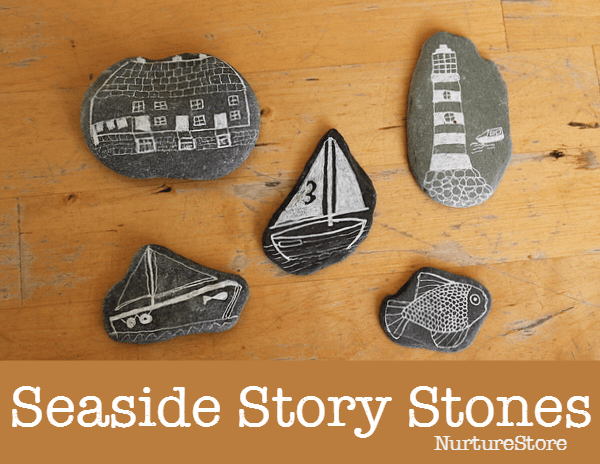 :: use the stones on their own to tell story. The warmth and texture of the flat pebbles is a pleasure in your hand. You can lay them out in a sequence, or move them around to tell your tale.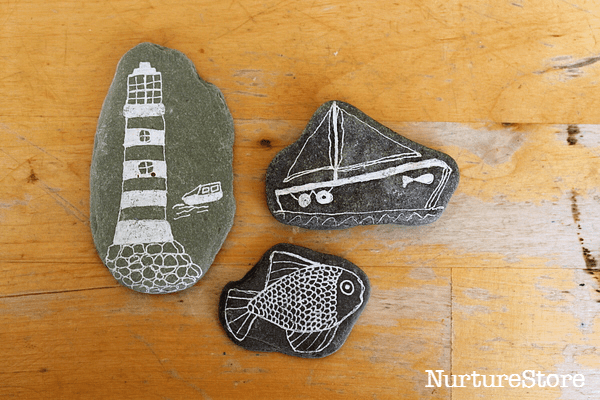 :: you can also use your story stones for a more structured activity, perhaps at circle time or for a group storytelling session. Pick a few stones and chat about them. If you have two characters your pebbles can chat to each other. You can also invite each child to pick a stone out of a bucket and then move around your group with each person adding a sentence or two to tell a tale – weaving the character or object they picked into the story.

Don't forget to get the free Number Fish and Ocean Creatures Play Set printables while you're here!
Hey, are you doing a project on fish, the seaside or the ocean? If you're looking at this article then I guess you might be. I have some great free printables on a fish theme that I think you'll love.
NurtureStore has an extensive library of free printables, including a free Number Fish printable, which is great for adding numbers to your play and working on math skills in a hands-on way. I also have a lovely free Ocean Creatures Play Set which you can print and combine with playdough or a water tub for imaginary play.

Get ALL my free printables by joining the NurtureStore community and gaining instant access to my free resource library, which includes these printables.
Pop your email address in the form below and you'll get instant access to all my free printables, lesson plans, activity ideas, weekly newsletter, and a whole lot more!
Be sure to check for the confirmation email. After you confirm your subscription, we'll send you a welcome email which includes instructions for downloading our free printables.
If you're already subscribed to our email newsletter: check your email for the latest edition of the newsletter where you'll find a link to access all our free printables - the link is usually at the bottom of the email. For help, click here.
---
* By subscribing, you consent to our use of your personal data as per our Privacy Policy, which includes agreeing to receiving interest-based email from us.
---