Here's a wonderful lesson that combines art and literacy, making little matchbox storybooks.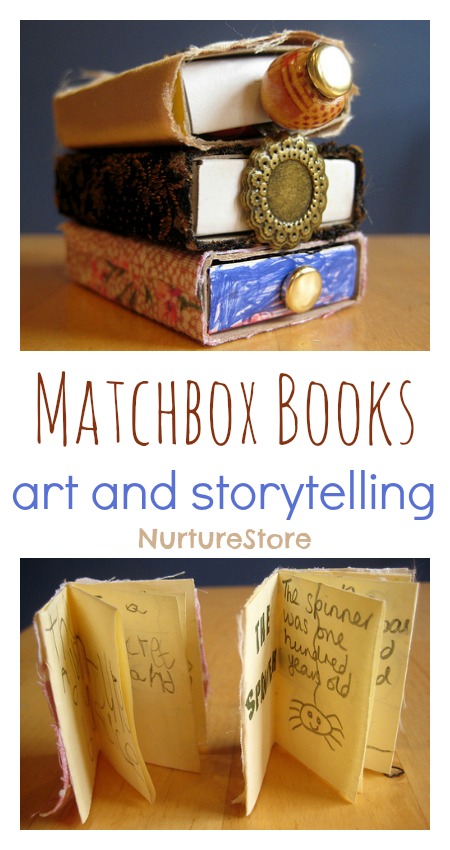 How to make an Incy Wincy book
>>> Download my guide to creative storytelling activities here
This project is inspired by the work of artist Becky Adams, an artist who explores the links between narratives and textiles. Many thanks to Becky for so kindly letting me share her ideas with you all.
We're combining storytelling and arts and crafts to make matchbox books. We'll decorate a beautiful matchbox and hide a story inside.
Materials needed
:: empty matchbox
:: split pin
:: paper
:: pens and pencils
:: assorted collage materials such as papers, fabric, maps, music scores
:: glue
:: scissors
Make a mini story book
Begin with a plain piece of paper that's around 9.5cm x 12.5cm – the perfect size to make a book which fits inside a matchbox.
Use a French fold technique to turn the piece of paper into a tiny book. (Follow the above link for a great video showing you how to fold your paper.)
Think of a tiny main character for your book.
Open up your folded paper and draw your character on the inside page.
What super power does your character have?
Re-fold your book so your super-powered hero is hidden inside the pages, so only you know they are there.
Then fill the book pages with a tiny story about your super hero character.
Start with a title page.
Write and a draw a simple story across the pages.
You can add lots of extra interest by using different fonts, stamps, and illustrations.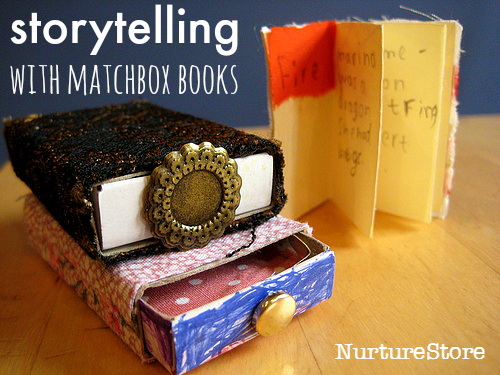 Make a mini matchbox book case
To complete the project, decorate your matchbox book case.
You can use fabric, patterned paper or add illustrations.
Add a handle by poking a split pin through the front 'drawer' of the matchbox.
Pop your mini storybook inside to keep it safe.
You might like to make a whole library of mini matchbox books!

More play activities to explore story telling
Help your child to make their mark with these wonderful projects that help develop a love of writing, creative storytelling, self-confidence, and compassion.
Through play, art, language and writing, my Make Your Mark resources will help you take the simple act of sharing stories and stretch it to help your child develop their confidence, compassion, and caring.
Click here to see more and download your copy of the Make Your mark literacy resources.