Kicking off our celebration of Eric Carle's birthday this week we're sharing three The Very Hungry Caterpillar craft ideas.

---
This page contains affiliate links from which we earn commission.
As an Amazon Associate I earn from qualifying purchases.
---
The Very Hungry Caterpillar
is our favourite of Eric Carle's books and is the first book I ever read to both my girls. It's masterpiece of a children's story, a joy to read and look at, and bursting with possibilities to use as a spring board for lots of crafting, exploring and learning.
Mr. Carle is celebrating his birthday this week and Kate at An Amazing Child blog is hosting a week of fun, linking up many early years bloggers who are sharing ideas for activities and crafts linked to Mr. Carle's books. We're sharing some caterpillar craft ideas today and some butterfly crafts tomorrow. On Thursday we have a post full of ideas you can use to explore The Very Hungry Caterpillar with links to the EYFS.
Eric Carle is famous for his signature style, combining colour and texture and The Very Hungry Caterpillar is a perfect book to use to inspire children to try some art and crafting. When creating with young children I always like to give them plenty of opportunity to explore materials their way. Even though these projects are all designed to result in a caterpillar there is plenty of scope for each child to experiment and add their own style to the creations. The caterpillar crafts are all very simple to follow, inviting even very young children to have a try.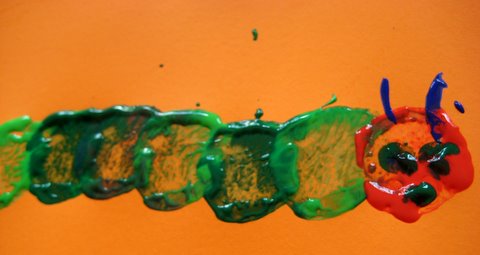 The Very Hungry Caterpillar craft: printing idea
Great for: exploring printing and stamping, talking about circles, exploring colour shades and colour combining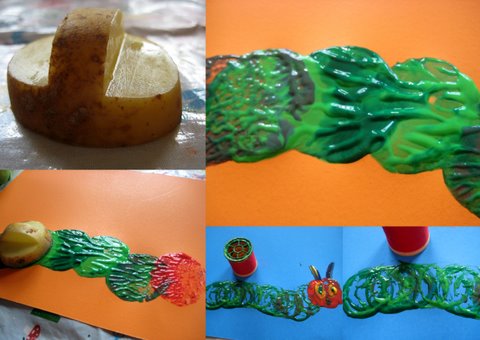 Provide some round objects to print with: potatoes (with a handle cut out to help little hands), carrots, cut in half (great for toddler hands to grasp) and cotton reels. Add several shades of green, and some red for the face, and let the children stamp out a caterpillar from the circles, selecting which shades they like the best. You don't need to worry about keeping things neat and orderly – as much stamping as they like, overlapping circles in different shades, will give you an effect very like the original Hungry Caterpillar.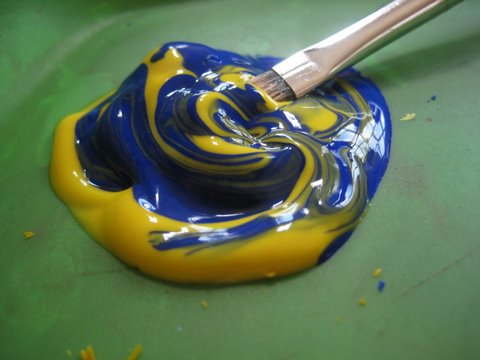 This is a good craft for talking about colour mixing as you can have fun testing out combining blue and yellow paints. Let the children experiment with different ratios of the two colours to create lots of different shades.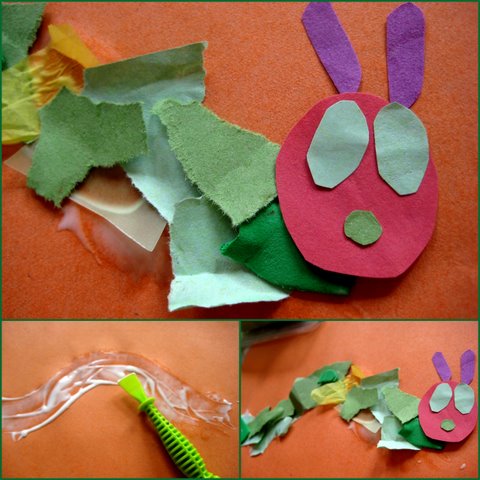 The Very Hungry Caterpillar craft idea: collage
Great for: fine motor skills, kids who love tearing paper or using scissors, exploring texture, trying out glue
Spread glue in a caterpillar shaped arch and add lots of different shades of green paper, combining as many patterns and textures as you can. Let the children choose which pieces they like best. Add a red face to complete your collage.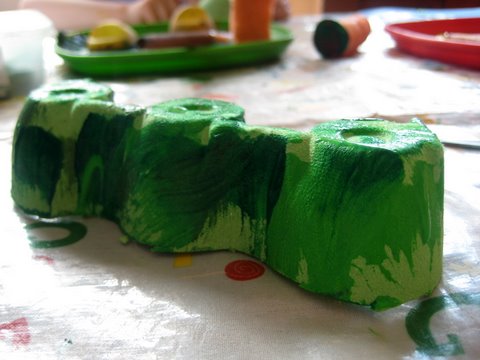 The Very Hungry Caterpillar craft idea: junk model caterpillar
Great for: using recycled materials, exploring colour shades, kids who love painting, working with 3 dimensions, story telling with models, small world play
To make your junk model caterpillar, cut out a body from an egg box. Provide different shades of green paint and paint brushes and sponges. Let the children apply the paint to the caterpillar in any pattern they choose (sticking your fingers in the paint is encouraged!)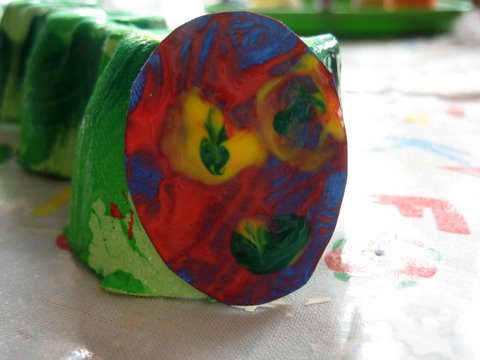 Add a face and finger paint some eyes and a mouth.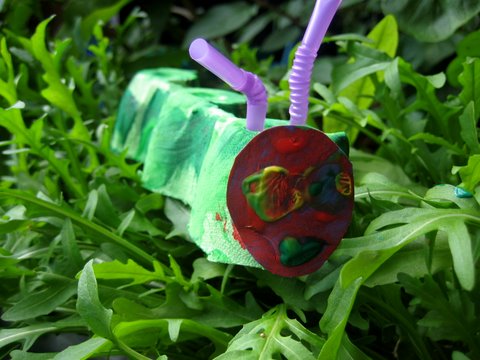 Two bendy drinking straws make perfect antennae. You can use your model to act out The Very Hungry Caterpillar story or take it out to the garden for some small world play. Find your caterpillar a nice green leaf and he'll feel much better.

Make Your Make : 30 projects that promote a love of writing, self-confidence and compassion
Help your child to make their mark with these wonderful projects that help develop a love of writing, creative storytelling, self-confidence and compassion – along with six sets of bonus printables.