Want an activity that promotes creativity, environmental awareness and maths skills and combines imaginative play with a boost of literacy? Peg dolls are where it's at!
How to make a peg doll
Take some wooden pegs, add recycled materials from your making box and let the kids get to work, making whatever characters are in their imaginations.

Snow queens made from bubble wrap and cotton wool.


Circus jugglers from feathers and elastic bands.

Butterflies from scrap paper.


Mermaids made from wrapping paper, who know how to skip – wow!


Cross channel swimmers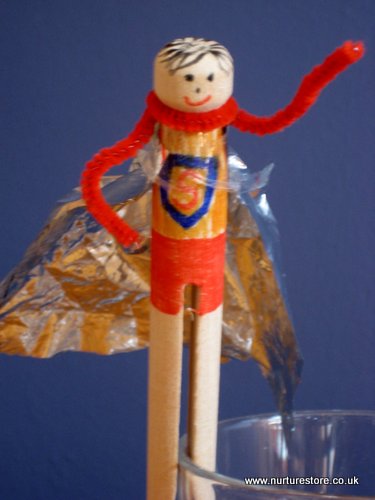 And even a super hero.

Along the way they are measuring, problem solving, practising pencil grip and fine motor skills, working out how to use scissors and learning that great toys can be created from things you'd otherwise throw away.
The best thing about making puppets is you get to play with them too. What character could your kids make this week?
For more ideas on how to make a puppet
Download our free ebook Glorious Junk
Browse our puppet archive for more ideas