Promoting literacy with comics
>>>> Download my guide to creative storytelling activities here
Our easel is becoming the hub of writing, drawing and mark making in our house. Located in the kitchen the kids can't miss it and stocked with interesting pens and pencils, it's just so tempting to pick one up and have a go?
Sometimes a blank canvass can be off putting, especially for reluctant writers, so I've been setting up invitations to write, which the children have been finding irresistible. This week we've been writing and drawing our own comic strips.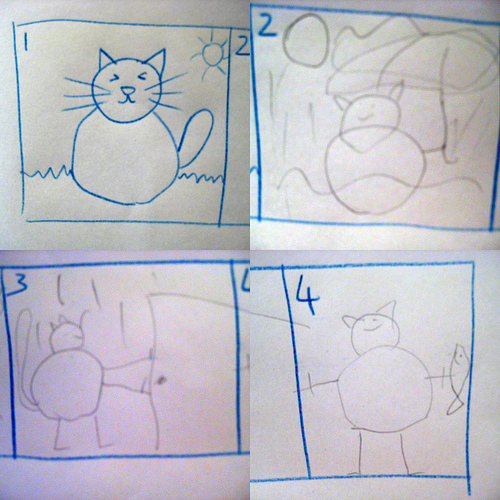 To get the children started I drew out a very basic comic strip – just four boxes, with a character in the first one to give the spark of an idea. Hey presto! The next morning our little cat was off on an adventure, battling hard times and pouring rain, through a magic doorway to a happy fishy ending.
The comic strip layout helps the children think about a story format, with a start ,middle and end. Using pictures gets children to pick up a pencil and join in, even if they think writing is too hard, and includes even very young children. Having them tell the story to you and talk through their pictures builds in lots of language practise. And if you want to include more written story, you can add speech bubbles to each frame for the children to incorporate in their tale.

More play activities to explore story telling
Help your child to make their mark with these wonderful projects that help develop a love of writing, creative storytelling, self-confidence and compassion – along with six sets of bonus printables.