Following on from our post about World Book Day ideas, here's a suggestion for a World Book Day craft. And the perfect craft for World Book Day has to be a bookmark, right? We often make bookmarks when we're giving someone a book as a birthday present, and they're so easy to make you could even get busy and make one for all your friends, to hand out on World Book Day this Thursday.
How about a bookmark with a tab to sit on the page in your book. We made 'I love books' hearts but the design is easy to adapt so you can customise them to suit the  person you're giving it to, or match the book you're giving.  Draw a rectangle shape with your motif on the top, decorate and then use a craft knife to cut out the bottom of the motif to make a 'hook' to go over the edge of the page.

Using binca / aida cross stitch fabric to make bookmarks is a good option for children too and a nice first step to introduce some sewing. You can have the children draw out their design on a piece of paper first, or just give them a needle and thread and let them freestyle.

How old do children need to be before they can sew? Well, the binca material is thick, which makes it sturdy enough to work as a bookmark and easier for the children to hold, and because the square holes are large you can use a child-friendly big blunt needle and a thicker thread. My four-year-old needed help threading the needle and tying knots, but was determined to do her own thing when it came to stitching. My eight-year-old managed her bookmark all by herself, designing a butterfly and sewing on some buttons as an embellishment.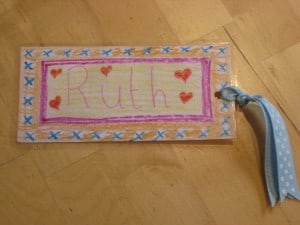 Another super easy idea for a homemade bookmark is to draw a design with pencils on card, laminate it for strength, punch a hole and add a ribbon.
happily shared with Get Your Craft On and  Mad Skills Party and Making Monday Marvelous and Preschool Corner and Upcycled Awesome and Kids Get Crafty