Looking for some The Very Hungry Caterpillar activities and ideas to add in lots of fun and learning? Here are some of our favourite ways to use one of our all time favourite story books.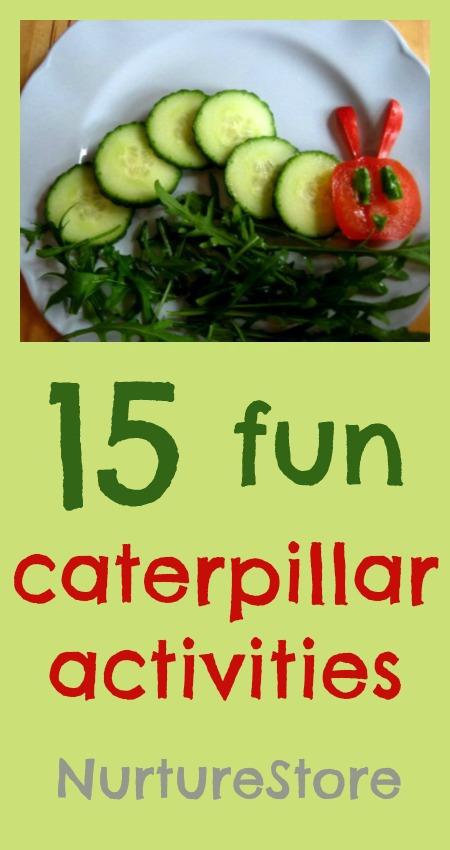 The Very Hungry Caterpillar activities
---
This page contains affiliate links from which we earn commission.
As an Amazon Associate I earn from qualifying purchases.
---
Explore the colours and textures in The Very Hungry Caterpillar with some beautiful butterfly craft ideas.
Talk about the feelings in the book. How might the caterpillar feel when he pops out of the egg? When he's eaten all that food? When he's inside his cocoon? When he emerges as a butterfly?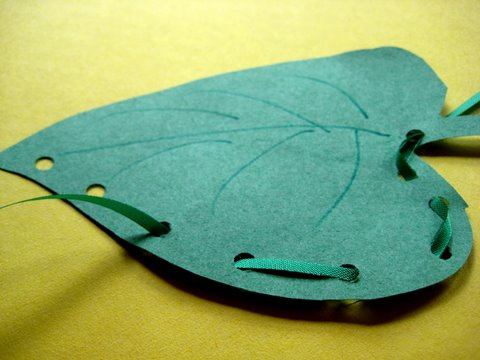 Encourage

fine motor skills
by taking a string caterpillar for a munch around one nice green leaf made from a piece of card with holes punched in.
Encourage some imagining. If the children could change into any kind of animal, what would they like to be? How would they move? What would they eat? Maybe they could draw themselves as this creature, with a photograph of their face added on?
Have fun with some gross motor skills, using your body to creep like a caterpillar, snuggle in a cocoon and then flutter like a butterfly.
Explore the food in the book and taste test some of the food: what tastes best, pickles or cherry pie? You can carry out a survey to see which food is the favourite and graph the results. Or play a guessing game, wearing a blindfold and smelling and tasting the food and trying to guess what they all are without peeping.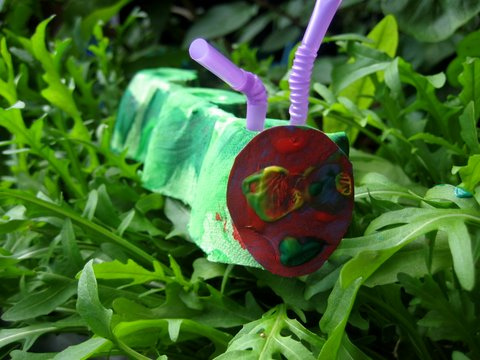 Have some fun with printing, using cut apples, pears and oranges to dip in paint and create some designs.
Mix in some maths by using your fruit prints to make some cards, and them counting out the right number of fruits to match the story and ordering them in ascending / descending order.
Take some The Very Hungry Caterpillar activities outside and
go on a leaf hunt
. How many different leaf shapes can you find. Is there one just like the leaf in the book? Or try some
mini beast bingo
and see if you can find a real caterpillar to observe.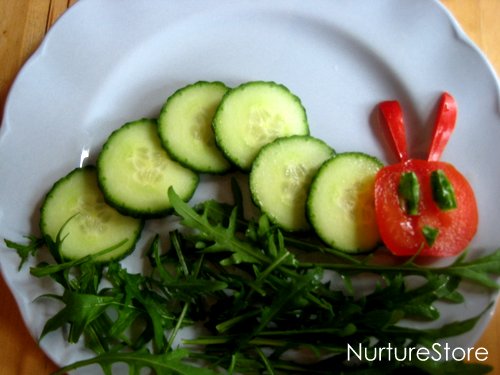 Eat a caterpillar! Invite the children into the kitchen to prepare their own caterpillar lunch, using cucumber and tomato slices to create the body.
Talk about the metamorphosis of the caterpillar to a butterfly and compare it with the children. What did they look like when they were a baby? How will they change when they grow up? Use pictures from magazines or photographs of their own family to make a 'growing up' timeline of butterflies and people.
Practise some memory skills by playing Kim's Game. Lay out some of the objects in the story, cover them with a cloth and remove one. Can the children spot which one is missing?
We love to use a book as a springboard for lots of different aspects of play and learning. Once you start  thinking about the possibilities it's easy to take something the children love and weave in literacy, maths, role play, physical skills and learning about the world around us.