Here's a great collection of Christmas-themed finger gyms and fine motor skills activities to strengthen hands, wrists and fingers.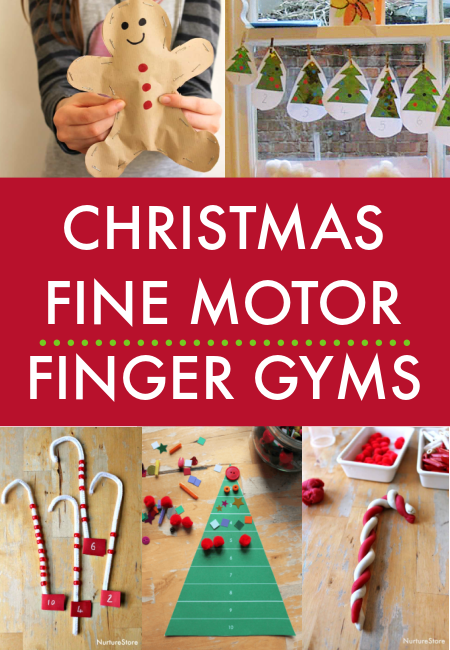 Christmas finger gym fine motor centers
This article is part of our Christmas activities and crafts for children
Children need to have good fine motor skills so they can tie their shoelaces, fasten buttons, write with a pen, cut with scissors, and use tools.
How a child spends their early years can have a big impact on their fine motor skills. Senior paediatric doctors have warned that overuse of touchscreen phones and tablets is preventing some children's finger muscles from developing sufficiently to enable them to hold a pencil correctly.
Invitations to play and finger gyms are a great way to give our children plenty of opportunity to work through the range of hand and finger movements that are vital for their development.
Here's a collection of Christmas-themed fine motor activities and finger gyms you can use throughout the holidays. They're quick and easy to set up, lots of fun, and will help with your children's development.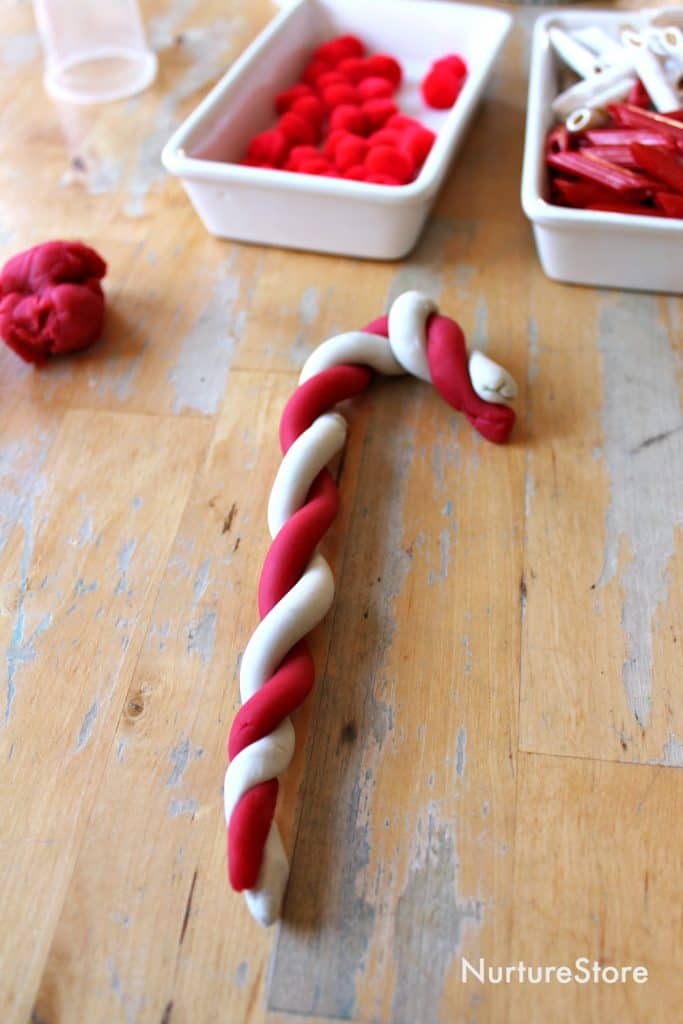 Christmas play dough finger gyms
Candy cane play dough sensory play
Play dough is a wonderful sensory material that offers endless play possibilities and an opportunity to develop important fine motor skills and hand and wrist strength. Let's have fun with candy cane-themed play dough!
Christmas play dough recipe
This Christmas play dough recipe smells exactly like Christmas.
Easy no cook gingerbread play dough recipe
This easy no-cook gingerbread play dough recipe is great for fine motor skills activities and sensory play, and smells wonderful.
Gingerbread theme play dough mats printable
For a fun and easy sensory play idea, print and play with these gingerbread man themed play dough mats.
Printable Christmas tree play dough mat
You can use this printable Christmas tree play dough mat for some fun Christmas-themed sensory play.
Snowman play dough mat printable
This snowman play dough mat printable is great for Christmas and winter finger gyms.
Snow globe winter play dough mat printable
I wonder who your child will make to go inside this pretty snow globe winter play dough mat printable?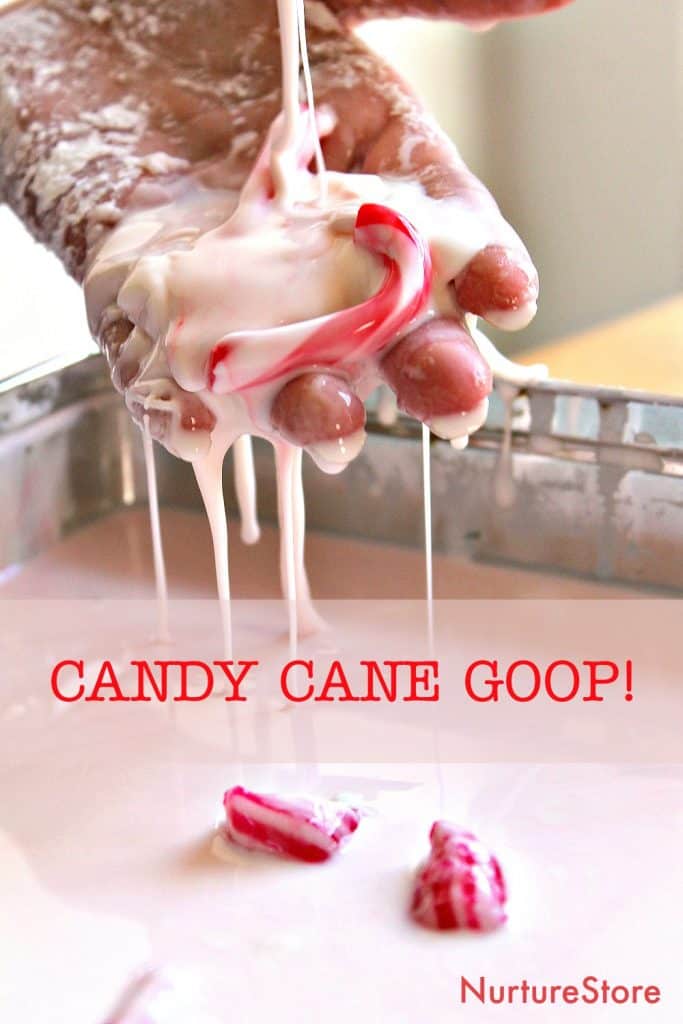 Sensory play finger gyms
Candy cane goop Christmas messy play
This candy cane coloured goop is one part science experiment, one part sensory play and one part hand / wrist workout.
Snow cloud dough recipe
Here's a quick and easy snow cloud dough recipe that's great for winter sensory play.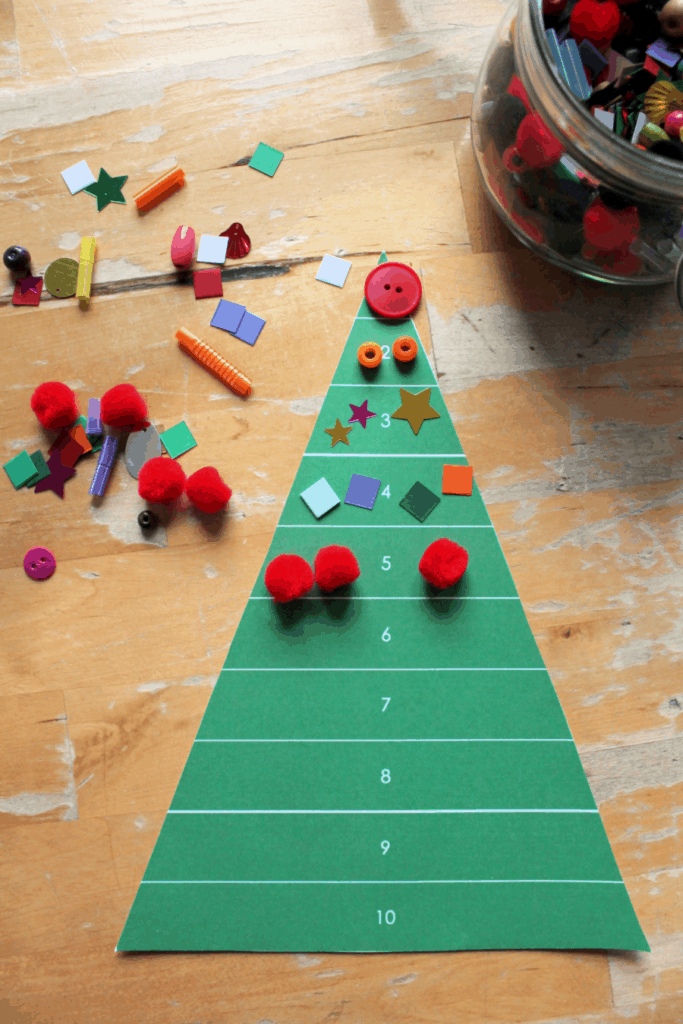 Christmas loose parts finger gyms
Printable pattern cards for loose parts play
Let's use these printable pattern cards with loose parts to explore line, pattern, shape, fractions, and symmetry as part of a hands-on invitation to create with math.
Loose parts Christmas tree counting printable
Practice counting and fine motor skills while you decorate this cute Christmas tree play mat with loose parts or stickers.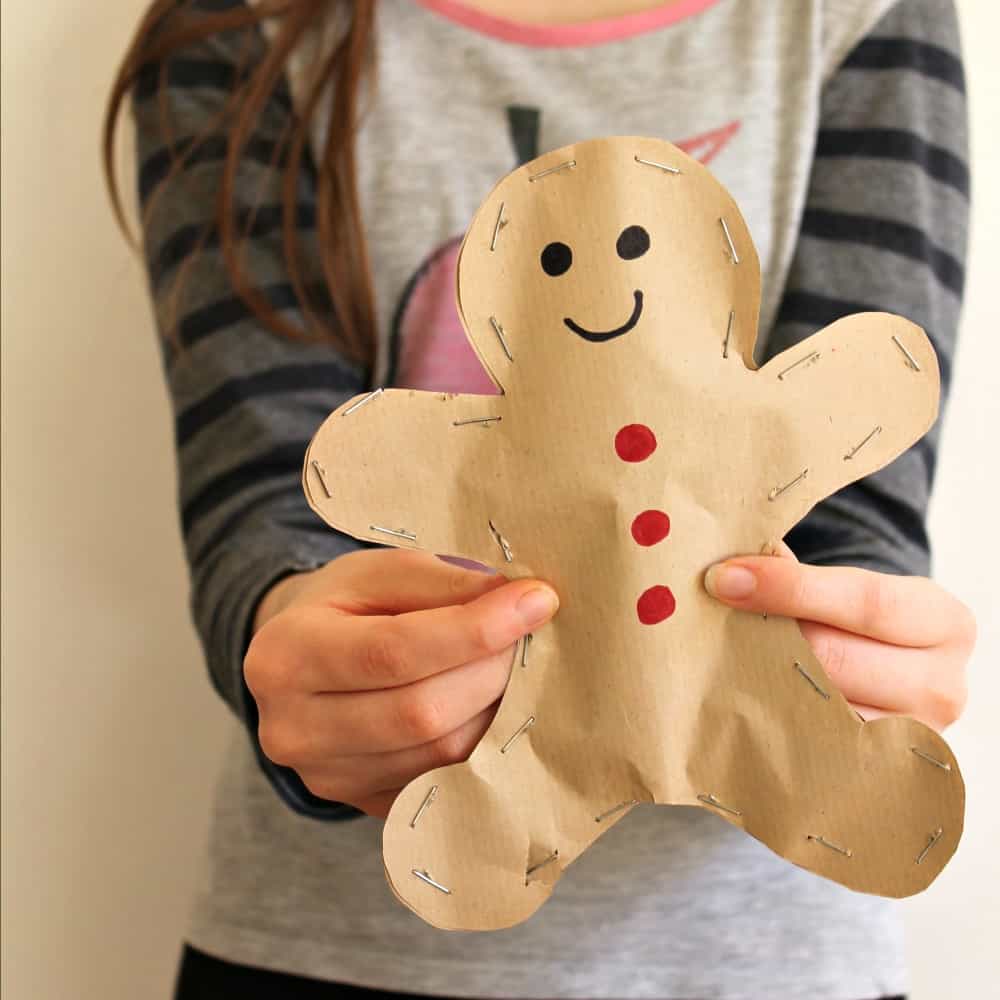 Scissor skills finger gyms
Easy gingerbread man craft with template for stapler skills
Exercise hands, wrists and fingers as you cut out and staple this gingerbread man.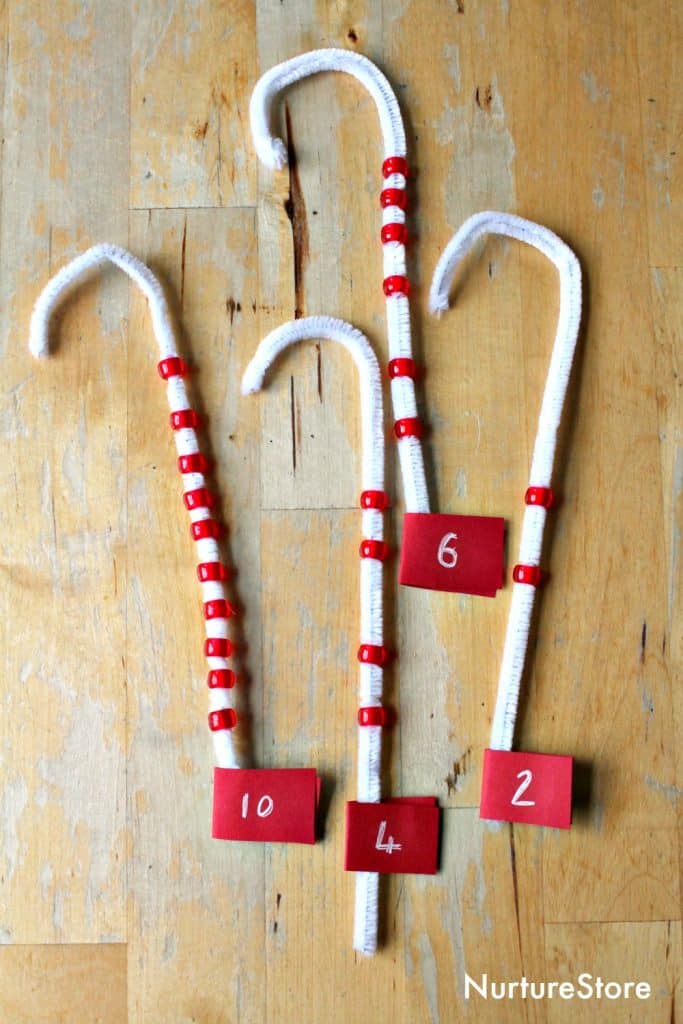 Threading and lacing finger gyms
Gingerbread printable lacing cards
Use these printable lacing cards as part of a gingerbread man unit.
Candy cane math counting activity
These candy cane number sticks bring a fun, hands-on element to counting and addition practice while also building fine motor skills.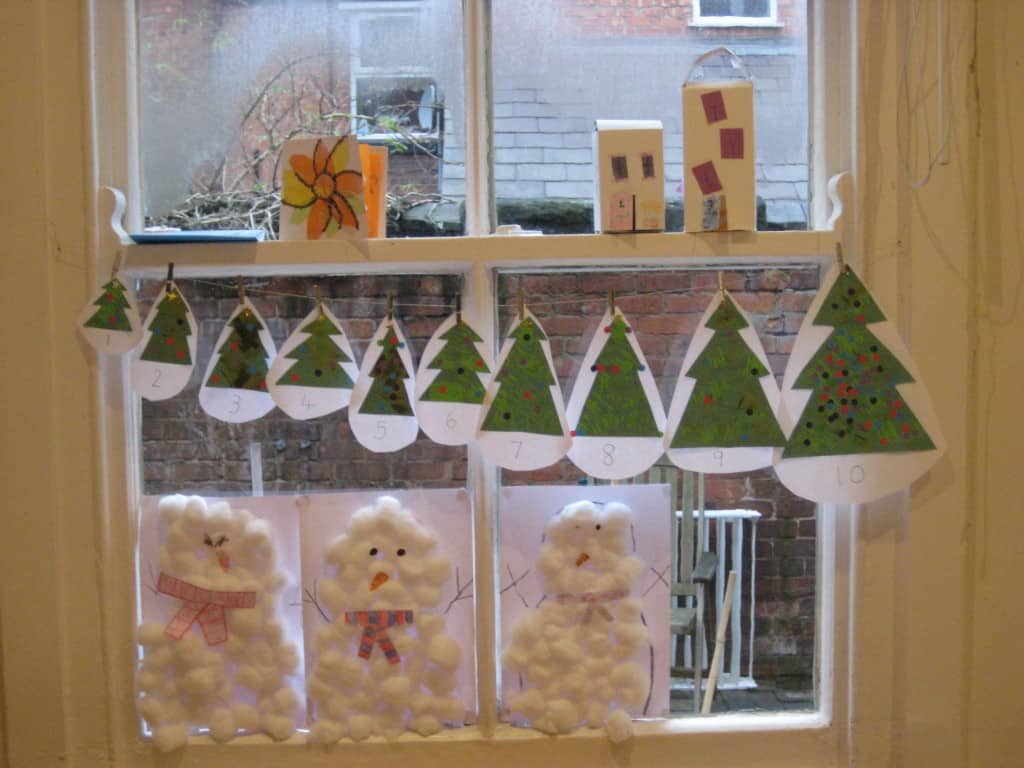 Christmas math and literacy finger gyms
Christmas addition activity mat printable
This Christmas tree printable is a great addition activity to include in your Christmas math stations, with extra sensory play and fine motor skills practice too.
Counting Christmas trees number line
Make a Christmas tree number line and practice finger grip as you peg up the trees.
Christmas spelling mat free printable
Here's a free printable Christmas spelling mat that uses play dough, that you can add to your literacy centers for the holidays.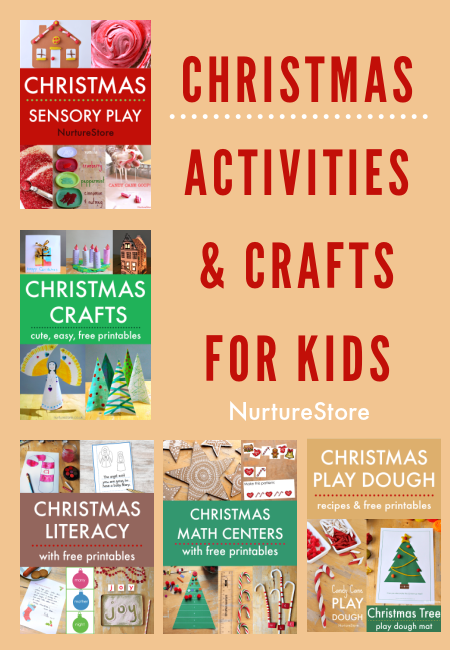 More Christmas activities and crafts
see our full index of Christmas activities, lesson plans and crafts for even more great ideas.