Use these printable lacing cards as part of a gingerbread man unit as a fun fine motor skills activity.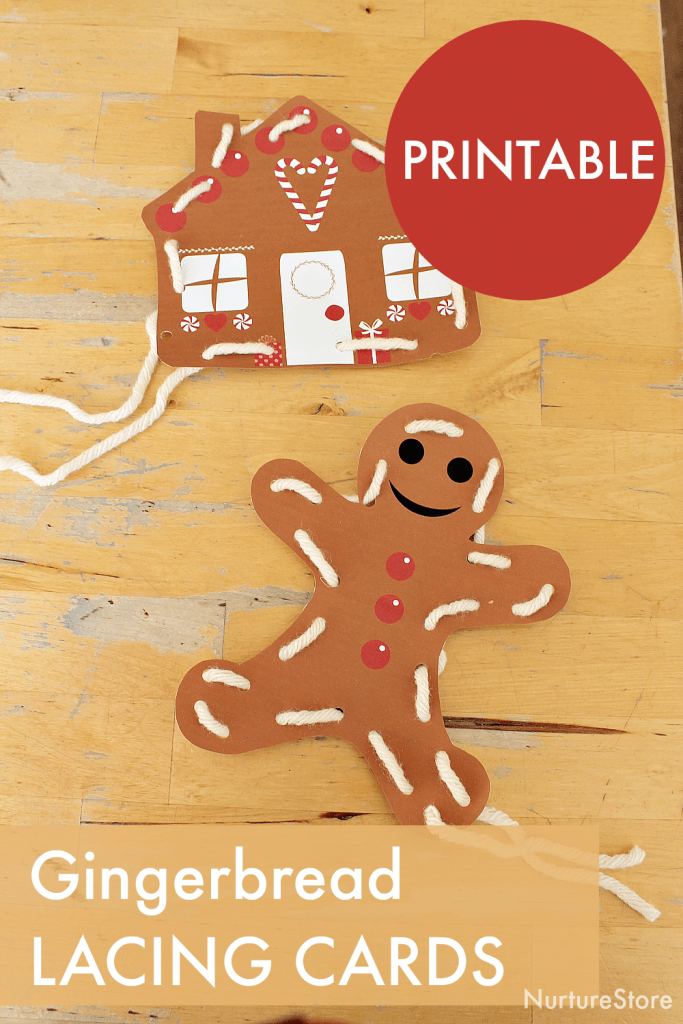 Gingerbread printable lacing cards for fine motor skills practice

Lacing cards help children develop fine motor skills, which include finger, hand, and wrist strength and dexterity. They are vital skills to build as they are crucial in being able to hold a pencil, and to do other everyday skills such as tying laces and fastening buttons.
Materials needed:
:: lacing cards from the Gingerbread Man Unit
:: scissors
:: laminator (optional)
:: yarn, string or shoe laces
:: sticky tape (optional)
:: darning needle (optional)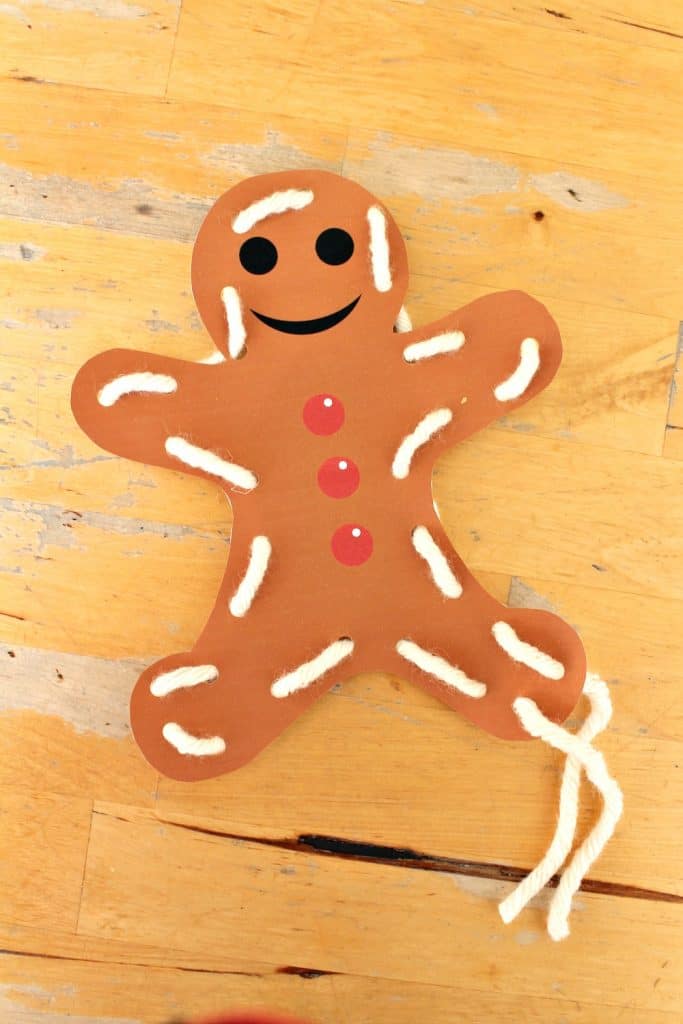 There are three lacing cards included in the Gingerbread Unit: a gingerbread man, a gingerbread lady, and a gingerbread house. Print them onto card, cut them out, and laminate them for extra durability if you would like to.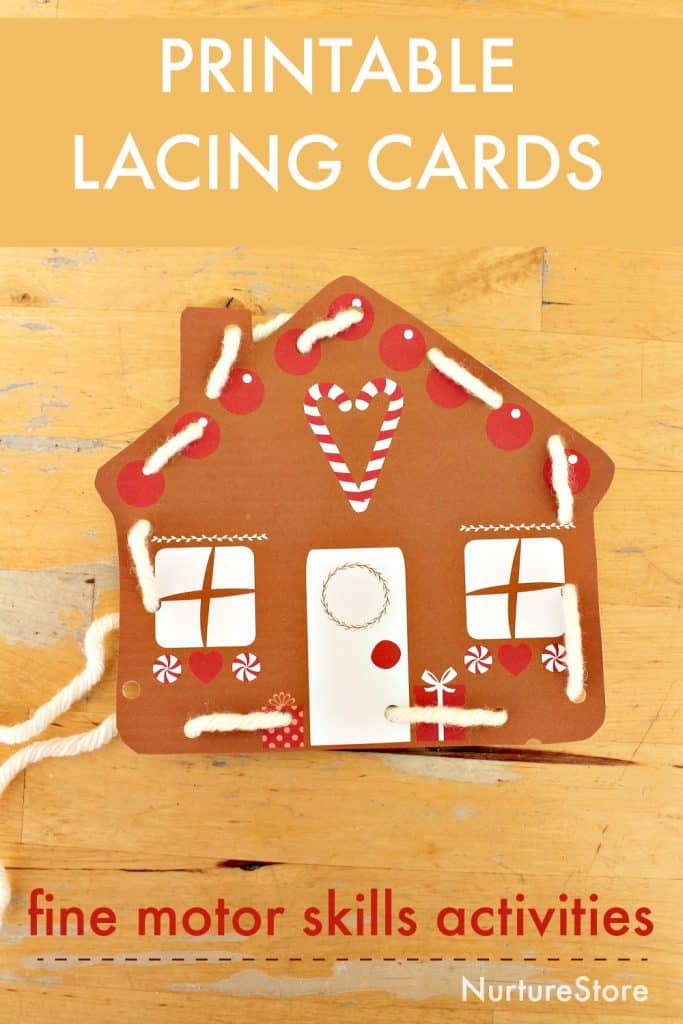 Use a hole punch to stamp out holes around the outer edge of each shape. Set them out with lengths of string, yarn or shoelaces and invite your children to 'sew' around each shape.
If you are using yarn or string, it is a good idea to wrap a piece of sticky tape around the end to stop it from fraying and to give your child a neat point to make it easier for them to thread through the holes. You can also thread the string or yarn through a blunt darning needle, which has a large eye, so children can sew around each shape.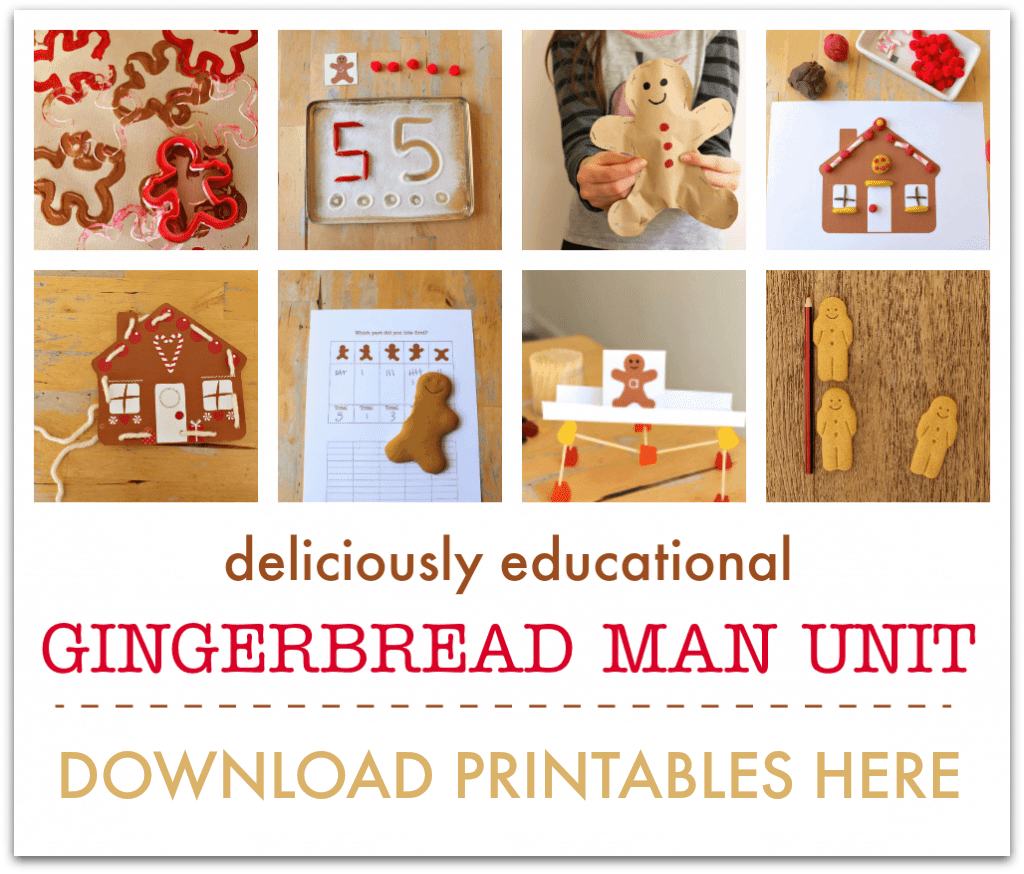 Download the complete Gingerbread Unit
A deliciously educational unit of learning! The Gingerbread Unit gives you everything you need to teach an engaging program of activities all based around The Gingerbread Man.
With ideas for math, literacy, science, play, sensory, arts and crafts your children will love learning through baking, play, and exploration.
:: over 45 pages of lessons, activities, and printables
:: a complete unit of gingerbread-themed math, science, literacy, arts and crafts, sensory, and play
:: materials lists and bonus printables make it so easy!
:: everything planned for you, so you can enjoy it as much as your children do
:: fun and delicious, and packed with engaging learning
Click here to get your complete Gingerbread Unit.