Practice counting and fine motor skills while you decorate this cute Christmas tree play mat with loose parts or stickers.
Christmas tree counting activity with loose parts
This Christmas tree play mat printable combines perfectly with loose parts or stickers as a fun, festive counting activity.
This article is one of NurtureStore's Christmas math centres and part of our Christmas activities and crafts for children.
In this activity children can:
:: practice counting from one to ten
:: count up and count down
:: see a clear visual representation of increasing / decreasing amounts
:: develop fine motor skills by handling loose parts and/or stickers
:: create patterns using shape, size, colour etc.
:: enjoy decorating a cute Christmas tree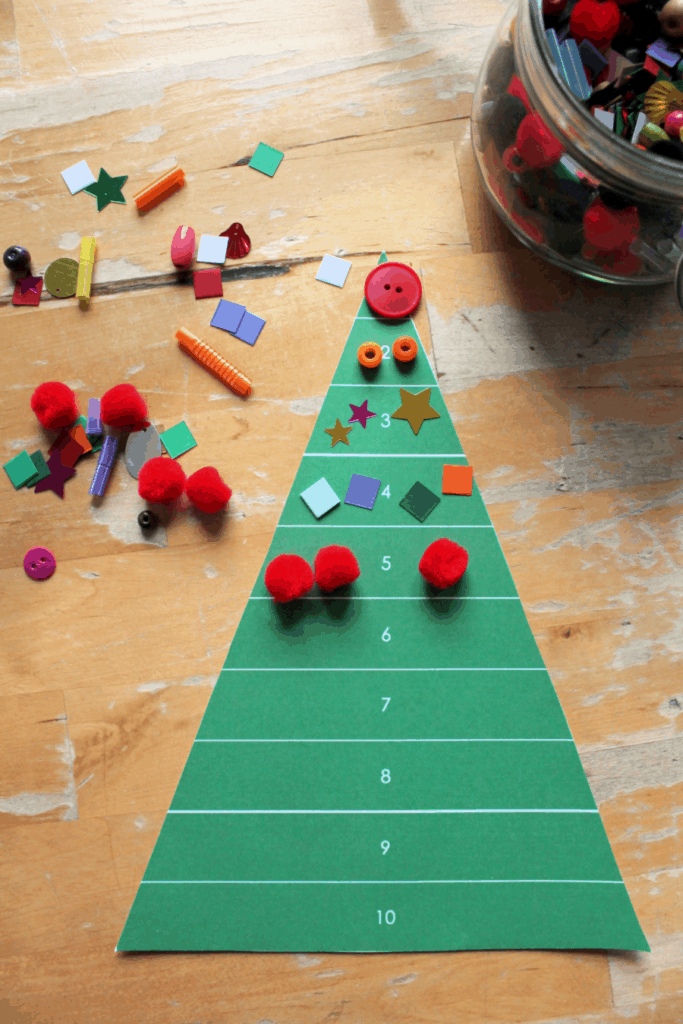 Materials needed
:: Christmas tree counting printable from the Christmas Printables section of NurtureStore's Free Printables Library (see below for details)
:: selection of loose parts*: buttons, pompoms, sequins, counters, small blocks, play dough etc.
:: stickers (optional)
*Beware of choking hazards. Only use loose parts that you know are safe for your child to use and supervise them throughout.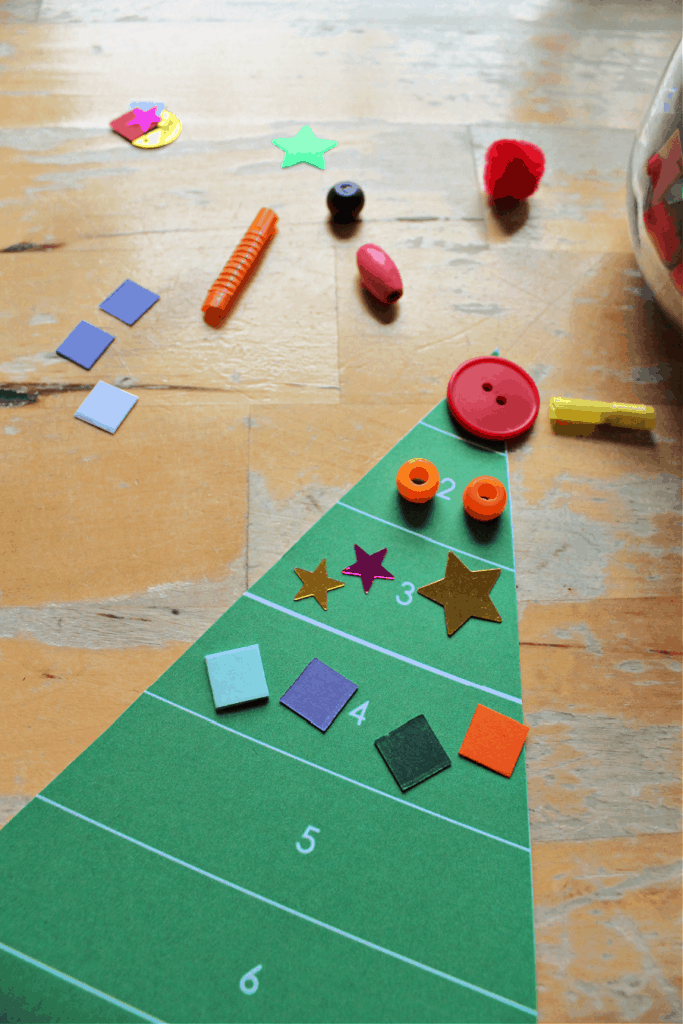 Choose your tree
There are two versions of the Christmas tree play mat included in the pack: one smaller, full-page tree and one larger tree split over two pages. This lets you select the best tree size for your child and the loose parts you have available.
If you are using the larger version of the tree, cut the top half of the tree along the bottom of section five and then use glue or sticky tape to fix the two parts together to make one whole tree.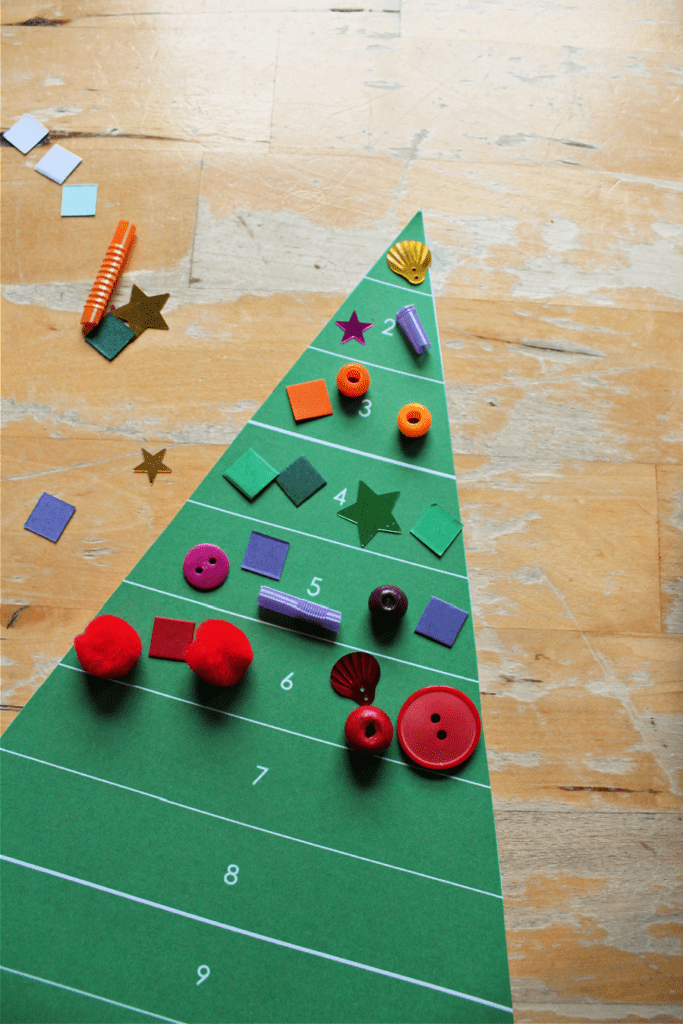 Set up your decoration station
Set your tree out alongside a selection of loose parts.
Loose parts simply means moveable materials that children can use in their play. They might be bought materials, upcycled from the recycling bin or found natural objects. For our Christmas tree decorations you might use:
:: pom poms
:: buttons
:: cut-out pieces of coloured paper or card
:: sequins
Alternatively you can use play dough (try this Christmas play dough recipe) to roll into baubles for your tree.
You can also use a sheet of stickers to decorate the tree but note that you won't be able to reuse the Christmas tree play mat once you've stuck all the stickers on it.
Variations and extensions
Invite your children to decorate their tree using the loose parts, carefully counting out the correct number of decorations for each section of the tree.
They can count up or count down, as they prefer.
As they are decorating their tree, your children will be working on fine motor skills, as they pick up, turn and place the loose parts.
To extend this activity you might:
:: colour match the lines so you have ten yellow decorations, nine red decorations, eight orange decorations…
:: have all the even-numbered lines be in one colour and the odd-numbered lines be in another colour
:: use repeating patterns along your lines: a red decoration followed by a yellow decoration followed by a red decoration followed by a yellow decoration….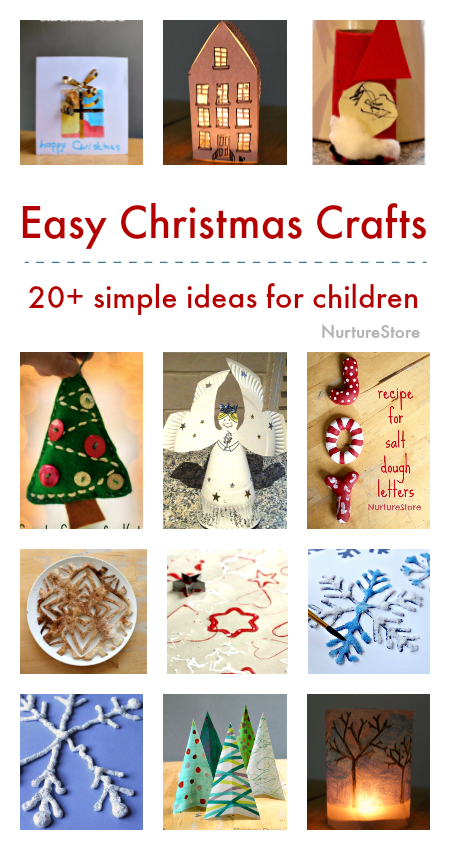 More Christmas crafts and activities
Click through to see more Christmas crafts for young children.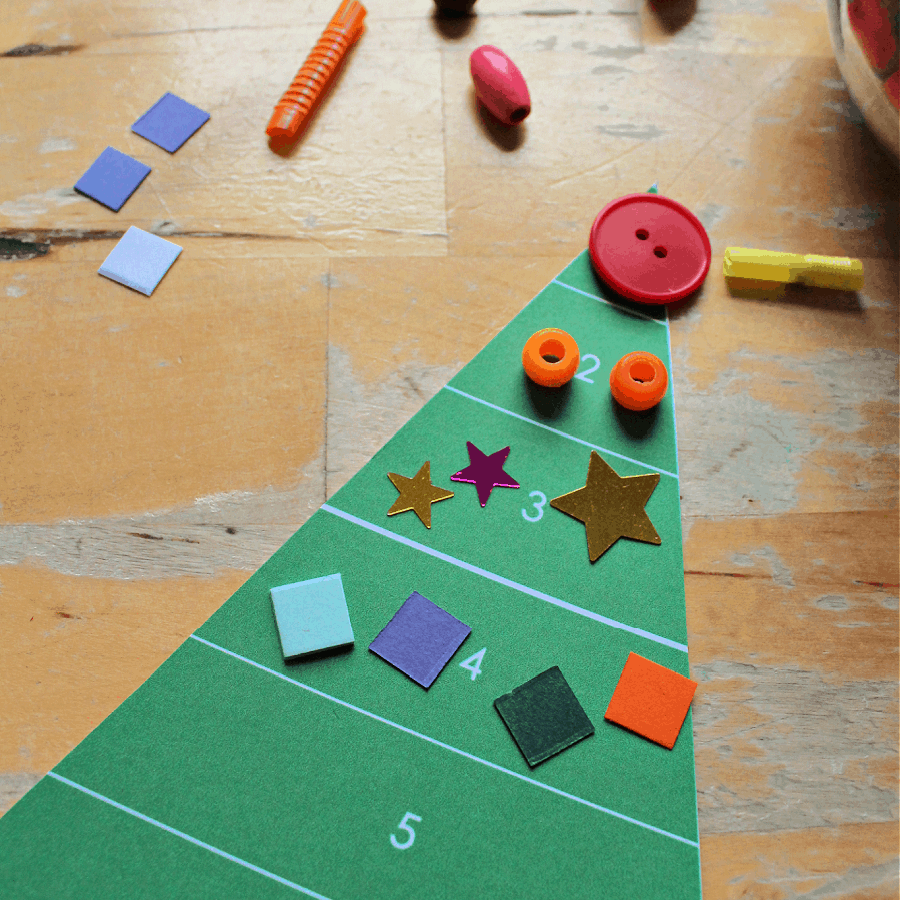 How to get our free printables
To download my free printables, you'll need to visit the NurtureStore Printables Library, which is available to all subscribers to my email list, and of course to Play Academy members.
Pop your email address in the form below and you'll get access to all my free printables, lesson plans, activity ideas, weekly newsletter, and a whole lot more!
After subscribing, be sure to check for the confirmation email. After you confirm your email subscription, we'll send you a welcome email which includes instructions for downloading our free printables.
If you're already subscribed to our email newsletter: check your email for the latest edition of the newsletter where you'll find a link to access our free printables library - the link is usually at the bottom of the email.
For help accessing our printables, click here.
---
By subscribing, you consent to our use of your personal data as per our Privacy Policy, which includes agreeing to receiving interest-based email from us.
---