Welcome to five days of Easter themed sensory play. We're using simple materials and exploring using all our senses.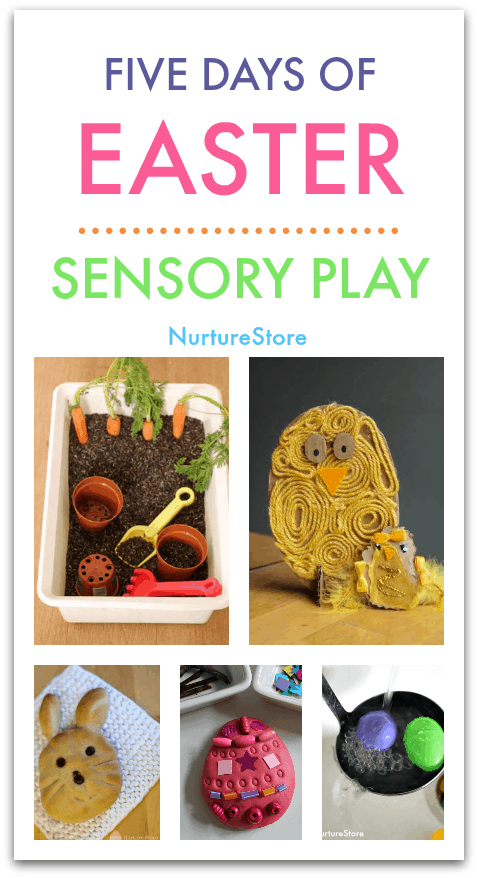 Five days of Easter sensory play
NurtureStore has a great set of weekly themed units which you can see here. This week we're exploring Easter themed ideas.
You might like to use all the ideas to give you a complete Monday to Friday set of Easter activities or you might like to pick one or two to go along side your other plans.
It's such an advantage to give your children the experience of sensory play. Kids are sensory creatures and they learn about the world around them through what they see, feel, smell, hear, and taste.
Working through a themed-week is beneficial too. It encourages children to make connections between one day's activity and the next, helping them to think like scientists and creatives: comparing, contrasting, and connecting learning.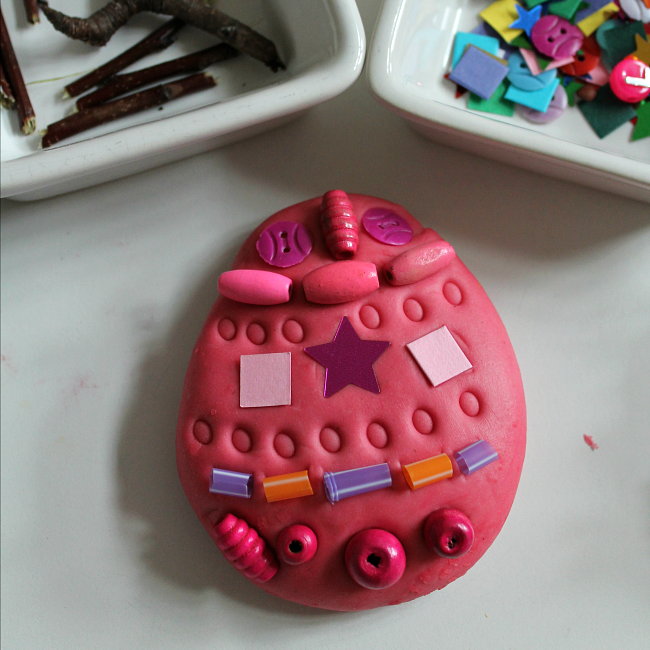 Day One :: play dough
Play dough is my favourite sensory play material. It's so versatile, lasts for ages, and is a super workout for fine motor skills.
For day one of our Easter sensory play week, let's decorate play dough Easter Eggs. Use my easy no-cook play dough recipe, add in a few loose parts, and set up a fun egg decorating station.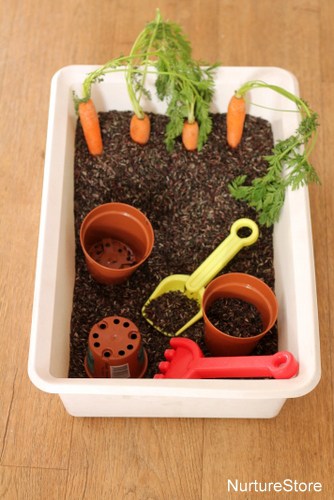 Day Two :: sensory tub
For day two of our Easter sensory play week, let's set up a simple spring sensory tub for our children to explore.
A sensory tub is very adaptable as you can make it with whatever you have available. I filled ours with dyed rice but you could also use shredded paper, sand, grass clippings or soil.
Add in some loose parts such as plant pots, trowels, even a few carrots.
Toy bunnies, chicks or lambs would be fun. You could make your own super cute rabbits from paper rolls.
You could also hide my printable carrot numbers or egg alphabet in the tub for your children to discover,
Once the tub is filled, invite your children to dig in, see what treasures they can find, and enjoy using their imagination and lots of language as they play.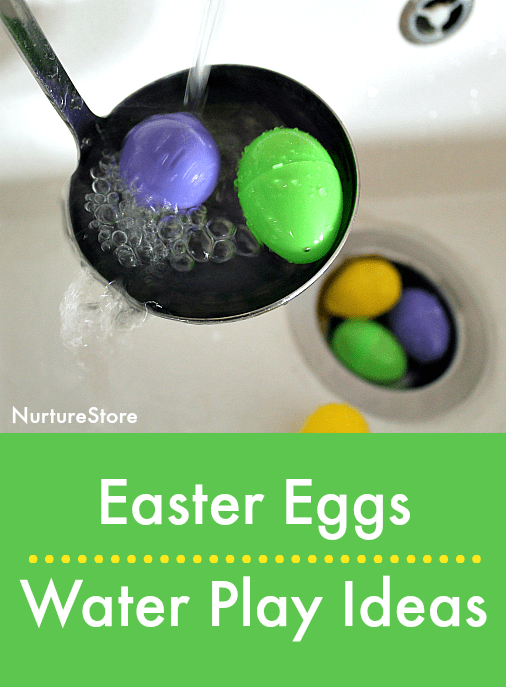 Day Three :: water play
On day three of our Easter sensory week, let's play with water.
You can play indoors or out, depending on the weather.
Fill up a bucket, a tub, the kitchen sink, or the bath tub.
Add in loose parts. Plastic Easter eggs are fun if you have them, but anything in Easter colours of pastel pink, blue, yellow and green will make enough of an Easter theme.
Add scoops, sieves, strainers, and spoons and let your children play!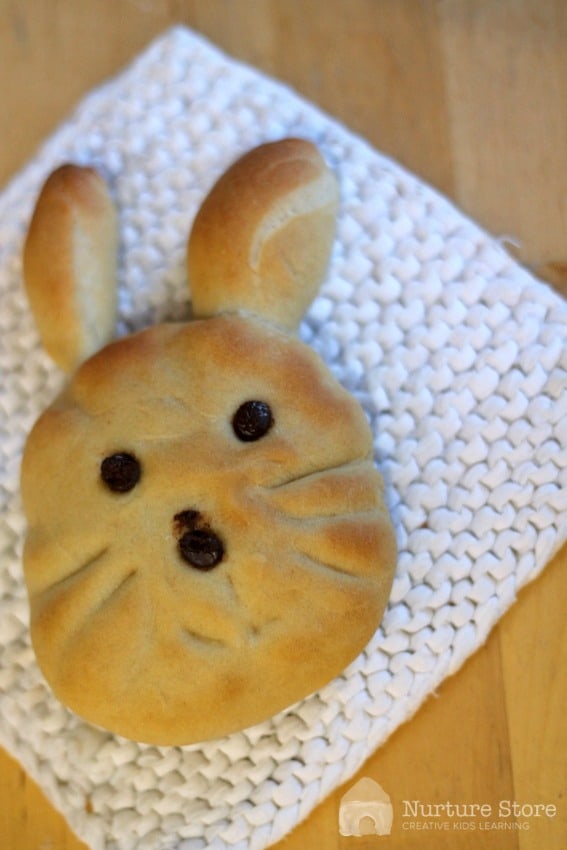 Day Four :: tasty treats
Let's explore our sense of taste today, with a selection of ideas that you choose from, depending on what ingredients you have available.
These are all easy recipes where you can involve your children in each step, so they're developing useful math and life skills as they explore all the sensory delights of food.
If you have chocolate, you could make Easter nest cakes.
Got flour? Use my no-salt playdough recipe, a.k.a. simple bread dough, to make bunnies.
Got eggs? Make a frittata.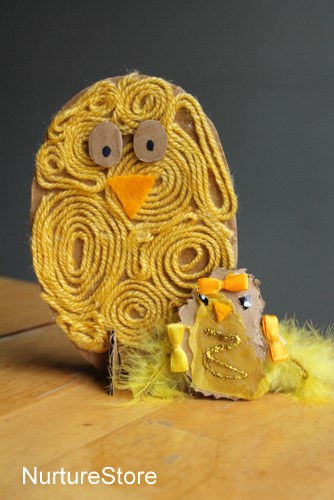 Day Five :: art projects
For the final day of our Easter sensory play week, let's get crafty. Using simple materials we can invite our children to explore colour and texture as they create Easter collages.
You'll need a base such as card or packaging; something sticky which could be glue, tape or contact paper; and collage materials which could be from your craft shelf or recycling box: paper of any kind is perfect. And if you don't have the last two, coloured pens and pencils will work well too.
Take your pick from Easter egg bunting, or collage chicks, lambs, eggs and frogs! Talk about how all the materials look, feel and sound as you use them.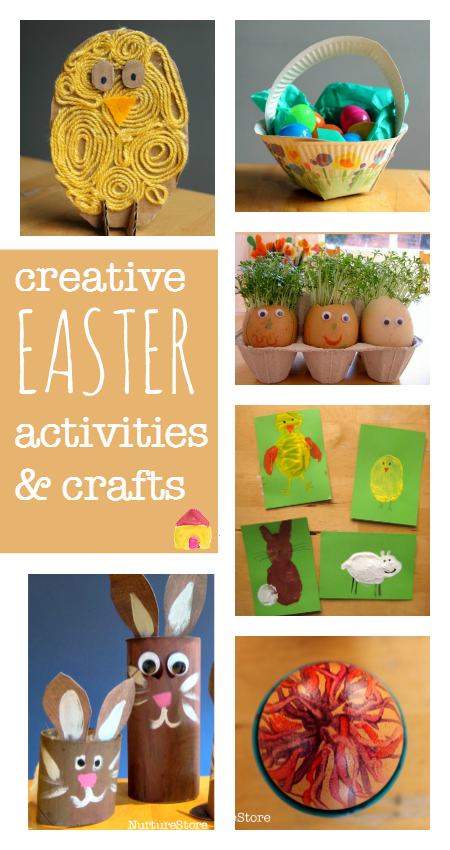 More Easter activities for children
Click here for more Easter activities for children including how to make an Easter basket, grow Egg Heads, and host a fun Easter egg hunt.