Welcome to five days of rainbow sensory play. You can use these ideas to bring colour, play, and chatter to your week.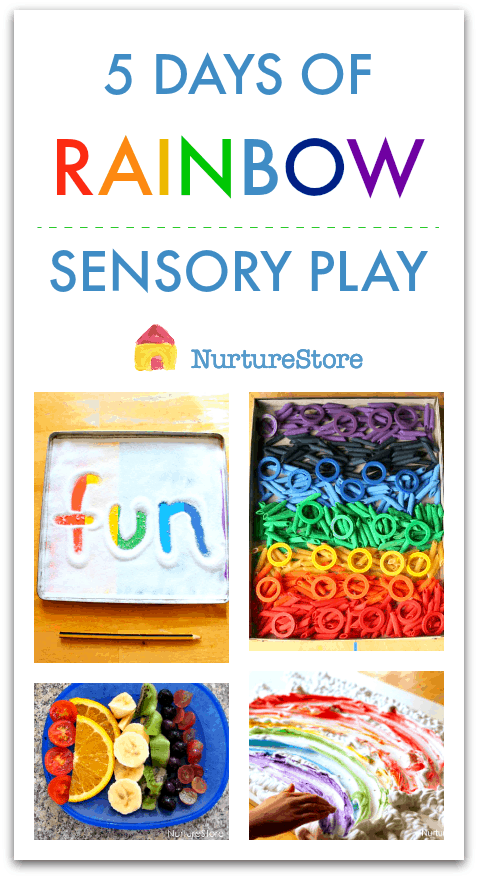 Five days of Rainbow Sensory play
Here's a simple programme of five days of rainbow themed sensory play.
We're exploring things we can see, feel, smell, hear, and even taste.
Each day has a different sensory play experience to try, giving you a plan for the whole week. You don't have to do all the ideas in order or even use all five so use the ideas in the best way for your family.
The activities use simple materials and include variations so you can adapt the ideas to your circumstances.
The benefits of a sensory play week
It's such an advantage to give children a range of sensory play and to work on a theme.
A themed-week lets children make connections between on idea and another, one material and another, one experience and another.
With a range of linked activities, children are able to compare and contrast, see how things are the same and what's different – young scientists and creatives in the making.
Coming back to a theme over consecutive days gives time and space for ideas to brew, and the repetition helps children find depth and meaning .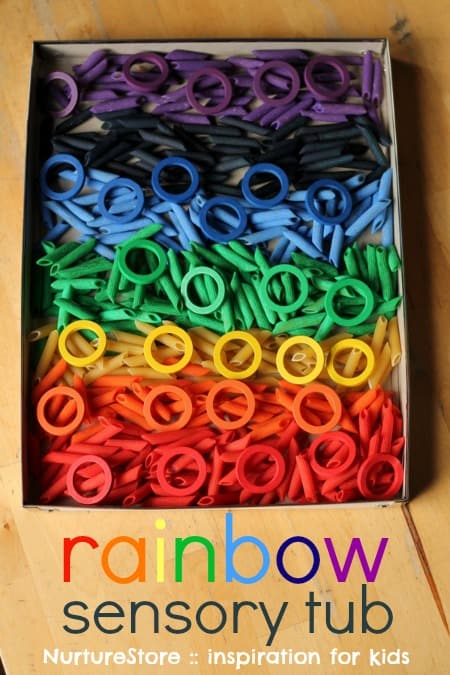 Day One :: rainbow sensory tub
For our first day of rainbow sensory play let's start with a rainbow sensory tub.
Sensory tubs are wonderful play invitations because they welcome all children to join in and bring their creative ideas to the play. It's easy to have a sensory tub available through out the year, ringing in the changes in season and theme by adding a few different ingredients each month.
To make a rainbow sensory tub you'll need a filler material in the colours of the rainbow, but what you use is up to you. We used uncooked pasta as our base and you can see how to dye pasta here. It's very easy but you'll want to prep it the day before so the pasta has time to dry. Other alternatives include shredded paper, cooked spaghetti, jelly/jello, dyed rice or dyed sand. Or even just use plain water and add in colourful added extras.
Set up your rainbow-coloured filling in your sensory tub and offer loose parts alongside: pots and pans, small bowls, scoops and spoons – anything goes!
A rainbow tub naturally makes a colour sorting game.
If you're using a St. Patrick's Day theme you might like to hide these printable gold coins in your tub, as treasure for your children to find.
Then invite your children to come and play!
A sensory literacy lesson
Sensory play is a wonderful way for children to develop literacy and language.
Sit alongside and you'll hear all sorts of language, ideas, and imagination at work.
I would love to see how you set up your rainbow sensory tub and hear how your children interact with it. Share a photo with our community on Instagram using #ideasfromnurturestore so we can all visit.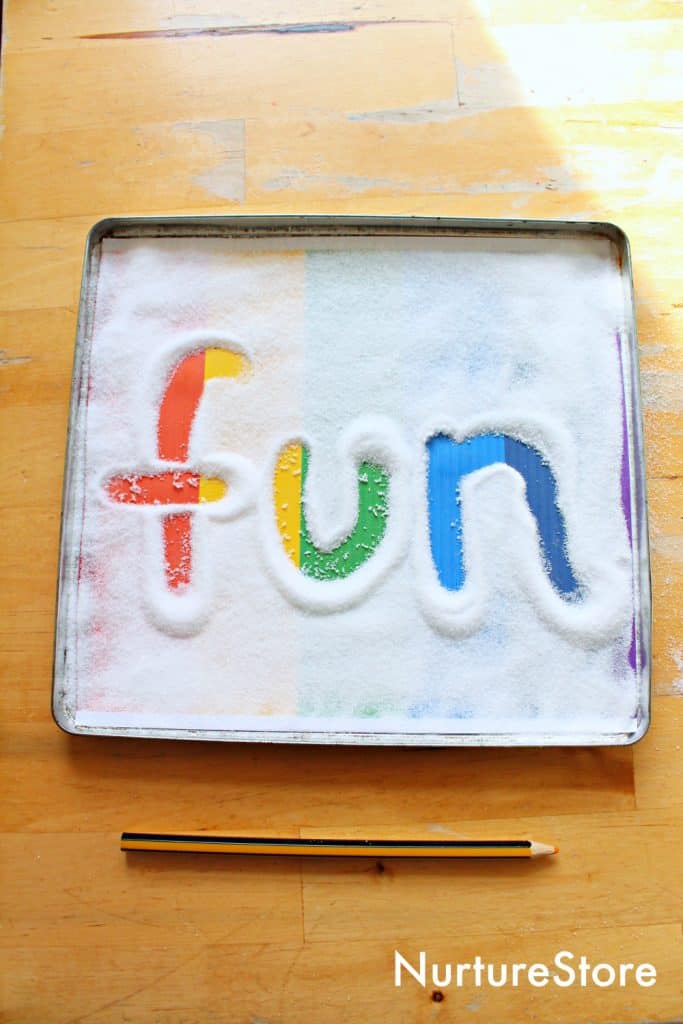 Day Two :: rainbow writing
On day two of our rainbow sensory play week let's explore rainbow writing.
If we combine our literacy lessons with sensory play children are happier and learn better.
I've got two ideas for rainbow writing that you can use. The first is to make a sensory writing tray, using this printable rainbow insert. Simply place the rainbow printable at the base of your writing tray and cover with salt, sugar or sand. Invite your children to make marks, letters or to write words in the tray and as they write they'll reveal the magic rainbow underneath.
A second idea is to use crayons or pencils in all seven colours to do some rainbow writing. Rainbow writing brings together different sensory ways of learning, making it suitable for lots of different learning styles.
:: we get to see an eye-catching, visually-memorable version of our word – great for visual learners
:: we get to follow the flow of the word across the page (or chalkboard or floor) – great for kinaesthetic learners
:: we get to hear the word, as we say it out loud as we write – great for auditory learners
:: we get to repeat the word, as we use all the colours in our rainbow to practise, practise, practise.
You can see how we use rainbow writing here. You can print off rainbow writing sheets here which you can use for writing practice. And you can print a set of rainbow writing number cards here.
Whichever option you try today, you're giving your children a fun, effective multi-sensory way to work on literacy.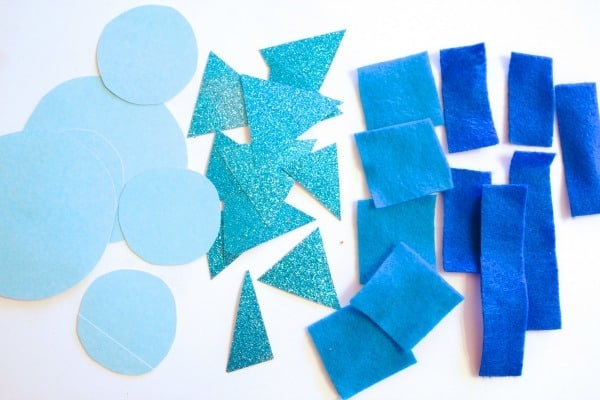 Day Three :: textured rainbow collages
On day three of our Rainbow sensory week, let's explore texture and make a rainbow collage. Individual children can make their own rainbows or a group of children can collaborate to make one big rainbow.
This art project invites children to explore lots of different textures. You'll need:
:: a rainbow outline, which you can draw on a piece of paper or card, or use a marker to draw one on contact paper. If you're using paper or card, you'll also need glue. The contact paper has its own sticky surface, so no glue needed there.
:: paper, card, old paintings, wrapping paper, fabric, ribbon, yarn, string, buttons and/or anything else you have as collage materials, in all seven colours of the rainbow: red, orange, yellow, green, blue, indigo (dark blue) and violet (purple). Try to find a good variety of textured materials: smooth, rough, matt, shiny, flat, bumpy.
:: set out some scissors and invite your children to snip up the collage materials into little pieces. It's fun to tear some of the materials too.
:: then sort and place the materials on your rainbow outline, gathering all the reds in one arc, all the oranges in another, until you have filled your rainbow. You might like to have pens and pencils available too so your children have the option to colour in some of the spaces too.
I would love to see the gorgeous rainbows you create! Please share them using #ideasfromnurturestore.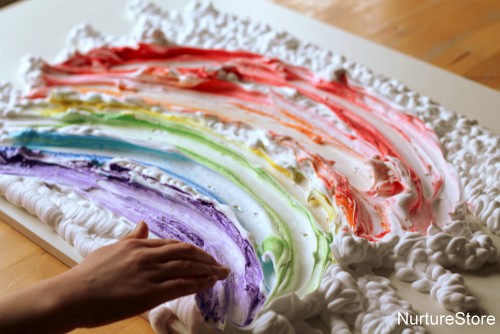 Day Four :: rainbow finger painting
On day four of our Rainbow week, let's explore paints. Finger painting isn't reserved for babies and toddlers – everyone can have fun with these super sensory art ideas!
Version one is classic finger painting. Dip your fingers in paint, one colour on each finger/thumb, and swoosh a rainbow. You can see how we made our finger paint rainbows here.
Version two is great for a family or class of children. Dip your whole hand in paint and stamp out lots of handprints. Then use them to make a rainbow handprint wreath.
Version three is my daughter's favourite: make rainbows in shaving foam. Set out a canvas of shaving foam, dot on the seven colours of the rainbow, and them it's all hands-in to make rainbows. You can see how we make shaving foam rainbows here.
Day Five :: rainbow taste test
Let's wrap up our wonderful week of rainbow sensory play with a taste test. Many sensory play materials aren't suitable for putting in mouths of course, but with this one we can definitely enjoy a taste.
Invite your children to eat a rainbow of foods. What can foods can they think of that are red, orange, yellow, green, blue, and purple?
What foods can you find to try? If you have a full rainbow, great, but if not you can focus on one or two colours.
Try everything you have available and talk about them. What do they taste like? How would you describe the taste? Do you like them all? Have you tried them all before?
You can use this printable taste test sheet to get the conversation started and to record your findings.
Share your results with us on Instagram using #ideasfromnurturestore.