Use this DIY spring sensory writing tray and literacy ideas to give your spring writing centers a fun, hands-on twist.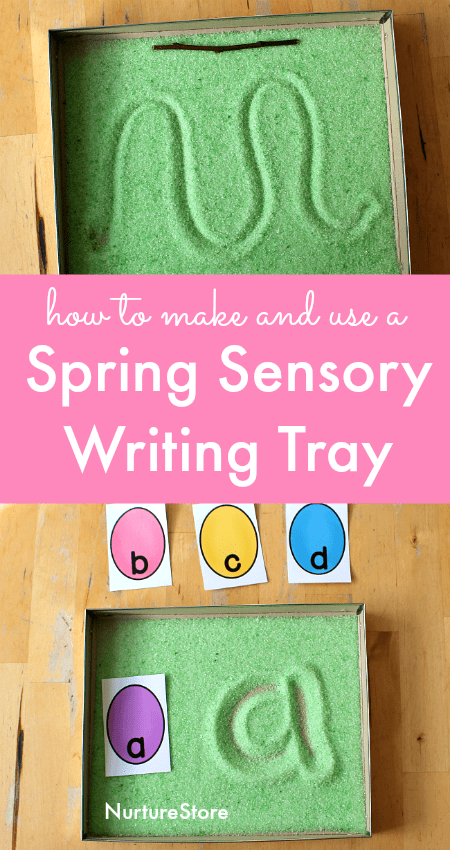 How to make a sensory spring writing tray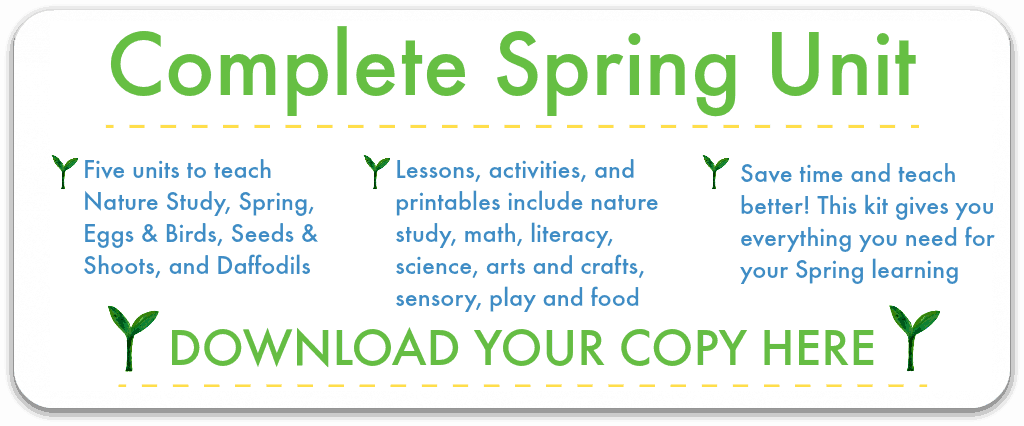 Spring Writing Tray
A writing tray is a clever bit of kit to add to your learning. It's good for very young children who are just learning about making marks all the way through to older children who are working on spelling.
The great advantage of using a writing tray is that it brings a multi sensory element to writing. Using a multi-sensory approach to learning means you can suit any child's learning style: whether they are particularly in tune with moving, feeling, seeing, smelling, doing… Children get a deeper understanding as they are coming to the learning through many different ways. Plus it also makes the learning fun, which always makes you remember things more.
I first heard about writing trays from my mum, who used them with the children she taught who had Dyslexia. My dad made her tray for her from wood, but as you'll see below you can use any suitable container. Here's how to make one: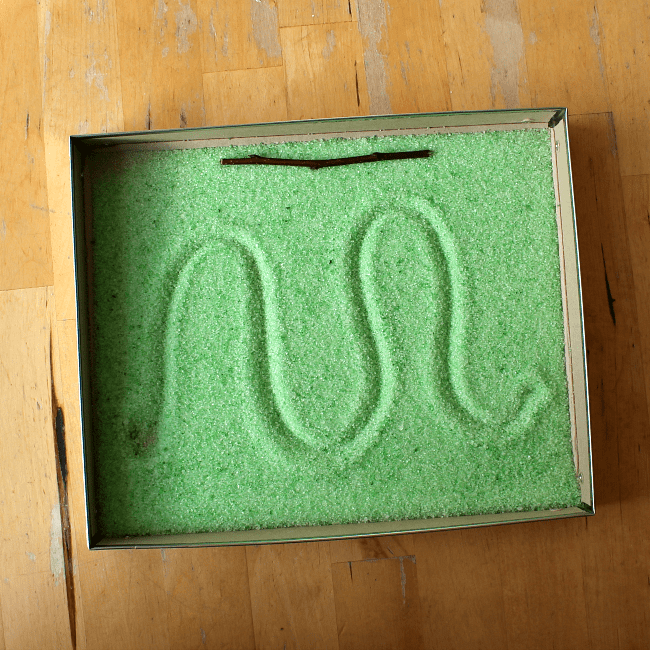 :: Find a container to be your tray. It needs to be shallow, so your children can easily write in it without having any trouble leaning their hand inside, and big enough to write a word. A kitchen tray, a baking tray with shallow sides, the lid off a storage box, a cardboard box with the sides cut down are all good options.
:: Fill your container with your choice of material: sand, salt, sugar all work. You can add colour to salt and sugar by placing your material in a plastic bag and adding paint or food colouring gel. Give it a good shake and mix to spread the colour through the salt/sugar. Spread it out on your tray and leave it to dry over night. To colour sand I grate in some chalk and mix it in. You can use herbs, spices or essential oil to add some fragrance. Green colouring with some fresh copped herbs would be a nice spring themed writing tray.
You only need a shallow layer of your material – if you make it too thick it's hard to see the marks and letters you make.
:: Then you can use your finger, a pencil, or a twig to make marks and write in your tray.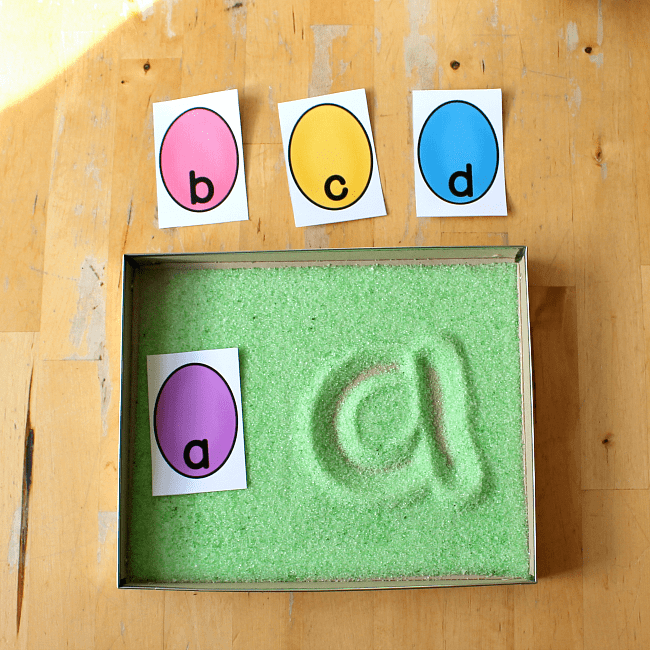 How to Use Your Writing Tray
:: Younger children can use the tray to make marks, patterns, or single letters
:: They can learn to write their own name.
:: Older children can use the tray as a multi-sensory and fun alternative to pencil and paper to practise spelling.
:: You can bring a twig back from one of your nature walks to use as your 'pen'. Or use a carrot!
:: You can use my egg alphabet printable alongside your writing tray to make letters and words to copy.
:: You can use my carrot number cards printable to practise writing numbers.
Multi Sensory Learning
Every time your child writes a word or letter in the writing tray they can:
see the letter, on the egg printable
feel the flow of the letters as they write the word through the salt/sand
smell the herbs or essential oils in the salt/sand, giving an extra sensory boost to the activity
hear the word, as they say it out loud as they write
They're combining four senses to help them learn the word/letter.
Try writing the word/letter a few times, then turn the egg printables over and see if you can write it in the sand/salt without seeing the word.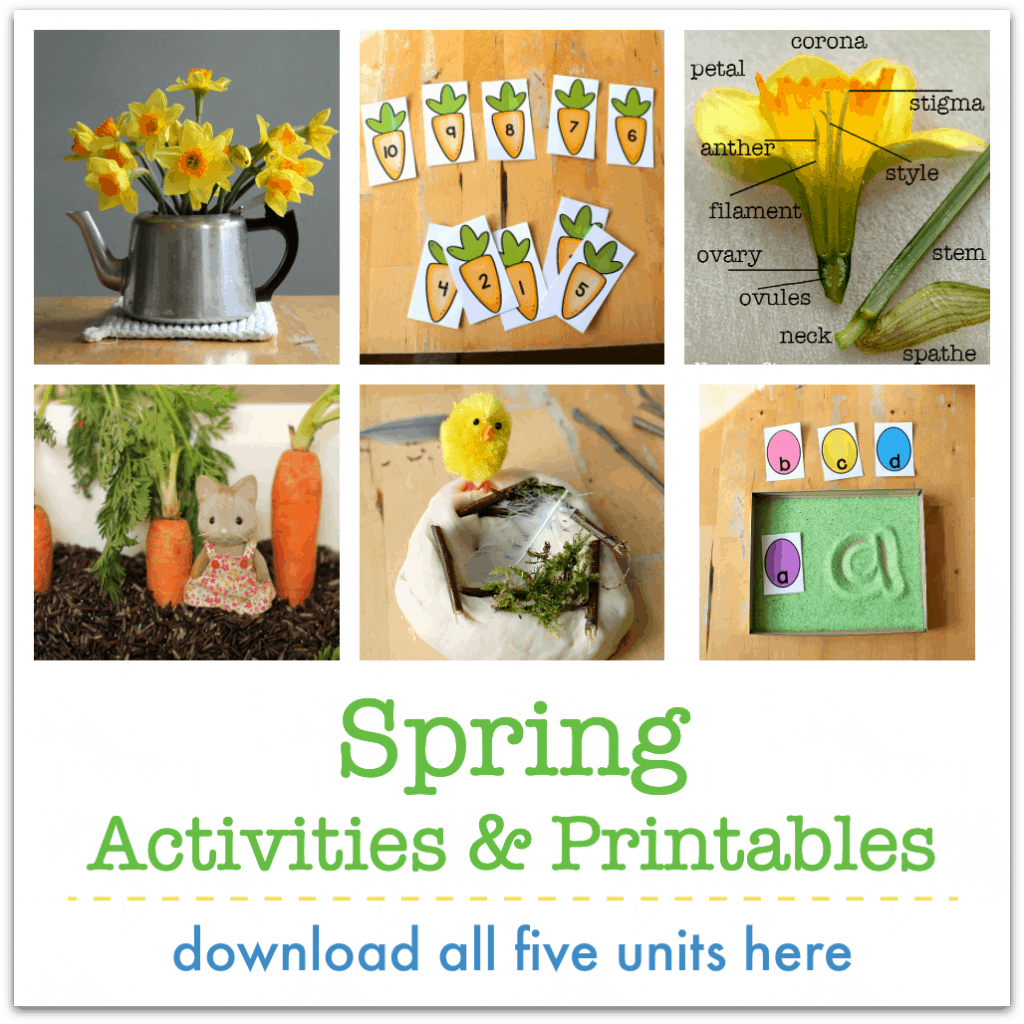 Download all the Spring units and printables
Download our complete Spring lesson plans, activities and printables and your spring teaching will be so easy!
:: five complete units of ebooks and printables for Nature Study, Welcome Spring, Daffodils, Seeds and Shoots, and Eggs and Birds
:: over 50 engaging activities and lesson plans that your children will love
:: over 30 pages of printables that make teaching so easy
:: a balanced programme of math, science, literacy, arts and crafts, nature study, sensory and imaginative play
:: a practical resource that you can start using today, in class or at home
:: weeks worth of learning all planned for you, to take you right through the season
:: created with children aged 4 to 8 in mind
You're going to love this super useful resource!