Here's a great collection of Valentine's Day activities for children including Valentine-themed math, literacy and science; Valentine arts & crafts; wellbeing activities; and cute Valentine snacks children can make.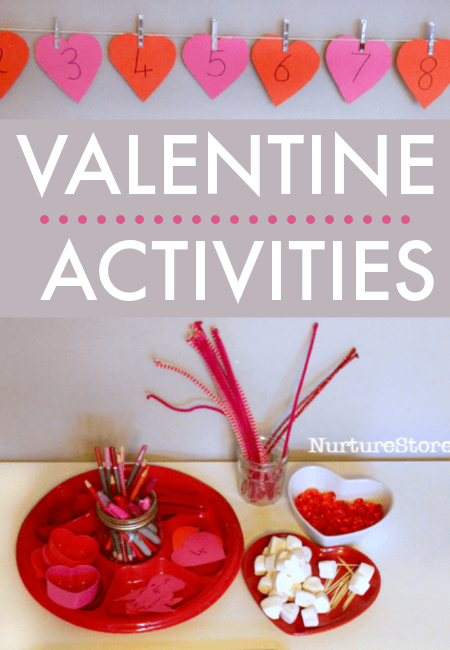 Easy Valentine's Day activities for children
This article is one of our Valentine's Day activities for children, part of our world festivals lesson plans.
In this article, you will find:
:: easy Valentine's Day activities that use simple materials and are quick to set up
:: Valentine math, science and literacy activities and printables
:: Valentine wellbeing ideas and fun snacks
:: links to Valentine arts and craft ideas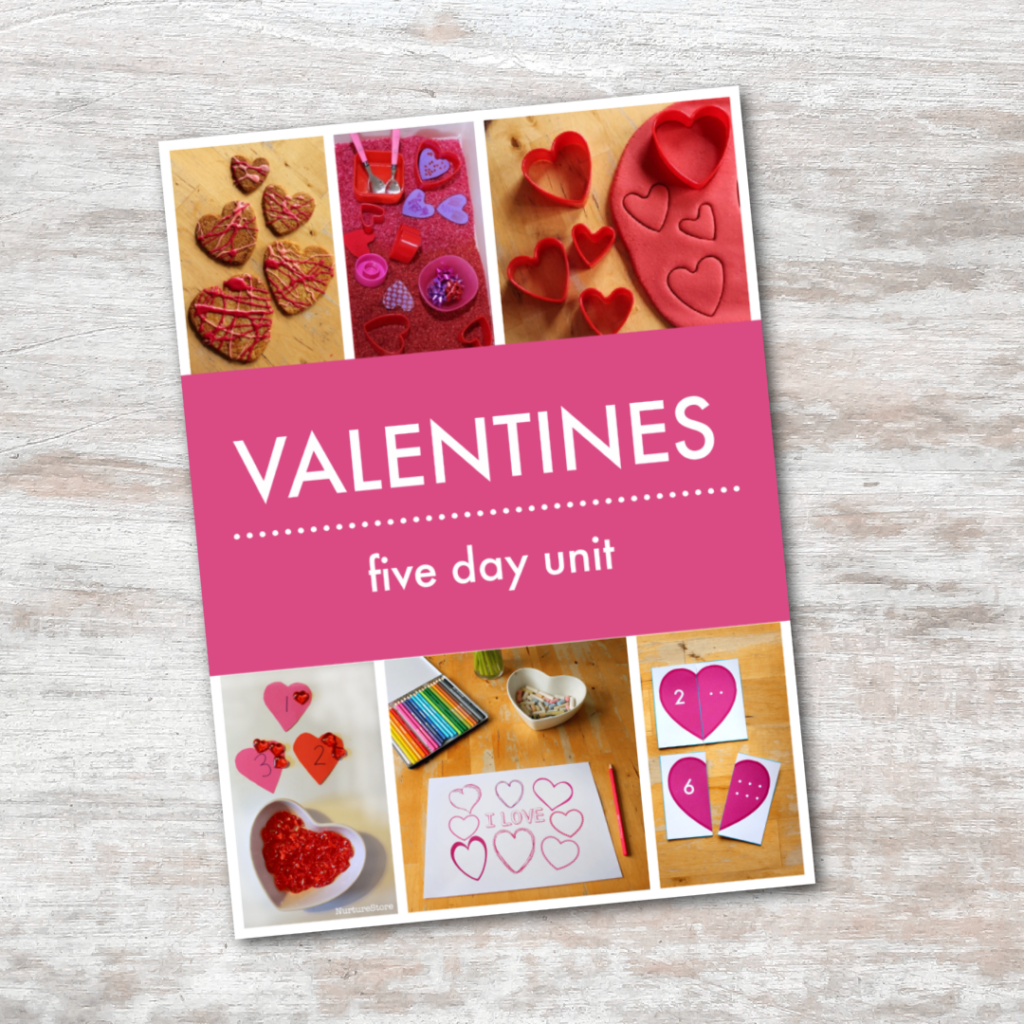 Ready-made Valentine's Day Unit
The easiest way to teach is with our ready-made Valentine's Day Unit which you can download from our ad-free membership area, the Play Academy. Join us in the Play Academy and you'll have instant access to over 50 ready-made teaching units covering math, science, literacy, nature, arts & crafts, world culture and wellbeing. See more details and choose your first unit here.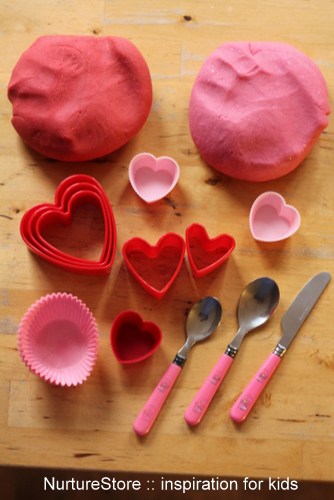 More easy Valentine activities for children
If you would like to DIY your teaching, help yourself to NurtureStore's free resources:
Valentine math activities
Valentine math station
This Valentine math station is packed full of ideas for math discovery and math games.
Printable heart tally and counting cards
These printable heart matching and counting cards are a fun Valentine's math activity for children, helping them develop important math skills through play. Print your set and try these math activities.
Valentine pattern matching cards
Recognising patterns and things that match are vital skills for math and literacy. Find out why matching and sorting are so important, and use these free Valentine pattern matching cards to help your children develop these skills in a fun, hands-on way.
Symmetry art: Valentine love hearts
Combine art and math with this beautiful heart symmetry project.
Valentine literacy activities
Valentine's Day writing prompt journal page printable
This printable journal page for kids is great as a Valentine's Day writing prompt to do some drawing and writing about who or what you love.
Printable Valentine journal page and Valentine placemat
Count your blessings! Use this free printable Valentine journal page and Valentine placemat to encourage children to know what they love and be grateful for it. A fun creative writing prompt for Valentine's Day – or any day!
Free printable heart alphabet cards
Here's lovely set of free printable alphabet cards along with great ideas for how to use them to help teach your child to read.
Printable heart upper and lower case letter card
Set up a fun Valentine-theme literacy centre with these free printable upper and lower case matching letter cards.
Valentine science activities
Valentine fizzy science experiment
This is a really fun, fizzy science experiment that you can try with your children: using bicarbonate of soda and vinegar to have fun with chemistry.
Valentine arts & crafts
Easy Valentine's Day crafts for children
Here's a great collection of Valentine's Day crafts for children that are easy to make and just use basic art supplies.
Valentine wellbeing activity
Talking about feelings – printable conversation starters
Talking about feelings with children helps them understand themselves and others. These printable conversation starters about feelings and relationships are gentle prompts to open up conversations that build connection and emotional intelligence.
Valentine sensory play activities
How to make a Valentine sensory tub
It's easy to make a Valentine sensory tub for your toddler or preschooler, using things you have around the house. Follow these four simple steps to give your child lots of opportunity for sensory play, maths and imaginary play.
Printable heart lacing cards
These pretty printable lacing cards are great for developing fine motor skills.
Valentine play dough recipe
Here's a really simple, no cook Valentine play dough recipe, along with some maths play ideas. If you've never made homemade dough before, give it a try!
Valentine snacks
Valentine lollipops crispy cake recipe
If lollipops make your heart go giddy-up this Valentine crispy cake recipe is for you! Just three ingredients (with a few added decorations) and about 20 minutes to make, it's a recipe the kids can do by themselves with a little supervision.
Valentine cookies recipe
Here's a great recipe for Valentine cookies. They're really easy to make, and look – and taste! – fantastic.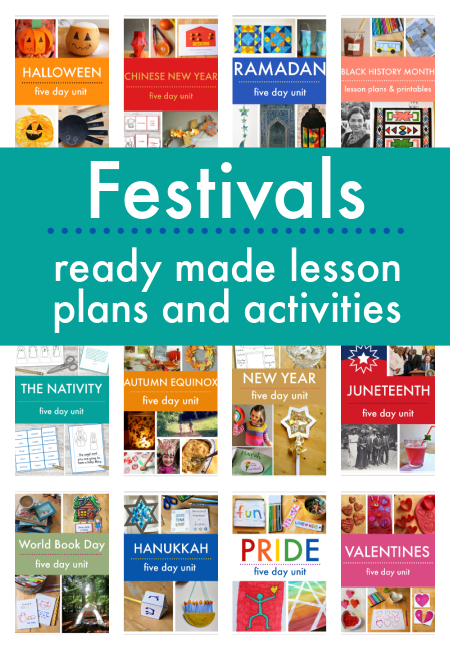 Free festival lesson plans for children
Festivals are fun! They are about celebration and community, and include pretty decorations, delicious food, and fun parties. Taking part in festivals is good for our wellbeing and brings communities together.
Help your children become global citizens – knowledgable and welcoming of other cultures, religions, and countries – and create an inclusive feeling in your community, where all your children know they and everyone else belong and are valued.
Our festival lesson plans include Chinese New Year, Hanukkah, Diwali, Ramadan, Nativity, Winter Solstice, Juneteenth, World Book Day, Halloween and many more. See our festival lesson plans here.