For a simple recipe for children, pancakes are perfect. You can use this free pancake recipe cards printable to work on practical kitchen skills, reading a recipe, and sequencing a set of simple instructions.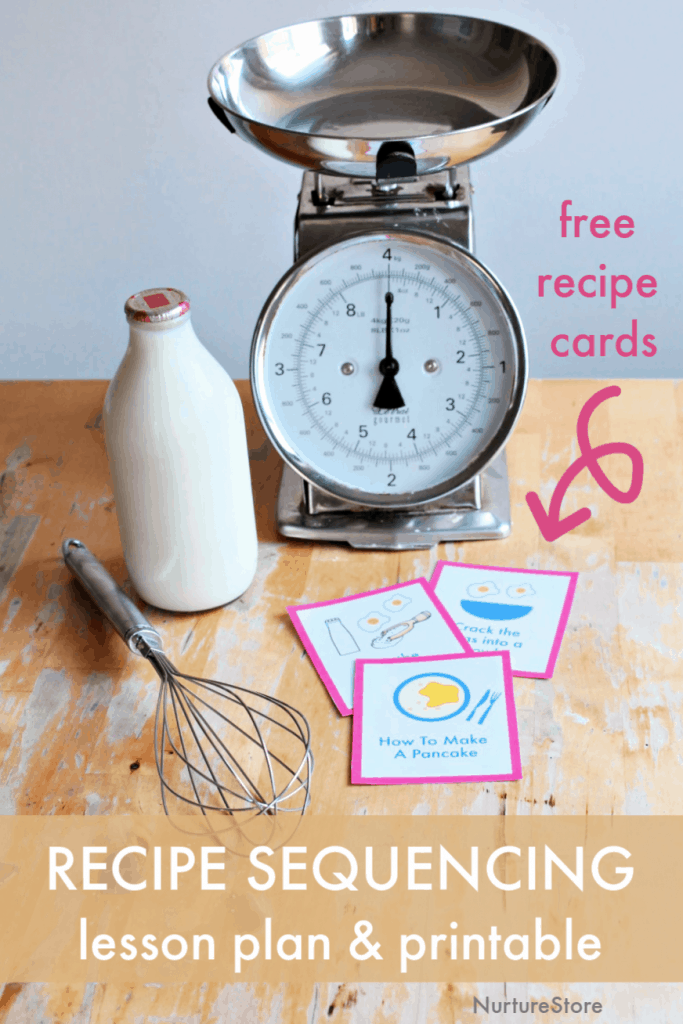 Simple recipe sequencing lesson plan with printable recipe cards for kids
Let's learn how to make pancakes! This is a brilliant lesson for Shrove Tuesday, which for many is also known as Pancake Day. This simple cooking activity for children can also be used as a nurture group activity, and to help your children follow a simple recipe and combine everyday math with practica life skills.
The activity includes a set of recipe sequencing cards you can print – see below for details.
And click here to see our full Shrove Tuesday lessons and activities.
In this lesson children can:
:: learn how to follow a simple recipe
:: practice sequencing a set of instructions
:: use tools and utensils
:: use math for a practical purpose
:: work with weights and measurement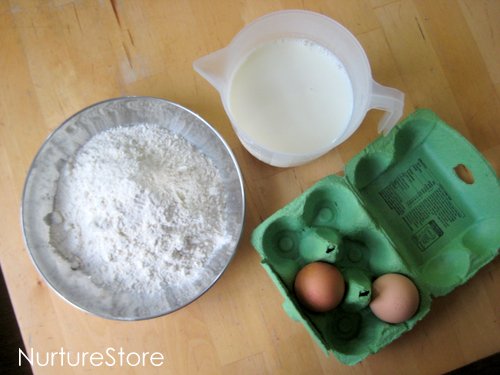 Materials needed
:: recipe sequence cards – see below for details on how to print
:: ingredients for pancakes: eggs, flour, milk, plus butter to fry
:: ingredients for toppings: perhaps sugar, lemon, jam, chocolate chips, banana, maple syrup or strawberries
:: kitchen scales
:: balloon whisk
:: large bowl
:: measuring jug
:: frying pan
:: spatula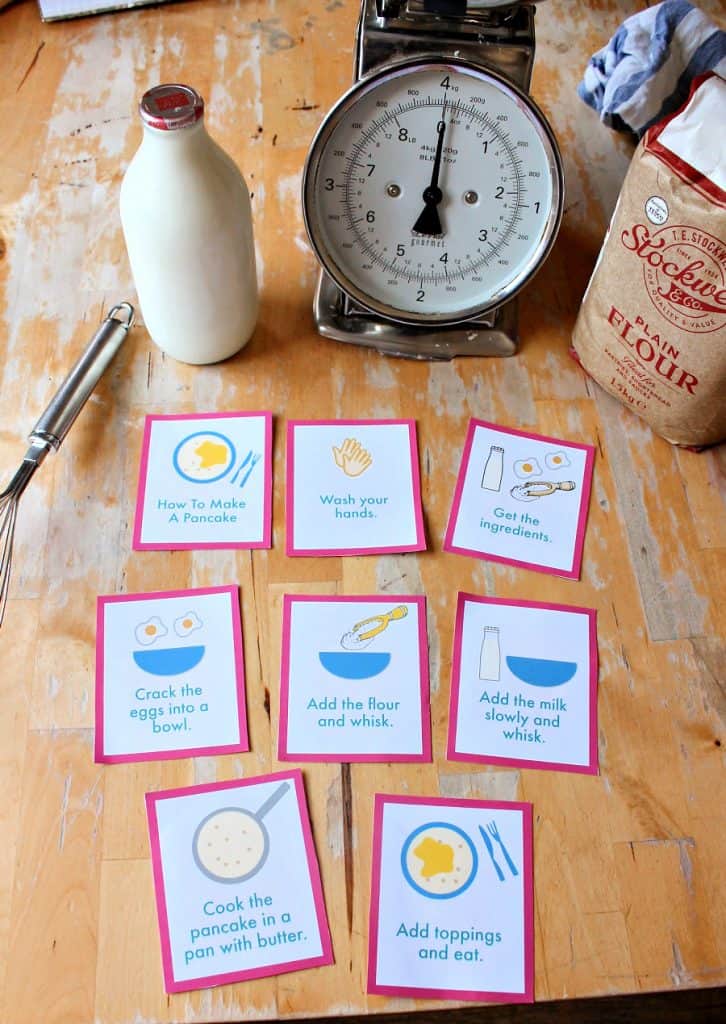 Follow the simple recipe sequence
The printable pancake recipe cards give seven easy-to-follow steps needed to make pancakes.
They provide a clear visual prompt, with a simple sentence for each step.
The easy to follow steps included are:
:: Wash your hands.
:: Get the ingredients.
:: Crack the eggs into a bowl.
:: Add the flour and whisk.
:: Add the milk slowly and whisk.
:: Cook the pancake in a pan with butter.
:: Add toppings and eat.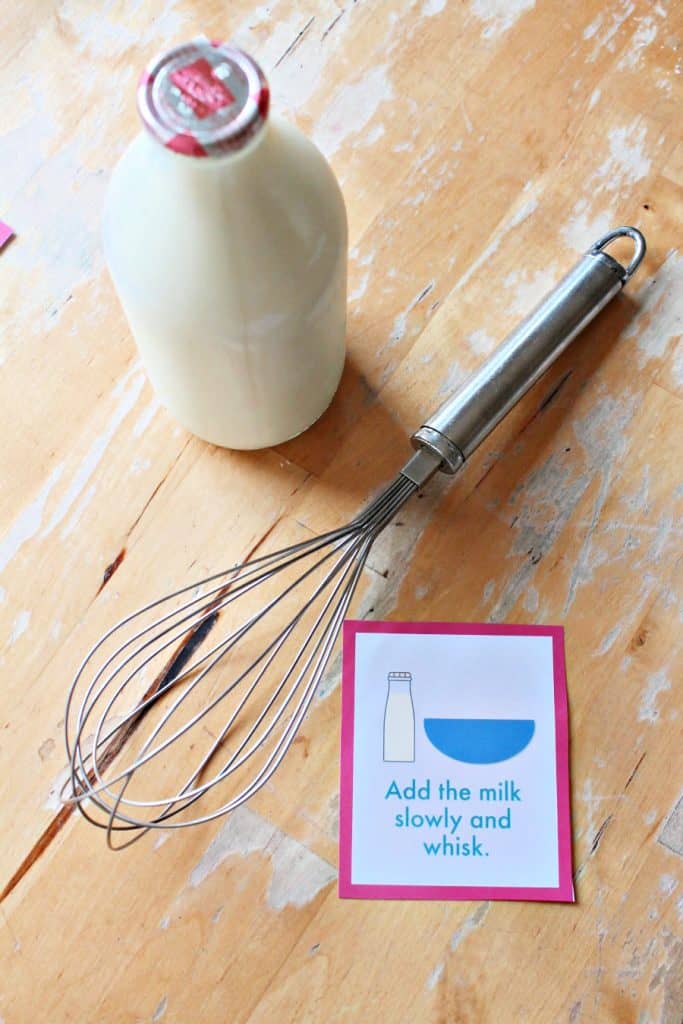 How to use the recipe sequence cards
The pancake recipe cards printable is a useful aide to learning and can be used in many ways.
You can use the cards as a visual reference as you talk about pancakes and introduce your children to the recipe. We like this traditional English pancake recipe but you can also use an American-style pancake recipe if you prefer.
Talk about the equipment and ingredients you will need. Children can work in pairs or a small group to gather what you will need.
Jumble up the recipe cards and invite your children to unscramble them and sequence them in order. This re-caps the recipe for them and gets them thinking logically and sequentially.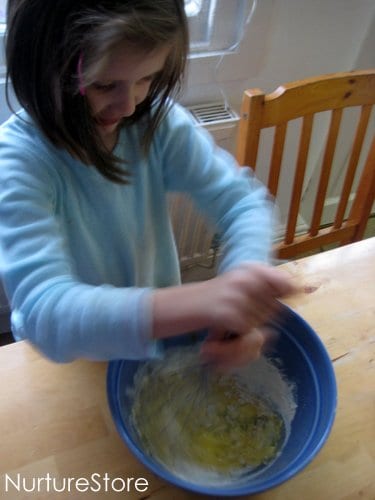 Stick the cards up on the wall and use them as a visual guide to help you follow through all the steps to make a batch of pancakes.
It is easy to get lost or miss a step when following a recipe and using this simple visual guide while cooking supports children to get organised and work methodically.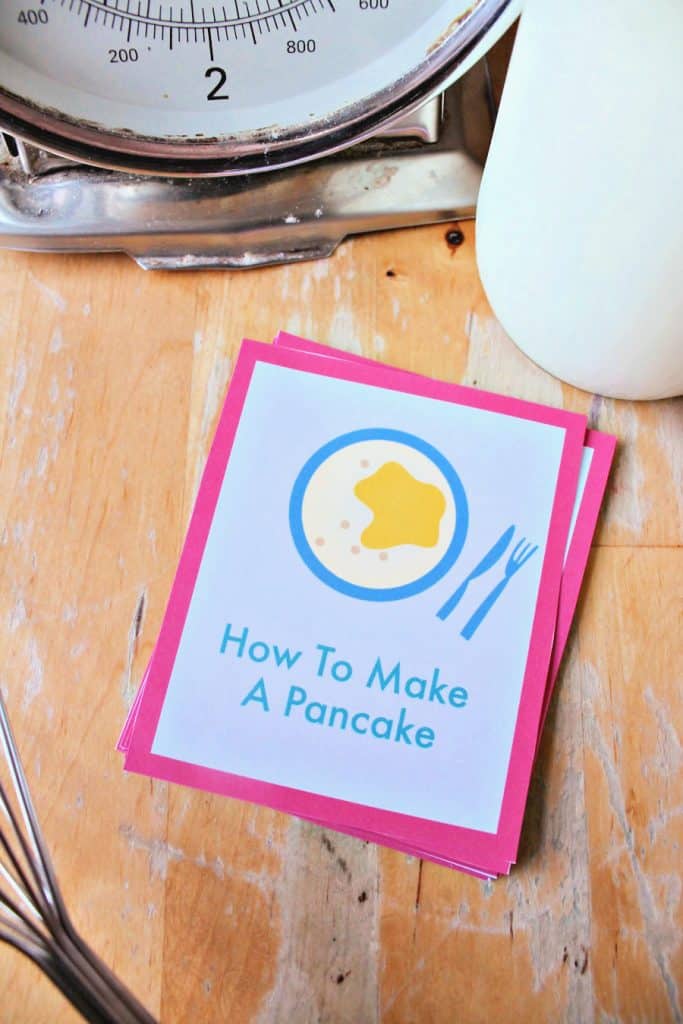 Adding literacy activities to cooking
Write out a menu of pancake toppings to read and choose from.
You can extend the activity by carrying out a class survey of favourite toppings, displaying the results with these graph activities and printables.
Make your pancakes in the shape of the first letter of each child's name. It's not too tricky! Fill a squeeze bottle or an empty ketchup bottle with the pancake mixture and use the nozzle to write each letter in the pan.
You might like to print a set of recipe cards for each child. They can stick the cards into their own pancake recipe book, adding a final page of drawing and writing to show what their favourite pancake toppings are.
You can also stick the recipe cards up in your role play corner – they make cute bunting! Add pans, bowls, and whisk and your children can make pretend pancakes, continuing to work on their practical, language and social skills as they play.
You can find more Pancake Day activities here.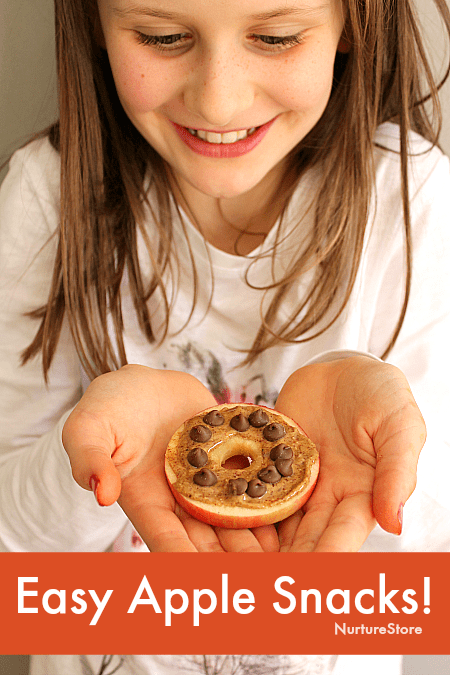 More easy recipes for kids
Try these other easy recipes for children to keep working on practical life skills:
:: traditional English pancake recipe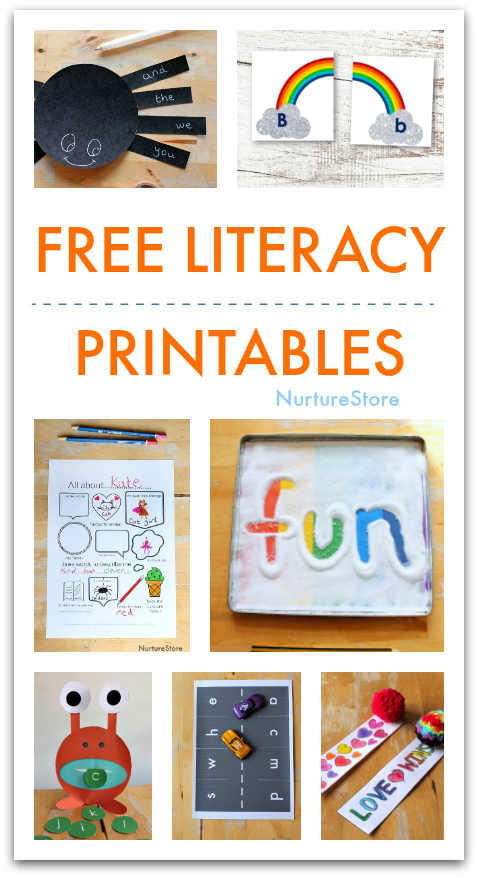 More literacy lesson plans and printables
We love building literacy skills through play and hands-on activities. Check out this great selection of free literacy printables you can use with your children.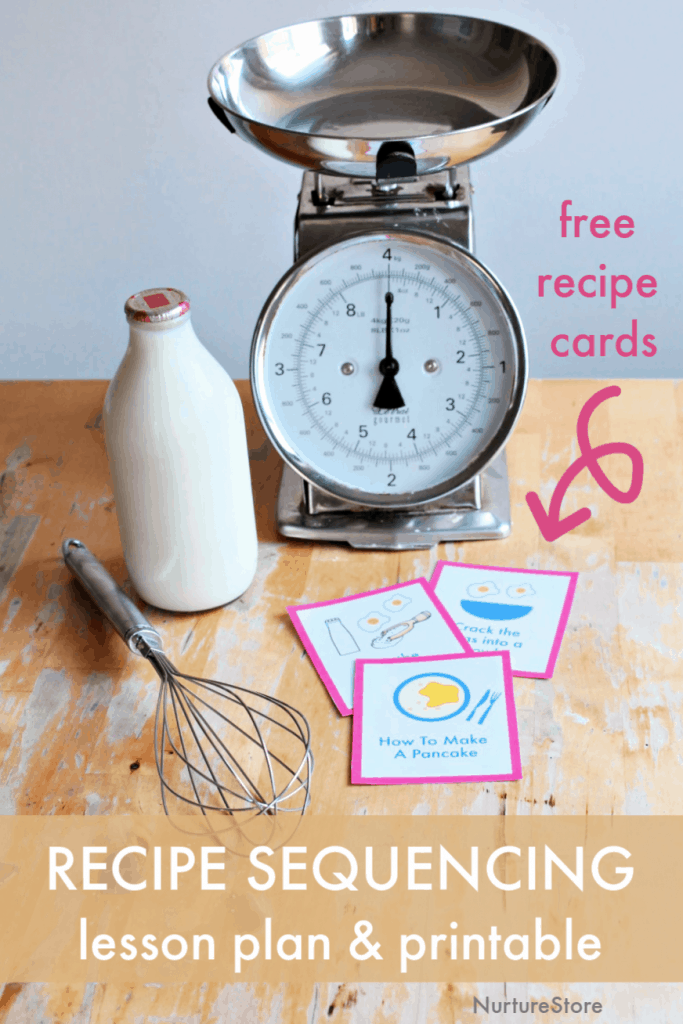 How to get our free printables
To download my free printables, you'll need to visit the NurtureStore Printables Library, which is available to all subscribers to my email list, and of course to Play Academy members.
Pop your email address in the form below and you'll get access to all my free printables, lesson plans, activity ideas, weekly newsletter, and a whole lot more!
After subscribing, be sure to check for the confirmation email. After you confirm your email subscription, we'll send you a welcome email which includes instructions for downloading our free printables.
If you're already subscribed to our email newsletter: check your email for the latest edition of the newsletter where you'll find a link to access our free printables library - the link is usually at the bottom of the email.
For help accessing our printables, click here.
---
By subscribing, you consent to our use of your personal data as per our Privacy Policy, which includes agreeing to receiving interest-based email from us.
---