Use these ideas to plan a welcoming
forest school
session – includes free printable forest school welcome song!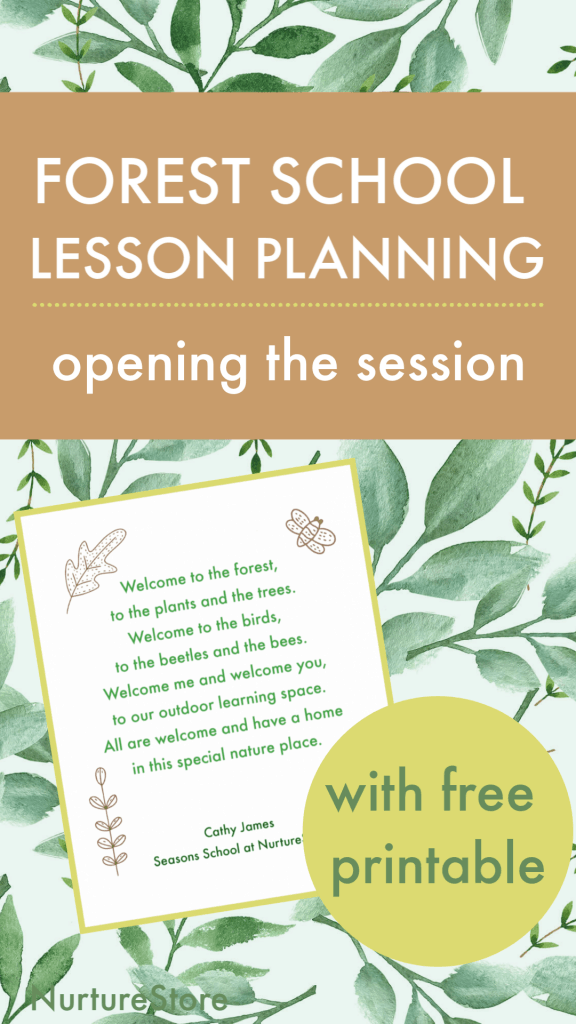 Forest school lesson plan :: opening session
In this series of resources on forest school lesson planning we'll look at tips, hacks, and best practice to shape our outdoor programmes.
In this first instalment, let's look at how to plan the opening session of your forest school lesson.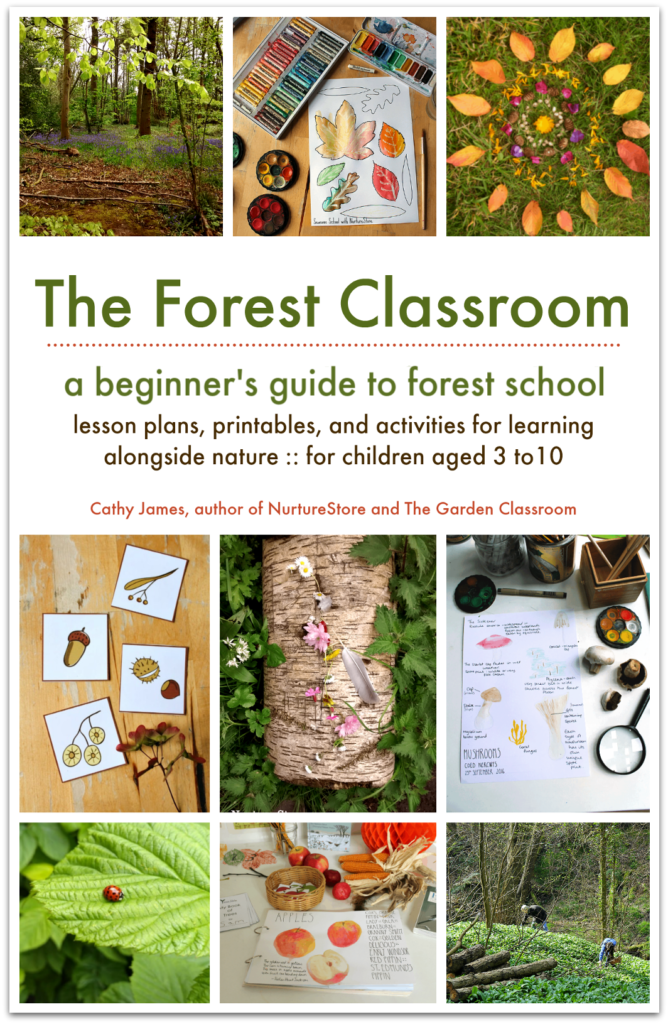 Ready-made forest school lesson plans
Have you got your copy of The Forest Classroom yet? It is the perfect beginner's guide to running a successful forest school. Download your forest school guide here.
A forest classroom is a place of adventure, discovery, and imagination. It can also be a wonderful place to learn about math and science, explore art and crafts, and develop language and social skills.
The Forest Classroom is a practical guide which will show you how to engage your children in fun and educational forest-school activities.
These ready-made forest school lesson plans are suitable for forest school leaders, teachers, childcarers and parents with children aged 4 to 10, to learn in a forest, school nature area, local park or your own backyard.
Get your copy of The Forest Classroom here and you'll be ready to head straight outdoors and enjoy teaching, using our ready-made lesson plans.
---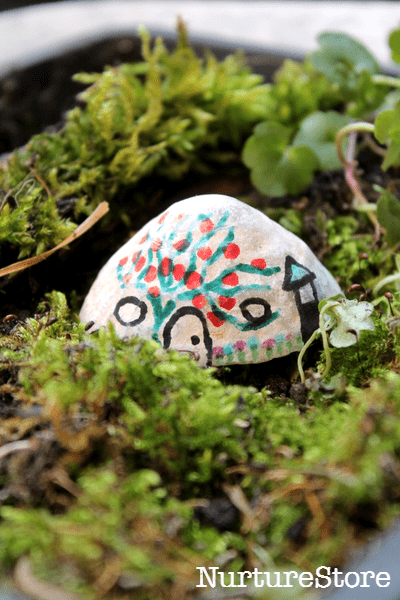 Arrival and registration
Depending on the workings of your setting, the arrival of your children can happen all at once, or over a short period of time.
If you have a full forest school, children can be arriving with parents over a staggered period of time. You might be involved in greeting children, getting updates from parents, handling coats and bags, and other transition activities.
If you are part of a school, or have a school group visiting you, it's likely all the children will arrive at the same time, and will have already transitioned into the school day.
Either way, we need to think about guiding the transition from home / other lessons into the outdoor classroom.
It's helpful to have a sign-in ritual for the children. This shows they are expected, they belong here, and they're ready to join. A simple bucket of stones, one for each child with their name written on, works very well. They can find their name and place in a welcoming circle.
Or perhaps the ritual is to find a forest item and place it on a discovery log. Or to come and take their seat around the campfire.
Free play
You might like to open the session with a period of free play: with a den, climbing area, or selection of loose parts available. This can work well if you have children arriving over a period of time, as all the children can be occupied in the free play area until everyone is here and ready to gather for the opening ritual.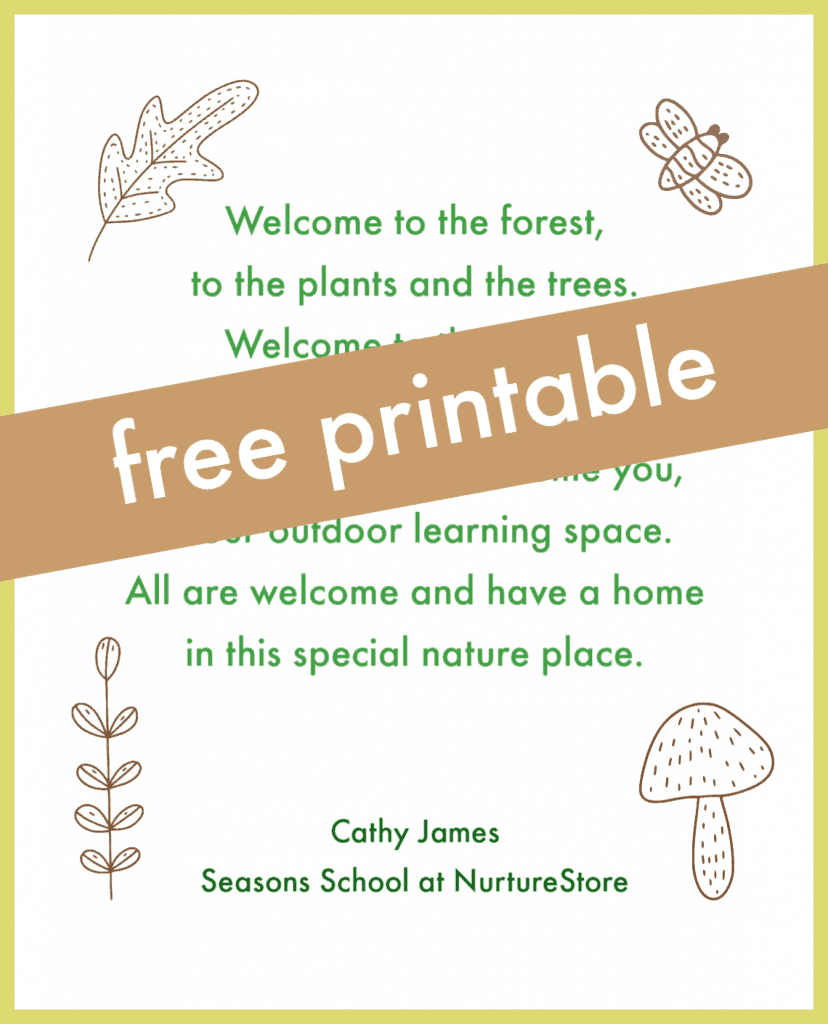 Gathering and welcome
How we open the time in our outdoor classroom sets the tone for the whole lesson. I think it is so important to gather together, even if just for a minute or two, for an opening ritual.
Forest schools are so special, and there is a different mode and space here than at home or in the indoor classroom.
Beginning the session with a moment of mindfulness and connection – with ourselves, our classmates, and with nature – gets us ready to benefit fully from the outdoor setting.
So take a moment for a simple opening ritual.
You might sit around the campfire, gather on a blanket, or hold hands around a tree.
Welcome everyone and say hello to nature. Look up, look down, breathe in, breathe out.
You might like to say or sing a forest school rhyme like this one – which you can print as a poster below.
Welcome to the forest,
to the plants and the trees.
Welcome to the birds,
to the beetles and the bees.
Welcome me and welcome you,
to our outdoor learning space.
All are welcome and have a home
in this special nature space.
Cathy James – Seasons School at NurtureStore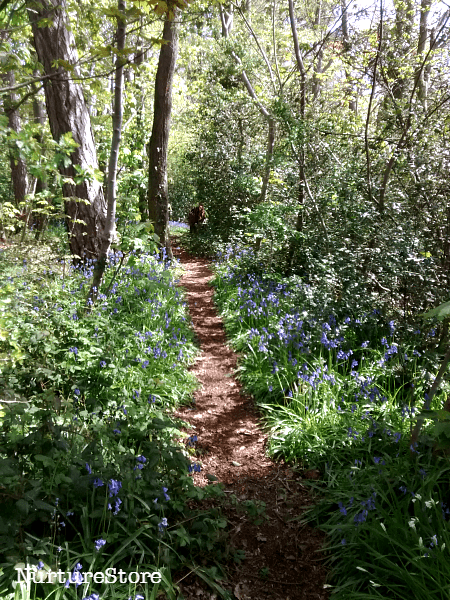 Notices and rules
Next come the notices and news – from you and the children. Who's got something important to share today? How is everyone feeling?
Now is also a good time to recap on your rules and safety guidance. You can adapt this based on the circumstances: the weather, things you've noticed on your site walk, how old the children are, how experienced they are at forest school, and what activities you have planned for the session.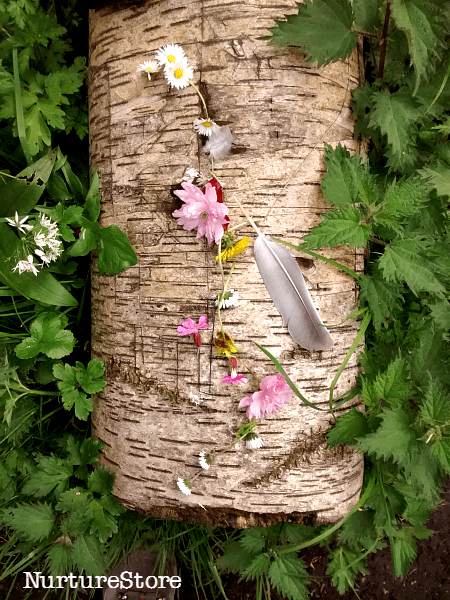 Today's activity
Then you can introduce today's activity. Much of forest school time is spent in free play and activities lead by the children and what they discover in their surroundings that day, but it's likely you'll have a more structured activity on offer too.
Let the children know what today's invitation is and when it will take place.
And then it's time to transition into the main section of your session. You can find many ideas for forest school activities in NurtureStore's archive, and do sign up for our Seasons School weekly resource delivery below – I'll send you free ideas for your forest school!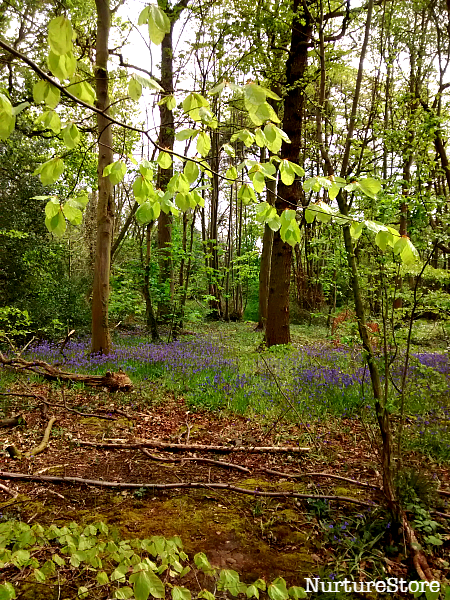 Community call out!
Share your experience and expertise with the Seasons School community. How do you open your forest school sessions? Add your ideas and 'how-to tips' in the comments section below.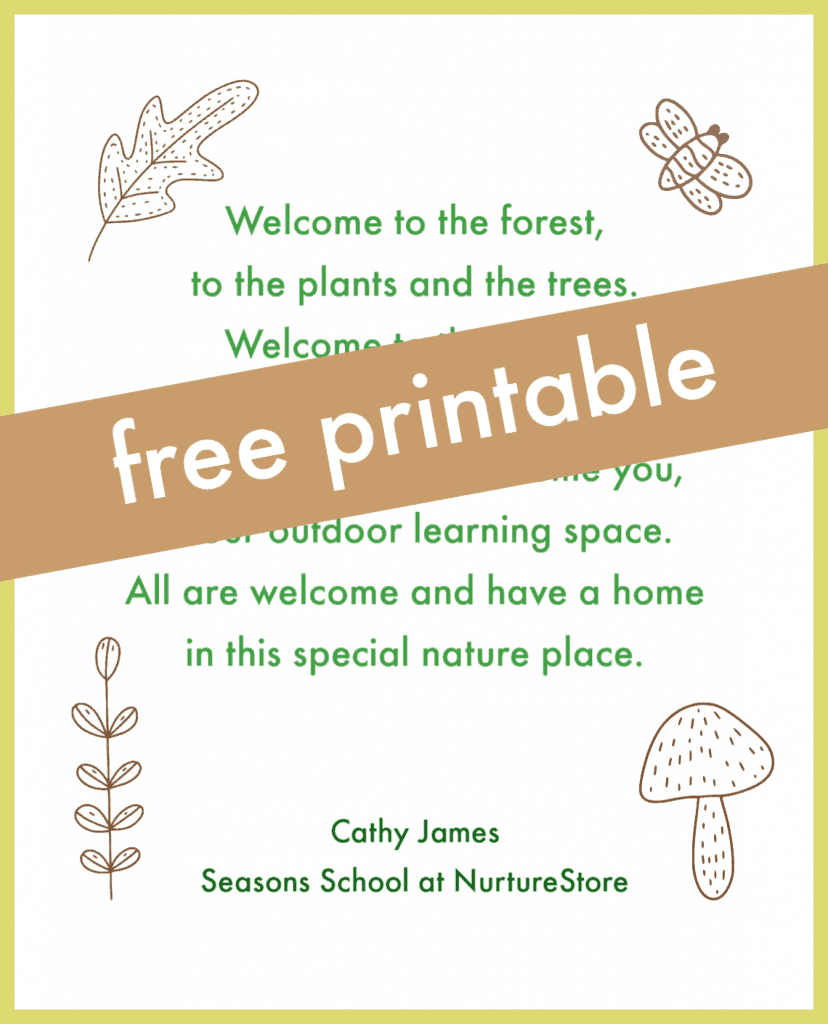 To get this free printable, sign up for my email newsletter below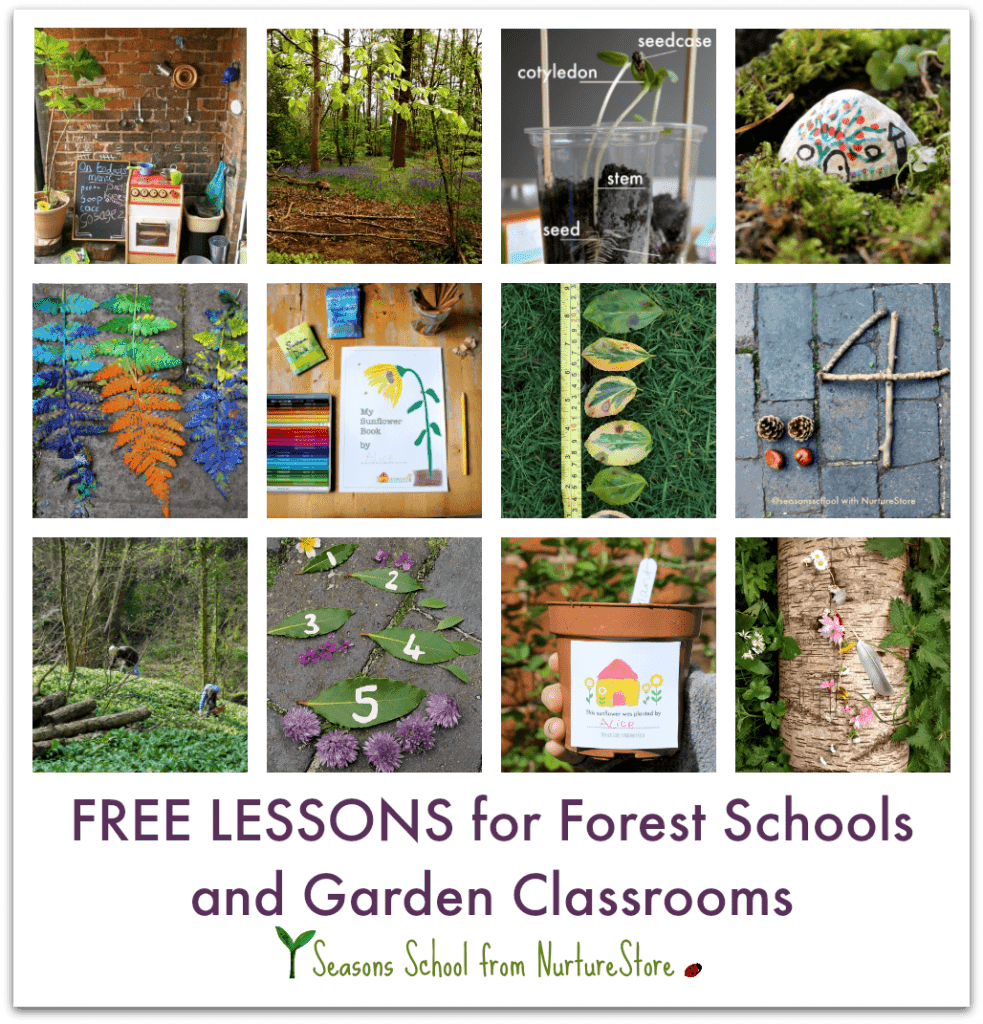 Free Forest School and Garden Classroom resources!
Join my weekly email service and I'll send you FREE printables, lesson plans, and activity ideas that you can use with your children in your forest school and garden classroom.
Seasons School is NurtureStore's year-round program of living and learning with nature. Our activities and resources focus on hands-on, nature-based learning that connects children with the natural environment.
If you're looking for nature study lessons, arts and craft projects, campfire recipes, foraging ideas, outdoor math and literacy activities, outdoor games, and ways to explore forests, gardens, and outdoor spaces - think of NurtureStore as your forest fairy godmother!
Whether you're in a forest school or outdoor classroom, running a school gardening club, bringing nature lessons into your class, home educating with nature, or wanting to connect with the great outdoors at the weekend, you will love the Seasons School ideas.
Pop your email address into the box below and I'll send you your free resources.
---
By subscribing, you consent to our use of your personal data as per our Privacy Policy, which includes agreeing to receiving interest-based email from us.
---