We tried this shell painting while we were at the beach last week and loved it! They turned out to be so beautiful. Here are two techniques you can try for some beach theme art.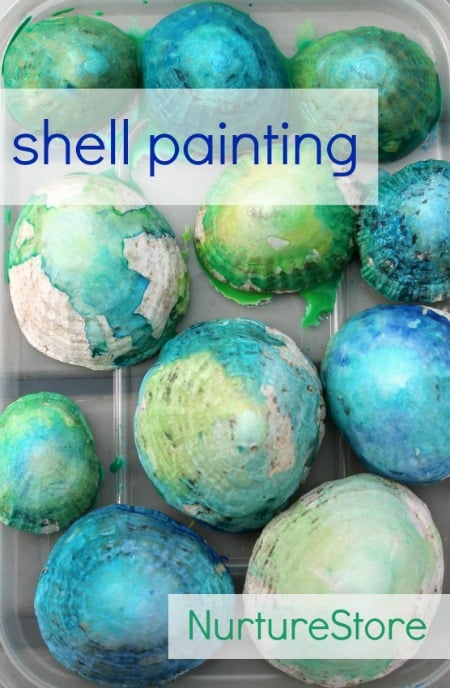 Shell painting :: beach theme art
<<< click here to JOIN THE free FIVE DAY ART ADVENTURE >>>
We never manage a trip to the beach without returning with a bucket of shells. They are irresistible! We used limpet shells for this project, which are plentiful around our holiday location of Anglesey – and we always check any shells are empty, and not someone's home, before we collect them.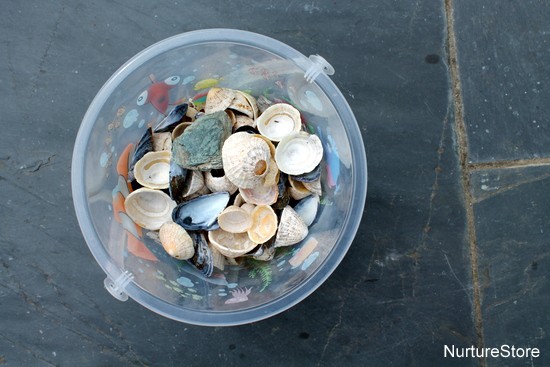 We used watercolour paints for our project. I love this little kit from Ikea, which is really neat to take out and about with you for some art on the go.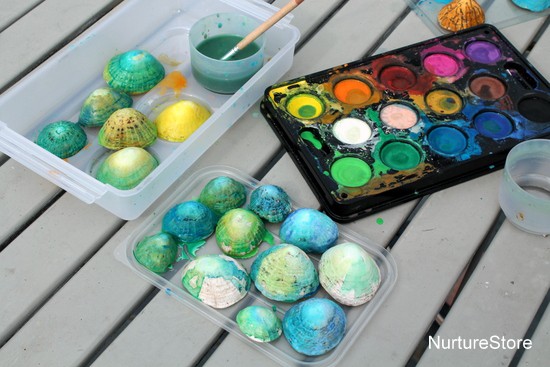 We decided to use an ocean colour theme, and tried applying the paint just to the top of each shell, letting it trickle down to make its own colour mixes and patterns.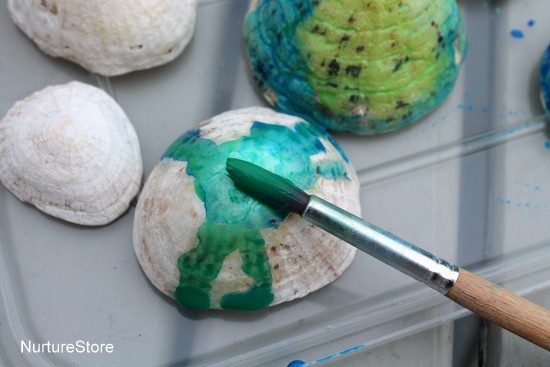 The watercolour paint made the texture of the shells stand out so we could look closely at all the patterns.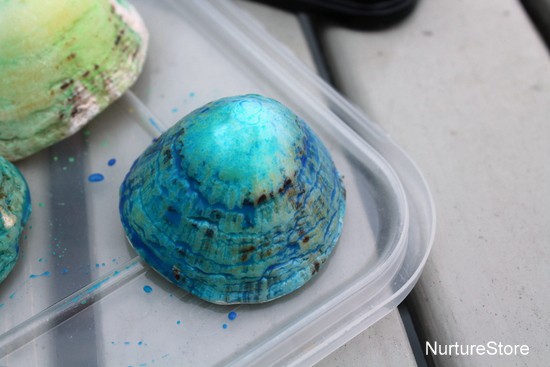 Next we tried using oil pastel crayons to draw on our shells…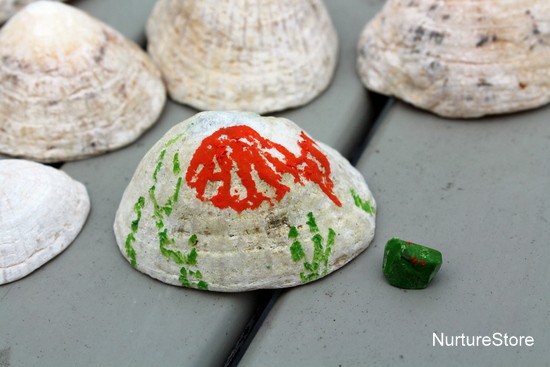 washing over our design with the watercolour paint. The oil pastels resist the water of the paint, so our under-the-sea scene showed through. It was quite difficult to draw a clear picture on the shells though, because they were so bumpy.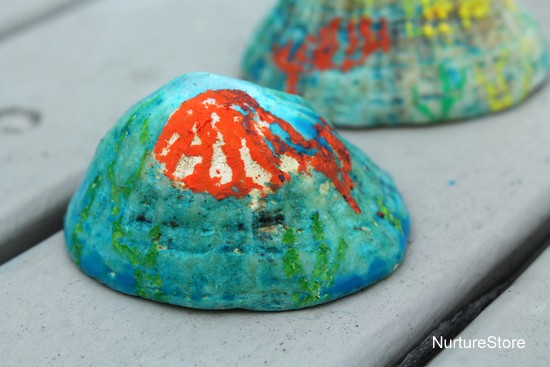 We think our finished shells are beautiful! So many different shades and patterns, and painting outdoors is such a lovely way to spend an afternoon.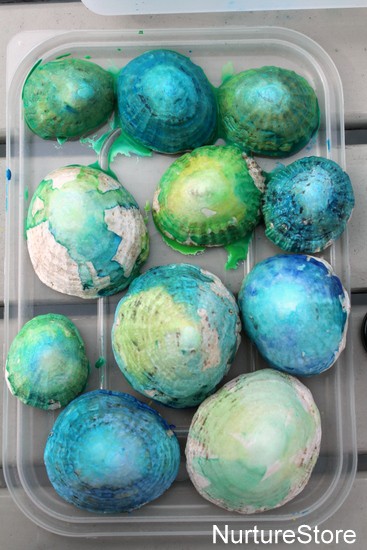 You can find some more ideas for things to do with shells below, and I think we might use these one to make some wind chimes. But for now, they look so pretty on our seaside table.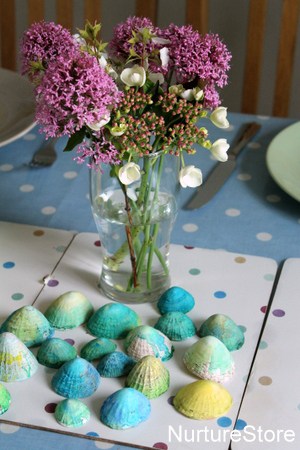 More creative ways to use shells
Want to know where fairies go on holiday? Take a look at our fairy shell houses!
Shells are great in combination with this lemon play dough recipe.
You can also use shells to learn sight word spelling.

Don't forget to get the free Number Fish and Ocean Creatures Play Set printables while you're here!
Hey, are you doing a project on fish, the seaside or the ocean? If you're looking at this article then I guess you might be. I have some great free printables on a fish theme that I think you'll love.
NurtureStore has an extensive library of free printables, including a free Number Fish printable, which is great for adding numbers to your play and working on math skills in a hands-on way. I also have a lovely free Ocean Creatures Play Set which you can print and combine with playdough or a water tub for imaginary play.

Get access to ALL my free printables by subscribing to my email list.
To download my free printables, you'll need to visit the NurtureStore Printables Library, which is available to all subscribers to my email list, and of course to Play Academy members.
Pop your email address in the form below and you'll get access to all my free printables, lesson plans, activity ideas, weekly newsletter, and a whole lot more!
After subscribing, be sure to check for the confirmation email. After you confirm your email subscription, we'll send you a welcome email which includes instructions for downloading our free printables.
If you're already subscribed to our email newsletter: check your email for the latest edition of the newsletter where you'll find a link to access our free printables library - the link is usually at the bottom of the email.
For help accessing our printables, click here.
---
By subscribing, you consent to our use of your personal data as per our Privacy Policy, which includes agreeing to receiving interest-based email from us.
---