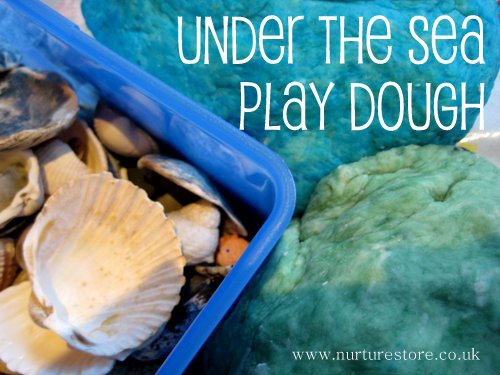 Under the sea playdough recipe
Play dough is an essential part of the play that happens in our house – so easy to make, so open to possibilities and such a springboard into lots of imaginary play and chat. With B away at Brownie camp L had all the playdough to herself this weekend.
What can you make with our favourite play dough recipe in blue and green and a box of shells? We dived under the waves and made a whole ocean.


First L laid the playdough out in strips and then rolled them all flat to create her ocean bed and sandy shoreline.


She added a kelp forest with a sandy floor.


And a rock pool on the beach.


A coral reef was built from the shells.


A shoal of tin foil fish swam in.


And a ray was spotted on the reef.
Super Sensory Invitations to Play

Ready for a whole year of exploring through the senses? Super Sensory Invitations to Play is a delightful resource that encourages your children to explore the five senses through the year, using a wide variety of sensory materials. It includes 52 invitations to play, linked to the festivals and seasons of the year, and including water, ice, dough, rice, paints, sand, sensory tubs, and more.
They are easy, simple, and fun ideas that you can use right now to give a multi-sensory boost to your play and learning. It comes with a printable recipe book featuring all our favourite recipes for play. Come and see more here.