Learning about the ocean? Here's a great collection of children's books about the sea, with seaside activities to extend your learning into art, craft, math, storytelling and play.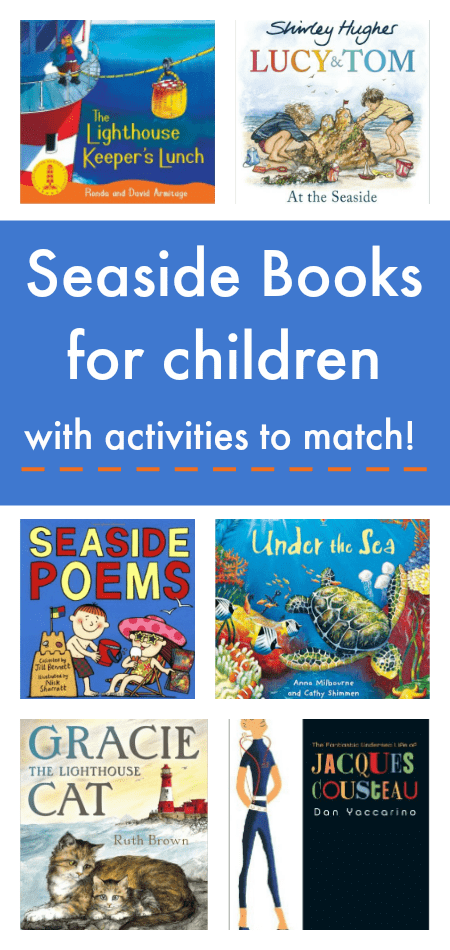 Children's books about the sea
---
This page contains affiliate links from which we earn commission.
As an Amazon Associate I earn from qualifying purchases.
---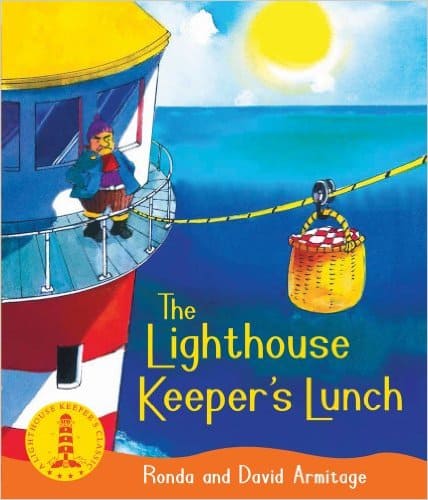 The Lighthouse Keeper's Lunch
by Rhonda Armitage is a fun story about how a lighthouse keeper has to outwit some pesky seagulls who want to share his lunch. Can your children guess what will work? Find out more on
Amazon
.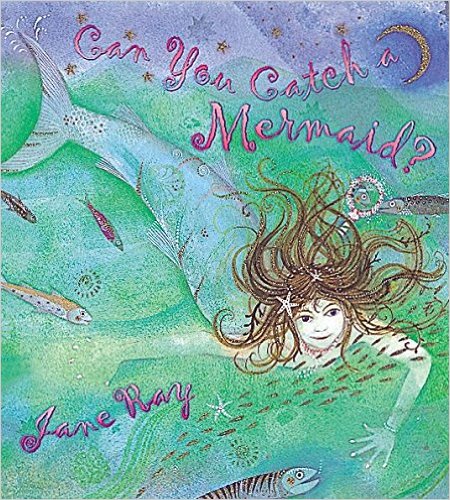 Can You Catch a Mermaid? by Jane Ray is a beautiful story about loneliness and friendship. Jane Ray's illustrations are as gorgeous as ever, and there is a dash of myth, imagination and mystery that remains at the end of the tale. This one is a favourite in our house. Find out more on Amazon.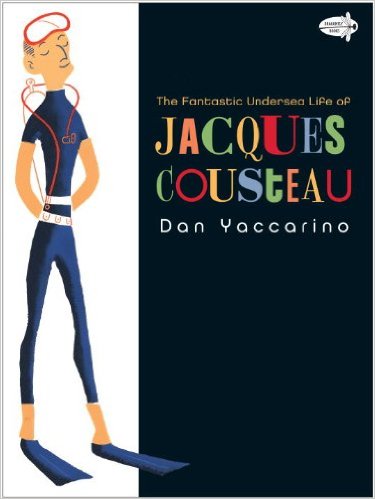 The Fantastic Undersea Life of Jacques Cousteau by Dan Yaccarino is a child-friendly introduction to the famous explorer and scientist. Colourful illustrations and lots of interesting facts makes this a great book for young marine biologists to get inspiration from. Find out more on Amazon.com.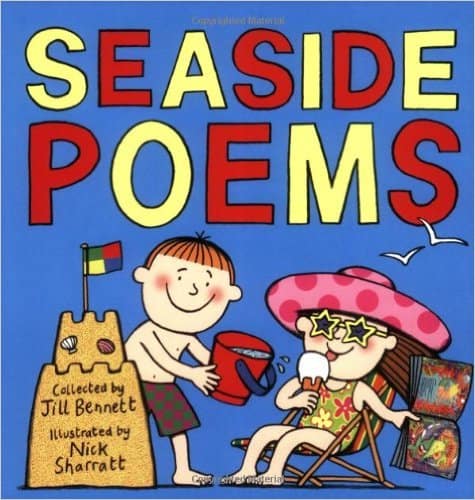 Seaside Poems by Jill Bennet has lots of seaside-themed poems that fun to read aloud, and Nick Sharrat's distinctive illustrations are as bright and bold as you'd expect. The poems are child-friendly and just the right length to memorize. Find out more on Amazon.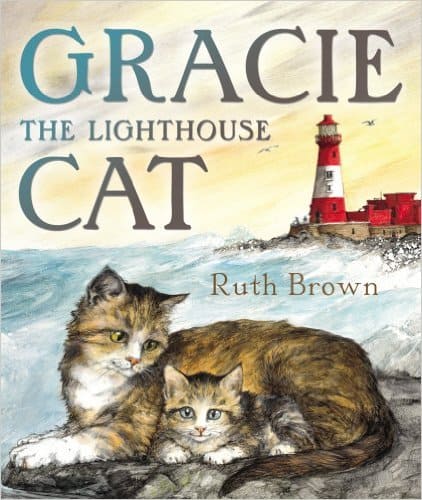 Gracie, the Lighthouse Cat by Ruth Brown is a clever book that matches the tale of a mother cat rescuing her kitten with the true story of Grace Darling's rescue of the passengers of shipwrecked boat. The test tells the story of cat and kitten, with the illustrations revealing the famous historical story taking place at the same time. The book leads well into lessons about history, the weather, and courage and kindness. Find out more on Amazon.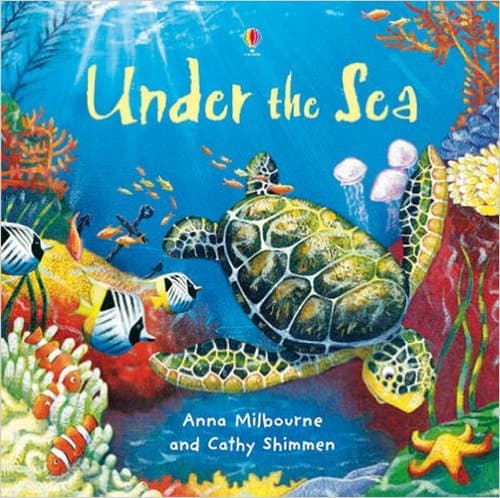 Under The Sea by Anna Milbourne takes us deep below the waves to explore the creatures that live in the oceans. I love the blues of the illustrations and the flow of the story from warm waters, down to the depths of the sea and back up to the crest of the waves. This is a jolly introduction to the animals of the sea. Find out more on Amazon.com.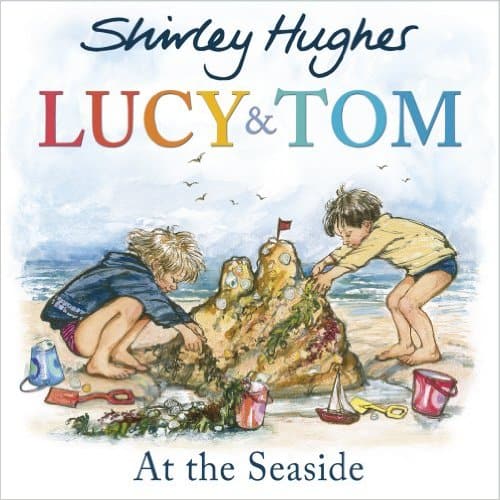 Lucy and Tom at the Seaside by Shirley Hughes, has all the classics of a family day out at the sea, including paddling, picnics and sandcastles. Shirley Hughes' illustrations are as wonderful as ever, with lots of little details to notice and talk about. We love Hughes' books as they capture so well the world from a child's perspective. Find out more on Amazon.com.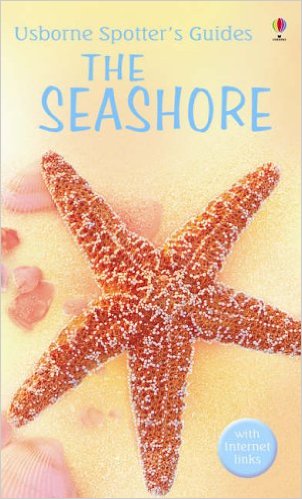 The Seashore Usborne Spotter's Guide by Su Swallow is a super little book which helps you identify all the things you see at the beach. A really useful field guide, beautifully illustrated, with website links to go deeper and learn more. Find out more on Amazon.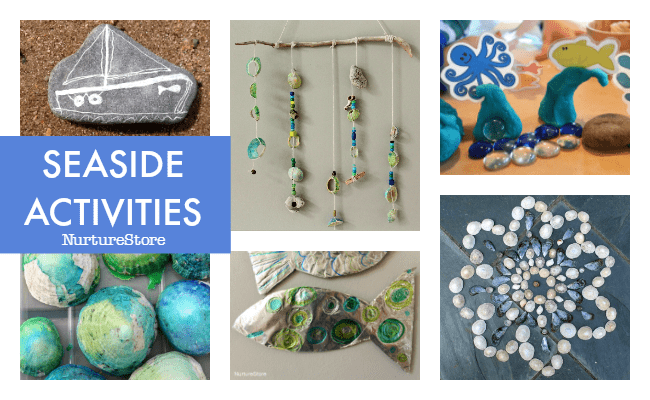 Seaside activities to accompany your books
Need some ocean ideas to go with your books? Take a look at our seaside activities, with ideas for art, craft, math, storytelling and play.

Don't forget to get the free Number Fish and Ocean Creatures Play Set printables while you're here!
Hey, are you doing a project on fish, the seaside or the ocean? If you're looking at this article then I guess you might be. I have some great free printables on a fish theme that I think you'll love.
NurtureStore has an extensive library of free printables, including a free Number Fish printable, which is great for adding numbers to your play and working on math skills in a hands-on way. I also have a lovely free Ocean Creatures Play Set which you can print and combine with playdough or a water tub for imaginary play.

Get access to ALL my free printables by subscribing to my email list.
To download my free printables, you'll need to visit the NurtureStore Printables Library, which is available to all subscribers to my email list, and of course to Play Academy members.
Pop your email address in the form below and you'll get access to all my free printables, lesson plans, activity ideas, weekly newsletter, and a whole lot more!
After subscribing, be sure to check for the confirmation email. After you confirm your email subscription, we'll send you a welcome email which includes instructions for downloading our free printables.
If you're already subscribed to our email newsletter: check your email for the latest edition of the newsletter where you'll find a link to access our free printables library - the link is usually at the bottom of the email.
For help accessing our printables, click here.
---
* By subscribing, you consent to our use of your personal data as per our Privacy Policy, which includes agreeing to receiving interest-based email from us.
---