Here's a great collection of easy science activities to do in the garden with your children.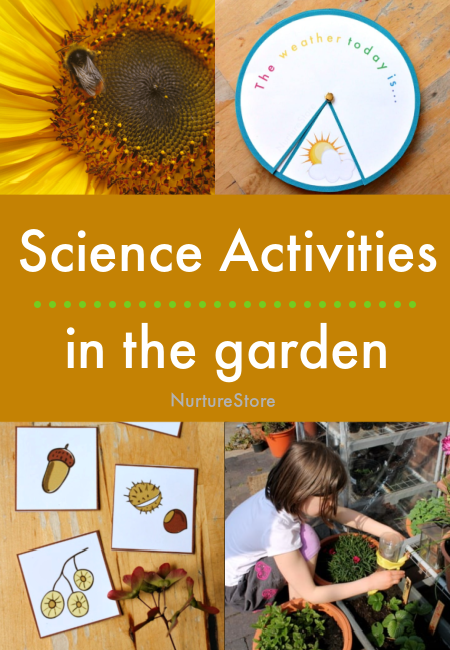 Easy science activities to do in the garden
Let's use our outdoor classroom as a science lab with these science activities to do in the garden.
NurtureStore's garden science activities are easy to do with children of all ages, whatever size of garden or backyard you have.
This article is one of our easy science activities for children resources.
Table of Contents

– What to do in the garden every month of the year
– Ready-made science curriculum
– What is a biome?
– Mushroom spore prints
– Rain gauge
– Nature journals
– Parts of a plant daffodil dissection
– Growing seeds
– Parts of a tree lesson
– How to make a wormery
– Bug hotel
– Mason bee house
– Growing sunflowers
– Seed investigation
– Bugs in your garden
– Cloud activities
– Leaves and seeds flashcards
– Nature colour wheel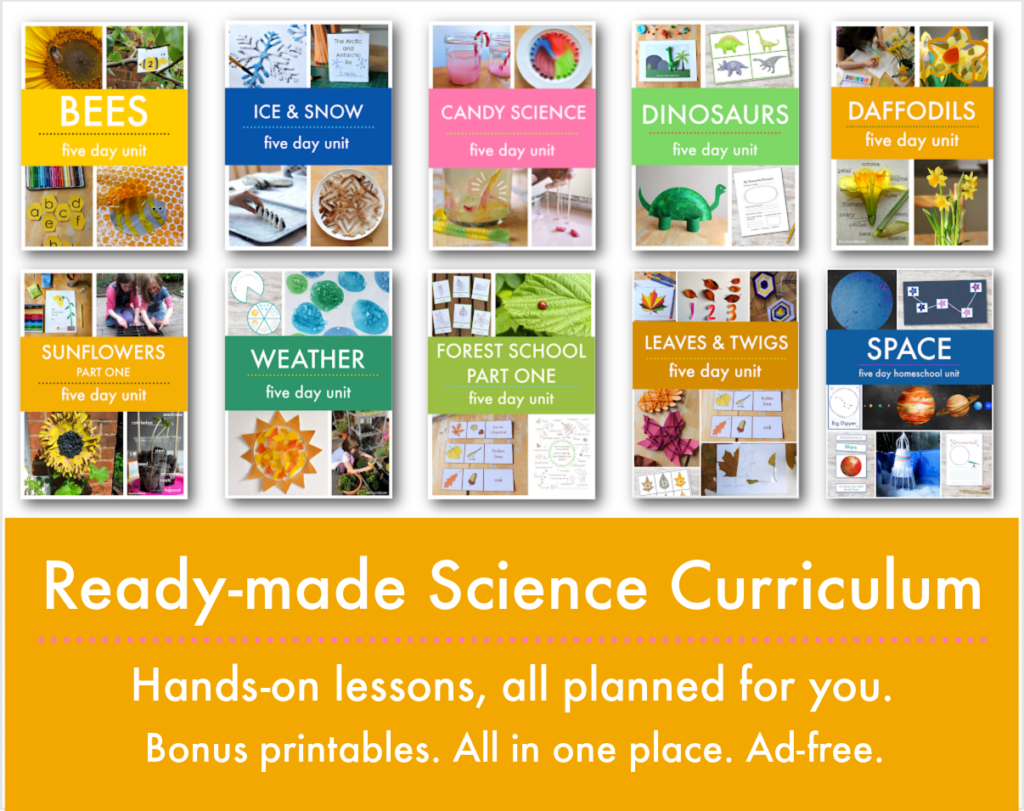 Ready-made science curriculum for children
The easiest way for you to teach your children is by using the ready-made units in NurtureStore's Play Academy. Each unit gives you one activity per day that all your children can do together. Every thing is in one place, clearly laid out and with bonus printables to make your teaching even easier.
You can choose from over 50 ready-made units including our science curriculum pathway which includes untis on Space, Dinosaurs, Leaves & Twigs, Forest School, Sunflowers, Bees, Cats, Weather, Candy Science, Daffodils and Ice & Snow. See more and choose your first ready-made teaching unit here.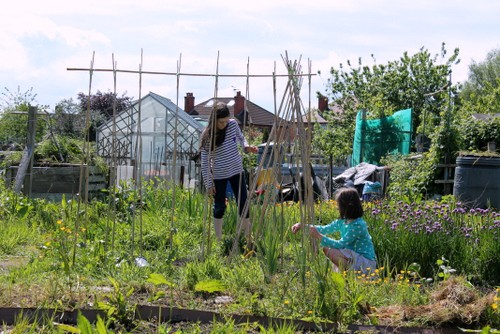 Easy science activities to do in the garden
What to do in the garden every month of the year
Use this guide to know what to plant, grow, harvest and do in the garden each month.
What is a biome? lesson for children
Introduce your children to biomes with this simple biome definition. Learn about the key world biomes and focus in on the three forest biomes, including where the are located and which animals and plants you can find there.
How to make mushroom spore print pictures
Learn about the structure of fungi and use them to create art as we make spore prints from mushrooms. A fun and fascinating nature art and science project!
How to make a rain gauge :: backyard science experiment
We're learning all about the weather and setting up a weather station in our yard. Here's how to make a rain gauge for some great backyard science experiments.
How to use a nature journal with children
This guide to nature journalling will help you start your own nature journal. It includes ideas on what to include in a nature journal plus links to nature journal prompts and printable nature journal pages.
Daffodil dissection and botanical drawing
In this nature science lesson we'll learn about the parts of a flower through a daffodil dissection experiment.
Growing seeds experiment
In this growing seeds experiment we'll be investigating seeds, and comparing bean and pea seeds as they germinate and begin to grow.
Tree lesson plan and tree mini book printable
Use this tree lesson plan as part of your unit about trees – complete with printable tree mini book for your children to complete.
How to make a wormery
Follow this guide on how to make a wormery and start composting in your garden.
How to make a bug hotel
Try this great animal conservation project for children and follow our step-by-step guide on how to build a bug hotel.
How to make a simple bee house for mason bees
Here's an easy way to make your garden more environmentally friendly: how to make a bee house for mason bees.
How to grow sunflowers with children
Let's fill our garden with beauty and our children with wonder by growing sunflowers! Here's a guide on how to get started growing sunflowers with children, plus extra resources for sunflower lesson plans and learning guides.
Sunflower seed sensory play and investigation
Harvest your sunflower seeds and use them for sensory play and a sunflower discovery lesson.
Who lives in your garden? garden creatures printable
It is so much fun to find out which animals live in your own backyard. Use this garden creatures printable and discover who lives in your garden. This is a great activity to include in a mini beast unit, or as part of our sunflower activities.
Cloud activities for forest school with printable cloud ID cards
Let's learn how to identify clouds as part of our learning about the weather unit. You can use these printable cloud ID cards and cloud activities to explore the sky above.
Leaves and seeds investigation
Let's learn about the leaves and seeds in our garden.
Nature colour wheel activity with printable colour wheel
This nature colour wheel activity is a great way to combine the colour theory of an art lesson with the careful investigation of a science lesson in your outdoor classroom. It comes with a free printable colour wheel too.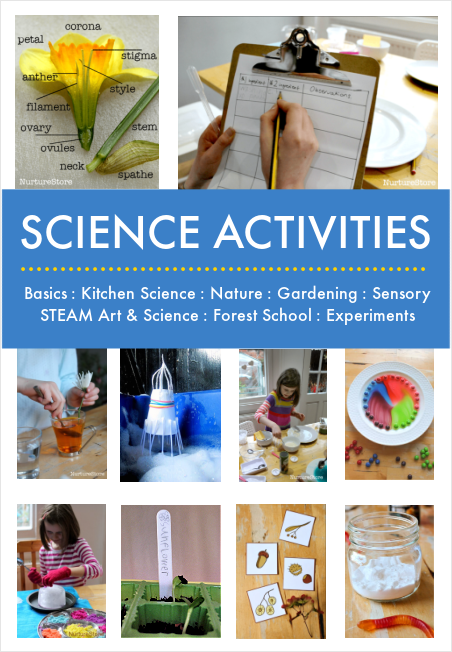 More science activities for children
Use NurtureStore's extensive resources to find more great science activities for your children:
Main index of science activities for children