Here's a great collection of easy kitchen science activities that you can do with your children.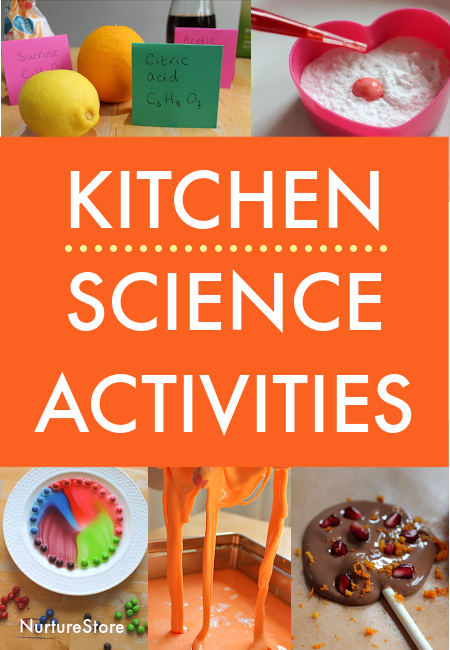 Easy kitchen science activities for children
Here's a great collection of easy kitchen science activities that you can do at home with your children using just basic materials. It includes a potion lab, science experiments using candy, and how to grow your own crystals.
This article is one of our easy science activities for children resources.
Table of Contents

– Ready-made science curriculum
– Bouncing egg
– Science experiments using candy
– Fizzy science (vinegar and bicarbonate of soda)
– Potion lab
– Homemade lollipops
– Growing crystals
– Candy cane experiment
– Ice experiment
– Investigating blackberries
– Investigating elderberries
– Investigating hawthorn
– Investigating wild garlic
– Sense of smell
– Goop: liquid or solid?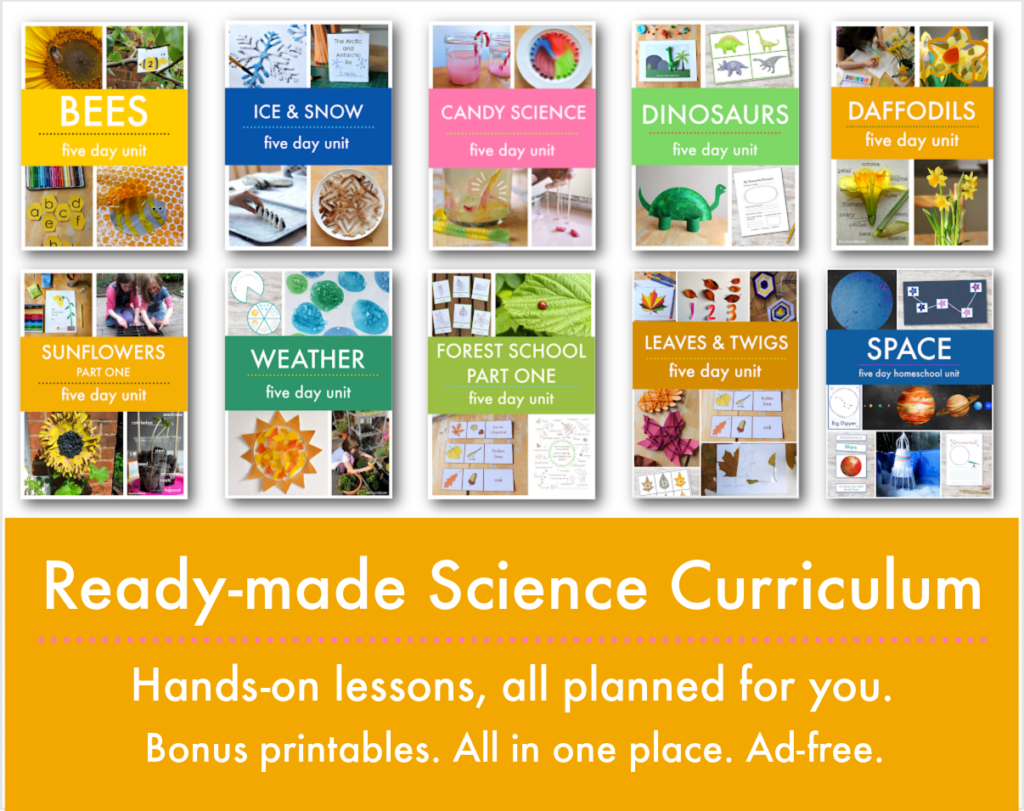 Ready-made science curriculum for children
The easiest way for you to teach your children is by using the ready-made units in NurtureStore's Play Academy. Each unit gives you one activity per day that all your children can do together. Every thing is in one place, clearly laid out and with bonus printables to make your teaching even easier.
You can choose from over 50 ready-made units including our science curriculum pathway which includes units on Space, Dinosaurs, Leaves & Twigs, Forest School, Sunflowers, Bees, Cats, Weather, Candy Science Experiments, Daffodils and Ice & Snow. See more and choose your first ready-made teaching unit here.
Science activities using kitchen items
Bouncing egg experiment
Here's a super fun kids' science experiment from the Tinkerlab book :: we're making eggs that bounce!
8 easy science experiments using candy
These easy science experiments using candy are perfect for the day after Halloween trick or treating, or as part of a Willy Wonka themed party.
Fizzy science experiment with bicarbonate soda and vinegar
This is a really fun, fizzy science experiment that you can try with your children: using bicarbonate of soda and vinegar to have fun with chemistry.
Easy kitchen science experiments potion lab
This potion lab is one of those fantastic, easy kitchen science experiments that you can set up at home, or in class, for lots of interesting, hands-on, discovery.
Kitchen science experiments :: homemade lollipops
Learning can be delicious with fun kids science experiments like these homemade lollipops. They're easy to make, yummy to eat and give children the opportunity for some hands-on science investigation.
How to grow crystals
Here's how to grow crystals using alum – sparkly science for kids using simple household materials.
Candy cane science experiment with printable
Let's use this candy cane science activity to learn the stages of a science experiment.
Ice melting experiment
Let's use coloured salt to explore how ice melts.
Blackberry picking guide for children
Here's a simple blackberry picking guide for children, along with a blackberry nature journal printable you can use to learn all about these delicious, seasonal fruits.
Elderberry picking guide for children with easy elderberry syrup recipe
Show your children how to identify and forage for elderberries and cook up some delicious elderberry syrup.
Hawthorn foraging guide for children with hawthorn tea recipe
Use this foraging guide for children to learn how to identify hawthorn and try these easy hawthorn recipes.
Wild garlic foraging and pesto recipe
Learn how to forage for foods in season in spring, how to identify wild garlic, and try this deliciously easy recipe for wild garlic pesto. Includes a free printable wild garlic nature journal page.
How clever is your nose? smelling games
Find out how clever your nose is with this sense of smell experiment.
Goop: liquid or solid experiment
This goop / oobleck recipe is one part science experiment and one part sensory play. It is a liquid? Is it a solid? Let's experiment!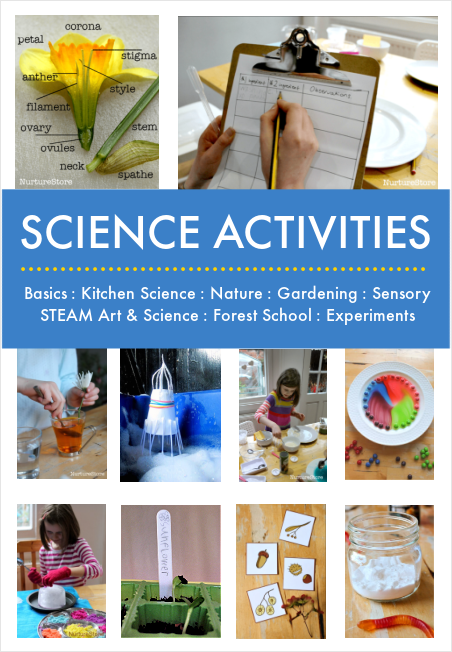 More science activities for children
Use NurtureStore's extensive resources to find more great science activities for your children:
Main index of science activities for children